Key Information
Trip Grade

Moderate

Trip Style

Trekking

Meals

Breakfast in cities & full board meals in trek

Accommodation

2 star hotel in cities & tea house / Lodge on trek

Group Size

04 -16
About Everest Base Camp trek with Helicopter return
Have you ever wished to see the towering majesty of Mount Everest, the highest peak on the planet, with your own eyes? Does the exotic beauty of the Himalayas entice you, but the prospect of weeks of trekking scares you? If you share these thoughts, look nowhere else as the Everest Base Camp Helicopter Tour, an exceptional experience waiting for your daring spirit.
The Everest Base Camp Helicopter Tour is more than simply a journey; it's an encounter that will live on in your memories for the rest of your life. It unfolds a panoramic view of the Himalayas, not as a tired hiker, but as an ecstatic traveler flying amongst the giants. Your helicopter seat becomes your front-row seat to nature's most amazing sight.
You'll be taken away into a realm where valleys spread their verdant carpets, settlements nestled as pearls appear on the horizon, glacial rivers snake their way through the rugged landscape, and snow-capped peaks pierce the heavens the minute the rotor blades begin to spin. And you may enjoy all of this from the cocoon of safety and convenience that a modern helicopter provides.
However, the Everest Base Camp Helicopter Tour offers more than simply a quick flight across the sky. It's a tapestry of exploration and immersion chances. The helicopter will land at carefully selected locations along the journey, allowing you to visit Lukla, Pheriche, Kala Patthar, and the prestigious Hotel Everest View. Each of these stops allows you to connect with your environment on a more personal level, to feel the firmness of the pathways below your feet, and to record the beauty with your camera.
Imagine yourself standing at the legendary Kala Patthar, looking out across the rough expanse at Mount Everest and its surrounding peaks, feeling a connection to the daring climbers who created history on those slopes. Imagine the rush of inhaling the fresh Himalayan air as you land at Pheriche, a hidden jewel surrounded by mountains. This is what the Everest Base Camp Helicopter Tour promises: experiences that will permanently blur the borders between fantasy and reality.
If you want to see the Himalayas in all their splendor, if the thought of flying over these beautiful peaks fills you with awe, and if you want to walk in the footsteps of climbing legends, the Everest Base Camp Helicopter Tour is the obvious choice. It's a journey that offers soul-stirring experiences with nature's masterpieces as well as sightseeing.
EBC Helicopter Tour Highlights
The Everest Base Camp Helicopter Tour provides an exciting, time-saving, and stress-free way to experience one of the world's most iconic sites. The following are the essential aspects and notable moments that distinguish this amazing expedition:
The Everest Base Camp Helicopter Tour is a perfect combination of efficiency and wonder, taking you through a whirlwind of events in a compressed 4 to 5-hour time frame. Your trip begins with a flight from Kathmandu airport aboard the Wind Dancer helicopter, a technical marvel that seats up to 5 passengers. As the rotors spin, you'll be driven eastward toward Lukla, the gateway to the Khumbu region. Lukla, despite being regarded as one of the world's most dangerous runways, invites you to refuel before rising to Everest Base Camp.
Prepare to be enchanted as your flight follows an enchanting artwork of the Everest region. A procession of landscapes unfolds from the air: emerald-hued hills, finely groomed terraced farms, monasteries decorated in vibrant hues, and little Sherpa hamlets tucked among the peaks. Explore the warm veins of the Dudh Koshi River, a lifeline formed from the Khumbu glacier and winding through spectacular gorges. En route, your gaze is drawn to Namche Bazaar, the bright heart of the Khumbu, a bustling hub teeming with activity. The hallowed Tengboche monastery soon appears a tribute to spiritual devotion imprinted on the Himalayan canvas.
Landing places & Himalayan Gems
Immersed in the splendor of the Himalayas, the journey takes you to four spectacular landing places, each of which opens the door to an unforgettable Himalayan experience.
Pause in the thin air at 2,860 meters (9,383 feet) in Lukla, the starting point for trekkers and mountaineers trekking into the Everest area. While this is mostly a refueling stop, take advantage of the opportunity to create images that reflect the raw appeal of this Himalayan gem.
Acclimatization becomes your ally in the crisp air of Pheriche, which is located at 4,371 meters (14,340 feet). Trekkers and climbers come here to re-adjust their senses to the altitude. The Himalayan Rescue Association has set up a medical facility in Pheriche as a beacon of hope. Touch down momentarily to learn about the subtleties of high-altitude medicine and to interact with an ecosystem that has evolved to thrive in thin air.
At 5,550 meters (18,208 feet), Kala Patthar is a little hill with a huge reputation as one of the best views in the Everest region. View Mount Everest (8,848 meters), Lhotse (8,516 meters), Nuptse (7,861 meters), Pumori (7,161 meters), Ama Dablam (6,812 meters), and a slew of other peaks in amazement. You'll only have 10 minutes in this rarefied air to remember the scene before retreating to the helicopter.
View from the Hotel Everest
Last but not least landing presents you with the Royal Hotel Everest View, located at a height of 3,880 meters (12,729 ft). With panoramic views of Everest from every room, this institution holds the Guinness World Record for the highest hotel in the world. Enjoy a wonderful breakfast or lunch while your senses are captured by the Himalayan scenery, before continuing your flight with recollections that fly even higher.
Where does the Helicopter Land?
Have you ever wondered why we don't land at Everest Base Camp? It's not that we're putting off the trip; it's about protecting the very soul of this wonderful location. We understand that walking on that sacred ground sounds exciting, but let's talk about the environment. The fragile environment that flourishes there demands our undivided attention, and landing a helicopter might tip the scales.The steep, mountainous terrain surrounding EBC does not constitute a landing strip, and we don't want to take any undue chances. Moreover, during peak season, EBC is home to hundreds of trekkers and climbers. Consider the startling disturbance that rotor roar could cause in their peaceful times.
Instead, we've planned several landing locations that will allow you to soak in the Himalayan grandeur without leaving a trace. Consider Syangboche, Pheriche, and Kala Patthar - well-selected locations that frame Everest in all its glory. Our shuttle guarantees close contact with Everest as you go from Pheriche to Kala Patthar, ensuring that every passenger has a window seat for the spectacular show.
Rest assured, we're not just providing adventure; we're also providing an experience that respects the environment and local people. We're all about making dreams come true while preserving this pristine playground. After all, the best adventures don't only take; they also give back.
Best Time for the Everest Heli Tour
The best time for the Everest Heli tour is the spring (March, April, May) and Fall (September, October, November, December). These seasons are also the best time for trekking in Nepal along with the peak season to trek to Everest Base Camp.
Spring is the dry month in Nepal just after the winter season. By this time the snow slowly starts melting bringing back the Everest region in full charm. During this season the weather is quite stable and moderate. Plus, there are least chances of dense clouds in the Himalayas.
So, the risks of flight cancellation are very low during this time. This season offers the most charming views of the giant Himalayan peaks along with the side views of the forest blooming in rhododendron and other wildflowers. The heli ride this season offers the best scenic views in the dry and crisp weather.
While autumn is another best time for this tour where the average temperature is around 15 to 20 degrees Celsius with the most stable weather and climatic conditions of the year. This is the dry month after the monsoon season. So, you will see the forests and the landscapes washed in the monsoon rain during your flight over the Everest region.
This is the less humid month with the least precipitation. So, there is the least chance that the clouds obstruct the vision.
So, during Autumn and Spring, you will have an amazing flight trip over the dazzling Himalayan peaks and the picturesque Everest region.
While the Everest Heli tour is also possible in other seasons as well when the weather is clear with clear cloudless skies. In winter although the temperature goes below freezing point in the base camp, with proper clothing you will have no problem at all. So, on a clear, sunny winter morning you can go for this Heli tour over the snow-blanketed Everest region.
However, during the monsoon season, frequent rainfall and thunderstorms disturb the heli flight. So, the tour to the Everest region is the least possible during this time. The fluctuating EBC weather, clouds, and frequent rainfall disturb the flight. There are chances of the flight cancellations.
Visual experience from EBC Helicopter Tour
Prepare for a visual feast that goes beyond explanation; the Everest Base Camp Helicopter Tour is an exquisite display of Himalayan magnificence from every imaginable angle and altitude. Landscapes unroll like chapters in an epic narrative as you soar - lush green hills roll below you, terraced farms decorate the canvas in vibrant hues, monasteries burst with color, and Sherpa communities sit as peaceful gems amidst the majesty. Witness the Dudh Koshi River, its silvery veins snaking through steep canyons, a lifeline born of the Khumbu glacier's icy grip.
Namche Bazaar unfolds its busy core in this airborne voyage, exposing itself as Khumbu's dynamic center. Tengboche monastery emerges, an architectural tribute to spiritual devotion tucked against the magnificent Himalayan background. Then there's Everest Base Camp. As you approach, the helicopter navigates over the Khumbu glacier and its perilous icefall, where climbers confront their most difficult obstacles. Below, colorful tents dot the landscape, providing shelter for daring souls preparing to scale the world's highest mountain.
When you land at Kala Patthar, you are standing on holy ground. It's a revered vantage point for trekkers, where the world's mightiest peaks merge - Everest, Lhotse, Nuptse, Pumori, and Ama Dablam - and a view that unfolds like a symphony of wonder.
These explanations, however, do not do credit to the mixture of emotions and spectacular sights you will encounter. This isn't simply tourism; it's a journey into the heart of the Himalayas, a story of risk, victory, and wild beauty that will leave an everlasting impact on your soul.
Cost of EBC Helicopter Tour
The tour price varies according to the season, availability, and number of passengers. For a party of five persons, the typical cost ranges from $900 to $1,200 per person. The helicopter trip, landing fees, breakfast or lunch at Hotel Everest View, and airport transfers are all included in the price. The price does not include the admission charge to Sagarmatha National Park, a UNESCO World Heritage Site that encompasses the majority of the Khumbu region ($30 per person).
Cost includes:
Pickups from the airport and Hotel.
Ticket for the helicopter to Everest.
Salary, insurance, and meal to the tour crew.
Supplemental oxygen and medical help.
Cost excludes:
Visa fees, international flight ticket
Any form of meal other than breakfast in Kathmandu.
Breakfast at Everest View Hotel
Entry fee (permit) for Sagarmatha National Park
Extra accommodation in Kathmandu due to any reasons.
Travel gears
Personal expenses like phone, internet fees, laundry, beverages, etc.
Tips to the pilot.
Finally, the Everest Base Camp Helicopter Tour is more than just a tour; it's an adventure that goes beyond the ordinary. It's a swirling dance of nature's wonders and human creativity, all coordinated to produce a symphony of memories that will last a lifetime in your heart. Every second is a brushstroke on the canvas of adventure, from soaring above verdant hills to touching down in the shadows of giants.
So, whether you're an explorer looking for an exciting story, a dreamer hoping to view Everest's crown gem, or a traveller looking for that pulse-quickening moment, this is your chance. It's about embracing the essence of the Himalayas, appreciating its holiness, and delighting in its magnificence, not merely conquering heights.
Remember, when you board that helicopter, you're not simply going on a flight; you're going on an experience that will change your life forever. The Everest Base Camp Helicopter Tour is more than a journey; it's a transformation, a meeting with nature's magnificence, and a reminder that the extraordinary awaits those who dare to pursue it.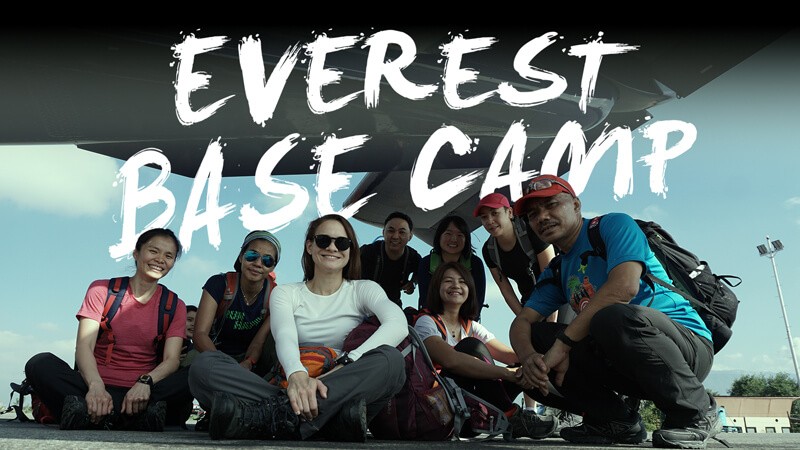 Outline Itinerary
Day 1:Fly to Lukla, Trek to Phakding
Day 2:Phakding to Namche Bazaar (3445 m)
Day 3:Acclimatization in Namche Bazaar (3445 m)
Day 4:Namche Bazaar to Tengboche (3860 m)
Day 5:Trek to Dingboche (4360 m)
Day 6:Acclimatization in Dingboche (4360m)
Day 7:Trek to Lobuche (4930m)
Day 8:Trek to Gorakshep (5160 m) and Hike to Everest Base Camp (5400 m), back to Gorak Shep.
Day 9:Early Morning Hike to Kalapathar (5545m) Fly to Lukla with Helicopter Return to Kathmandu by plane .
Detail Itinerary
Cost Details
Cost Includes
Tourists class transportation to and from the airport and hotel.
Flights tickets Kathmandu – Lukla .
Fly back to Kathmandu from Gorekshep by Helicopter.
2 Nights standards Hotel in Kathmandu with breakfast.
Trekking lodge /Teahouse accommodations during the trek.
3 meals a day (Breakfast, Lunch, and Dinner) during the trek.
Seasonal fruits.
Trekking route map.
Government Licensed Holder trekking guide with all his salary, food, drinks, accommodation, Flight and insurance.
Porter during the Trekking (1 Potter for 2 trekkers) with all his salary, food, drinks, accommodation, and insurance.
All necessary paperwork, Sagarmatha National Park Entry Permit, Trekker's Information Management System (TIMS) including local Tax, Government tax & official expenses.
Sleeping bag & Duffel Bag (if you do not have your own, to be returned after trip completion).
Supporter guide group size above 8+ people.
The arrangement of Emergency Helicopter service which will be paid by your Travel insurance company.
Exclusive Medical Kit Bag.
Farewell Dinner & Trekking Achievement Certificate.
Cost Excludes:
Lunch and Dinner while you are in Kathmandu city.
Excess baggage more than 10 kg for Lukla flight.
Extra night accommodation and meals if early departure from the mountain.
Nepal visa fee (You can apply for Online or you can easily issue the visa on arrival at International Airport Kathmandu.
Travel and rescue insurance (necessary).
International airfare.
Your personal expenses.
Alcoholic and non-alcoholic hot and cold drinks & all desserts sweet things.
Hot shower and battery charging in trekking Mountains.
Any others expenses which are not mentioned in including section.
Tips for the guide, porter and driver