Key Information
Trip Grade

Strenuous

Trip Style

Trekking & Peak Climb

Transportation

Private Vechiles & Domestic Flight

Meals

Breakfast in cities , full board meals trek & Climb

Accommodation

2 star hotel in cities & tea house & tent in mountaion

Group Size

02 - 16
About Everest Base Camp with Island Peak Climb
Suitable for the high altitude climbers offering some of the absolutely mesmerizing parts of Nepal, Everest Base Camp trek with Island peak climbing is a perfect adventurous trip activity for adventure sprinters around the globe. The key features of this trip are an exploration of assorted landscapes, insight to Sherpa settlement; a chance to relish mountainous vistas and unbound natural beauty. Situated in Khumbu region of Solukhumbu district, island peak (6,189m) is one of the major peaks that are well renowned for climbing events. Autumn and spring are regarded as the best season to explore Everest base camp. Since the trekking trail gets strenuous as you ascend, one must be physically fit to explore the region.
Everest Base Camp with Island peak climbing is a popular combo experience amongst travelers from all around the world. This is designed for high-altitude climbers with past experience of climbing. This journey takes you through some of the most amazing and beautiful parts of Nepal, to some of the highest points in the world. All through the journey, the beautiful sight of rocky mountainous terrain, along with strings of prayer flags and small Chorten scattered across the region keeps you company and brings serenity to you while you trek and climb. What could be a better journey than this?
Island Peak (6189m) also known as Imja Tse is one of the major climbing peaks in the Khumbu region that needs physical fitness with little technical aspects. The uniqueness of this trip is what makes this journey a challenging one. If you want to challenge the inner adventurer in you to get out of your comfort zone and scale new heights, then Everest Base Camp Trek with Island peak climbing is the perfect trip for you.
The Island peak climbing has come to the choice of getting the most adventurous climbing journey. How can anyone not desperately want, to go for an Everest base camp trek with Island peak climbing, That is for sure the Everest base camp trek with Island climbing lures you to its best attractions and sceneries. After conquering the heights, you can experience the confidence and satisfaction of achievement and the blow of wind that enjoy with you.
Island Peak also renowned as Imja Tse Peak, appears to be an island of ice and is also part of Mt. Lhotse. Throughout the journey, you will pass by the snow-filling rocky hills, and slippery steps, and play with the wind gently swirling and teasing. Here's what not to miss, the divine mountains, adventurous rocky hills, snowy scenarios, diverse greeneries, and the attractions of nature throughout the journey.
Everest Base Camp with Island peak climbing starts from the quaint town of Lukla which will then proceed to the beautiful village of Namche Bazaar majorly inhabited by the Sherpa community. Along your way, you will meet the local people with whom you can interact to gain perspective on life in the remote regions. You will also trek to the summit of Kala Patthar, a modest peak on the outskirts of Dingboche, from where the close-up view of snowy peaks such as Everest, Nuptse, and Changtse among some, at the time of sunrise makes up for an ethereal view. As we descend back to Dingboche on the 11th day, our journey to island peak climbing starts. On the next day, we will trek to the island peak base camp and prepare ourselves for a summit. The next morning is the key day of this journey as we ascend to Island Peak. Top of the island Peak provides a spectacular view of Khumbu Valley along with Mt. Cho Polu (6,734m), Mt. Makalu (8,475), Nuptse (7,879m), Lhotse (8,501m), Baruntse (7129m) and Amadablam (6812m). During your stay, you can observe the legendary village of Sherpa, provided with their local delicious dishes and delicacies for sure.
Highlights
Amazing flight to Lukla
Sherpa's culture and tradition acquaintance.
Exploration of Tengboche Monastery
View of beautiful Mt.everest
Island peak summit
Best season to trek
The best time for the trek would be the blossoming springs with colorful vistas, the fall season would equally add to the purpose of the journey, the advantage of this time is that the weather tries to lure from every eye-reaching corner of the place.
Itinerary
Index Adventure has brought you this tested itinerary which provides you with a unique trail. Safety has also been given special regard as the treks are well equipped with guides with advanced knowledge of the region. With extensive expertise in this field, Index Adventure guarantees a beautiful journey ahead which will be a milestone in your life you will fondly look back to.
Day 1: Arrival at Kathmandu. (1,350m)
You will arrive in Kathmandu. Our representatives will aid you with your hotel. A glorious city, Kathmandu offers you the best in cuisines and cultural heritage with a touch of modernity amongst the people. The ambiance may catch you off guard due to the city's wonderful unpredictability in terms of lifestyle and traditions. Overnight in Kathmandu.
Day 2: Preparations for the Trip.
You will spend your day making preparations for your further journey. These preparations include a basic overview of what to expect and making sure that you have the necessary papers as well as the necessary amenities for you to travel.
Day 3: Flight to Lukla airport with trek to Phakding(2,652m/8,700ft).
From Kathmandu, you will take a short flight to Lukla of 35-40 minutes. This part of the trip is a more thrilling experience. On foot, the trek started after the landing. Porters and guides will assist your journey, during a cross-meet of the dudhkoshi suspension bridge.
You will encounter a tea house in Phakding for the rest and accommodations where you can stay overnight.
Day 4: Trek to Namche Bazaar(3,440m/11,283ft).
The trek continues going through the suspension bridge again along walks in banks of the Dudhkosi River. You will need to cross at least 5 suspension bridges during the course of time. After 3 hrs., you will reach the Sagarmatha National Park, above which you will reach your today's destination 'Namche'. You will be attracted to the surrounding local visit and people accommodations.
Day 6: Acclimatization of Namche Bazaar(3,870/12,694ft).
Namche, being in high altitude, get along with the altitude environment, and then, you can proceed to explore the headquarters of Sagarmatha National Parks. You can observe the mountain range during your stay and make it possible to visit the Museum. The rest time can be spent discovering local cultures and traditions.
Day 7: Tengboche to Pheriche (3,440m/11,283ft).
From Tengboche, you will take a trail toward the village of Pheriche. The trail is beautiful, with a wide expanse of barren hillsides and grazing meadows. The village itself offers you beautiful views of the Everest ranges surrounding its skyline. Overnight in Pheriche.
Day 8: Acclimatization at Pheriche (3,440m/11,283ft).
Once again, you will spend the day getting used to the climate of the region at an altitude of 4,371m. In the meantime, you can choose to explore the village of Pheriche and its surrounding areas which also include the Tsola River above which it is situated.
Day 9: Trek to Lobuche (4,940m/16,207ft).
The day will be welcoming and rewarding, you will reach Thukla Pass after which you will be going to climb through ascending the steepest trails so far. You will head to Dugla Pass, with the memorial park in, you can spend your time there. The Park is built in memory of trekkers who passed away during trekking. Walking through, you reach the Khumbu glacier from which the destination to be reached would be in difference of 30 minutes of distance. At Lobuche, the facilities are provided for your comfort and spend a night there.
Day 10: Trek to Everest Base Camp (5,364m/17,594ft) - via Gorak Shep (5,170 m/16,961ft).
You will trek towards Gorak Shep. At an altitude of 5164m, this place houses a settlement of nomadic people for almost half a year, due to which Gorak Shep is also considered to be one of the highest settlements in the world. From Gorak Shep, you will trek toward Everest Base Camp. Strings of prayer flags and stacked stones accompany you through various spots on your trail. The view from the Base Camp is incredible- a close-up of the entire Everest range. You will also trek back towards Gorak Shep. Overnight in Gorak Shep.
Day 11: Trek to Kalapatthar and back to Dingboche (5,545m/18,192ft)
You will have to wake up early to catch up with the sunrise view from Kalapatthar. It is considered the most suitable viewpoint to observe the view of Mt.Everest. It will take two hours to reach the viewpoint from Dingboche. The mountains you can observe are Mt. Everest, Mt. Lhotse, Mt. NUPSE, Mt, changtse, etc. Early morning is the best time for the stunning view.
After the valuable moments spent, you return to Gorakshep and take a tea break. Then we proceed through Periche to Dingboche. Get yourself accommodated there.
Day 12: Trek to Island Peak base camp (5,200m/17,060ft).
On 12 th day of the trip, you start your journey to Island peak climbing. Take breakfast and move towards Island Peak Base Camp. Through trails you will be provided with waterfalls and glacial streams, Imja Khola Glacier can be peeked on the way. After you reach the base camp, you can look up through the beautiful mountains, there you are allowed to stay on base camp by tenting as no lodging provision is managed.
Day 13: Climb to Island Peak summit and back to base camp (6,189m/20,305ft).
Wake up at 2 a.m. in the morning, as the wind through the peak will be harsh during the daytime. In addition to it, the morning time provides clear weather. A professional Mountain guide will guide you throughout the peak climbing. On reaching the summit you will need to deal with the steep, slippery slopes and glaciers as well. On climbing for 2-3 hrs, you can conquer the summit, the dramatic view can be observed from the top. Some mountains like Mt.Barun tse, Amadublum, Makalu, Lhotse, Nuptse, etc. give you extra additional views. Photo capturing can be done there and after that climb down to the base camp. Your luggage and tent will be managed by guides and you will return back to Chukkung and spend the night there.
Day 14: Trek to Dingboche (4,360/14,300ft)
From the base camp, you will trek back toward the village of Dingboche. Located at an altitude of 4,360m, this village comprises modest houses in the midst of barren hills that make way for the snowy mountains- which make up for an incredible view. Overnight in Dingboche.
Day 15: Trek back to Namche(3,440m/11,280ft).
After walking for 3-4 hrs. you will reach Namche, In comparison to the above arenas Namche is comparatively filled with green vegetation and dense social hood. You will feel social integration with people here. You will spend a night over here.
Day 16: Trek to Lukla(2,800m/9,186ft) 6-7 hours.
The final step for your trip is from Namche to Lukta, it takes walking hours 3- 4 hrs. You can enjoy the last day of your trip. Spend the night here.
Day 17: Flight back to Kathmandu
Take a flight with wonderful memories filling in your head.
Day 18: Departure to International Airport.
Congratulations! Your trip has come to an end. Our representatives will aid you towards the Airport. We hope you have had an amazing time and are returning with memories to cherish for a lifetime.
Geography
You will be able to see the different topographical features of hills, mountains, rivers, and trails, which hindered the way and made your trek different and enthusiastically interesting. The river, valleys, trees, vegetation, and landscape all come to you welcoming in their land of nature.
Cultures
The hospitality of the Sherpa people living there will get you to their perspective of seeing their nature, protecting them, and living from them. You will get a description of the cultures and traditions of the place and the creation of the destroyed parts of the spaces. The local traditions and festivities are shared with you along with the taste of local cuisines and delicacies.
Frequently Asked Questions
In what duration of time will you reach the Island peak?
Even though route and acclimatization may differ and total trek duration may take up to 3 weeks, you will climb to the island peak on the 13th day of the trek.
What is the peak point you reach during your EBC trek with the Island peak climb?
As the Island peak is 6189m, you will encounter your peak point, which is of a height of 6189m (20,305ft feet above sea level).
Will you be worried about altitude sickness during the trek?
Maybe Yes, there is a definite potential risk of altitude sickness. It is essential that the patient be adequately acclimatized, gradually climb and in the meantime be aware of such symptoms as fainting, vomiting, fast respiration, etc.
Will that be necessary for you to carry tea and lodgings along the trekking route?
No, it will not be necessary because the trail of Everest Base Camp trekking with Island Peak climb offers a lot of tea shops and lodges where you can actually stay and eat what you desire.
What do you find the difficulty of a trip to the Everest Base Camp with an Island peak?
In comparison to other country's mountain trails, these trails are relatively easier and the difficult part here would be dealing with the nature pattern on time.
Note: Weather in Everest is unpredictable so there is a high chance of delays as well as cancellation of the scheduled flight. The rate of flight delays and cancellations is high at Lukla. During your journey, if flight cancellation happens you have to spend an extra night at Lukla/Ktm (if you are coming back to Kathmandu or going to Lukla). So, we request you to spare a couple of days if you are planning to trek in the Everest region so that you will not miss your international flight. Helicopter rescue can also be an option but it costs you more.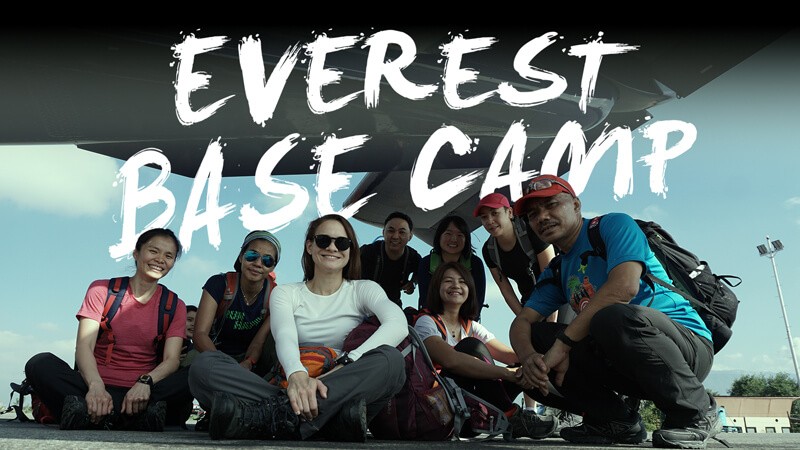 Outline Itinerary
Day 1:Arrival at Kathmandu. (1,350m).
Day 2:Preparations for trip.
Day 3:Fly to Lukla and head to Phakding (2,652m/8,700ft).
Day 4:Trek to Namche Bazar (3,440m/11,283ft).
Day 5:Acclimatization Day at Namche (3,440m/11,283ft).
Day 6:Namche Bazar to Tengboche (3,870/12,694ft).
Day 7:Tengboche to Pheriche (3,440m/11,283ft).
Day 8:Acclimatization at Pheriche (3,440m/11,283ft).
Day 9:Trek to Lobuche (4,940m/16,207ft).
Day 10:Trek to Everest Base Camp (5,364m/17,594ft) - via Gorak Shep (5,170 m/16,961ft).
Day 11:Morning Kalapatthar sunrise (5,545m/18,192ft) and trek down to Dingboche.
Day 12:Trek to Island Peak Base Camp (5,200m/17,060ft).
Day 13:Climb to Island Peak summit and back to base camp (6,189m/20,305ft).
Day 14:Trek to Dingboche (4,360/14,300ft).
Day 15:Trek to Namche Bazaar (3,440m/11,280ft).
Day 16:Trek down to Lukla (2,800m/9,186ft) 6-7 hours.
Day 17:Fly Back to Kathmandu,(1,300m/4,264ft).
Day 18:Departure to International Airport.
Detail Itinerary
Cost Details
Cost Includes
Tourists class transportation to and from the airport and hotel.
Both ways Flights tickets Kathmandu –Lukla-Kathmandu.
3 Nights standards Hotel in Kathmandu with breakfast.
Trekking lodge /Teahouse accommodations during the trek & similar tented camp accommodation during the climbing period.
3 meals a day (Breakfast, Lunch, and Dinner) during the trek.
Government Licensed Holder trekking guide & High altitude climbing leader (Sherpa guide) licensed by Nepal Mountaineering Association (NMA) with all the salary, food, drinks, accommodation, Flight, and insurance.
Group climbing equipment including ropes, ice screws, snow bars, harness, carbine, eight-figure etc.
Porter during the Trekking (1 Potter for 2 trekkers) with all his salary, food, drinks, accommodation, and insurance.
All necessary paperwork, Sagarmatha National Park Entry Permit, Island Peak climbing permit fee, local Tax, Government tax & official expenses.
Sleeping bag, Down jacket & Duffel Bag (if you do not have your own, to be returned after trip completion).
Supporter guide group size above 5+ people.
The arrangement of Emergency Helicopter service which will be paid by your Travel insurance company.
Exclusive Medical Kit Bag.
All organizational requirements.
Index Adventure T-shirt & Trekking Achievement Certificate.
Cost Excludes:
Lunch and Dinner while you are in Kathmandu city.
Excess baggage more than 10 kg for Lukla flight.
Extra night accommodation and meals if early departure from the mountain.
Nepal visa fee (You can apply for Online or you can easily issue the visa on arrival at International Airport Kathmandu.
Travel and rescue insurance (necessary).
International airfare.
Your personal expenses.
Alcoholic and non-alcoholic hot and cold drinks & all desserts sweet things.
Hot shower and battery charging in trekking Mountains.
Any others expenses which are not mentioned in including section.
Tips for the guide, porter, and driver (Tipping is voluntary).