So have you planned to Trek to Nepal, A beautiful country in a Himalayas sandwiched between China and India? Here are 7 things that you need to know before you zero in on arriving here for trekking.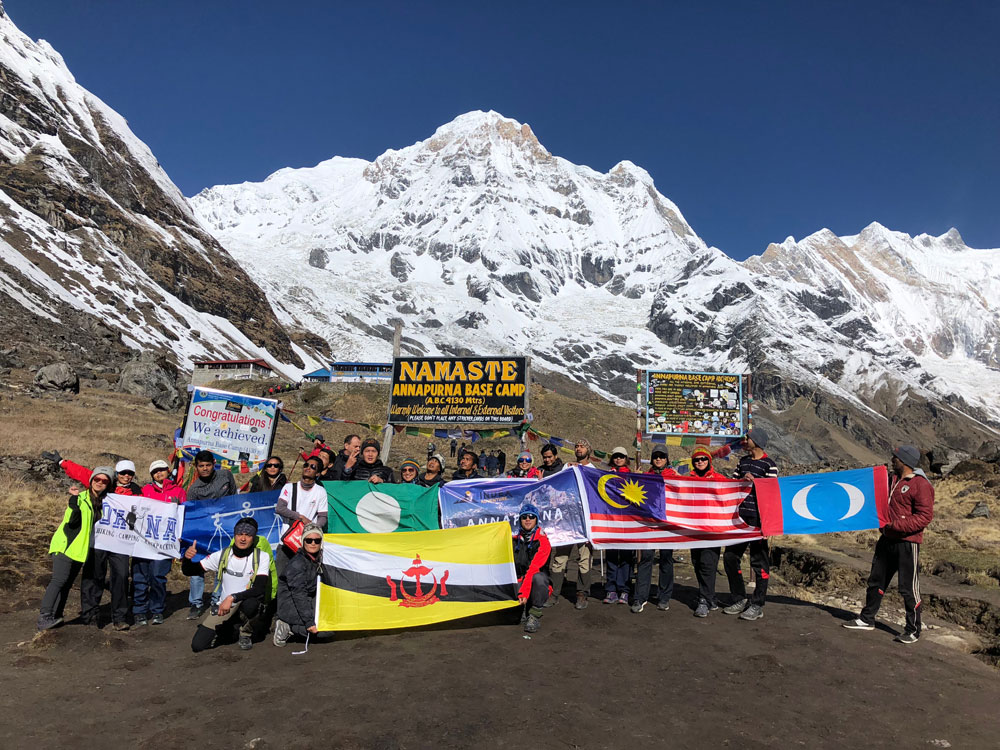 Nepalese are generally nice and hospitable. Customary greeting is to bring palms together before chest and say "Namaste". Himalayan region of Nepal is mostly populated by Tibeto-Burman groups racially among which Sherpas are the most famous. They may all look same to western eyes but although they probably had the same root, their languages, attires, rituals etc. slightly differ from each other. Monasteries and Stupas are common on the trails which are circumambulated clockwise and prayer wheels which often accompany them are spun clockwise as well.
Peak Season
September – November: This is Nepal's peak and the best time for trekking. The monsoon rains clear the sky and thus mountain views are pristine. But because it is a peak season, trails are crowded.
March-June: Spring is the second-best time of the year to go trekking in Nepal. Temperature is mild and the mountain views are mostly clear although skies can turn hazy once in a while.
Off Season
July – September: This is Nepal's summer and monsoon. It gets very hot and humid very fast as the sun rises from the horizon. Monsoon rains are likely to cause floods and landslide that can easily get trekkers stranded. Odds of getting clear Mountain View is slim. However, because it is the off-season prices of goods and services are comparatively low.
December - February: This time of the year is the coldest in Nepal. It is generally not recommended for trekking to those who are not accustomed to cold weather. Daylight hour is short and most trails up in higher altitude are inaccessible due to snowfall.
Himalayan region is characterized by Low oxygen pressure and cold temperature which in synergy causes Acute Mountain Sickness (AMS) commonly known as altitude sickness. It can ruin your trekking joy in an instant. AMS can be fatal if taken lightly but with the precaution that is, proper acclimatization and slower pace, one can handle it. Garlic is a local remedy to help one adjust with high altitude.
What are the symptoms of High Altitude Sickness?
Nausea, vomiting, loss of appetite
Sleeplessness, headache, and dizziness
Weakness, confusion and slight swelling of the hands and legs
What are the prevention and cures of High Altitude Sickness?
Do sufficient acclimatization while climbing up over 3000m.
Climb high sleep low
Don't ascend rapidly
Do not drink alcohols, smoke and don't take sleeping pills.
Drink plenty of water
Wear warm clothes, gloves, and socks
Descend down as soon as possible if you feel the symptoms
Trek with guides, which is helpful to avoid the risks and easy to have rescued
All trekker must obtain TIMS (Trekker's Information Management System) card, for their own safety, from either Trekking Agencies' Association Nepal (TAAN) or Nepal Tourism Board (NTB). TIMS card can costs anywhere from NPR 300/- to NPR 2000/- depending on where a trekker is from and whether it is the group or individual trekking.
Beside TIMS card, Trekking permits are required some of which can be bought en-route and some need to be bought beforehand. Permits come in the form of the ticket which must be with trekker all the time throughout the journey. In addition to permits, trekkers are required to pay fees in conservation and National park entrance which can range from NPR 1000/- to 2000/- per person.
Trekking in restricted areas requires a special permit from a registered trekking agency. The guide is a must in those areas. As of 2017 following area is restricted area: Manaslu, Nar-Phu, Tsum Valley, Upper Mustang, Dolpo, Kanchenjunga, and Humla.
What to take (Trekking Equipment)
The following list of equipment is enough for a normal trekking. Depending on length of the trek and season lot more can be added or removed from the following list of Trekking equipment: Sleeping bag, Daypack, Boots, Sandals, Rain Coat, First Aid Kit, Trekking Pants, Down Jackets, Sun Glasses, Gloves, Water Bottle, Water purifier, Toiletries, Moisturizers, Money Pouch, Snacks and Nutrition, Head Lamp, Maps and Compass and Cell Phone. All the aforementioned equipment can be purchased or hired from Thamel, Kathmandu.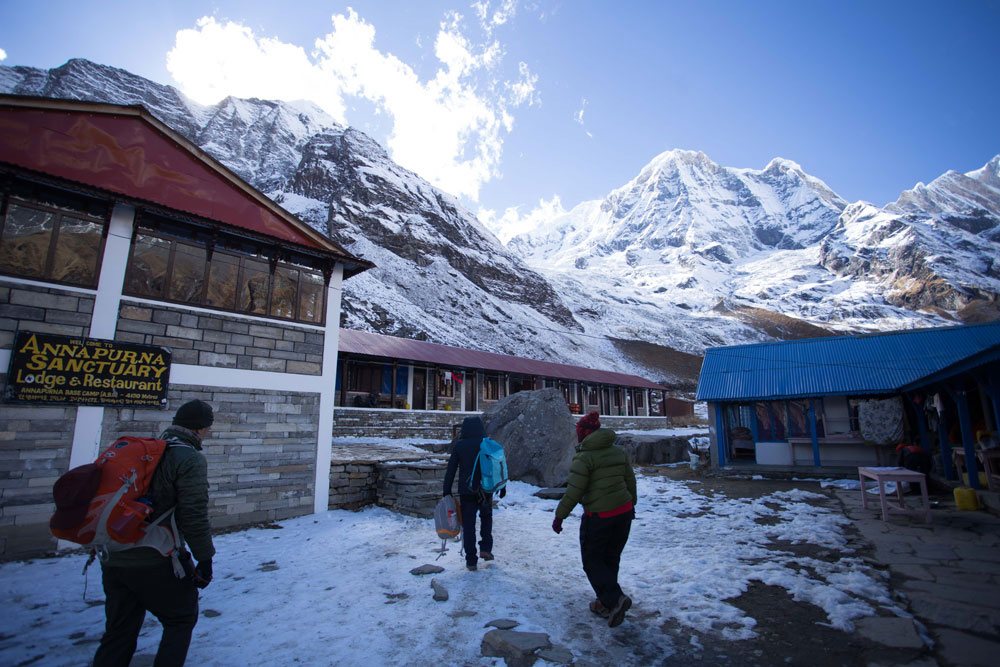 Lodges and Foods
Tons of Lodges can be found along the trails which can be a great place to meet fellow trekkers, enjoy homemade recipes, take rest and call it a day after a long tiring day. Mountain Lodges are simple yet cozy. They can be booked on arrival or beforehand via phone. Dal Bhat is most popular cuisine in Nepal which is basically Lentil soup and rice but other occidental alternatives maybe served in some lodges.
Health and Fitness
While fitness doesn't guarantee immunity from Altitude sickness it definitely helps. Recovery of sore limbs will be faster on the fitter body. Fitness also means the likelihood of catching flu is slim. Physical exercise to boost stamina and endurance at least a month before going on the actual trek is recommended. The body needs to be constantly hydrated as it loses water and electrolytes during the trek. First aid kit has to have some anti-biotic to be used if symptoms of viral or bacterial infection are observed in the body.
Please More info: Trek to Nepal