Everest Base Camp trek is the most popular trek in Nepal. Trekking to Everest is the ambition of enthusiastic trekkers worldwide. Everest Base Camp trek is a complete package of admirable beauties and uncertain thrills.
The trek is a walk into the remotest parts of Nepal. With the adventures and pleasant memories come some challenges as well in this trek.
So, what is the Everest Base Camp trek difficulty level for the trekkers?
The Everest Base Camp trek requires no climbing experiences or climbing hardships. So, with a positive mindset, proper preparation/training, and strong determination, the trek is not so hard.
But you must not take Everest Base Camp trek lightly. It is a high altitude trek. And altitude kills if taken carelessly.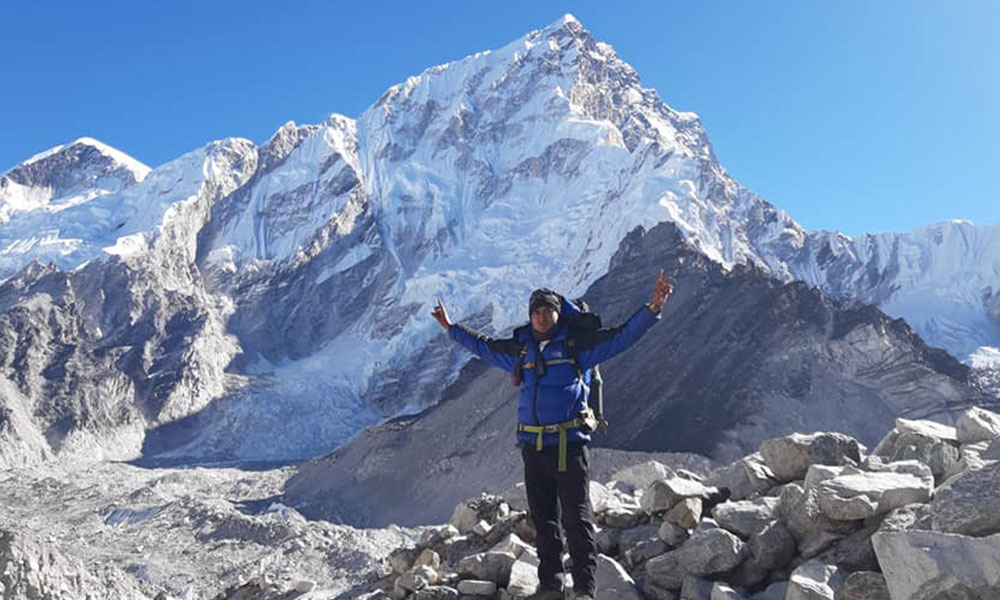 What Makes the Everest Base Camp Trek Difficult?
Increasing Altitude
Everest Base Camp trek is a high altitude adventurous trek. Half of the EBC trek difficulties happen because of the increasing altitudes.
On flying from Kathmandu airport at 1400 meters, to Lukla airport, 2860 meters, you will gain double the altitude. This increase in elevation can be a factor to encourage mild altitude sickness symptoms in the Everest region.
The starting point of the trek, Lukla itself sits at a high altitude. The EBC trekkers are prone to altitude sickness right after they step at Lukla. Especially to people, who are dwelling in the sea level, changing altitudes during EBC trek are very challenging.
The trek gains altitude day by day. The highest altitude point on the trek is at Kala Patthar, 5,554 meters. Kala Patthar is the best viewpoint in the EBC trek. You can see enchanting vistas of Everest and other peaks. Also, the views of Khumbu glacier and icefall from there is remarkable.
Higher the altitude more is the weather uncertainty. The ratio of oxygen in the air goes on decreasing as we ascend towards higher elevations. This decreases the air pressure making the air thinner at the Himalayas. This is a major reason why altitude sickness occurs.
According to most of the trek itineraries, you will gain altitudes of 600-800 meters per day during your trek. There is variation in oxygen content in the air with a change in altitude. Thus, in order to adapt with the thinner air, you must place acclimatization days in between the trek.
The increasing altitude causes Acute Mountain Sickness. Anyone of any age, shape, and gender can get the sickness. Altitude sickness is a risk that you must not ignore. Ignorance and overconfidence can even take your life.
Altitude kills if you cannot adapt your body with the changes it offers. You cannot neglect the risk of altitude sickness. The sickness can be prevented by following various instructions. They are:
Walk slowly and maintain a steady pace while walking.
Do not rush! Take your time to reach base camp.
Make a suitable acclimatization routine. (2 days acclimatization is okay)
Drink plenty of water to overcome dehydration.
Do not ignore the symptoms, if you see them. Seek some medical help immediately.
Do not sleep at higher altitudes during days/ nights. Descend to lower altitudes for nights. Keep moving and occupied during the daytime.
Are you planning your Everest Base Camp Trek? Don't hesitate to contact us. Tell us your requirements, we can help you to make your trip memorable.
Length of the Trek
The total distance from Lukla to the Everest Base Camp equals 65 kilometers. Now, the total trek means walking to Base Camp and then returning back, following the same trek route to Lukla. This makes the total length of Everest Base Camp 130 kilometers.
If you see a standard itinerary, you will be spending 14 days in the Everest region. Out of this, 2 days are for acclimatization. So, to cover the 130 kilometers distance in 12 days, you must cover roughly 15 kilometers in a day.
Walking 15 kilometers in a day does not sound like much. But walking in the Everest region is not like walking on a normal trail. The EBC trails are difficult. There are frequent ascends and descends.
Moreover, the terrain is often rocky and steep. You can't hurry in such places. If you are trekking in the rainy and winter seasons, the trek is even more difficult.
During the rainy season, the frequent rainfall makes the trail slippery. Likewise, during winter, the roads may be covered or blocked by snow. If you choose to trek in these seasons, the length of trek appears to be longer. Also, the trek difficulty multiplies.
The length of the Everest Base Camp is unchangeable. There are no alternative and faster trails. (Reminder! while trying to trek faster, the risk of altitude sickness increases.)
Thus, we can follow some tricks to avoid the EBC trek difficulties. Some of them are:
Prepare a healthy mindset. The trek is a remote high altitude trek. It is definitely not going to be easy.
Maintain physical fitness. Prepare your body for the long and difficult walks.
Make sure you rest often. This will prevent your body from over-tiredness.
Hire a porter who will carry all your gears. Walking without loads is far better than by carrying them.
Keep in mind that you will be at the Himalayas for more number of days. Once you are there, you cannot just halt the trek and return back. There is no transportation access till you walk to Lukla.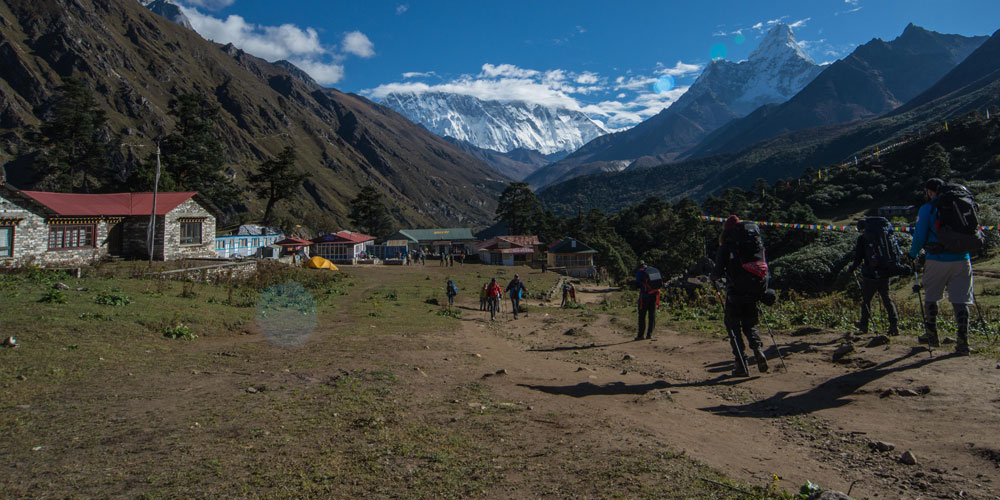 Lack of Proper Training
A large number of trekkers from around the world access the Everest Base Camp trek. But this doesn't mean the EBC trek is easy. One can face a large number of difficulties if the trek isn't properly scheduled and managed.
A trekker must be physically fit for the EBC trek. In order to meet the fitness level, you must get some training before going to trek. Lack of proper training can increase the Everest Base Camp difficulty.
Do not underestimate EBC trek. Trekking over the rugged trails and difficult landscapes is strenuous. It is physically more demanding. Handling high altitude treks demands good preparation.
Proper planning and proper training simplify the EBC trek difficulties. Start to train yourself way before 2-3 months before the actual trek. Make some conventional exercise routines. The exercises must emphasize building muscular strengths, maintaining physical fitness.
Some of the suggested training include:
Going on short hikes to higher altitude places.
Practicing walking up and down hills. If there is no hill around you, you can practice walking up and down the stairs of your building several times.
Aerobics such as swimming, jogging, and cycling can also be helpful.
Walk for at least 1 to 2 hours per day to build stamina and walk habits.
Jogging/ Running helps increasing lung capacity. This can be fruitful during the trek.
Strength training at the gym. Focus mostly on your legs.
Consumption of Improper Diet During the Trek
Eating food means fueling yourself to walk further. During your EBC trek, you must have three meals a day to keep fueled. Sometimes, one can get food poisonings while trekking.
Food poisoning can be more dangerous if you are at higher altitudes. You will feel weaker, and thus altitude sickness immediately affects you. So, sometimes the lack of a balanced diet or food poisoning can increase the EBC trek difficulty.
The major threat of food poisoning is the consumption of meat. The Everest region is a Buddhist area entirely. So, cutting animals cannot happen there. The meats that you eat are ported from Lukla to the higher regions.
Thus, the meat may not be healthy. Think before you have it. Also, polluted water can also be the cause.
Here we have listed some preventive ways against food poisoning:
Make sure you drink pure water. Carry water purification liquids and pills with you to avoid getting infected.
Eating local Nepali cuisine is better. They are regularly cooked. They are filling and makes a proper diet.
Avoid the consumption of meat, if you can.
Are you planning your Everest Base Camp Trek? Don't hesitate to contact us. Tell us your requirements, we can help you to make your trip memorable.
Unpredictable Weather
One of the Everest Base Camp challenges is the unpredictable weather. It is hard to predict the weather conditions in the Everest region.
There is no way to know the exact weather. We can only predict it according to past records and the tendency of weather change. Weather predictions approximate on how stable weather a season has brought in past years.
You will see a drastic variation in daytime and night temperature of a single day. Nights are much colder than days. Seasons of Spring (March, April, May) and Autumn (September, October, November) are most stable in terms of weather change.
The summer/monsoon and the winter are the seasons when the weather mostly remains unstable. You can experience sharp weather variations during monsoon and winter treks to Everest Base Camp.
Trekking to Everest Base Camp during bad weathers is very tough. You cannot predict how worse the weather can get, once it begins. You may remain struct at some tea houses due to snowstorms.
Lukla airport is at a geologically difficult place. Landing at and taking off from Lukla is technically difficult. Sometimes, you have to wait for the sky to open up for a flight regulation.
During monsoon (June, July, August) and winter (December, January, February), weather is unpredictable. It is more likely to change every few hours. This can cause delays in flight or even flight cancellations. The flights remain delayed until the weather gets normal again.
What to do to avoid/ prevent Everest Base Camp difficulties due to unpredictable weather?
Research on the current weather conditions at the Everest Base Camp before you choose to go on the trek.
Prepare a backup plan for bad weather, difficulties or challenges during the EBC trek in any month. Bad weather can hit anytime, even in peak seasons.
Avoid trekking in monsoon and winter, if possible.
Improper Gearing Up
Wiser the gear, easier will be the Everest Base Camp trek. So, spend some time researching about what gears you will need for what time.
Improper gearing can ruin your trek making it more difficult. Suppose you are trekking in rainy seasons, and you lack rain protection gears. The trek will be a waste, nothing more.
The Everest Base Camp trek requires a lot of preparations. You should pack different items for different seasons. Get information on the Everest Base Camp Trek Packing Lists.
Include all the essentials. Try to avoid unnecessary items. They will only add weight to your loads. Reminder! Hire a porter to carry your gears.
Some Extra Tips to Reduce the Everest Base Camp Trek Difficulty
Make the best decisions for your trek. Gather all the necessary information on the Everest Base camp trek difficulty level.
Choose the right itinerary. Try to avoid short itineraries. If you fail to acclimatize well, you might fail to return back home.
Conserve energy on the trial. Don't try to overdo. Slow pace means you are close to success.
Make sure you trek with a professional guide. They will help you overcome the trek difficulties. Also, they will keep you alert for uncertainties.
Conclusion
So, have you made up your mind to trek to the Everest Base Camp? You must not worry about the trek difficulties.
When there's a strong will for something, there's always a way to achieve it. The Everest Base Camp trek difficulty cannot discourage you if do the trek after perfect planning. Trust me! the alluring vista of Everest from the base camp wins the trekker's heart and soul.
Spare some time to study about the difficulties in Everest Base Camp trek. Also, get possible information on how to overcome those difficulties and have a happy and healthy trek.
Was this article helpful? We will be happy to hear your feedback. Do drop us a mail.
Happy and Safe trekking!!