Mardi Himal Trek is an alluring trek in the most exotic locations in the Annapurna region. This is a moderate trek with an affordable cost to trek to the Mardi Himal.

Do you love exploring the mountainside and the hillside vegetation in the same trek?
If yes, go for Mardi Himal trekking!
The Mardi Himal Trek is an ideal choice for all type of trekkers. The trek offers an 'off the beaten path' trekking experience in the quieter parts of the Annapurna region. It is the lowest and perhaps the least visited of the trekking peaks in Nepal.
While trekking on this route, leading up to Mardi Himal Base Camp and finally the High Camp, you will get to appreciate the solitary trails. The route smiles with verdant forests, interesting villages, valleys, terraced farms, and dazzling rivers. Plus, the extraordinary views of the Annapurna, Machhapuchhre (Fishtail), and Hiunchuli mountains.
Another benefit about this trekking route is that the trail makes a small circuit up to the base camp of Mardi Himal. So that we don't have to backtrack over the same terrain.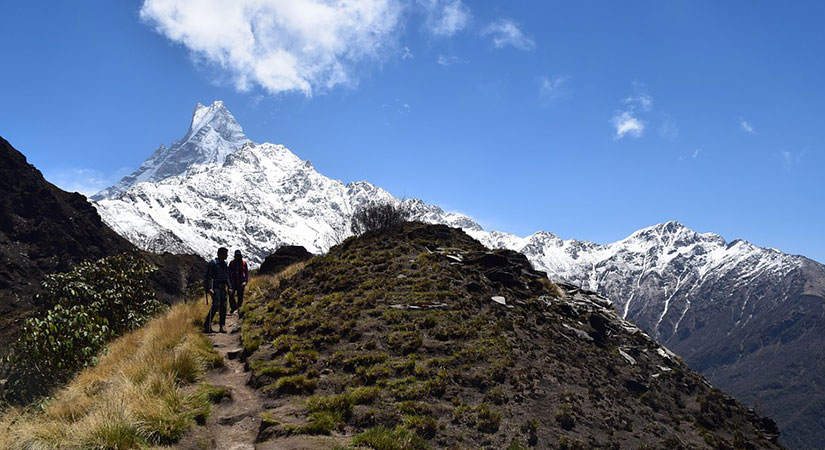 Mardi Himal Trek Cost
While it comes to trekking in Nepal, many people are curious about the cost of trekking. But, you do not need to worry much. Trekking in Nepal is much easy and cheap as compared to trekking in other parts of the world. Such is the cost of Mardi Himal Trekking. It is much cheaper.
If you ask us, our 10 days itinerary costs around US $500- US $700 per person. But, if you have less time for this trek, we have 5 days itinerary for Mardi Himal Trek as well. This trek is customizable, we will be happy to know your preferences. For this, feel free to contact us so that we can make price-deals accordingly.
In general, your cost of Mardi Himal Trekking depends on various factors:
Number of days you plan to spend on the trek route
The route you plan to walk along.
The mode of transportation you choose from Kathmandu- Pokhara- Kande (the trekhead).
The time of the year you are planning to go on the trek.
The list of items you pack in your bags.
The mode of accommodation you choose on the trail, and so on.
More often when you plan trips with trekking agencies like us your cost estimates stand something like this:
Cost Includes
Kathmandu/Pokhara/Kathmandu bus ticket
All trekking permit - ACAP permit and TIMs Card
English Speaking guide during trekking and his meals, accommodation, salary, insurance, and transfer
Twin sharing mountain lodge known as tea house accommodation during trekking
3 times meals - Breakfast, Lunch, and dinner during trekking
Pokhara/trekking start and trekking end point to Pokhara by private car or cab transfer
1 nights standard twin sharing hotel accommodation in Pokhara with breakfast
All the local government taxes and company service charge
Transportation Costs
Your Mardi Himal trek begins from Kathmandu. From Kathmandu you either take a flight to Pokhara which cost around US $120 per person.
Or, you can travel by a bus, jeep, tourist bus, or private car which in average costs you around US $10- US 30 depending on the vehicle you choose.
From Pokhara, you drive 2 for 25 minutes in a local bus for US $ 10 or you drive in tourist bus( the price ranges) to Kande and start your trek.
Permits and Fees for Mardi Himal Trek
To do trekking in any trekking route in Nepal you need to get special permissions from the Government of Nepal and obtain specific permits for the specific destinations. And, for trekking in any places in Nepal, it is a must to obtain a TIMS card except in the restricted regions. Plus, since Mardi Himal lies in the Annapurna region you need to obtain an Annapurna Conservation Area Permit as well.
Following is the list of permits for the Mardi Himal Trek:
ACAP permit fee for foreigners: 3,000 NPR (Approx. US $30)
ACAP entry permit fee for SAARC nationals: 300 NPR
TIMS card: 1,000 NPR (Approx. US $10)
Where to get the permit for Annapurna Base Camp Trekking?
Kathmandu: You can buy Permits and TIMS cards in the Nepal Tourism Board Office on Pradarshani Marg, Kathmandu, Tel: +977 1 4256909.
Pokhara: You can also obtain the Permits at Pokhara at the Nepal Tourism Board Service Center in Damside. Or, at the ACAP entry permit counter in Besisahar, Lamjung.
Also, you can buy TIMS cards from the TAAN Lakeside office in Santi Patan, Pokhara.
If you wish to book with us, feel free to contact us. We would love to arrange every permits and permission for Mardi Himal Trek.
Accommodation and Food Cost
You will get to accommodate in 3-star hotels in Kathmandu and Pokhara. While you accommodate in teahouses during the trek. Accommodations are mostly twin-shared basis. You can also book single supplement on request but it may cost you extra than the normal charges.
The trails of Mardi Himal Trek are not as frequented by tourists as the other regions. Therefore, the guesthouse facilities will be very basic. In general, you will spend around the US $20- US $30 for food and accommodation on the trail.
During the trek, you can enjoy authentic Nepalese food as well as the more common international cuisine (Tibetan, Continental, Italian, Indian, etc.).
Teahouse will serve you Breakfast and dinner from their menu after you spend the night. Whereas you will enjoy your lunch on the way to the next destination.
However, your cost of food and accommodation in Kathmandu and Pokhara may go higher if you plan to spend nights in the sophisticated hotels.
Cost of Guides and Porters:
Guides
Guides are those people who walk with you all along the trail. They are good in English and help you communicate properly with the locals and bypassers in the trek route. They do not carry your luggage however they will lessen your burden by taking you through the most comfortable, safe, and easy roadways.
In general, you pay around the US $ 20- US $25 to hire a licensed guide for Mardi Himal Trekking.
Porter cum Guide
A porter-guide carries your gear plus guides you for the trail and speaks a bit English. They are well-enough to communicate and understand your interest.
Hiring a porter-guide in the trek route is a bit cheaper than hiring guides and porters separately. In general, porter-guides normally cost from the US $18-US $20.
They are pleasant, kind, and sincere as well as trustworthy in their job. And stay together with you during your trekking or mountaineering in Nepal. Guides, porter cum guides are from isolated villages of Nepal.
Porter
Porter is a kind of strong person from isolated mountain village who carries your gear. They may or may not speak English but they are pleasant, kind, and dedicated to their work. Most of the porters are from remote villages of Nepal in search of seasonal pottering work.
The normal cost of hiring a porter for Mardi Himal Trek is around the US $16- US $20.
What is a benefit of hiring a guide, and porter?
Solo trekking is possible in the Mardi Himal Trek. This is a moderate trek so, walking slow and gradual you will complete this trek in complete success. But, we recommend you to hire either a licensed guide, porter, or porter-guide. This is all for your ease and the safety en route.
There are different perks of hiring guides and porters. Some of them are:
They are your saviour incase of any difficult situation
They will take care of you in the overall trek
They help carry your loads
They help you pre-book for food and accommodation at much fairer prices
They guide you through the easiest yet the exotic trails
Extra Cost
Sleeping Bag Rental $12, and Down Jacket $12.
While trekking to the Mardi Base Camp, you need pay for the clean drinking water. For this, you pay around $1-$3 for a bottle of water. The cost of drinking water goes higher as the altitude increases. You can instead buy water purification tablets for the US $2 at Kathmandu to reduce the cost of buying new water bottles.
If you wish to use Wifi services in the tea houses en route you may need to pay a certain amount( the US $0.5- US $2) for an hour.
To charge your electronic gadgets you may need to pay certain amounts (US $0.5- US $1.5) per hour in the trek routes. But if you trek in off seasons you may get those facilities for free.
Hot Showers are also available in a few tea houses for around $4.
If you feel happy with the services of the guides and porters you may give them a certain amount as a gratitude. This is not mandatory, you can give as much as you like.
In the trail route, you may like to donate some amount to the local schools, temples, and monasteries. This is not compulsory, however, your small help may turn helpful to the locals.
Tips to manage your costs for Mardi Himal Trek:
You can rent different trekking gears, in Kathmandu or Pokhara, which you may not use for daily purpose in the near future.
Buy water purification tablets and water bottle so that you do not have to spend your money on buying mineral water in the trails.
While hiring a porter it is better to hire a local guide. So that you do not have to pay extra for their transportation, accommodation, and food while traveling from Kathmandu to Pokhara and to the trailhead.
Always get a travel insurance that covers medical conditions, trip cancellations, flight delays, emergency evacuations, theft,and robbery. With this policy, you do not have to pay a high amount in case of emergencies.
Buy snacks and chocolate bars from Kathmandu or Pokhara. You can buy then on the trails but they are generally costly as you go higher.
Pre-book for the food and accommodation so that you do not have to pay high while being time-bound.
If you are planning a camping trek, then you can hire sleeping bags and tents for certain time instead of buying a new one. And you can return after you complete the trek. This way your cost of spending on new gears decreases.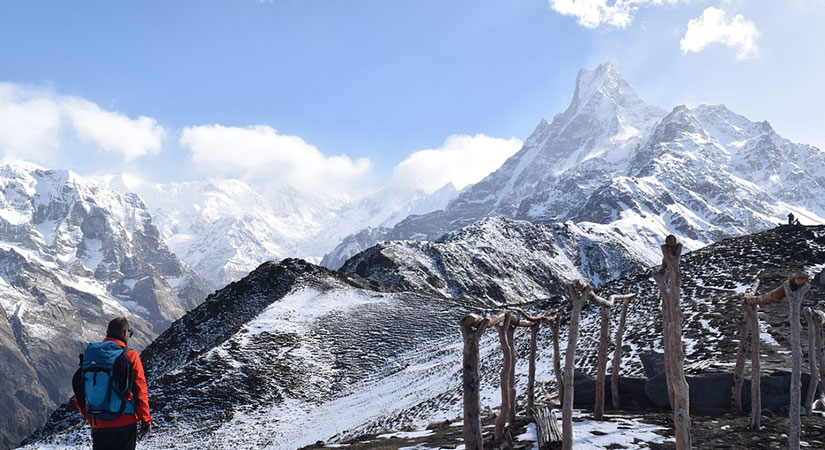 When is the best time to trek to Mardi Himal?
Spring (March-May), and Autumn (Mid September- November) season in Nepal is the best time for Mardi Himal trekking. During this time, you will find the weather stable with the best scenic views. The crispy sky in the serene surrounding allows you to catch the best views of the surrounding vegetations and the snow-covered peaks.
The temperature in this season is neither too hot nor too cold so you will have the best time trekking in the region. Plus, the spring season offers you the lush forests of Rhododendron blooming in reds and whites.
However, if you wish to avoid the crowd and enjoy the trek in complete solitude you may plan this trek in winter. There would be much cold and some passes may remain blocked by the snow, so you need to collect the proper information on the weather condition of the place before your trek.
Plus, proper packing is very essential whichever season you plan to trek.
Summing up
Mardi Himal trek is one of the finest treks in the rustic trails of Annapurna region. And for this trek, you do not have to worry much about the cost, as it is quite cheap and reasonable as compared to other treks in the world. You won't regret the cost you've paid for this trek once you start walking past the wonderland on the foothill of Mardi Himal.
For booking your trip, or for further information on this trek, feel free to contact us.