Mardi Himal trek is one of the short, exotic treks in "off -the- beaten paths" on the eastern ridge of the Annapurna Base Camp. It is a novel and unexplored location in the Annapurna region. It offers trekkers with unique experiences in a completely remote and pristine surrounding.
Mardi Himal Trek 5 days is one of the Moderate Trekking in the mountainside of Annapurna range. This is a moderate trek in the base of Mardi Himal so, even the beginner trekkers can opt for this trek.
This is a teahouse trek which entices you with the sights of the alluring views of the glacial lakes. Plus, the alluring landscapes and diverse forests in the completely pristine surrounding.
This is short, easy, and low altitude trekking. as well and we can see almost all Annapurna mountain range.
Highlights of Mardi Trek 5 days
Spectacular views of Annapurna, Fishtail, and Mardi Himal
Exploration of Mardi Base Camp and High Camp
Peaceful off-the-beaten path
Homestay and Tea Gardens
Enticing views of the lush vegetation and terraced farms
Natural and cultural diversity along the route
Traditional hillside villages and warm hospitality
Mardi Himal Trek is a short and easy trek, but you can customize the trek as per your preference and convenience. You can choose to spend extra days on the trails exploring the natives and their lifestyles.
But if you have limited time but still wish to pursue this trek, then you can opt for Mardi Himal 5 days trek. This is a customized trek that will take you through the traditional villages, human settlements to the pristine heavenly surrounding of Mardi Base Camp. In the same trip, you will get to experience the diverse culture and geography in 5 days.
Detailed itinerary for Mardi Himal trek 5 days
In the following itinerary, Pokhara is the starting and final point of your trek.
If you prefer the variation in your trip, let us know. We will be happy to plan accordingly and design a customized trip.
Day 01: Drive to Kade( 1,770 meters) and trek to Forest Camp (2,100 meters)
On this day we will take a bus ride from Pokhara to Kande. This is around an hour's drive. You will catch glorious views of mountains along the ride from Kande. From Kande, we will start our trek.
One hour from Kande we will reach the first point, Australian Base Camp. From here we will be able to catch the first view of the mountains. We will then reach Pothana and then to Pitam Deurali.
You get to pick glances of the pleasant and refreshing high hills of Annapurna at Potana village with scenic views as you embark. The walk continues on the main trekking trail reaching Deurali. The superb scenery of landscapes and snow-capped peaks will never fail to impress you.
From here our route leads into the complete wilderness away from mainstream trekking trail. You head towards the north along a ridgeline into a deeply forested area where the temperature drops to cool and refreshing air.
There you might as well catch super views of Annapurna and South with Hiunchuli. This includes Annapurna I, II, III, IV, and Lamjung Himal.
A slow walk leads to our overnight stop in the middle of a woodland. There few lodges wait for you with a warm meal and a cozy beds. The forest Camp is just somewhere around.
We will spend our night at Forest Base Camp.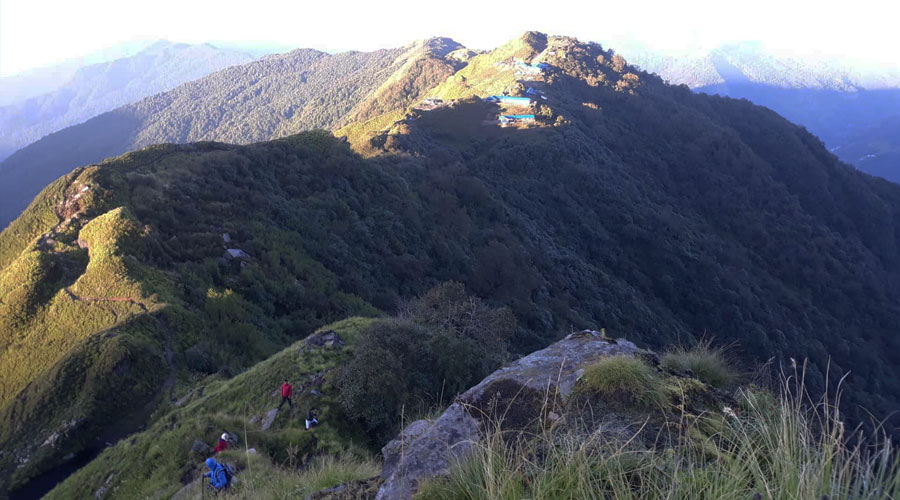 Day 2: Forest Camp to High Camp (3,200 meters)
After a pleasant overnight stop, morning walk proceeds towards upper and higher ridgeline of Mardi Himal. As the walk progresses we leave behind the tall tree lines and lush vegetation for alpine shrubs and dwarf rhododendron bushes.
This wonderful area offers great views of surrounding hills and landscapes with high snow-clad mountains as the walk approaches closer to Mardi Himal. We also get to catch a glimpse of towering Mt. Machhapuchhre Himal.
It is a perfect spot within absolute silence and solemn tranquility. As the walk progresses we proceed to High Camp where air gets thinner and cooler.
We need to keep up with a steep climb to reach our overnight stop at High Camp. There are few simple lodges on the way. And, sweeping aside the excellent panorama of Annapurna Himalaya. Jesus, what a memory you will have!
Day 03: High Camp (4,100 meters) to Mardi Himal Base Camp back to High Camp (4,500 meters)
This day will be the highlight of the trek for sure. We will start early in the morning before sunrise. It will be dark so carrying a torch would be a smart idea. The trial is quite challenging as the elevation keeps rising.
We will first reach the Lower Viewpoint. From here itself you will be able to watch the mountains. We will be walking on top of the hill and towards your left, you will be able to see the Annapurna Range and towards your right, you will witness Mount Fishtail.
We will then reach the Upper viewpoint from where you will get an amazing view of the mountains as you float above the clouds. We will finally reach the Mardi Base Camp situated at an altitude of 4500 meters.
From here you can catch the view of some of the popular mountain ranges. This includes Annapurna South (7,219m), Hiunchuli (6,441), Annapurna I (8,091m), Khangsar Kang (7,485m), Gangapurna (7,454m), Machhapuchhre (6,993m) and Mardi Himal (5,553min).
The very same day in the evening we return back to the High Camp.
Day 04: High Camp to Dhampus
After we are back to High Camp, we return back from the place where we have started off. After having our morning breakfast, we set off for return.
From our way to Lower Base Camp and Siding we return back to lower base camp. We catch some glimpses of the lush vegetation, rhododendron and forest trails on the way and return back to Pothana. We will spend some time enjoying these scenic beauties too.
It is exactly the way we started off from. Within 4 to 5 hours bus ride, we get from the trails finally to Dhampus to go back to Pokhara.
We will have our dinner in the evening and have a good night sleep to prepare for the last day of our trek the very next day.
Day 05: Trek down to Phedi and drive back to Pokhara(2,100 meters)
After we have driven back to Dhampus, we trek down to Phedi. Our trek will roughly extend between four to five hours.
Last day of trekking of this wonderful adventure after being on hidden trails of Annapurna area, where few trekkers venture, morning walk leads on the trail following Mardi River. We then reach on a wide valley with more warmer areas with farm villages and rice paddy terraces.
Our walk finally ends at Mardi village where we will take a short drive back to Pokhara.
Pokhara Lakeside villages sit, "front row center" to one of the most beautiful Himalayan panoramas in the world.
The Annapurna and famous "Fishtail" mountain peak of Machhapuchhare tower over the tropical setting of Pokhara.
While in Pokhara, you may extend your trip with exciting activities Paragliding-Bungee Jumping (Touch the Lake), Zip-Flyer, Ultralight flights, and boating. Or, a short hike to Peace Stupa, Pokhara sightseeing tours or just relax and enjoy the views of Annapurna Himalaya. You have many options to entertain yourself while in Pokhara.
You might want to spend some extra time there before actually returning home. This will be the scenic highlight of your trip. Also, if you have extra time and wishing for extra adventures, then you can plan Poon Hill trek as well.
Afterward, you will drive back to Kathmandu.
Cost of Mardi Himal Trek 5 days
Trekking in Nepal is quite cheap in comparison to other places in the world. And, so is the case for Mardi Himal Trek cost. You do not have to worry about lavish expenditures in this trek. Spending around the US $350- the US $400, you can happily and successfully complete this trek.
It includes your transportation cost, cost of food and accommodation, and Travel insurance cost. Plus, permit cost, cost of hiring guides and porters and the cost of trekking equipment.
This cost varies according to your preferences- where you wish to accommodate, how long you want to extend your trip, which route you plan to embark, and so on.
Altitude Sickness in Mardi Himal trek 5 days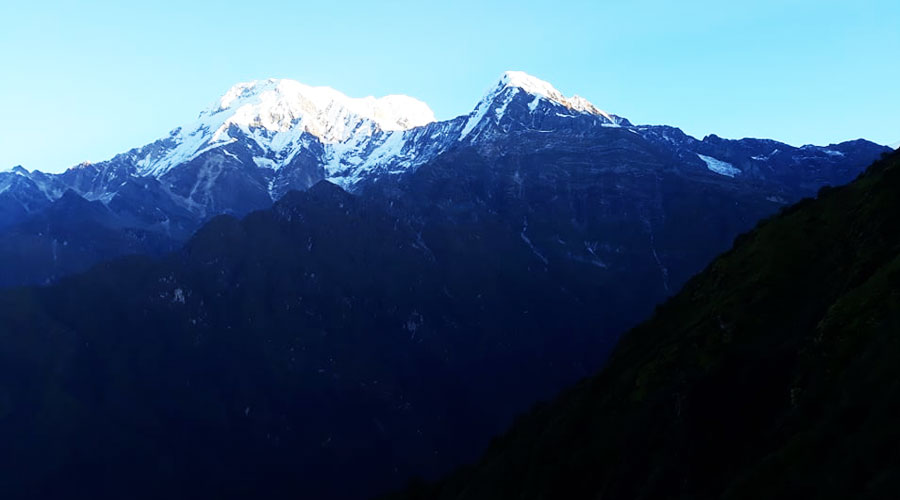 On this trek, you start from as low as Pokhara and ascend up to the height of 4,500 meters. So, there are chances of altitude sickness in the trek. For this, you must be careful while you walk. You must continue to slow and follow gradual steps. Rushing on the trail uphill will only make you sick instead of taking you to the final destination.
You should be very attentive to how your body reacts as the altitude increases. And, take necessary precautions. You must report directly to your guide and go for necessary treatments.
Tips for Mardi Himal trek 5 days
Keep yourself hydrated. As you walk, the water content in your body decreases because of sweat and heat. So, you must drink plenty of water to maintain body hydration. This way, you can fight against altitude sickness as well.
Carry along the insect repellents and table salts, if you are trekking in summer/ monsoon. You will encounter mosquitoes, leeches, and different insects on this trip.
Hire a guide to accompany you. Although you can trek alone, walking with guides has many perks. From your safety to the arrangement of meals and bed, they will help you everywhere.
Collect enough information on the weather and temperature, and season of the place before you set off for this trek.
Pack light, pack wise.
Walk slow, take enough rest. Ascend gradually.
Carry hand cash. You will not find ATMs in the mountainside so, be ready with hand cash.
What to carry in Mardi Himal trek 5 days?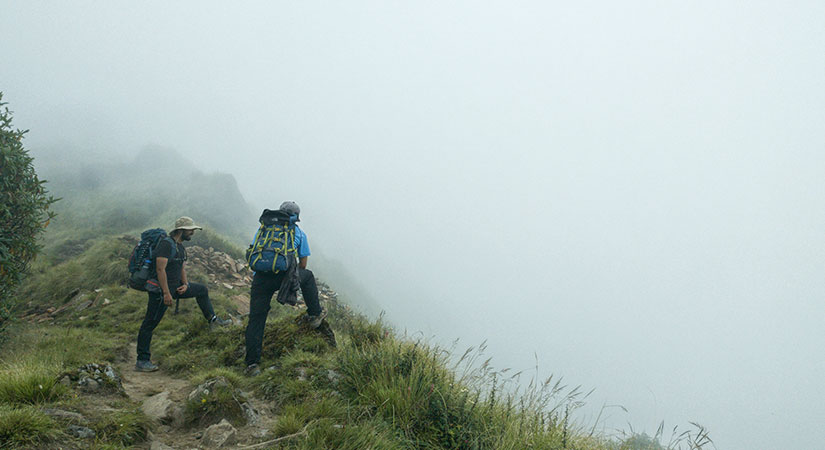 The packing list for Mardi Himal Trek 5 days is completely subjective and depends on the season you are planning to trek. So, before you pack, you must collect the proper information on the weather and climatic condition of the trek route. Then you can pack accordingly.
Remember, instead of accumulating weight, pack light, pack wise.
Here is a general packing list for this trek which is suitable for whichever time of the year you go on this trek:
Trekking shoes
Trekking socks
Insulating Jacket
Rain jacket and pant
Gloves
Sun hat
Thermal wears
Breathable underwears
Trekking pants
Sleeping bag
First aid kit
Toilet paper
Hand sanitizer
Sunblock
Towel
Soap and Shampoo
Sanitary napkins
Other necessary documents include
Passport
Local Currency
Travel permits- Annapurna Conservation Area Permit and TIMS card
Lastly
Mardi Himal trek 5 days is a short and easy trek in the pristine terrains of the Annapurna region. On this trek, you walk in the foothills of Annapurna peak to the base of the Mardi Himal. This is an electrifying trek where you will recollect multiple experiences in the diverse sceneries.
For further inquiry on this trek or any other treks in Nepal, feel free to contact us. We are happy to plan your preferred trips in Nepal.