The Annapurna Circuit Trek is one of the most treasured and pre-eminent ones in almost every trekker's bucket list. The Annapurna Circuit Trek Route encircles the Annapurna Massif in North-Central Nepal varying between 160 km - 230 km in length. By the end of the trek, you will cross two different river valleys i.e Mashyandgi and Kali Gandaki river valley. The trek route comprises of a wide variety of climate zones from sub-tropical Besisahar(760m) to the highest point at Thorung La pass (5416m). Furthermore, the scenic landscapes and cultural diversity of the region makes it one of the very best long-distance trek in the world.
This article is a guide-through to the acclimatization process and safety measures to be taken while trekking in high (1500-3000m) to very high altitude(3500m to 5500m) zones. You will be trekking into the high-altitude zone with reduced air pressure and diminished inspiratory amount of oxygen pressure. Due to this, avoiding Annapurna circuit trek altitude sickness and staying healthy throughout the entire Annapurna Circuit Trek should be your biggest safety concern.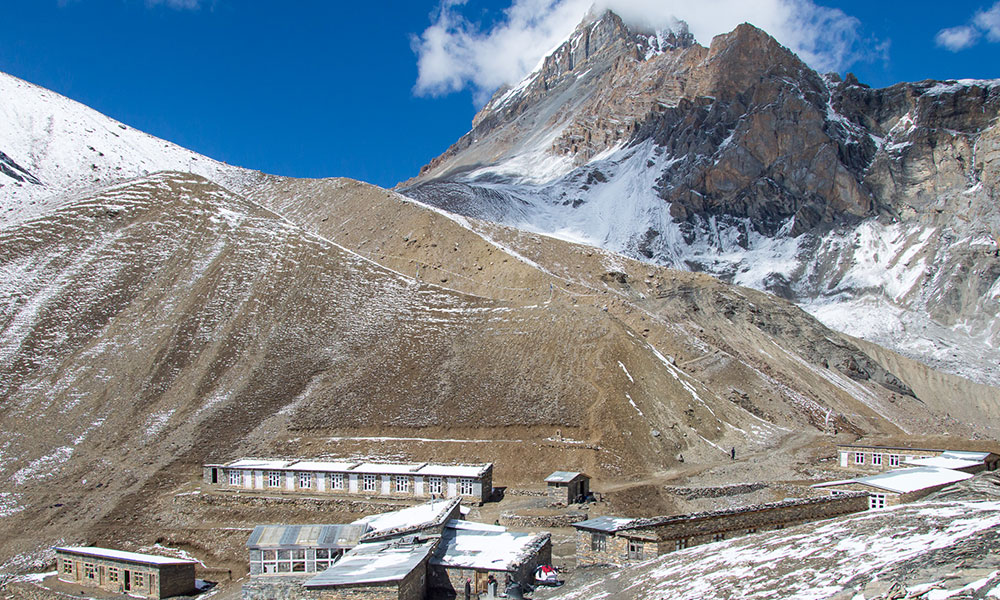 Annapurna Circuit Trek acclimatization
Acclimatization is the process of gradually becoming adapted to the new climate or to the new conditions of the surrounding environment. Altitude acclimatization is necessary for almost all people moving rapidly from lower to higher altitudes. It helps your body adapt to the decrease in oxygen molecules at a specific altitude. During acclimatization over a few days to weeks, the body produces more amount of red blood cells to withstand the lower oxygen saturation in blood in high altitudes. It is the best way to prevent Annapurna circuit trek altitude sickness by climbing to a higher point on the trail at a slow pace.
The acclimatization process is very important and it cannot be rushed or skipped. This can be frustrating to the fast-trekkers or trekkers who are short on time. It can be achieved by spending remarkable time at higher elevations and descending to the lower elevations for resting/sleeping on the same day. Below are the best possible ways to prevent yourself from getting Annapurna circuit trek altitude sickness and boost the acclimatization process on the trek.
Avoid flying directly to areas of high altitude. Two or three days of gradual ascend is required in order to adjust to the changes in the environment.
When you are at a higher altitude (above 3000m), your body needs comparatively more calories which can be gained from eating healthy snacks, including lots of whole grains.
Chocolates containing ingredients like peanuts, lactose, egg whites and caramel provide you with instant energy.
Prevent yourself from climbing more than 300m-500m a day.
Have a complete rest day after going up to every 600-900m, or every 3 - 4 days.
Stay hydrated well and make sure you're drinking enough water.
Avoid alcohol consumption during the trekking period as it makes you dehydrated.
Avoid smoking as it can cause breathlessness and difficulty in breathing.
Climb at a pace that is very comfortable for you. Don't speed up or engage in strenuous exercise.
Descend immediately if you start feeling sick, or if you feel nauseous, tired or dizzy.
Trekkers who are moving consistently to a higher altitude naturally acclimatize to the new environment within two or three days of rest. Within this duration, the body regenerates and develops an increased number of red blood cells to increase the oxygen-carrying capacity of the blood, in order to recompensate for lower levels of intake of oxygen. In case of serious symptoms of high-altitude sickness, one must prioritize in descending to the altitude line where the body is absolutely hazard-free. As mentioned earlier, appropriate rest, fluids and intake of vital nutrients help the body acclimatize on its own.
Related Trips:
We have Annapurna Circuit Trek package which will cost you less. For price contact us.
Altitude Sickness in Annapurna Circuit trek