Kanchenjunga trek is a demanding trek as it sits in the remote and high altitude of Nepal.
The highest point of Kanchenjunga North Base Camp is 5200 meters. So, you can just imagine how tough the trek must be. But, this does not mean that the trek is unachievable.
With proper training, counseling, and physical exercise, Kanchenjunga trek is successfully achievable.
The route to Kanchenjunga Trekking goes through several difficult ascends and descends. As the altitude increases, the difficulty level of the trek also increases. So, you should be mentally and physically prepared for the Kanchenjunga Trek difficulty.
On average, you will gain an altitude of 400-800 meters a day. The average walking duration ranges between 6-7 days. So, make sure you are someone who can walk continuously for such hours.
Kanchenjunga trek is one of the best off beaten trekking trails in Nepal. But, it still receives fewer trekkers compared to Everest and Annapurna region.
Choosing the best company for Kanchenjunga trek will automatically lessen the difficulty level. Index Adventure can be the best company for you that has been serving its customers for years.
Our professional guide will help you to complete the Kanchenjunga trek successfully. So, what are you waiting for? Join us today at Index Adventure.
Below are some of the factors for Kanchenjunga Trek Difficulty.
Kanchenjunga Trek Distance
Kanchenjunga Trek is one of the longest treks to do in Nepal. Many trekkers don't really know where Mount Kanchenjunga sits.
The trek lies in the eastern region of Nepal and covers approximately 200 kilometers of the total distance. The trek covers roughly 100 kilometers to reach the North to South direction.
During the Kanchenjunga trek, you will have to cover a distance of 9- 11 kilometers a day. This involves an average walking for about 6-7 hours a day.
There are two routes to reach the Kanchenjunga Base Camp. They are the north and the South Base Camp.
North route to the Kanchenjunga Base Camp is quite difficult and challenging than the Southern route.
The highest point at the northern route would be at Pang Pema at the height of 5200 meters. The top of Pang Pema offers you the best view of beautiful glaciers and Mount Kanchenjunga.
The southern route to the Kanchenjunga Base Camp is less challenging. But, the northern route will provide you with the best scenery and beautiful landscapes.
Taplejung is the starting point of the Kanchenjunga trek. There are various options you can choose in order to reach to the Kanchenjunga Base Camp. You can also take a short drive to Taplejung and then hike towards Chirwa.
Overall, the trek is physically demanding and requires a lot of physical strength. It involves walking for hours continuously with a gradual increase in altitude.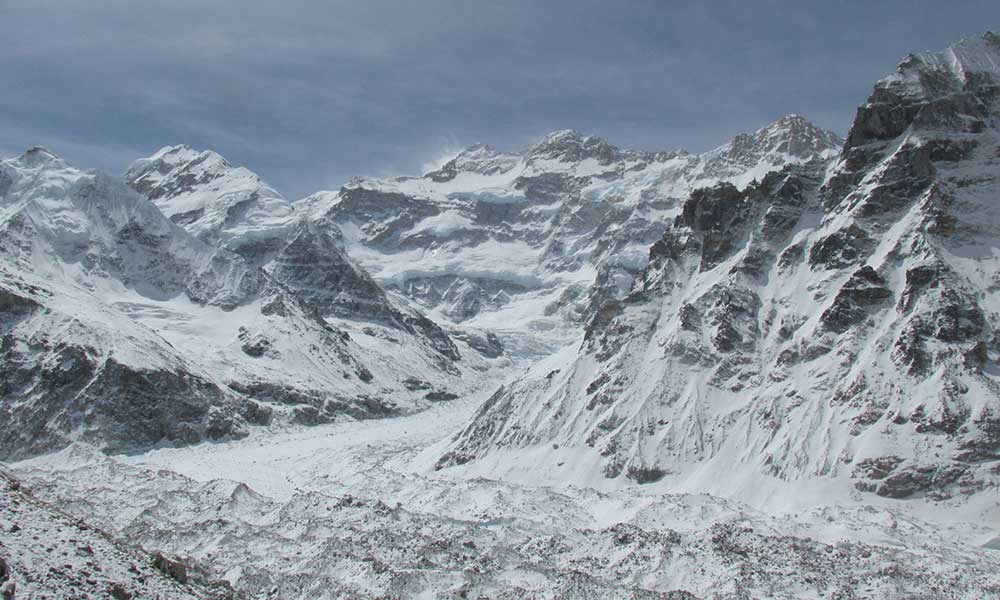 Altitude and Acclimatization
Kanchenjunga trek starts at the altitude of 1400 meters at Taplejung and reaches up to the height of 5200 meters in the North Base Camp.
On average, you will gain an altitude of 500 meters to 700 meters per day. Taking the height of such in a day might be very difficult. Your body may take some to adjust to the new environment and higher heights.
The southern route to Kanchenjunga trek reaches the maximum height of 4610 meters at Ramche. The route slowly takes a gradual increase in altitude.
As you trek above the height of 2000 meters, altitude sickness is very common. Altitude sickness becomes a major difficulty during your Kanchenjunga trek
In the higher altitudes, the oxygen level is very low. It causes difficulty in breathing and various other problems. Some of the common symptoms of altitude sickness are headache, fever, nausea, vomiting, dizziness, etc.
So, if you find any symptoms of altitude sickness when walking, do not move further. Descend to lower elevations immediately.
Acclimatization plays a great role during this time. Proper acclimatization will help you to adjust to the new environment. It will eventually help you to reduce the problem of altitude sickness.
So, for someone who is not used to trekking, proper acclimatization will help you to make your trek comfortable.
Weather and Temperature during Kanchenjunga Trek
The weather and temperature during the Kanchenjunga trek also determine its difficulty. Kanchenjunga trek is comparatively easier and comfortable during the Spring and Autumn seasons.
Due to this, many trekkers prefer trekking during autumn and spring season.
Winter and monsoon season have been the least favorite among different trekkers. This only adds to the Kanchenjunga trek difficulty.
During winter, the temperature of the North Base Camp can drop up to -12 degrees Celsius. The heavy wind blows around the area making your trek difficult and weather unfavorable.
In the lower elevations, the temperature ranges between 5-8 degrees. The morning and night time temperature of the Kanchenjunga region might even fall.
Most of the routes to Kanchenjunga Base Camp might get covered with snow. Heavy snowfall becomes a barrier and results in trekking difficulty.
Crossing the Sele Pass and Pang Pema becomes very challenging and tricky due to snowfall.
Likewise, the Kanchenjunga region expects a heavy amount of rainfall during the monsoon season. Monsoon falls in the month of June, July, and August in Nepal.
During monsoon, the trail to the Kanchenjunga Base Camp becomes slippery and muddy. There can also chance of having flood and landslides in the region during monsoon.
So, Kanchenjunga trek difficulty increases during the monsoon season.
However, for trekkers seeking for a unique experience, both winter and monsoon can be a great time.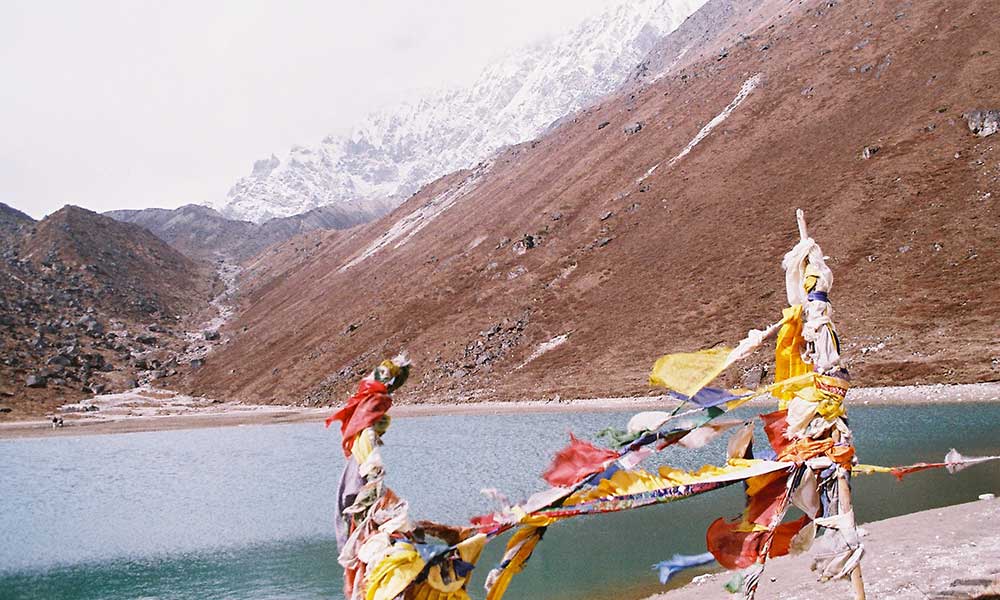 Dealing with Kanchenjunga Trek Difficulty
Although Kanchenjunga trek is a difficult trek, you can minimize the challenges following certain rules and techniques.
Acute Mountain Sickness and weather are the two major difficulties trekkers face when trekking to the Kanchenjunga Base Camp. For this, proper hydration and acclimatization are very important.
Today, I will provide you with some tips and tricks to deal with the Kanchenjunga Trek Difficulty.
Hiring and Guide and a Porter
Hiring a guide and a porter can reduce lots of difficulties when trekking to the Kanchenjunga Base Camp. Our guide from Index Adventure is highly qualified and experienced.
Trekkers who book their trek with Index Adventure have a successful Kanchenjunga Trek. It is because our guide will be there to support you and provide you with enough counseling.
Your trek to the Kanchenjunga Base Camp becomes less challenging and more comfortable with the help of a guide.
Trekking guides have knowledge about different kind of things. He/ she knows the exact route to the Kanchenjunga Trek. So, you will not have problems with misleading your way.
The language barrier is something that makes your trek difficult. Fortunately, your guide will be there to serve you as a communicator. He/ she will also help you to interact with the local villagers.
In this way, you will get to learn a lot about the people living in the Kanchenjunga region. Trekking with the help of a guide has a lot of advantages than individual trekking.
Individual trekking involves the risk of theft, harassment, misleading by the local villagers and many more. This will only lead you to Kanchenjunga Trek difficulty.
Finding an ideal teahouse and a lodge sometimes becomes a difficult task. Especially in the higher elevations, the number of teahouse and lodges lessens.
In this case, your guide will help you to find the best teahouse for your comfortable accommodation.
Likewise, hiring a porter can also be an ideal choice. A porter will help you to carry your bag up to 10 kgs. He/ she will help you to reduce the pressure on your body due to carrying a heavy load.
Carrying too heavy loads on your back causes pressure on your feet. This makes you difficult to walk.
So, a porter makes your trek to Kanchenjunga easy and comfortable.
Hiring a guide and a porter might be costlier but it is definitely worth it. A guide will charge you around 20-25 dollars and day. Similarly, the cost of hiring a porter ranges between 15-20 degrees.
Proper Training and Physical Exercises
The key to a successful Kanchenjunga trek is proper training and physical exercise before the trek. It better if you engage in activities such as running, cycling, swimming, etc three weeks prior to the actual trek.
Proper training and exercise will increase your physical strength and prepare you to face any challenges that might come.
Technical training might not be compulsory for Kanchenjunga trek. But, proper exercises will help you to boost your confidence while trekking.
It would be a lot easier if you engage in physical activities and increase your stamina. Physical strength really helps you to reduce the Kanchenjunga Trek difficulty in one way or another.
To reduce the Kanchenjunga Trek Difficulty, you can engage in short hikes before your actual trekking journey. You can cover 5-8 kilometers a day which will help in breathing and blood circulation.
Swimming will help you to store oxygen. This will help you to ease shortness in breathing in the higher altitudes.
Likewise, engaging in yoga, aerobics, gym, etc will help you to prepare for the Kanchenjunga Trek difficulty.
Carrying Appropriate Trekking Gear
Carrying appropriate trekking gear will ease your journey to the Kanchenjunga Base Camp. It is very important that you carry all the necessary items that you will require during the trek.
Likewise, carrying unnecessary trekking gear will only increase the load of your backpack. So, make sure you pack your bags carefully.
There are certain items that you need to carry without which the trek is impossible. Clothing, first aid kit, toiletries, etc are some of those things.
Let's discuss some of the items that you need to pack before leaving for Kanchenjunga trek.
Clothing
Clothing is one of the important parts of the backpacking item. Proper clothing will not only make your trek easy but also comfortable.
You should pack your bag considering the time of the year you will be traveling.
If you are planning on trekking to the Kanchenjunga during autumn and spring seasons, you do not have to carry bulk cloths. Light clothing that has proper absorbent quality would be best.
Some of the clothing items are as follows:
Trekking trousers
Hiking boots
Hiking socks
Fleece jackets
Innerwear
Windcheater
Down jackets
cap/ hats
Toiletries
Most of the teahouse during your Kanchenjunga trek does not provide you with proper toilet facilities.
As you move to a higher altitude, the toilet facilities in the lodges become very basic. Most of the toilet will have water for cleaning purpose and no toilet papers.
Some of the items that you need to carry are:
Toilet papers
Toothbrush
Toothpaste
Cotton towel
Moisturizer
Shampoo
Soap
First Aid Kit
First Aid kit will help you to prevent any minor injury during your trek to Kanchenjunga. There are many uncertainties that you may have to face while trekking. So, carrying a first aid kit would help you to avoid major problems.
Diamox tablets
Antibiotic gel
Antiseptic creams
Vicks vapor rub
Bandage
Hand sanitizers
Proper Acclimatization and Itinerary
Acclimatization should be the topmost priority during your Kanchenjunga trek. So, you should plan your itinerary accordingly.
Choose such itinerary that has enough acclimatization for you to adjust in the surrounding environment. More time for acclimatization means you will have a more comfortable trekking experience.
If you are a beginner trekker, add few more days in your itinerary. In this way, you will have some time to adjust yourself.
You will also not have to walk in pressure with the aim of reaching the destination in a hurry. Adding more number of days in your daily itinerary will make your trek to Kanchenjunga less difficult.
Likewise, proper acclimatization will lead to 98% Kanchenjunga trek success rate. Index Adventure will provide you with the best Kanchenjunga trek package with proper acclimatization days.
Acclimatization will help you to reduce the problem of altitude sickness which is one of the major reasons for Kanchenjunga Trek Difficulty.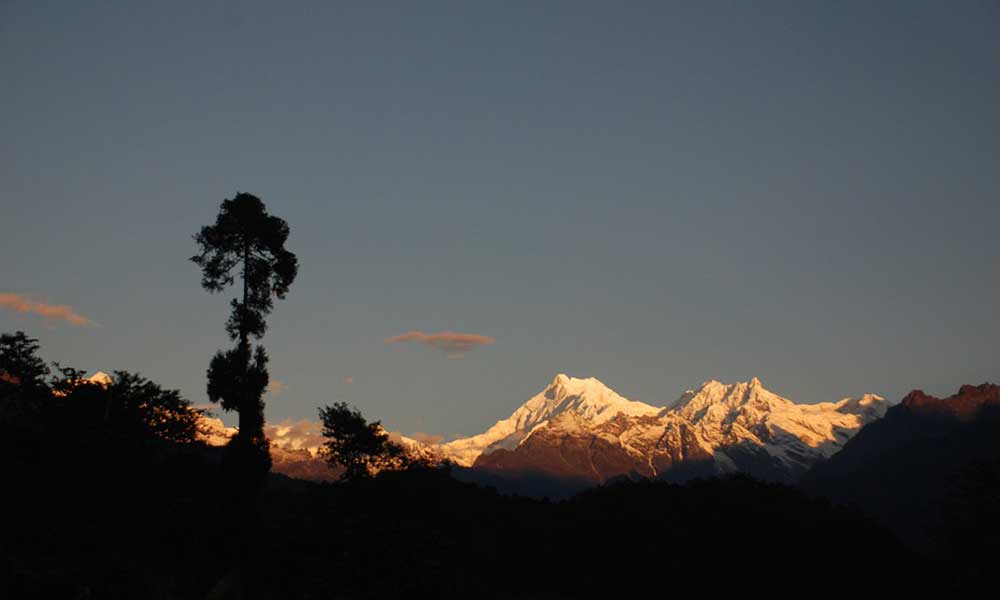 Conclusion
Although Kanchenjunga trek is comparatively a difficult trek, the trek is not impossible. It requires proper physical fitness and physical exercises before the trek.
A little preparation before the starting of your journey will boost your confidence level. So, make sure you come prepared if you want a successful Kanchenjunga trekking experience.
Index Adventure has qualified and experienced mentor and guides. They will help you throughout the journey. To know further details, contact us at Index Adventure.
Do not hesitate to remember us if you have any queries.