Annapurna Base Camp in April shines like a new bride in reds and whites. It is the best time for this trek when you will cross the forests of rhododendrons, cascading rivers and waterfalls to land on the lap of the giant snow-covered peaks. And, the moderate temperature with the stable weather makes this trek a perfect outing for travel enthusiasts.
Annapurna Base Camp trek takes you to the heart of Annapurna region. You will start your trek from Kathmandu (1300 meters) and ascend up to the height of 4200 meters at Annapurna Base Camp. You get to enjoy the geographical, cultural, and ethnic diversity during the trek. On walking in this varying altitude, you get to experience diversity everywhere.
On walking, you walk past several typical villages like Ulleri, Ghorepani, Ghandruk, Chhomrong. And encounter the locals and share smiles and affection with them. Plus, you will get a close encounter with the life and daily activities of different ethnic groups like Magar, Gurung, Ghale, Tamangs, etc.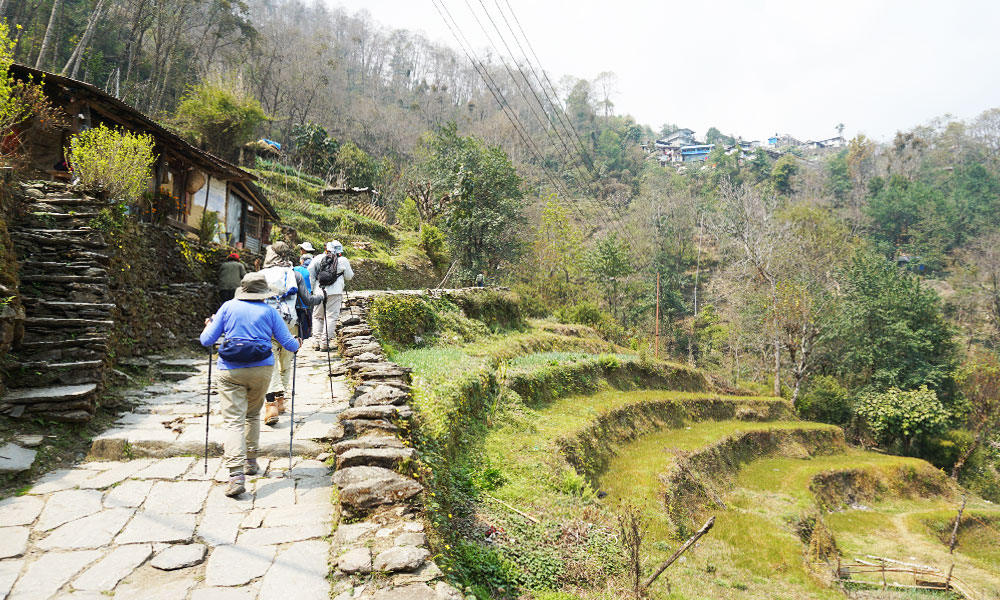 In April, the springtime in Nepal you will walk into the heart of rhododendron forests and catch the finest views of the chain of Himalayas. It includes Annapurna Ranges, Machhapuchhre, Nilgiri, Dhaulagiri ranges, Mardi Himal, and so on. Plus, the perennial Modi Khola will accompany you all along the route. And the variety of birds and butterflies en route is sure to leave you awe-stricken.
And, this is a moderate trek so you can go on solo trekking as well. And, in April you will find many trekkers en route so you do not have to fear to lose the trails. So, Solo trekking is also possible. However, due to safety reasons, we recommend you to hire a guide or a porter.
Highlights of Annapurna Base Camp Trek in April
Perennial rivers and enticing waterfalls
Spectacular sunrise/sunset views from the Poon Hill
A 360-degree view of the chain of Himalayas
Trek to two base camps- MBC and ABC in the same trip
Delve into the forests jeweled in rhododendrons and magnolias
Celebrate Nepali New Year at the Annapurna Base Camp
Are you planning your Annapurna Base Camp Trek? Don't hesitate to contact us. Tell us your requirements, we can help you to make your trip memorable.
Annapurna Base Camp Weather in April
April is among the best time for Annapurna Base Camp trek. This is the time where you will get to feel the pleasantness everywhere. You can walk freely in the warm weather without having to worry about the rain, snow, or cold. This is the moderate time for the trek if you want to escape rain and cold.
On this stable weather, you get to see everything around you dazzling at their best. The crisp cloudless sky serves the best visibility.
The daytime at the lower altitudes is around 10-degree Celsius whereas the nighttime temperature remains around the freezing point. This is a bearable temperature where you do not have to worry much about heavy packing.
Also, since the precipitation is low in this season, you will be blessed with the sharp mountain views and the surrounding landscapes. Plus, there are fewer chances of clouds and rainfall during this time of the year. This means you will get to enjoy the most scenic views of the ever-smiling mountain peaks.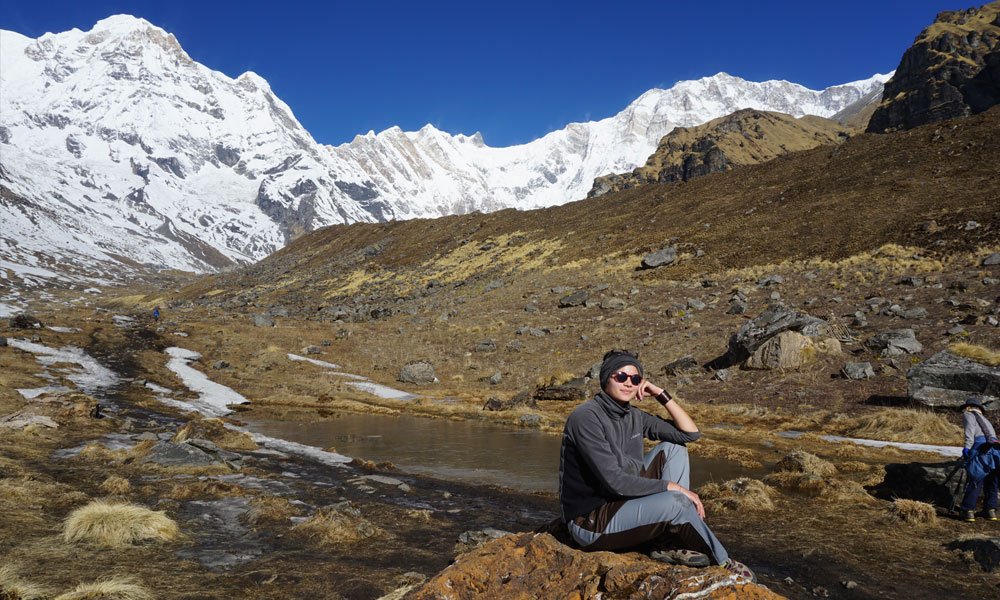 How difficult is Annapurna Base Camp Trek in April?
Annapurna Base Camp trek is a moderate trek which is the best option for the inexperienced trekkers as well. There is no age-limit nor the experience limits for this trek. So, any person with moderate physical fitness and a positive mindset can easily embark on this trek.
The trails are well-managed so you get to walk along the stone stairs most of the time. There are millions of stairs either uphill or downhills with the side views of rhododendrons and the typical settlement areas.
Since you will be walking to the maximum height of 4200 meters you do not have to worry much about getting altitude sickness. However, you must not undermine the fact that the problem can affect anyone, any time.
Also, since Spring is the time of hot and dry weather you will not have to worry about the rain and cold. Plus, you will be on the safe side from the chilling cold of the winter months. So, you will have much easy time walking on the lap of Machhapuchhre and Annapurna mountain ranges.
And, there are enough tea houses en route with the finest services. So, you do not have to fear of going homeless or food-less in the mountains.
Thus, with the bearable climate, well-maintained trails, and the availability of the comfortable tea houses this trek will not be much difficult for you. With proper packing and physical fitness, you need not fear of trek difficulty.
Why trek to Annapurna Base Camp in April?
Many people wish to trek in the pleasant weather and surrounding without having to worry about various factors. They just wish to enjoy every bit of their trek and the journey. For people like these April is the best month of trekking. April is the best time for trekking because of:
Crisp views
This is the best time when the surrounding starts growing lush with small twigs after the winter cold has ended. So, this is a dry month with less humidity and precipitation. So, there is the least chance of blockade in the crisp views. And, the sky usually remains cloudless so you will not have to fear of the clouds obstructing your mountain views or surrounding views.
Least chance of rainfall
This is the time after the chilling cold of winter has ended. Also, this is the time with the least traces of monsoon rain. That means all you enjoy is the summery spring weather with pleasantness everywhere. This month has the least possibility of rainfall, so there'll be no fear of pests and slippery trails.
Stable and moderate weather
In other months the weather in the mountains changes swiftly leaving the trekkers speechless. But during the April month, the weather normally remains stable. With a low possibility of rain and clouds, the weather is generally clear and crisp. Daytime is a bit hot in the lower region but as you walk higher you will start noticing the moderate temperature with chilling breezes at night.
Rhododendron blossoms everywhere
April is the month of rhododendron, magnolia, and other wildflowers in the forests of Nepal. On this trek also, you will enjoy the rhododendron blossoms everywhere in the lower altitudes. The Poon Hill shines red in its fragrance with the chain of Himalayas on its background. What a view to behold!
Nepali New Year
If you like to be a part of the Nepali New Year and the celebrations, then April is the month. You get to spend some time with the locals en route and share affection with them and be a part of their happiness. Nepalese are among the most hospitable people they will be very happy to invite you for a tea or welcome you in their houses.
Are you planning your Annapurna Base Camp Trek? Don't hesitate to contact us. Tell us your requirements, we can help you to make your trip memorable.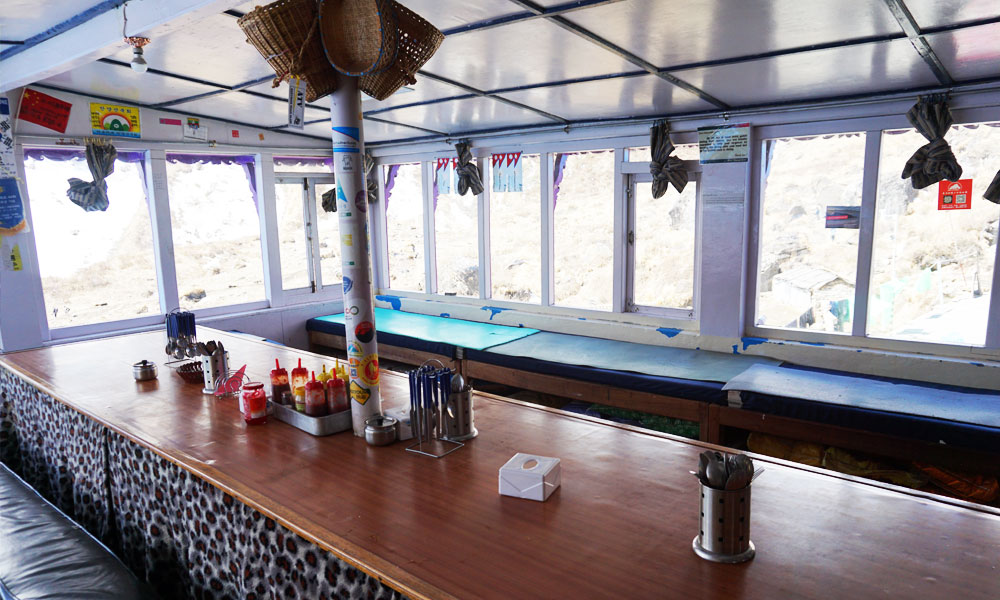 Food and Accommodations for Annapurna Base Camp Trek in April
Annapurna Base Camp trek is among the most popular trekking trails in Nepal. So, there are enough services for the food and accommodations along the route. The option for it is limitless in Kathmandu and Pokhara. There are numerous hotels ranging from simple tea houses to 5-star hotels with limitless services.
And, as you start walking on the trekking trail you will encounter many tea houses en route. You do not have to worry about their services as the price is maintained by the ACAP.
The teahouses normally have a twin-bed room with a common toilet. And, they even provide you with extra blankets whenever you need them
And, they serve the Nepali staple food- Dal Bahat and seasonal vegetables along with momo, chowmein, coffee, and other continental dishes.
However, since April is the peak time for trekking in this region, you must not forget to book the room in advance. This way you can prevent yourself from having to sleep in the dining room.
Packing list for Annapurna Base Camp Trek in April
April is among the windy months in Nepal. Yet, you don't need to worry about extreme cold or rain. So, while packing you can do summer packing but do not forget to carry wind-proof clothing and water-proof shoes.
The general packing lists for your April trekking to Annapurna Base Camp are as follows:
Documents and items
Valid passport, extra passport size photos, visa, and ticket
Proof of Insurance
Nepali currencies in cash for tips, gratitude, and to purchase Visa
Photocopy of your passport and visa
Trekking permits
Other Necessaries
Trekking T-shirts
Breathable underwears
Windcheater
Windproof tousers
Thermals
Shell jackets
Down Jacket
Gloves
Trekking socks
Hiking boots
Sleeping bags
Bandana or head scarf
Sunglasses
Sunscreen
First Aid kits
Medicines against fever, diarrhea, headache, cold, etc
Water purification tablets
Hand Sanitizers
Toilet paper
Quick-drying towels
Multi-purpose soap
This is a general packing list for your ABC trek in April. Depending on the days of your trek you may add or reduce the products from this list.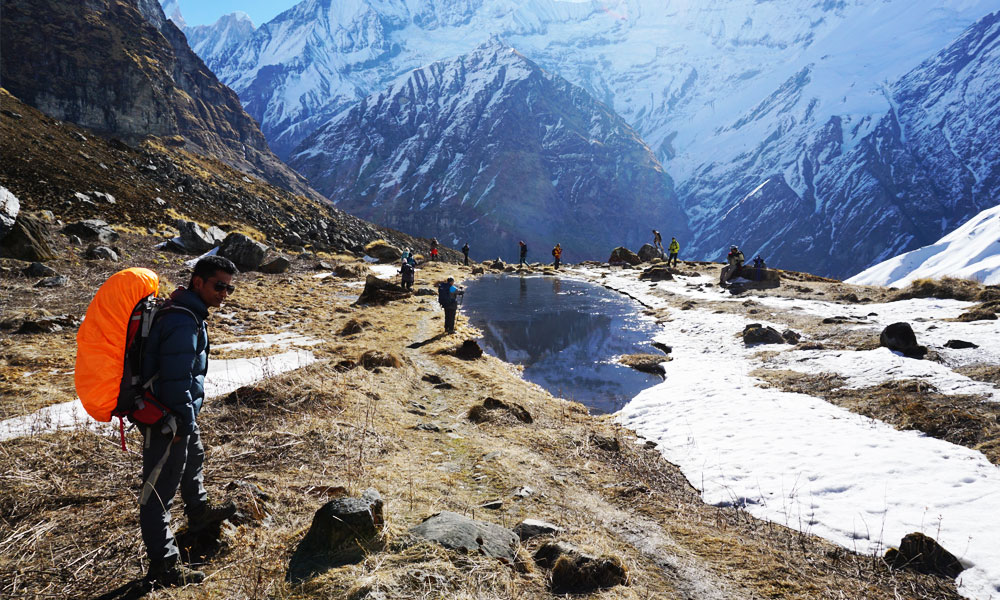 Tips for Annapurna Base Camp Trek in April
Do not forget to pack sunscreen. The days are usually sunny and hot. So, a high SPF sunscreen is a must to prevent sunburns.
Since it is a peak season for trekking in this region do not forget to prebook for food and rooms.
Due to heat, your body exhausts quickly. So, drink as much water as you can. Stay hydrated.
Walk slowly. Take enough rest. Do not ascend to high altitudes in a single day. Check out for the symptoms of altitude sickness.
Pack light! Pack Wise! Extra packing just adds burden to your trek.
Leave early from your previous destination. This way you will reach your final destination on time. And, get to enjoy the sunset views.
Do not forget to collect the permits( TIMS card and ACAP permit) to trek in this region. You need permits for this trek whenever you choose to go on this trek.
Lastly,
Annapurna Base Camp shines its best during the April month. You will have a pleasant trekking experience during this time in the moderate and stable weather with the best picturesque views everywhere.
For further information on this trek or any other treks in Nepal, contact us.