Annapurna Base Camp Trek (ABC) is the popular trail through valleys and ridges up to the lap of the Annapurna ranges. ABC trek is on the bucket list of the enthusiastic trekkers in the world in December to witness the snowy trails.
Annapurna is the chain of fascinating snow-clad Himalayas in the pristine surrounding. The region is the shelter of diverse flora and fauna.
The trail goes through unique landscapes, uphills & downhills. You will encounter incredible waterfalls, and dense forests of oak, bamboos rhododendrons, etc.
Annapurna region remains much drier throughout the year with less rain than most parts of the Himalayas. Thus, providing longer season for trekking.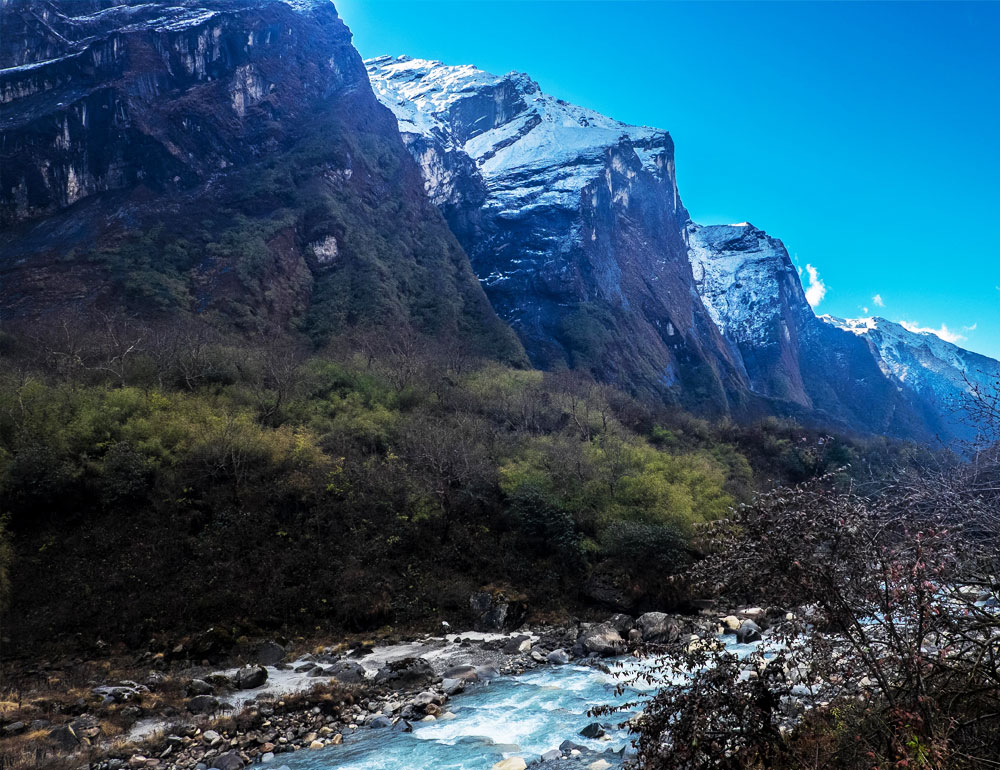 The best time to trek in the ABC is the autumn season (October and November). The other most suitable time is the spring season (March to April). However, with proper packing and good physical fitness, the trek is done at any time of the year.
Annapurna Base Camp Trek offers the best panoramic views of gigantic peaks like Annapurna I, Annapurna II, Annapurna III, Annapurna South, Fishtail, Gangapurna, Tent Peak, Hiunchuli, and Annapurna IV.
The fresh and crisp surroundings far from city chaos are heart soothing. The hospitality of lovable & humble locals adds joys to your smile.
December is an adventurous time of the year. If you wish to avoid the peak season, be ready for some adventure. December is the probable best off-time to visit ABC.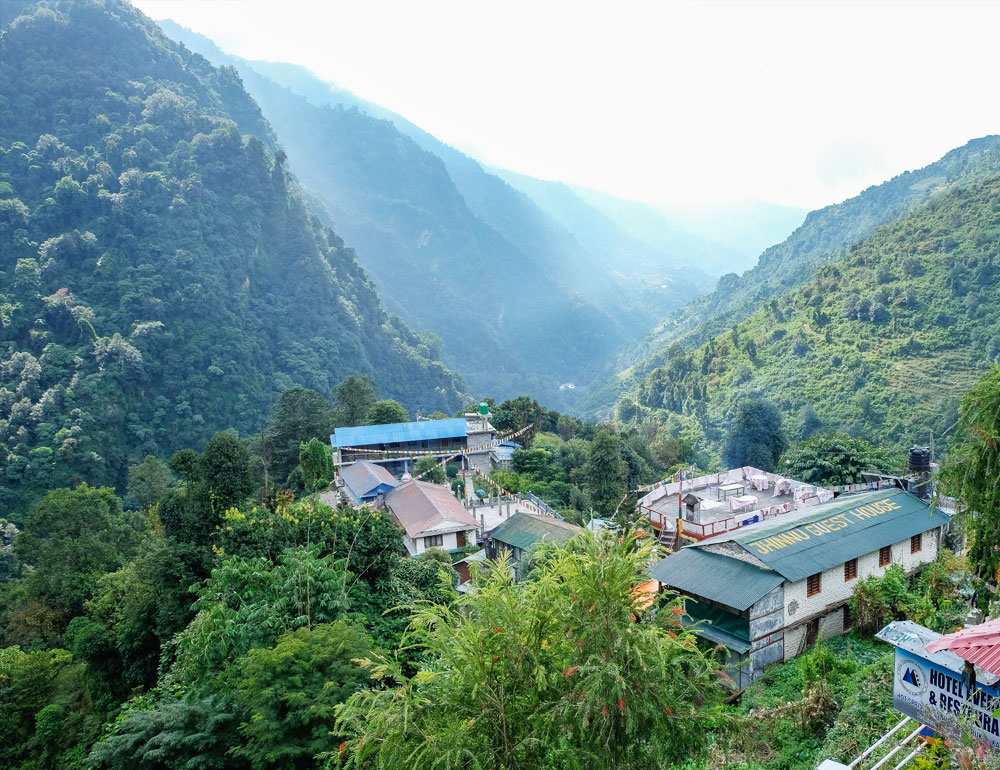 Highlights of the ABC trek in December
Subtropical meadows.
Alpine peak section at higher points.
Magnificent views of the most beautiful sunrise, and sunset from Poon Hill.
Beautiful skies and perfect views. Thus, a perfect scenario for stunning photography.
A nice day-temperature. The day temperature is suitable for pleasant hikes.
The weather: A beautiful sunshine, howling winds, and blizzard.
Less traffic. You can enjoy the peaceful trekking routes.
The memorable celebration of festivals (New Year and Christmas) in the Himalayas with locals.
Are you planning your Annapurna Base Camp Trek? Don't hesitate to contact us. Tell us your requirements, we can help you to make your trip memorable.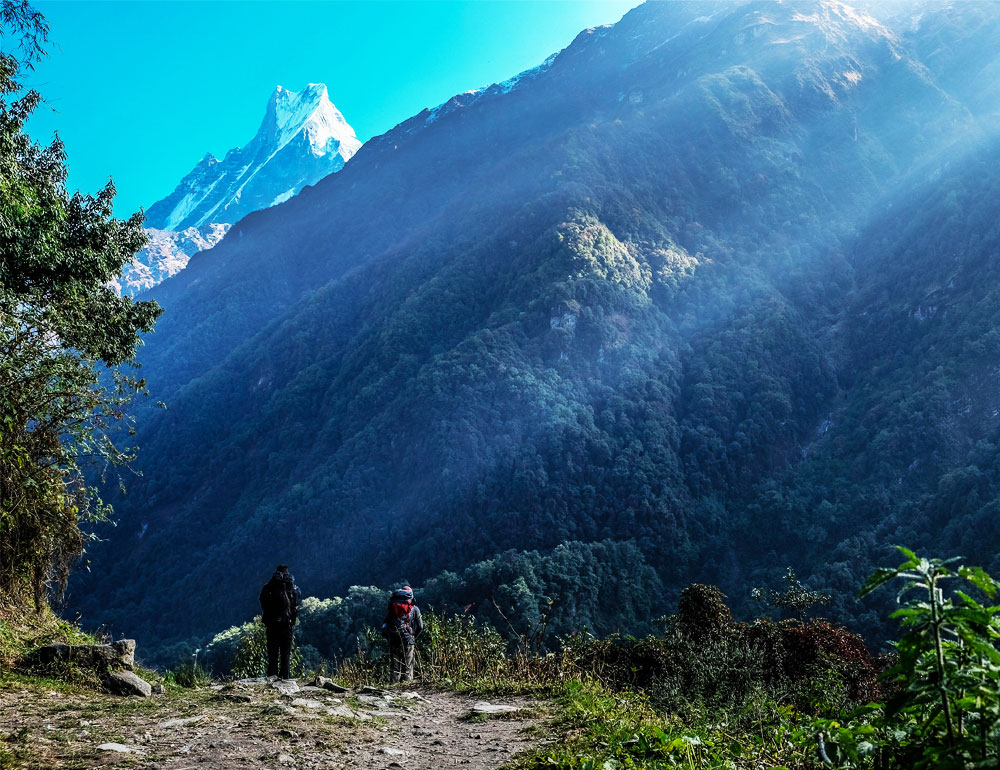 Annapurna Base Camp Trek Weather & Temperature in December
Stable weather
December is pretty dry in the Annapurna region. It receives less than 25 mm of rainfall. Annapurna region is a shadow area. So, there is less chance of rainfall in December.
The high elevation and cold temperature control the moisture amount. While trekking the Annapurna Base Camp during December, you will see a stable weather normally.
However, whether in the Himalayas may change any time. So, train yourself to face any challenges, the weather offers to you.
Pre-winter weather
Winter arrives at the cycle of months step to December. The weather during early December is a pre-winter weather. With days, the temperature starts falling drastically. It starts decreasing below 0 degrees in higher altitudes. In general, the temperature decreases to -5 degrees in the base camp.
Keep in mind, the winter storms can bring snow even at the lower regions (as low as 2300 m).
Clear weather
Some days in December may be cloudy with spoiled views. But the views are often clearer. Dry and clear weather enhances the vistas of the snow-covered mesmerizing peaks.
Note: The weather during late December is the mid-winter weather. Snow covers most of the trails. So, we suggest you include warm clothes and a pair of sturdy shoes in your packaging list.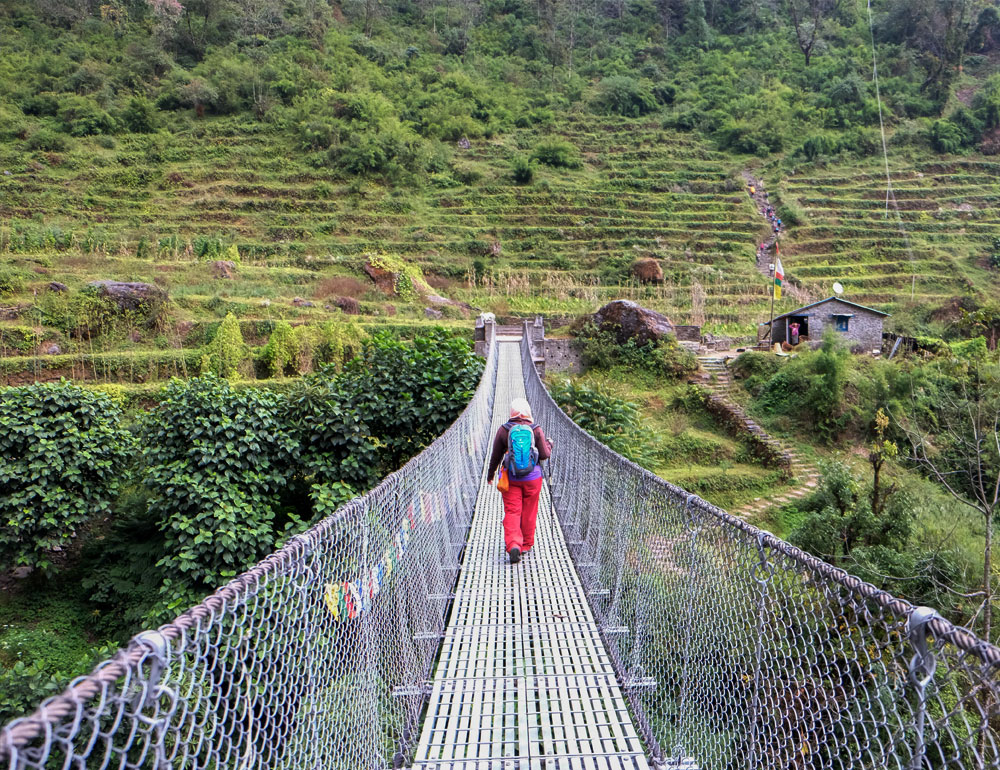 Accommodation and Food at Annapurna Base Camp During December
Annapurna Base Camp Trek takes us to the remote places in the Annapurna Region. The price of accommodations and food is higher than that in the main cities like Kathmandu and Pokhara.
However, the expenses are less as compared to peak seasons. The food and accommodations are cheaper during December. You can also enjoy the special winter discount offers provided by some lodges.
As the number of trekkers is very less in December, you can choose a comfortable room for yourself. Unlike in peak seasons when you may have to share your room with a fellow trekker.
But you might have less option in food menus due to winter. The food menus have lesser options. They will serve you the local dishes. You will not have to stand in queues for food.
Because of the extremely cold weather in December, most of the lodges and guesthouses remain closed. Yet, there is a rotation system these days. So, there will not be many problems.

Is trekking the Annapurna Base camp possible during December?
Yes, trekking in the Annapurna region is always possible. December is a winter month in the Annapurna region. Trekking in December can be excellent, but with little risk.
Sometimes, even in December, you may experience environmental conditions like in the peak season. But, the arrival of winter early may disappoint you. The region becomes too cold and unpleasant in winter. Well, it all depends upon your luck.
But if you have proper winter gears this trek will go much easier.
Note: You must have proper high altitude trekking experience to stand the cold and altitude sickness while trekking to the Annapurna Base Camp in December.
Why Annapurna Base Camp Trek in December?
The enjoyable and serene atmosphere. Clear sky and pristine atmosphere enhance the beauty of the surrounding. The hike is lovable and joyous with the serene atmosphere during December.
A Hot Bath In natural spring on the way to the ABC, you will walk across Jhinu Danda with hot spring. In shivering cold of December, a warm bath at the hot spring will boost your tired body.
Peaceful nature and more wildlife. Since the number of trekkers is less in December, the whole trek is all you and/or your partner. With stable and clear days, nature is at its best. The eye-catching scenes are awesome.
Easy accommodation Live in a room of your choice. Fewer trekkers mean you will have more options for accommodation. Also, the services are timely and smooth at the tea houses/lodges.
Fewer Crowds. Less distraction makes more attention to the scenery. Also, you will get to know your guides and porters well. Furthermore, you can enjoy special winter discounts offered by some tea houses.

Difficulties during ABC Trek in December
Altitude sickness is a common problem experienced by most of the trekkers. While ascending the heights above 3000 m, you may see the symptoms. The cold may affect your respiration in the higher altitudes. During the ABC trek, you will gain the height of 4100 m max.
There are threats of blizzards and semi-regular snow falls in various parts of the trail. Many passes in altitudes over 5000 m remain closed. Heavy blizzard may block the trails in the higher altitudes.
The days are shorter. It gets dark early. So, you must plan your trek so that you will reach the tea house before sunset. Thus, you will have less time covering a lot of distance.
By mid-December, the weather starts worsening and getting colder. So the tea houses remain closed. So, you may have difficulty in finding a place to stay.
Avalanches and heavy snowfall are possible in December. The dense pile of snow may block the trails.
Tips to trek ABC in December
Start early. In December, there are fewer hours of daylight. So, you must start up early in order to reach your destination for the day in time.
Appropriate route selection. As the days are shorter, you must make an appropriate route selection. Temperatures falls by the evening. So, make sure that you will reach the tea house before sunset.
Carry a comfortable backpack. Carrying a comfortable backpack eases your trek. A poor or uncomfortable backpack may spoil your walk. Be careful, choose comfortable trekking bags while trekking.
Bring warm and comfortable trekking gears. Prepare yourself for cold and snow. The cold temperature might not be a problem if you keep yourself warm and covered. The daytime temperature is manageable. You will be at the tea houses before sunset. So, a good down jacket and minus 30 sleeping bag can be helpful.
Be cautious about weather change. Weather conditions can be different during winter. There can be an avalanche risk. So, be sure to keep an update of local weather forecasts.
Carry sturdy boots for trekking. Walking in the snow is not easy with normal boots. So, wear sturdy boots while trekking in December. Also, they will keep your feet warm.
Be aware of the symptoms and precautions of Acute Mountain Sickness (AMS). While trekking in the higher altitudes, you might have altitude sickness. Seek help as soon as you see any symptoms. Maintain your pace and walk slow. Be careful not to avoid any symptoms of the altitude sickness. The symptoms include a headache, vomiting, nausea, etc. Descend down to a lower altitude immediately and take proper rest. If the symptoms persist, make sure to return back.
Stay hydrated. While you are cold, you might not feel thirsty very often. But your body needs a good amount of water while trekking in higher altitudes. Make sure to carry water bottles or thermos (for soup or tea). And, drink plenty of water to keep yourself hydrated.
Are you planning your Annapurna Base Camp Trek? Don't hesitate to contact us. Tell us your requirements, we can help you to make your trip memorable.
Preparations for Trekking Annapurna Base Camp
The Annapurna Base Camp trek requires a fair level of physical fitness. So, we tell you to practice some regular cardio exercises a few months earlier.
Everyone is at the same risk of AMS (Altitude Mountain Sickness) while trekking to higher altitudes. So, even though you are healthy and fit, you must practice some sorts of physical exercises.
Most of the trekking route is walking uphill, descend downhill and climbing the paves staircases. So, practicing walking daily starting before a month could be helpful.
Carry a knee guard in cases you have knee problems. Do not forget to carry painkillers, bandages, and pain relieving ointments with you.
Note: Consulting a professional medical advice before trekking is highly recommended.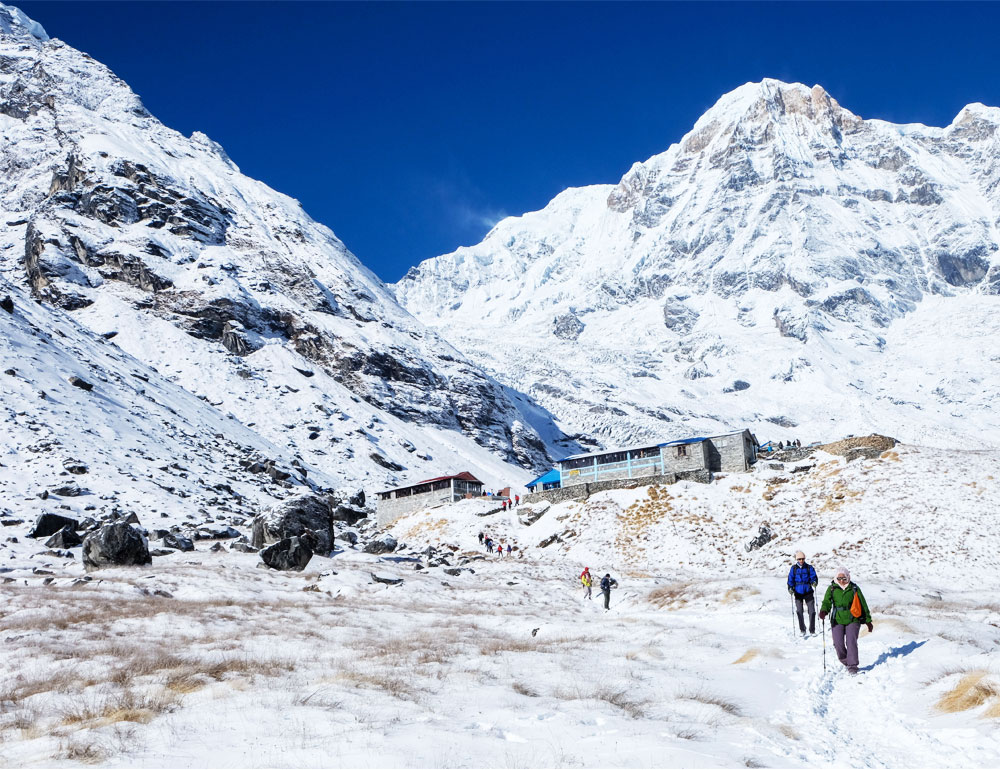 Packaging list for ABC trek in December
Down fleece Jackets
Warm Sleeping Bag
Trekking boots (with sturdy soles)
Trekking shirts (warm)
Trekking trousers (warm and waterproof)
Trekking Poles
Solar Torch
Caps
Moisturizer
Sunglasses
Sunscreen
Water bottles
Water purifiers
Trekking socks
First aid medical kit
Portable Altitude Chamber and Oxygen
Trek duffel bag
Trekking Map
Getting ready? Permits…check!
About permits, you need to have TIMS card (worth US $10), and ACAP entry permit (US $20) for this trek. Submit your copy of passport, and two passports sized photo and you will get the permits. You can get the permits for December both in Kathmandu and Pokhara.
Keep your permits with yourself. You will have to show and verify your trekking permits at various checkpoints on the trails.
Conclusion
Cold cannot bother you if you are physically and mentally ready for the Annapurna Base Camp trek.
Load yourself with good equipment and information. And you can witness the stories of empty trails, dramatic snow-capped mountains, and stunning landscapes.
Celebrate Christmas and New Year in the lap of mountains this year. No doubt, it is hard to walk in the freezing cold of Himalayas. But the dashing natural beauty of Annapurna will reward you a bunch of immortal memories.
For additional information on this trek, contact us.