Annapurna Base Camp trek holds secret treasures for mountain lovers. March is the best time for trekking and to enjoy the magnetic mountain peaks. Starting in March, the ABC trekking trail will be crowded with a lot of trekkers.
March, the month of Rhododendron, is the time of spring season in the Annapurna region. While trekking in March, you will collect the fondest memories in a pleasant and moderate climate.
March is a shoulder month which brings an aromatic spring after the snowy winter.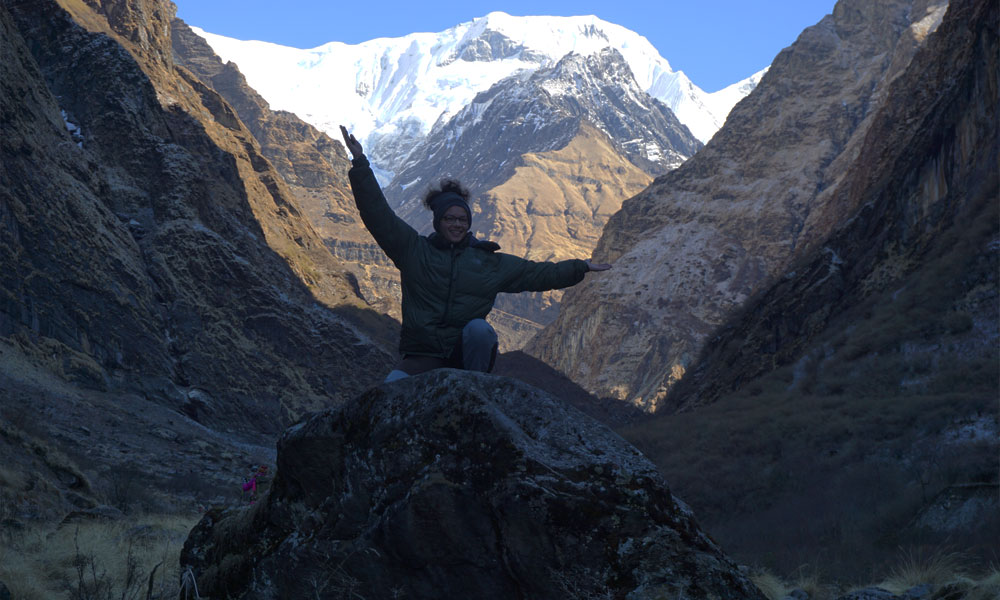 The temperature is neither too hot nor too cold. The days are quite hotter. But the nights and early mornings are chilling, yet bearable. You need not worry about the rain or the snow. Throughout the trek, you will be walking under the crisp sky, across colorful forests, and surrounded by the wonderful visibility of the surrounding landscapes.
The trail will bloom with red and white Rhododendrons and many wildflowers found in this region. The trek summarizes the beauty of green terraced fields, quaint Gurung villages and a wide variety of flora and fauna.
The outstanding view of Mt. Annapurna (8091m), the 10th highest mountain in the world from the base camp (4130m) is precious. Moreover, the panoramic views of Mt. Machhapuchhre (6997m), Glacier Dome, Gangapurna (7454m), the unclimbed Fang (7647m), etc are awe-inspiring.
Highlights of Annapurna Base Camp Trek in March
Distinct mountain views that leave you spellbound
Enchanting sunrise view from Poon Hill
A close panorama of the world's highest mountains including Dhaulagiri and Annapurna
Overnight at the Annapurna Base Camp
Spectacular views of the glacier from Annapurna Base Camp
A warm bath in hot spring at Jhinu Danda
The silvery peaks glowing with the golden and orange tints during sunrise
The Gurung Museum in Ghandruk
Exotic floral and faunal diversity
A peek into rich Nepali tradition and culture
Trekking inside the Rhododendron forests of the Annapurna Conservation Area.
Amazing forests, that come alive.
Rhododendron forests in full bloom.
Aroma of different flowers along the trekking trail will keep you enchanted.
Are you planning your Annapurna Base Camp Trek? Don't hesitate to contact us. Tell us your requirements, we can help you to make your trip memorable.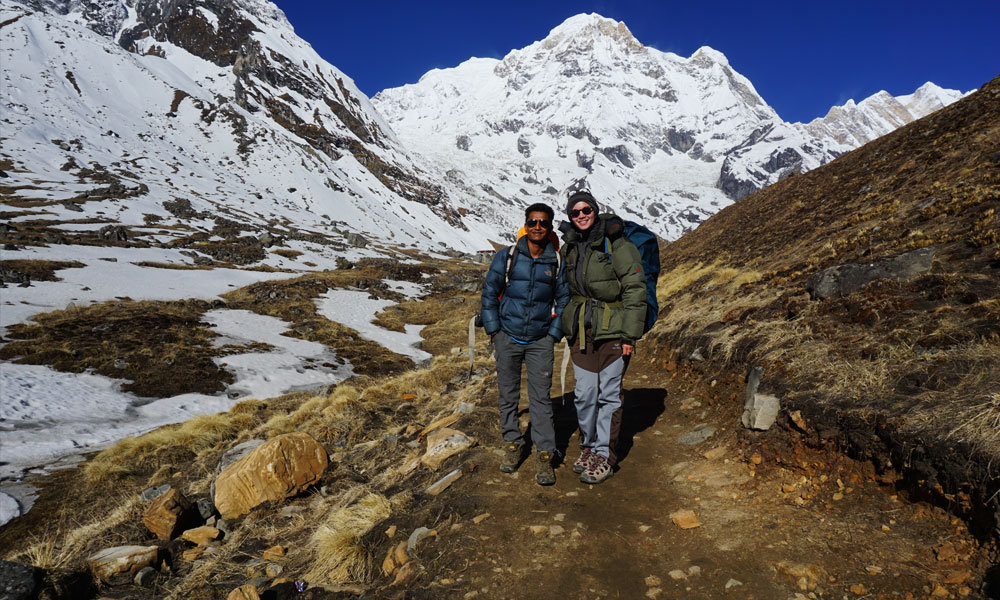 Annapurna Base Camp Temperature and Weather in March
March is the springtime in Nepal. The weather during March is perfect for an ideal trekking in the Annapurna region.
The warm weather in spring, the green forests, blossoms of various wildflowers including Rhododendron are truly fascinating. The bright red hills of Rhododendrons bring more trekkers in this month. The trekking trail is clean and dry with no snow. Watch out for the avalanche though.
March is a beautiful time for crystal clear views. The average daytime temperature at lower altitudes is around 10 degrees Celsius during sunshine.
The higher you go, the colder it gets. As you ascend over the height of 4000m is you experience the freezing cold in the evenings and mornings. The daily maximum and minimum temperatures are around -4 to -8degree Celsius. While nights are usually just on freezing temperature of about -10degree Celsius.
How Difficult is Annapurna Base Camp Trek in March?
ABC trek is a moderate trek. It doesn't need an advanced physical fitness level. Nor, it demands any previous trekking experiences. Anyone can do this trek and enjoy the pleasing time with nature.
March brings a dry, warm and stable weather in the Anapurna region. Adding colors of wildflowers to the beautiful hills, it adds joy to the trek. So, there is no risk of difficulties while trekking in ABC during March.
If you choose the Ghorepani trail to trek to ABC, your body gets adapted and acclimatized with high altitude along the trail.
Trekkers with previous trekking experiences can trek it in short period of time and more easily. During the ABC trek, will reach hit the highest elevation of 4130 meters from sea level. Some may feel symptoms of Altitude sickness, but if you walk slowly, maintain hydration, and take proper rest you can walk easily to the base of the giant peaks.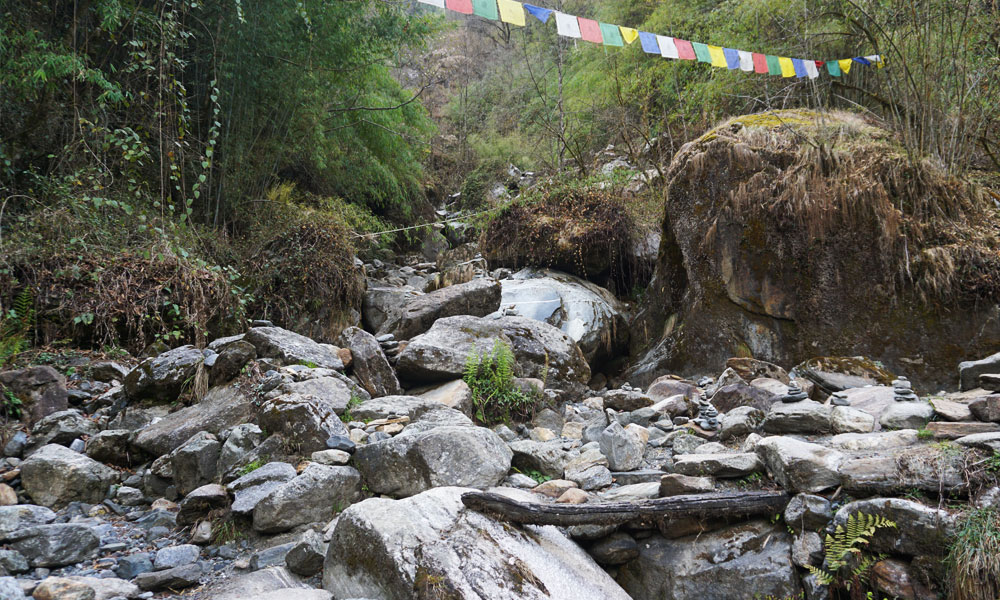 Meals and Accommodation during ABC Trek in March
Accommodations
March indicates the beginning of spring in the Annapurna region. It is the most trekked month after Autumn. The perfect weather and alluring natural beauty attract lots of trekkers during March.
In March, single rooms are easily available in Kathmandu, Pokhara and the trekking regions at the lower elevation. However, you will have fewer options for accommodation at higher elevations.
$2 is an average price per day for a stay in normal tea houses or lodges. You can take a small private room with twin beds. If you are large in number, you can book a dorm room with 4-6 beds.
The rooms are small but tidy. If you expect luxury accommodation, you can stay in the fancier hotels. They cost much more than general teahouses.
Meals
During ABC trek, locals expect you to eat where you stay. Teahouses make most of the money on food rather than on lodging.
The tea-houses where you stay serves a breakfast and dinner. They will serve you anything from the lodge menu (Menu has lesser options at higher elevation). Enjoy your lunch at some place on the way to the next destination.
You will have different food options to choose from. You can enjoy typical Nepalese food as well the more common international dishes. In common, you can have eggs, chapatti (a bread prepared in a local way), cereals with milk, and sandwiches for breakfast.
You can have potatoes, noodles, chowmein, momo, macaroni, pudding, Dal Bhat Tarkari, etc for lunch and dinner. Dal Bhat, a Nepalese dish, is the cheapest and most filling option in the food menu.
For drinks, you can have tea, coffee, plain warm water, or flavored hot drinks.
They do sell local as well as branded alcohols. If you drink, better drink while you are returning. (Alcohol and caffeine will increase the risk of AMS.)
On average, $25 per day will cover three meals. With this amount, you may choose anything to eat. It also includes many cups of hot beverage.
Are you planning your Annapurna Base Camp Trek? Don't hesitate to contact us. Tell us your requirements, we can help you to make your trip memorable.
Trekking Permits and Costs for Annapurna Base Camp
To trek to Annapurna Base Camp, you will require two permits:
Annapurna Conservation Area Project (ACAP) permit
Cost:
Nrs.200 ( US $2 ), for SAARC countries
Nrs.3000 (US $30), for other nationals
Trekkers' Information Management System (TIMS) card
Cost:
NRS. 2000 ( US $20)
You should also carry
Copy of passport
travel insurance
Credit card ( in case of evacuation)

Trekking Gears Required During Annapurna Base Camp Trek in March
It is what you carry inside your trekking that determines your trekking experience. Whichever season you are trekking you must pack wisely. Instead of increasing the weight you must pack wisely.
Not having proper gears can be troublesome during long treks.
Listed below are the equipment that you should bring to Annapurna Base Camp trekking.
Lightweight trekking boots. The trekking boots offer more safety during long treks. But, your shoes must be well fitting, light and comfortable.
Two or more pairs of trekking socks. Trekking socks are better. But an ordinary pair of socks is also usable.
Windproof jacket and trousers Keep in mind that you will see both the cold and warm temperature at ABC. So do not forget to pack down jackets and warm trousers as well.
A set of thermals and trekking T-shirts.
A lightweight sleeping bag.
A trekking pole. Though easy, there are many ups and downs in this trek. A trekking pole can assist you throughout the hikes. (You can find yourself a sturdy stick in route)
A Hat/ Cap
Sunglasses, sunscreen cream, and lotion
A First Aid Kit including Oral Rehydration Salts (ORS)
Iodine tablets, Airtight water bottle, long-sleeved shirt, lip balm.
Toiletries– Toilet paper, hand sanitizer, water purifiers, moisturizer, toothpaste, and toothbrush.
A map of Annapurna Base Camp
Snacks and entertainment like books, cards, an iPad etc.
Some Extra Tips to Annapurna Base Camp Trek In March
Weather changes frequently in high altitude areas. Bad weather can hit the Annapurna region even in March. So, be prepared and carry the necessary equipment for your trek.
Spring is a busy season at Annapurna region. The trekking trails are more populated. Teahouses or lodges in the route may be already occupied. You may also have to stand in queues for meals. So, a book for accommodations earlier.
You must start your trek right after an early morning breakfast. This helps you to reach your destination earlier. So, there are more chances to get the best rooms for overnight stays.
The cold mornings and nights are harder to cope with. So, pack some warm clothes and other accessories during the trek.
Do not worry about the heavy loads of your backpacks. You can hire a local porter to carry your loads.
Maintain your own slow and steady pace during the trek. Do not rush. It isn't a one day hike. So take proper care of your body.
Hydrate yourself properly. Your body dehydrates faster as you ascend the higher altitudes. Drink safe and non-polluted drinking water. You can also carry fruit juices or some energy drinks with you.
Take some extra snacks with you. They include energy bars, chocolates, and other instant energy providing foods.
In cases you see any symptoms of Altitude Sickness, do not hesitate to notify your guide or a partner. Walk down to lower altitude and rest till you are fine.
Carry enough cash with you during the trek. There are no ATMs in the ABC route.
Public display of affection is not welcomed and wearing revealing dresses will earn you unwanted criticism.
It is rude to click people without their will. Ask them first, if you want to click their pictures.
Final Say,
You can never say no when you get an invitation of heavenly views of the majestic Himalayas in Nepal. March, is a perfect time for the Annapurna Base Camp Trek. If you can spare your time to trek in March, you should surely go for it.
Do you need additional information on this trek? Do you want to join this trip with us? If yes, contact us. We will be happy to customize our trip as per your convenience.