Annapurna Base Camp trek is amongst the most popular trek routes in Nepal. And, Annapurna Base Camp trek in May shines in the fragrances of rhododendrons in the dry weather.
The trek takes you to the high points of the Annapurna region on the lap of mountains. Along the trek, you will be cherishing the magical views of admirable Himalayas: Annapurna South, Hiunchuli, and Machapuchare throughout the trail.
During May, the weather is so clear and stable. You will see the best of nature all along the trail. The rugged landscapes, terraced farmlands, and the lush jungles are charismatic. You will be lured by the immensely diverse flora and fauna in the region.
This remarkable trek into the beautiful Himalayas combines the nature in its genuine forms. While trekking, you will see the loveliest people who continuously shower their warm hospitality upon you. Interacting with locals of Gurung and Magar ethnicity is fun.
You will have a comfortable and an idle ABC trek in May. Trekking through the well-marked trails is much easier. You will have basic facilities for food and stay. This trek is full of nature, culture and lovable hospitality of local people.
What is The Weather Like in May for ABC Trek?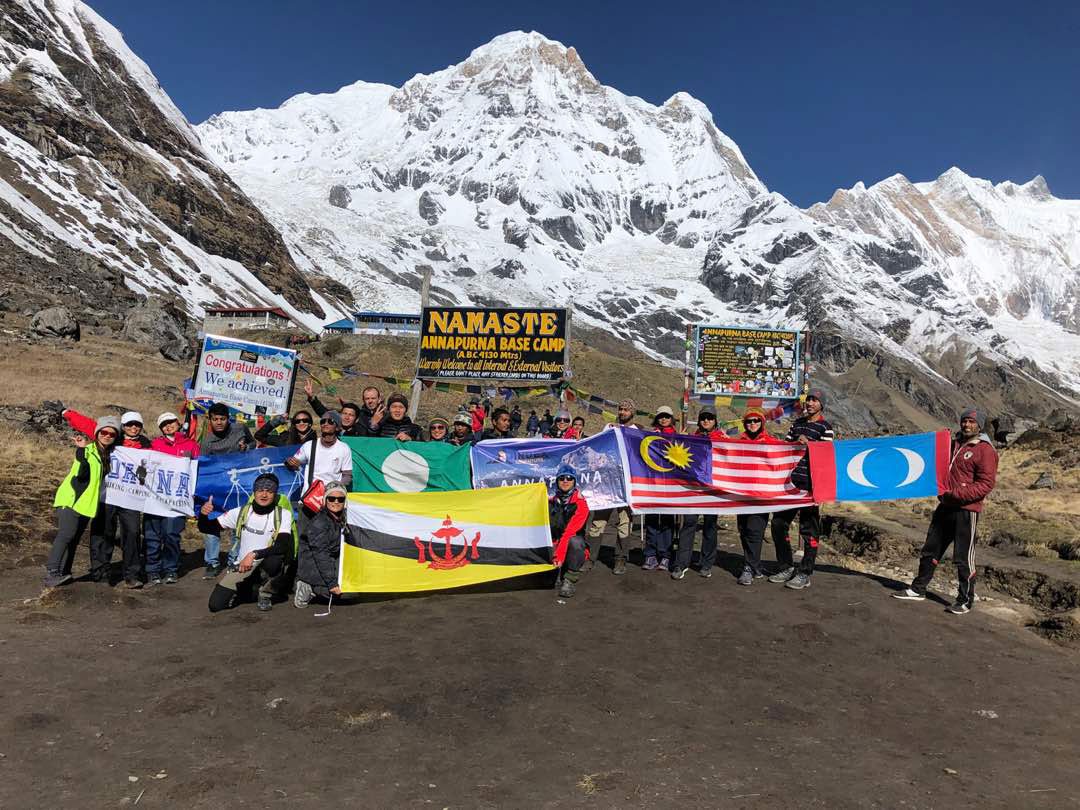 May, the last month of Spring season in Nepal is quite hotter. The Annapurna Base Camp trek in May experiences the hottest temperature while trekking.
May is the best time to walk under the Rhododendron blossoms accompanied by other wildflowers. The cascading waterfalls en route are alluring. You will see the sharpest views of the mountains and the surrounding landscapes because of the low precipitation.
During the trek, you will see variations on temperature and weather depending on the altitude. The daytime temperatures may rise up to 20°C at the lower altitudes. Whereas the temperature at nights is around 5°C. You will feel extremely hot weather during the daytime while trekking in lower sections. However, the nights are bearable.
While trekking in the lower altitudes, you will see a strange mist often appearing over the beautiful mountains. Likewise, at the high altitudes, the views are crystal clear. May is drier and has stable weather. So, you can see the crystal clear views even at the high altitudes.
The monsoon starts showing its signs as May reaches its tail. So, you may see a few rainfalls and thunderstorms, mostly in the evenings. It is wiser to wear and carry waterproof accessories while trekking in late May.
Always expect extreme conditions while on the treks to the Himalayas. The weather there can change any time of the year.
Are you planning your Annapurna Base Camp Trek? Don't hesitate to contact us. Tell us your requirements, we can help you to make your trip memorable.
Is It Wise to Go Solo Trek to ABC in May?
Annapurna Base Camp Trek is a moderate level trek. The trek is absolutely safe for a solo traveler who is physically strong and determined.
May is amongst the best time to trek for ABC trek. You will experience stable weather condition while in May. There is the least chance of sudden weather changes. Also, the risks of avalanche, steep and icy trails, high precipitation, etc are very less.
During the May, the trek route is not as busy as in Autumn trails of ABC. So, it is much easier to find a place for accommodation and food. The trekking trails are well marked. But, do not forget to carry a route map. Also, you will see fellow trekkers en the route. So, do not worry about missing the trails.
During your solo trek, you are not alone. Your trek will be much safe although you trek solo. Millions of flora and fauna en route will lead you into rare and wild experiences with nature. The soft breezes and melodious chirps of birds are really awesome.
Trekking alone with nature not only fascinates you but also eases your trek. The solo Annapurna Base Camp trek in May is astonishing and absolutely doable.
However, trekking with a licensed guide or a porter is always wiser over trekking alone. They will assist you in conducting a safe trek. Also, they will help find the best place for accommodation and food at average cost.
Will I Get the Permits for ABC Trek in May?
You will require permits for the legal entrance to the Annapurna region. You can easily get the permits for ABC trek in May. For your permits, you have to submit your photos and copies of your passport at the Nepal Tourism Board. You can get them in Kathmandu or in Pokhara.
If you are traveling with a travel agency, they will get the permits for you. You just have to send them your photos and a copy of your passport.
There are two permits that you must have in hand before entering the Annapurna sanctuary. They are:
Annapurna Conservation Area Project (ACAP) permit: USD 20
Trekkers' Information Management System (TIMS) card: USD 20
[Note: There are various checkpoints where you will have to verify your permits. So, pack them handy.]
Reasons to Visit Annapurna Base Camp in May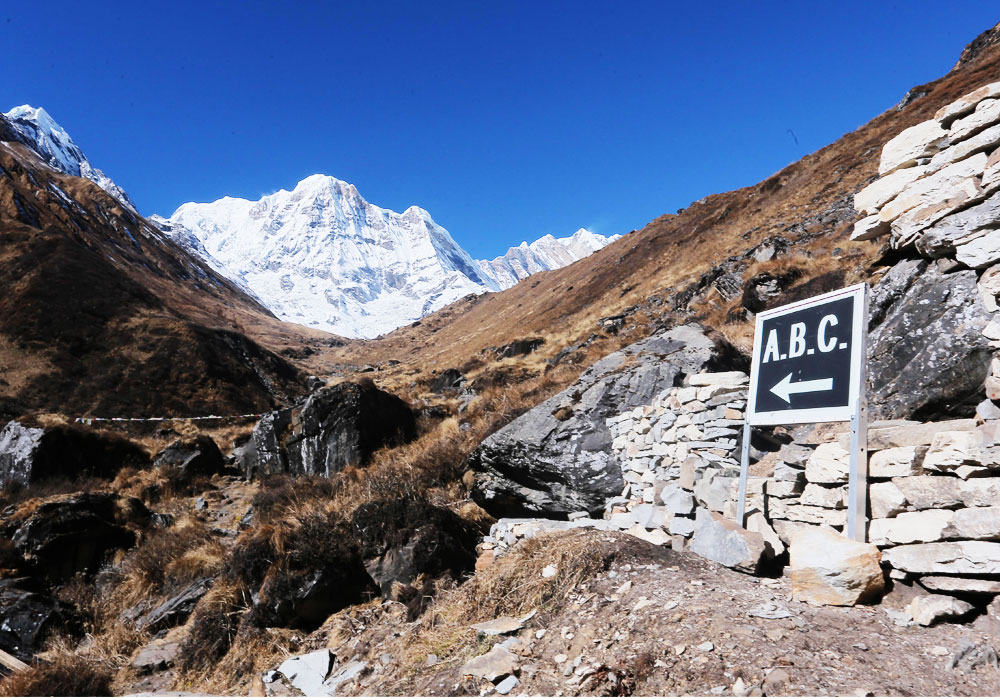 May is a beautiful time to visit the Annapurna Base Camp. It is the time of spring when nature exhibits its best scenic views. Here are some reasons for why you should visit Annapurna Base Camp in May:
The whole surrounding blooms in Rhododendrons and other wildflowers. You can see a wide floral and faunal vegetation in the region. The colorful hills are enticing.
You can enjoy the most beautiful rivers, villages, and the cascading waterfalls.
The freshly blooming vegetation and the lush forests offer the most beautiful and attractive photographs.
You can enjoy the magnificent panoramic views of the chained Himalayas in the region. You will see the Annapurna ranges, Mt. Machhapuchhre, Hiunchuli, GangaPurna, and Mardi Himal.
The several viewpoints en route offer the most alluring sunrise and the sunset views.
The pleasant weather encourages a pleasurable walk into the Himalayas.
May is the hottest month in the Annapurna region. It is the time of less humidity and low precipitation. You will catch the sharpest views of the rugged landscapes.
You need not worry about the mists and dark clouds covering your splendid mountain sceneries.
During May, you can go on the trek without worrying about the slippery and icy trails.
Unlike in the monsoon time, you should not worry about the insect's bites including leeches and mosquitoes.
What are Accommodations and Foods Like at ABC Trek in May?
While staying at the homestays and lodges during your trek, you can feel homely environment in the teahouses in the local villages.
You can find a lot of lodges on the lower altitudes. But as you get closer to the base camp, you'll have very few choices of lodges.
The lodges offer comfortable stay and rest. In a room, there are two beds. But, you won't have an individual toilet. You have to share it with a fellow mate.
In the food menu, you will have more options at the lower altitude. As you ascend to higher regions, the food menus are short lists.
They offer typical Nepalese food Dal-Bhat with seasonal vegetables. You can also have continental foods at some places. Indian and Chinese foods like MOMO (steamed dumplings), Chow Mein, noodles with soup etc.
For drinks, you can drink hot or cold water, tea or coffee. It is better not to drink alcohol and other beverages during the trek. You can get warm water for a drink at the teahouses.
Trek Difficulties at ABC in May
If you are an experienced trekker and have trekked above 3000 m, ABC trek route is more considerable for you.
Annapurna Base Camp Trek is a moderate level trek. You must not take too much stress regarding the difficulties and risks during the May trek. However, the weather at the Himalayas is mystical. You can never expect the weather to be perfect.
Here are some of the difficulties you might have while trekking to the Annapurna Base Camp in May:
May is the hottest time in the Annapurna Region. Trekking can get extremely hot and sweaty in the lower regions. You will feel a flood of sweat while trekking under the sunshine.
Afternoon clouds are common which can bring clouds and some downpours
At the end of May, clouds are common during the afternoon. You can also encounter occasional downpours. The dark clouds and rainy time is not so good for touring and sightseeing around the region.
Even though there are no particularly steep sections, but there are steep stone steps. So, be careful while walking over the steep stone steps especially after a rainfall (if any).
The Annapurna Base Camp takes you to an altitude of 4200 meters. So, you may feel symptoms of altitude sickness sometimes while ascending. Take more rest and maintain your pace while walking.
Cell phones may not work above Chomrong/Sinuwa. Prepare an alternative for this, if you have to.
As you go higher, the place is more remote. It is difficult to find shops or ATM's. So, you must carry enough cash and all the essentials for the trek along with you.
Finding pure drinking water on the trail is hard. Bottled water is really expensive at higher altitudes. So, you can carry your own refillable water bottle and a water purifier.
May is a busy season. You might find difficulty in finding rooms in places where there are very few hotels for stay. Prebooking is the best choice.
Weather change in high altitude area is unpredictable. Bad weather can hit the Annapurna region even in May. Be ready for everything.
Some Extra Tips for ABC Trek in May
Wear a lightweight and comfortable trekking boot. This will ease your walk over rugged and difficult trails.
If you have heavy loads that are difficult to carry, hire a porter.
Take proper care of your body and health. Maintain your own steady pace while walking. There is nothing to rush for.
Your body dehydrates faster at higher altitudes. Hydrate yourself by drinking safe and non-polluted drinking water.
Carry some extra snacks with you. You can have the energy bars, chocolates, and other instant energy providing foods if you feel tired while walking.
In cases you see any symptoms of Altitude Sickness, walk down to lower altitude and rest till you are fine.
Carrying a waterproof map of Annapurna Base Camp is helpful, mostly during solo treks. This will ensure your safety.
Check your backpack. Have you included all the needy materials for your trek?
Pre-book hotels and lodges for your food and accommodation.
Late May brings light showers in the region. Bring a light rain jacket and backpack rain cover if you are trekking in late May. Plan your trek earlier, rather than later for May.
Carry with you your important documents like citizenship doc. photos, passport, and permits. This ensures that you are traveling legally.
Are you planning your Annapurna Base Camp Trek? Don't hesitate to contact us. Tell us your requirements, we can help you to make your trip memorable.
What do You Need for ABC Trek in May?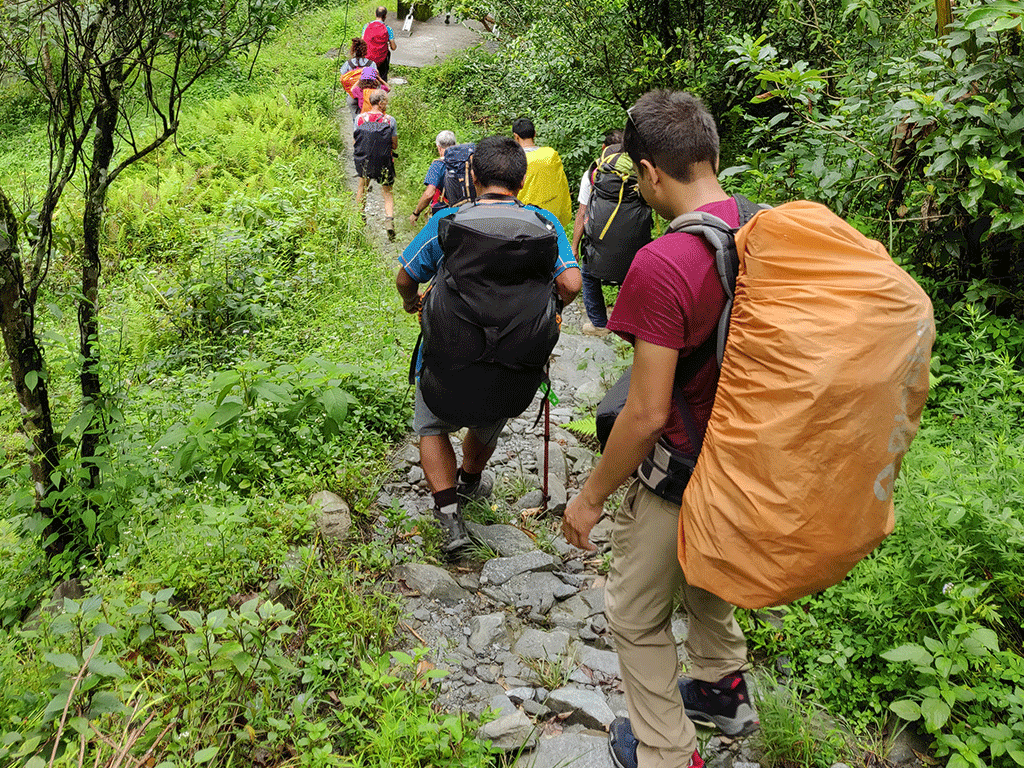 Before starting your journey, review your backpack. Make sure you have included all the essential materials. Pack light so that your bag is easy to carry.
Listed below are the basic equipment that you must take with you for the Annapurna Base Camp trek.
Trekking Map
Trekking Cap/ Hat
Headlamp, emergency light
Hiking pants
Trekking T-shirt
A set of thermals
Breathable Underwears
First aid kit
Trekking Poles
Light down jacket
Comfortable trekking boots and two or more pairs of trekking socks.
A lightweight Sleeping bag
Sunglass, A hat/ cap.
Water bottle, water purification tablets
Sunscreen lotion, and sunscreen cream
Charger, Power bank
A First Aid Kit including Oral Rehydration Salts (ORS)
Iodine tablets, airtight water bottle, long-sleeved shirt, lip balm.
Toiletries– Toilet paper, hand sanitizer, water purifiers, moisturizer, toothpaste, and toothbrush.
A map of Annapurna Base Camp
Snacks and entertainment like books, cards, an iPad etc.
Final Say,
Annapurna Base Camp trek in May has a lot to offer to enthusiastic trekkers like you. You will love the experience of trekking into the heart of Himalayas. Walking into beautiful forests, being surrounded by smiling Himalayas is a unique experience in itself.
Plan the trek wisely, be strong and determined. The Rhododendron blossoms in May along the Annapurna Base Camp route awaits your footprints wholeheartedly.
To book the trip with us, contact us.