September marks the beginning of Autumn. It is the best time for trekking in the Nepalese Himalayas. Annapurna base camp is one of the popular trekking destinations in Nepal. Passionate trekkers from all around the world fly to Nepal for trekking to Annapurna base camp.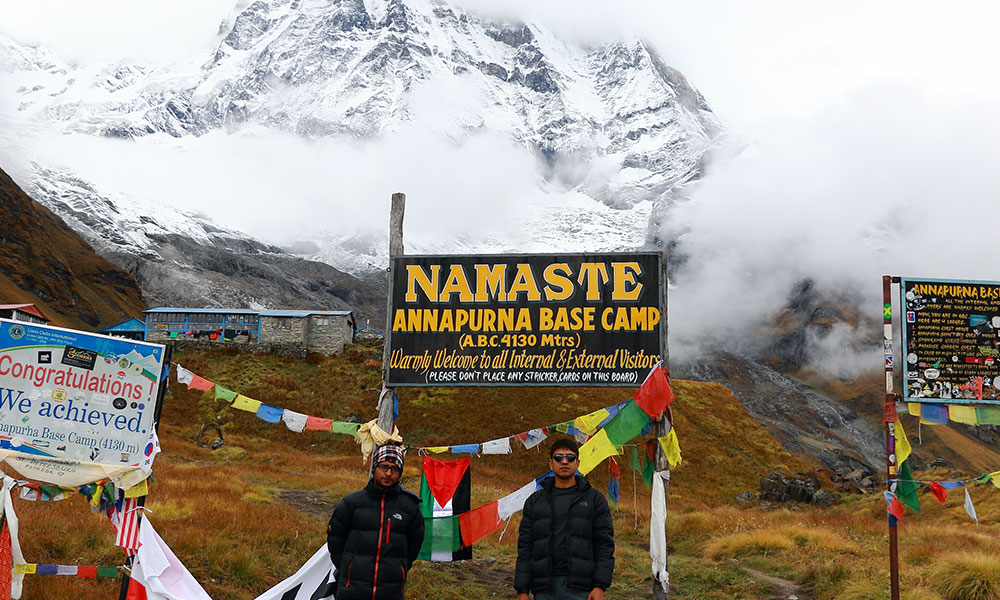 Annapurna Base Camp trekking is popular all year round. However, Autumn is the best time for Annapurna trekking. September, being an autumn month is thus a popular time for this trek.
The monsoon rain cleans up the atmosphere and makes it beautiful in September. During your Annapurna base camp trek in September, you will see greeneries everywhere. Also, the water bodies along the trek route like rivers, streams, waterfalls, etc are alive in September.
The clean air enhances the astounding mountain vistas. You will see brilliant images of Annapurna, Mt. Macchapuchre, and many others. Trekking through the lush forests and diverse terrains with vibrant pictures of white Himalayas feels wonderful.
The Annapurna base camp trek isn't only about viewing the natural amazement. The trekking trail is equally rich in diverse traditions and culture. You will walk into different villages where people are living a simpler way of life. They are wise, calm, and friendly. I must say they are highly hospitable and are golden-hearted people.
Most of the people are Tamangs, Gurungs. However, you will also see people of other ethnicities. While trekking through their settlements, you will have chances to interact with them. This way, you can also know about their beautiful traditions, rituals, and cultures.
If you have interests on going to Annapurna Base Camp with Index Adventure, contact us. We will be happy to organize a perfect trek for you and/or your friends.
Limelights of Annapurna Base Camp Trekking
Trekking through Annapurna Conservation Area
The traditional Gurung and Tamang settlements at various parts on the trail.
Astounding Himalayan vistas of Annapurna range and other peaks
The Annapurna Base Camp itself
The majestic sunrise views from Poon Hill
Why Annapurna Base Camp Trek in September?
Annapurna base camp is a perfect outdoor adventure to those who love trekking and traveling. Trekking to Annapurna base camp in September has its own perks. Some of them are:
Stable Weather and Mild Temperature
September is the beginning of Autumn. It is a peak time to trek when the weather, temperature, are perfect. You will have a splendid time with nature. Also, you won't have to worry about carrying bulky gears for rain and cold. Trek with a light heart and a happy soul in September.
Fewer Crowds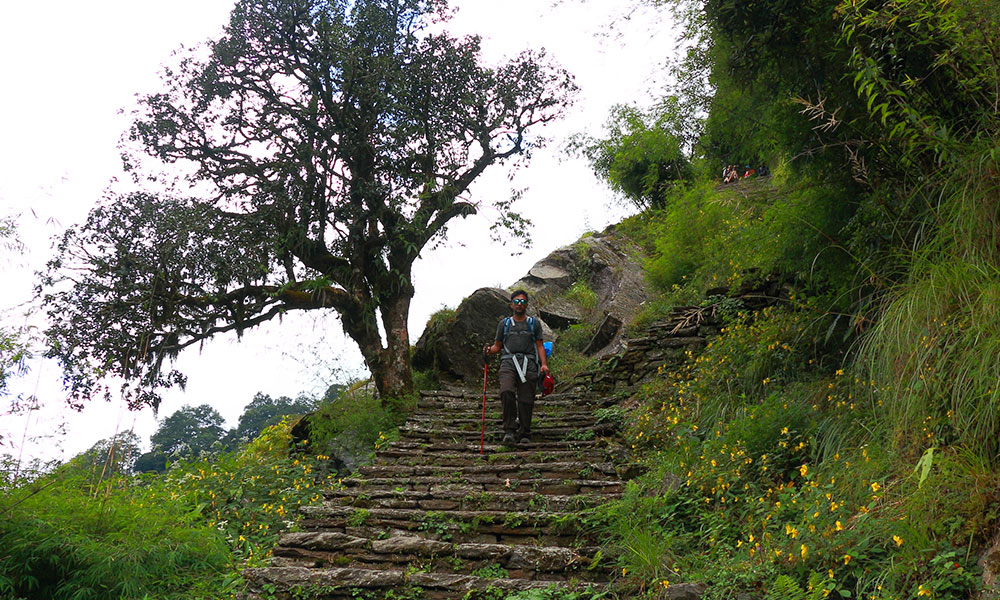 During early September, there will be fewer trekkers on the Annapurna trekking trails. So, if you want to escape the crowd and heavy traffic on the trail, September is a good time. Experiencing the aura of trekking in peak season with fewer trekkers on the trail.
Lush Forests and Distinct Mountains
The monsoon rain gives life to the vegetations around the trail. Thus, you will see the green hills and high mountains so green and so distinct. Also, the feeling of trekking through the lush jungles is amazing. You can enjoy the clean and green surrounding vistas during this trek.
Clearer Views of White Himalayas
Because of the improved air quality improves visibility. Thus, you will see the mesmerizing views of snow-clad peaks. Also, because of the clear weather, you will see the best sunrise views from Poon Hill. The views of the sunrise over the Annapurna range from Poon Hill is one of the highlights of Annapurna Base Camp trek.
Annapurna Base Camp Weather September
September is the official beginning of Autumn in the Annapurna region. During early September, Annapurna region might still offer you the remaining of monsoon. The weather at Annapurna base camp in early September is the post-monsoon weather. After mid-September, the weather tends towards a stable one. Thus, making it a peak time to trek.
Post-Monsoon Weather
September is the transition month between monsoon and autumn. It is the end of the monsoon. So, you might still witness a few rainfalls in the afternoons and during the nights in early September. The trekking trials might get wet. But since the rainfall isn't as frequent as in monsoon, the trails won't be so slippery and tough.
Thus, you should carry some lightweight rainproof gears for trekking to Annapurna base camp in early September.
Stable Weather
With late September begins the most popular time for Annapurna base camp trek. During this time, the weather and climate become perfectly and fair. There are least chances of rainfalls or snowfalls. The air quality is so good that you will see the tranquil views of the distant Himalayas, hills, mountains, and many others.
Because of the mild temperature and stable weather, you will have a pleasant time trekking in the Annapurna trail.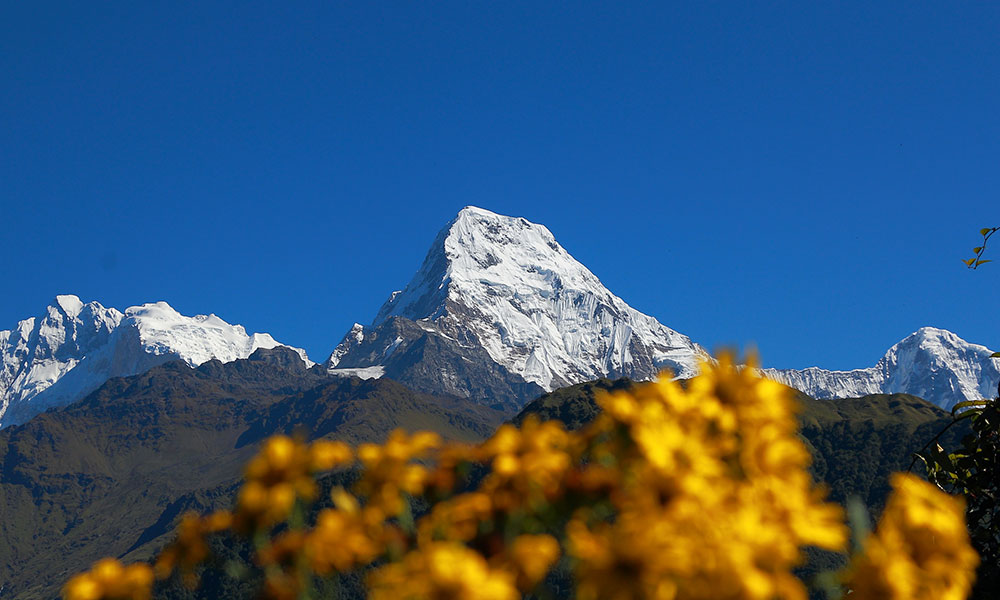 Annapurna Base Camp Temperature in September
At the Annapurna base camp, there is a vast difference between the daytime and night temperatures. The base camp becomes colder day by day as September progresses. The temperature during late September is much colder than in early September.
You will experience pre-winter weather and temperature while trekking to Annapurna base camp in September. During days, the temperature is mild and comfortable for trekking. The daytime temperature in September averages around 8 to 15 degrees. At nights, the temperature can fall anywhere below the freezing point, -0 degrees. Bring some warm gears for the nights.
Difficulties during Annapurna Base Camp Trek in September
Wet Trails in Early September
Sometimes, monsoon continues until September. Generally, in the first half of September, you will experience light rainfall in the evenings. Due to this, the trekking trail might get slippery and wet. This might cause difficulty in walking.
Difficulty in Finding Accommodation in Late September
The best time for trekking in Nepal starts from the mid of September. Lots of tourists from around the world flood to Annapurna region for trekking in this time. But the number of teahouses en Annapurna trek route is constant. So, due to limited accommodation options, you might have difficulty in finding places to stay.
Colder Nights
Nights are colder than the days. Temperatures at nights fall below 0 degrees. The rooms in the teahouses do not have proper insulation. So, you might feel cold. Carry a sleeping bag. You can also ask for extra blankets if you feel cold. You have to pay some extra charges for the extra blankets.
Rugged and Remote Trials
If this is your first time trekking into the remote trails, this trek might be slightly difficult for you. The Annapurna base camp trekking trail is rocky and highly remote. There are lots of ups and downs that you have to do in a single day. Also, stone stairs make most of the trekking trail.
Altitude Sickness
Annapurna Base Camp sits at an altitude of 4130 meters. This is an altitude where you are prone to altitude sickness. Anyone of any age, sex, or physical fitness can get altitude sickness. Thus, you get ideas on the symptoms, causes, precautions, and preventive measures of altitude sickness.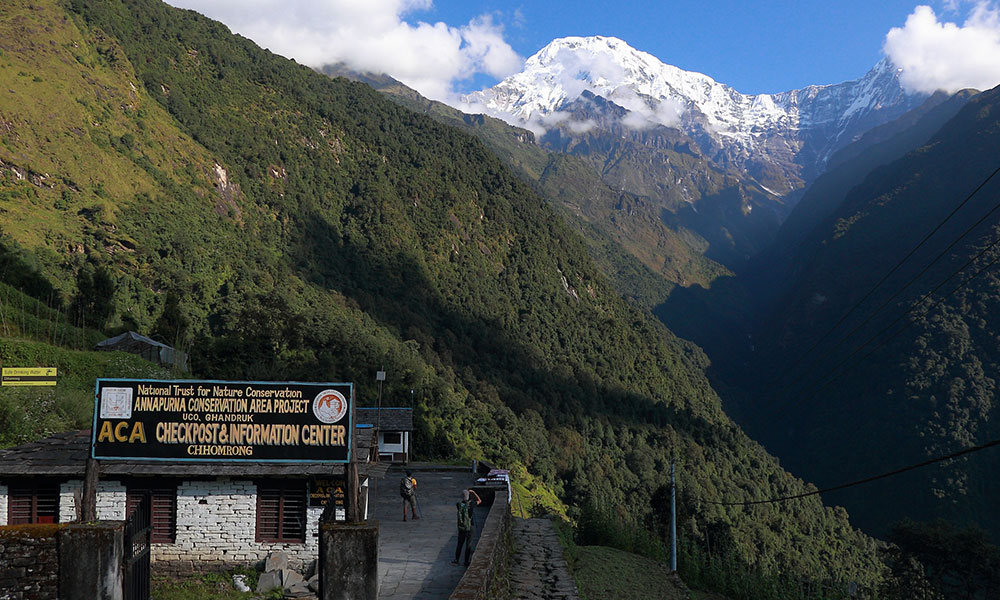 Tips for Annapurna Base Camp Trekking in September
Carry Warm and Rain Protection Gears
It can rain during early mornings and in the evenings. So, rainproof gears will help. Also, for the colder nights, you must carry warm gears. Make sure these gears are lightweight and will not add much to your load.
Drink Plenty of Water
Your body dehydrates sooner while trekking in the mountains. To prevent your body from dehydrating at high altitudes, drink plenty of water from time to time. Take some water breaks at intervals.
Avoid Drinking Alcohol
Drinking alcohol at higher altitude means you are adding the risk of altitude sickness. So, we advise you not to drink alcohol. If possible, try avoiding the narcotics as well.
Wear Good Hiking Boots
Trekking is comfortable with a pair of comfortable trekking boots. So, buy a pair of comfortable boots that have sturdy shoes and has ankle support.
Be Strong Physically and Mentally
Trekking to the Annapurna Base Camp is a challenging as well a rewarding adventure. The trekking trails are difficult than you expect them to be. So, you must keep on boosting yourself at every point on the trek. Be fit physically and mentally. Take care of yourself while you trek.
Don't Ignore Altitude Sickness Symptoms
Altitude sickness can be a massive problem if you try to avoid or ignore the symptoms. So, speak out if you see any signs of it. There is nothing to feel scared about, anyone can be a victim of it. You must trek down to a lower altitude, or the sickness will get worse.
Book Tea Houses in Advance
After the mid of September begins the peak season for Annapurna base camp trekking. So, it is always better to book your teahouse earlier. You might not get room to stay or they can charge you a large amount for the rooms if you don't book earlier.
Annapurna Base Camp Packing Lists
For September, you don't need to pack bulky and heavy clothing. Lightweight warm gears and small rainproof gears will do. Besides, the packing list is the same as the Annapurna base camp packing lists for Autumn.
Here is a list of things that you will need on the trek:
Rain Jackets (for early September)
Undergarment (moisture wicking)
Hiking shorts and Lightweight trekking pants
A sunglass with UV protection
Sunscreen creams and lotions for your face and body (preferably with high SPF)
Waterproof pants
Windproof jackets
A pair of comfortable Hiking boots
Warm socks
Sandals
T-shirt (with and/or without sleeves)
Fleece jackets or pullover
Down jacket
Sleeping bags (good quality)
Trekking Poles (for ascents and descends)
Headlight
Basic first aid kit including bandages, some essential medicines, ointments against blisters, sprains, etc
Refillable water bottle and water purifiers
A day pack
Toiletries like toothbrush, toothpaste, towel, multipurpose soap, face, and body moisturer, toilet roll, wet tissue, anti-bacterial sanitizer gel or hand wash.
For more detail read Annapurna Base Camp Trek Packing List
Conclusion
September is a beautiful time of the year for trekking to base camp of Mount Annapurna. Prepare all your trekking gears, practice some training or warm-ups, and prepare yourself physically and mentally. Now, you are ready to go on this adventurous once in a lifetime trek.
If you want to go with us, feel free to contact us. Index Adventure is a renowned travel company in Nepal. We organize the best travels and treks in Nepal. Drop your queries and suggestions if any.