The Annapurna region is naturally mesmerizing with hundreds of natural and cultural attractions. The Annapurna circuit trek allows you to witness the beauty of the Annapurna region in all its glory. It is one of the most well-famed and dazzling treks in the world. The high passes, deserted landscapes, and the exquisite mountain scenery guarantee to give you a lifetime experience.
However, its beauty does come with some hefty prices. These prices typically cover the tour operator's fee, flights, permits, accommodation, arrival visa fee, and many other factors.
We have Annapurna Circuit Trek package which will cost you less. For price contact us.
Many travellers opting for the Annapurna Circuit trek are often unsure about the budget and costs associated with the trek. We here at Index Adventure are hoping that this article regarding the Annapurna Circuit trek cost, will help you clear all your doubts and give you an overview for allocating the entire budget for the Annapurna circuit.
Below are a few factors contributing in the Annapurna circuit trek cost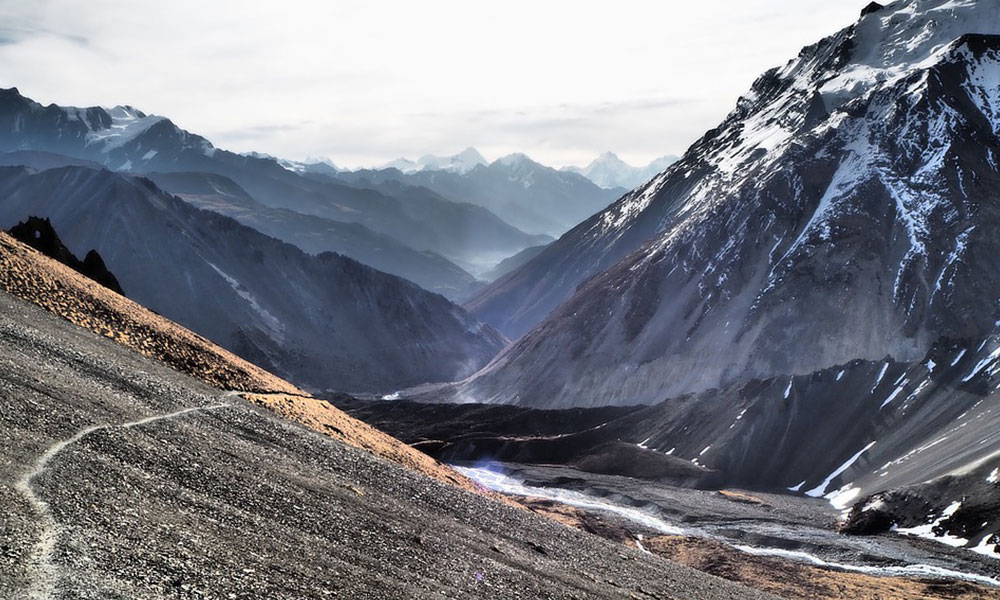 How Much do I Have to Pay for the Visa?
If you're not a Nepali citizen, you will need a visa for entering Nepal. Obtaining the visa of Nepal is not complicated, and you can take it prior to leaving or directly on arrival. The cost of the visa depends on the length of your stay in Nepal.
On Arrival Visa Fee
15 Days – 30 USD
30 Days – 50 USD
90 Days – 125 USD
For more detailed information, you can visit Nepal's Department of Immigration's website.
Travel Insurance
The Annapurna circuit trek demands a lot of physical endurance and strength. Since we trek through some steep altitudes and high altitudes, there are always risks involved. Thus it is always better to get your insurance before you travel.
The insurance covers all basic travel needs such as baggage loss, flight cancellation, tour cancellation, or any medical costs. Most of the travel insurances do not include people travelling above 4000m, so be sure to choose an insurance that does since you will be trekking above 4000m to reach the base camp.
If you are thinking of attempting peak climbing combining with this circuit, you will also need mountaineering insurance. The insurance covers medical costs, evacuation, and cancellation due to bad weathers.
There are a lot of travel insurance companies that offer insurance at a reasonable price. So be sure to divide a specific part of your budget of Annapurna circuit trek cost for insurance.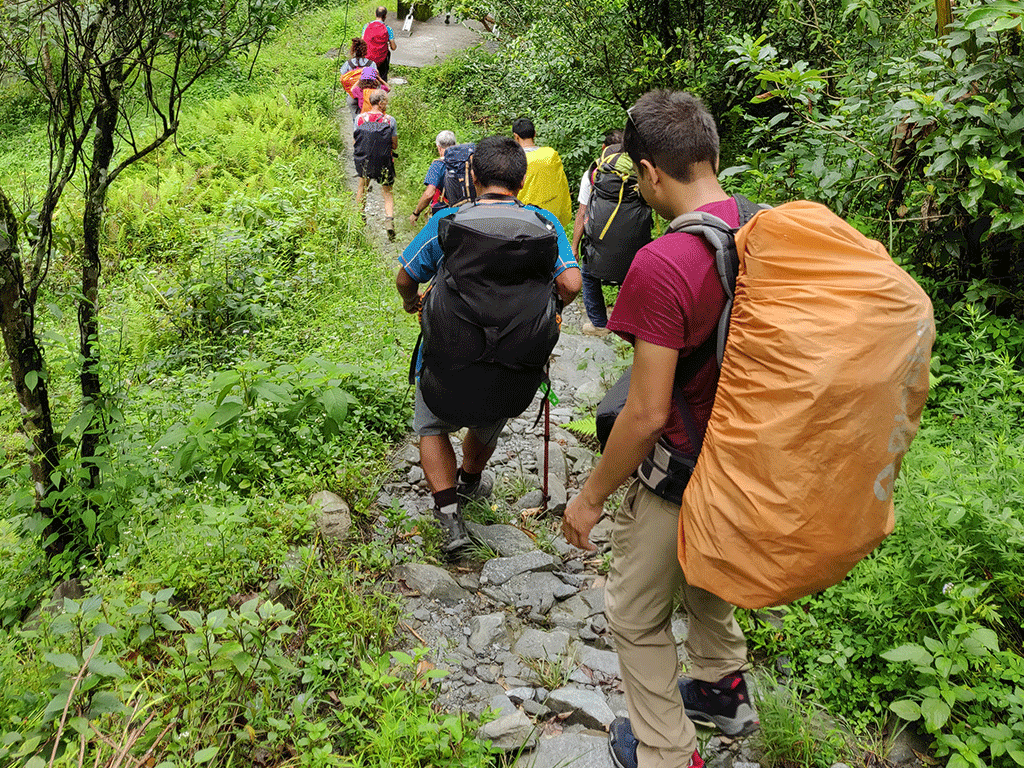 Buying or Renting Equipment
The Annapurna circuit takes you through some rogue and rough terrains, so you will need sturdy equipment that can handle the challenges that you might have to encounter.
Besides the essential equipment, buying secondary equipment comes down to personal preference. If you have a limited budget, then renting is also a good alternative, although the quality of the items is not guaranteed.
A warm sleeping bag that can handle at least upto -10-degree celsius.
A waterproof/water-resistant jacket.
Robust trekking boots and trekking poles.
Warm trekking trousers and shirts.
Warm Gloves, inner and outerwear, and some thermal socks
All these essential equipment that you need to buy come up to an estimated budget of $100-$500.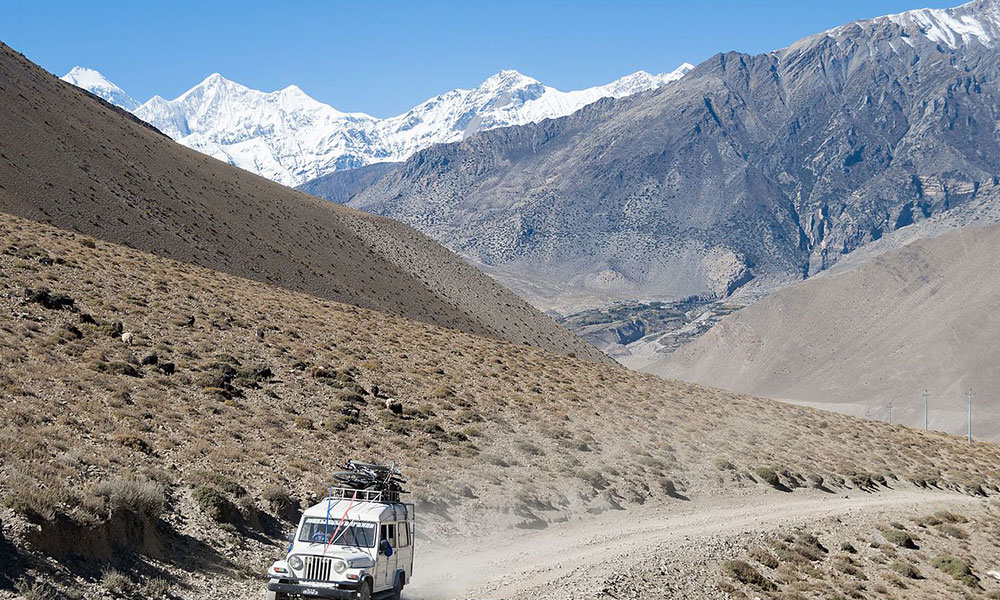 Transportation
Most of the travel agencies provide bus services, but you can choose to modify it if you want to avoid the hassle of a long journey. Buses are cheaper, and a single trip from Kathmandu to Pokhara only costs you about $10. Flights are comparatively expensive, and the tour agencies do not bear for it.
The cost of the flights depends on the season you are travelling. If you happen to visit during the peak seasons, then ticket prices can go up to a hefty margin. The peak seasons typically are between Feb-May and Sept-Nov.
The prices are lower during the less crowded season, making it favourable for air travel. We recommend allocating at least $1000 for air travel during the Annapurna circuit.
We have Annapurna Circuit Trek package which will cost you less. For price contact us.
Tour Guides and Operators
Even though many people venture the Annapurna circuit alone, it is better to travel under the guidance of a tour operator. There are hundreds of paths intersecting throughout the course, and it can be problematic for navigating, especially if you are travelling solo. Medical emergencies or delay due to bad weather can also cause a nuisance if you do not have a local guide. Tour operators also provide facilities of porters if you do not want to carry heavy loads during your trek.
If you are travelling solo, expect your budget to come around $700-$1000. These costs include trekking permit, food, and lodging services. Bear in mind, that you will have to book all the teahouses by yourself.
But, if you are travelling with a tour operator, you will have to pay around $1500 to $3000. Beware of the cheap ones though as they provide sparse accommodations.
You can also choose western operators that charge you anywhere around $1500 to $4000. This fee includes all hotel accommodation, food, and transportation costs.
Tips
Tips are not a necessity but a personal preference. Most people especially porters and guides remain in the hope of receiving tips.
If your porters or guides have done an exceptional job then tipping them some amount may not be bad after all! We would recommend tipping your guide $150 to $200 for an 18 days trek and $50-$60 dollars for porters. But then again, it all boils down to personal preference.
If you're not satisfied with the service of the guide of porters, tipping is not essential!
Permits
Since you're not a local citizen, you will need permits for entering some areas of the circuit. There are two permits required for foreign nationals. One of them is TIMS(Trekker's Information Management System), and another is the Annapurna Conservation Area Project (ACAP). Officials verify these permits before you enter the Annapurna circuit region.
ACAP try permit fee for foreigners: $30 (US Dollars)
ACAP entry permit fee for SAARC nationals: 1,000 Nepalese Rupees
TIMS permit: $10 (US Dollars)
Food And Accommodation
Breakfast: The average cost of the first meal of the day comes anywhere around $6-$7. The breakfast is a pretty standard one including eggs, potatoes, toast, and coffee. Ordering a breakfast set might be much better as individual ordering bulks up the cost.
Lunch: The lunch is a much more wholesome meal, and consists of Nepali Thakali set or similar. The price comes up to $7 or $8, including the small tea breaks in between. As you go higher, the tea gets as expensive as $2 for a small cup, but at the lower elevations, they are quite cheap.
Dinner: The dinner is a standard one with rice and dal (lentils). Because the food manufactured is local, it is delicious and healthy. You also have the chance to refill if you're not full enough. The price is around $4 - $8 depending on the location. As you go higher, food gets costlier.
Shelter: Accommodations through the circuit are mostly lodges and tea houses. If you happen to travel at a peak season accommodation can be an issue, else they are available throughout the year. The rooms usually are twin sharing with bathroom. Some lodges even provide hot shower and Wi-Fi facilities under some charge. You might have to pay anywhere between $2-$5 for a night, although some teahouses are free if you eat dinner or breakfast at their place.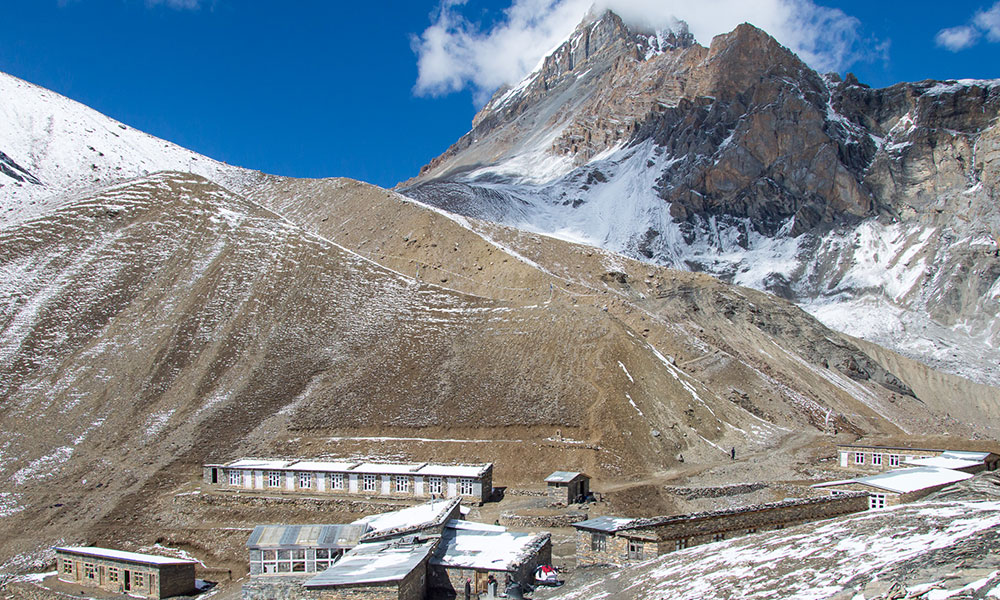 Final Verdict
Travelling solo certainly cuts down the guide and porter's prices, but it increases risks and challenges while travelling. So it is always better to travel under the guidance of an experienced tour guide.
The main thing to remember while allocating the budget is how much you want to spend on the trip. If comfort and luxury is your main priority, then the budget naturally rises. However, if you want to complete the Annapurna circuit in a reasonable budget, you must allocate it accordingly.
These are the approximated values of the Annapurna Circuit trek cost
Budget Travel = US2,500
Average = US3,000
Luxury Travel = US$5,000 or more
Note: All the above prices mentioned include the cost of international flights, visa, and permits.
We have Annapurna Circuit Trek package which will cost you less. For price contact us.
You may also like to read: