April is a perfect time for trekking in Nepal. You will have the best trekking experiences since nature is full of colors of Spring.
The hills and forests are full of beautiful Rhododendron blossoms. The weather is beautiful with the least chances of rainfall. The temperature in April is mild. Daytimes are perfect for hikes. Even the nighttime temperature at higher elevations aren't as cold as in winter.
With appropriate gear, trekking in Nepal in April is easy and rewarding.
In this article, I've provided information on everything that you need to know. I have included the weather conditions, packing list, suitable routes for your destination, and some tips for your trekking in Nepal in April.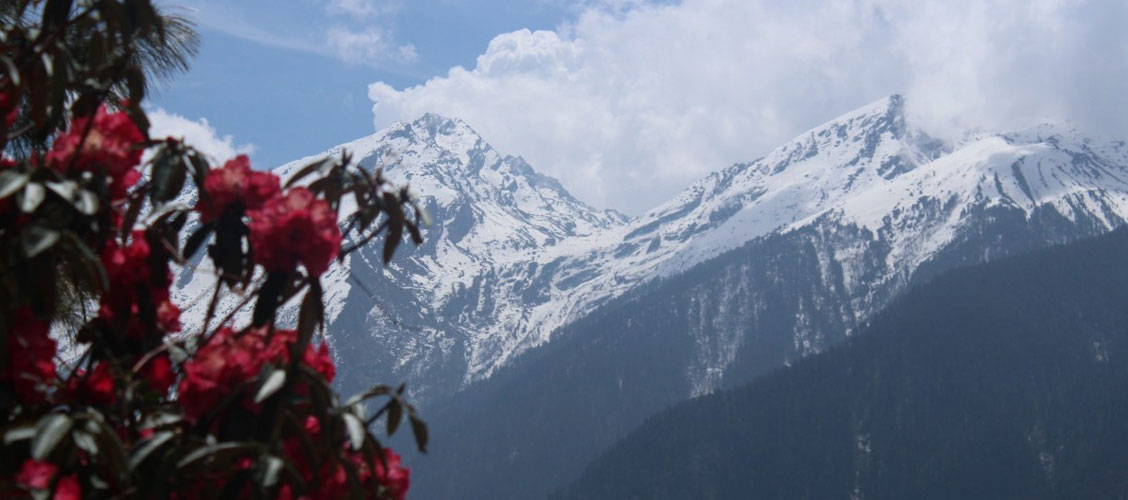 Weather and Temperature in April
April in Nepal is favorable for trekking as it is hot and sunny. Kathmandu is warm at 27°C and you'll also catch an occasional light shower.
According to historical data, the temperature is between 30-31°C with an average daylight time of about 11 hours. The weather is clear and pleasant in April.
At higher altitude, the temperature rounds 20°C. The weather condition for trekking is classic.
During spring season you get to see some beautiful, colorful flowers and trees. Especially, Rhododendron will attract your sight. You can also see various species of orchid and magnolia bloom on the forests. The beautiful sights will energize you on your route.
Important Gear to Pack for Treks In Nepal
April is a spring season. The temperature is mild in the lower elevations. But the higher altitudes are colder. With some basic trekking gear, your trek will be comfortable and easier.
Hiking boots
Quick-dry thermal wear
A pair of sandal
Gloves
A sleeping bag
3-4 pair of socks
Windproof jackets and pants
Sunglasses
Headlamp or torchlight
Trekking poles lightweight sweaters
Shirts with full sleeves and half sleeves
Raincoat and rain cover for your backpack
Beanies
The Top Destination for Trekking in Nepal in April
Everest Base Camp in April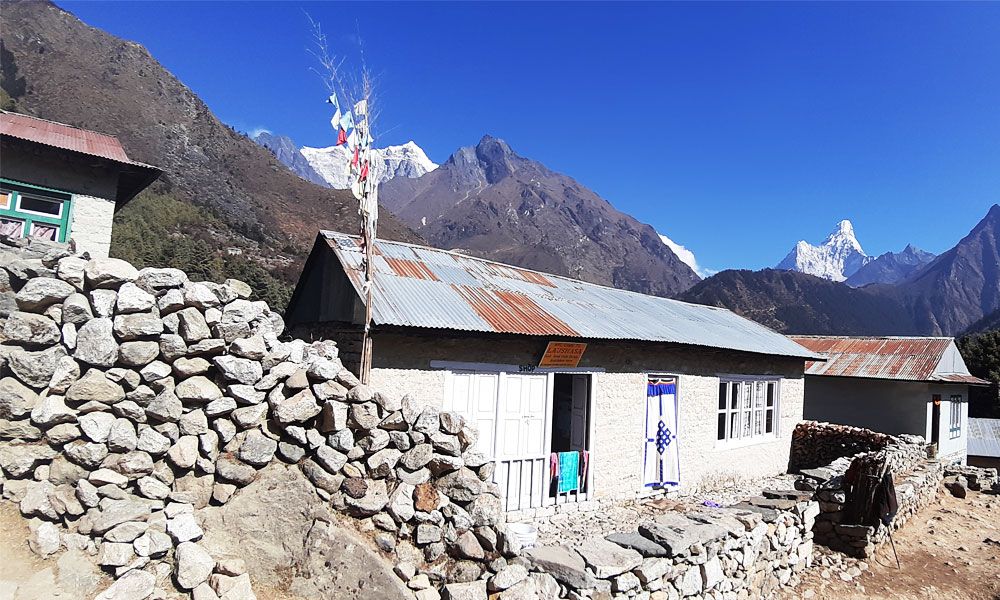 Undoubtedly, Mt, Everest is the tallest peak in the world. Trekking to its base camp will offer you a life-changing experience. It is a wonderful journey for those whose dream is more than beyond the clouds.
The Everest Base Camp Trek is one of the magnificent destinations for trekking in Nepal. It is an adventurous high altitude trek.
The major highlights of this trek are the breathtaking views of Mt. Everest and other peaks and the landmark of Kalapathar.
While on the trail, you will see Buddhist monasteries in Tengboche and Pangboche. You can also see the miraculous ice sculptures of the Khumbu Glacier.
Annapurna Base Camp in April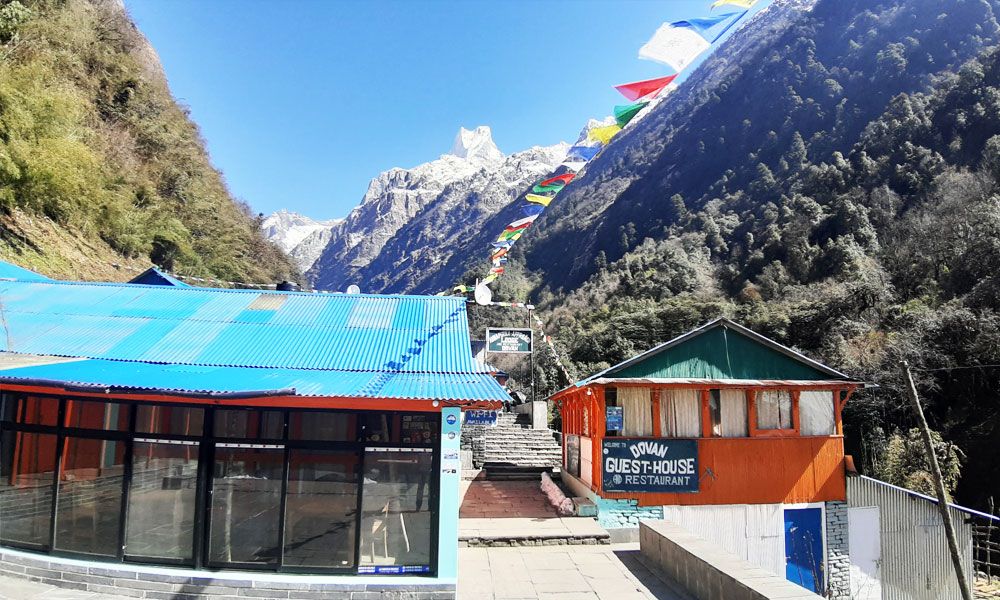 The next beautiful destination for trekking in Nepal in April is Annapurna Base Camp Trek. Its starting point is Pokhara which is 147 km far from Kathmandu by road. On the way, you can see the charismatic view of beautiful natural resources.
Annapurna base camp trek scheduled for at least 7 days. During the trek, you can see astonishing views of the Annapurna giants. The peaks surrounding the basin are Mt. Annapurna 1(8091m), Mt. Annapurna South(7273m), The Glacier Dome, Mt. Gangapurna (7454m), Unclimbed Fang(7647m), and Mt. Machhapuchhre(6997m).
ABC trek is one of the most pleasant treks in Nepal. The trek route passes through beautiful nature and admirable traditions and culture.
Langtang Valley in April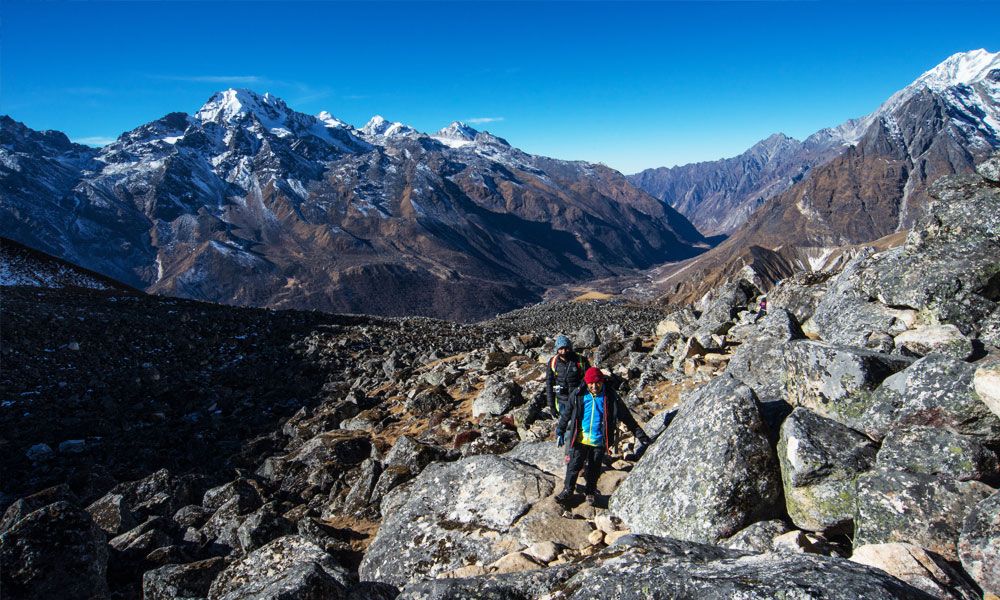 "Heaven on Earth" would be dull if you don't visit Langtang valley while in Nepal. The Langtang is well-known as the valley of ice house as it is famous for its snow-capped peaks.
This Langtang Valley trek is famous for snow-capped peaks, mountain stream, and plain grasslands. You will also see the beautiful Rhododendron forest and evergreen Pine forest.
Langtang valley lies towards 19 miles north of Kathmandu valley. The valley houses the Tamang localities.
You will pass through the Langtang National Park during the trek. The national park is a part of the sacred Himalayan landscape. There, you can see different species of animals and birds.
The park is famous for Himalayan Black Bear, The goat-like Himalayan Tahr, and Rhesus Monkeys. Langtang National park is the habitat of endangered Red Pandas. There are also stories of Yeti sightings.
The Gosaikunda lake is a sacred lake to Hindus. This lake is one of the major attractions for trekkers these days. Another spiritual site is the Buddhist monastery Kyanjin Gompa.
The popular activities for tourists during Langtang trek includes trekking, climbing, and white-water rafting.
Upper Mustang Trek in April
In the rain shadow of Annapurna and Dhaulagiri range there lies Upper Mustang. The region is beautiful with the trans-Himalayan climate which is cool and semi-arid. The rain showers in the region range between 250-400 mm annually.
Upper Mustang trek offers a breathtaking adventure in a remote Himalayan region of Nepal.
The major attraction of the trek is pre-historic Tibetan Buddhist sacrarium. Numerous stupas, prayer flags, mani walls, and antique monuments en route are splendid.
During the trek, you can also socialize with local Tibetan people. They are very fun loving people to be around for a memorable moment.
Upper Mustang is also known as mini-Tibet and has a title of "mountain desert".
Manaslu circuit trek in April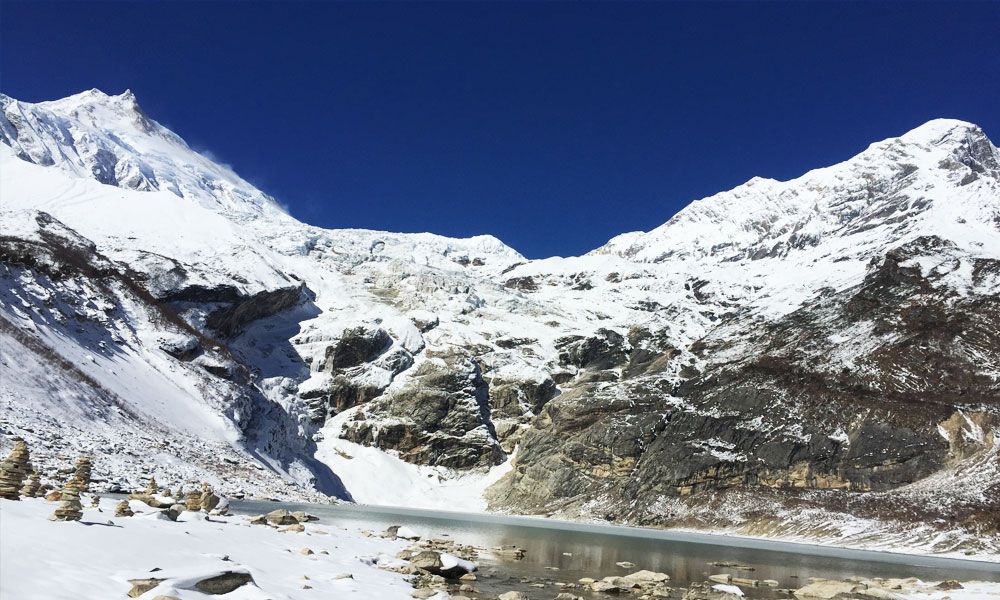 The Manaslu circuit trek is one of the inspirational treks in Nepal. The Manaslu region offers a variety of trekking options. One of the best adventurous trek in is the Nepal Manaslu Circuit Trek.
Manaslu is the eighth highest mountain in the world at 8163 meters. The popular Manaslu trekking route covers an area of 177 kilometers (110 mi). The trek route skirts the Manaslu massif over the pass down to Annapurna.
This trekking region offers a comprehensive rich way of life, history, unsurpassed grandeur, and natural diversity.
While in trek you'll get to gape at the awe-inspiring view of Mt. Manaslu, associated with rich local heritage and biological diversification of the region.
You can also visit Buddhist village of Samagaon, Sirdibas, and Samdo. While trekking, you'll pass through the numb valley to descend to Marsyangdi valley. You will meet the Annapurna circuit path wherein Manaslu Trekking leads to Besisahar.
Trekking around Manaslu offers a distinctive chance to experience a thoughtful "untouched" region of Nepal.
Makalu Base Camp in April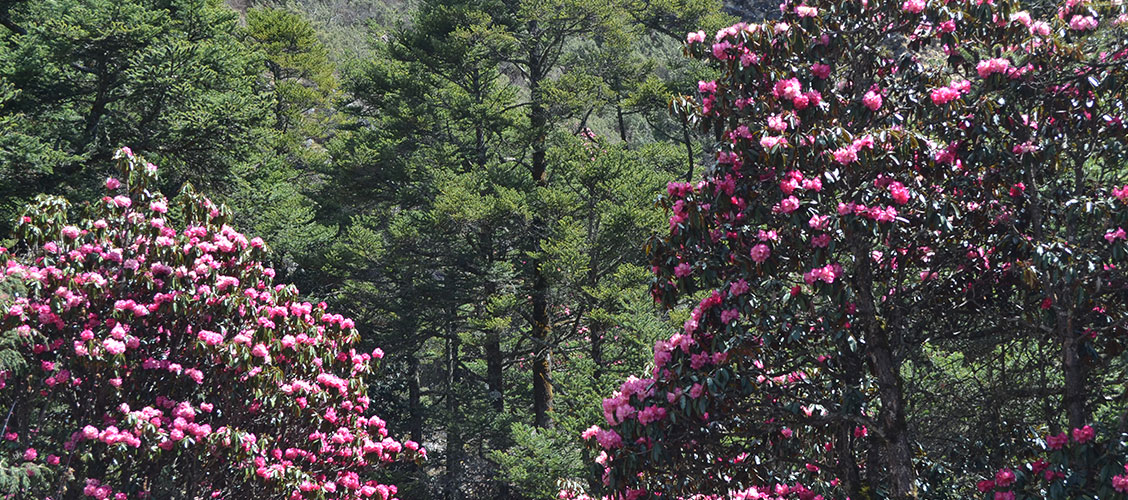 Being one of the eight-thousanders, Makalu is a solitary peak with a unique shaped figure. Makalu is a four-sided pyramid with a height of 8485 meters (27838 ft.) Mt. Makalu is the fifth highest mountain in the world.
Trekking in Makalu would be untypical for trekkers. Makalu Base Camp gives an opportunity to travel over high altitude terrains.
You will also enjoy the Himalayan mountains along with Mt. Makalu (8481m) itself. Also on the way, you'll enjoy the traditional Himalayan lifestyle.
Mardi Trek in April
Mardi Himal trek is a quieter trek among the Annapurna region treks of Nepal. Mardi Himal trek is an ultimate destination for those who are looking for a peaceful experience.
The Mardi Himal trek was recently opened for trekkers. The trek passes through the Annapurna region. You can see the picturesque view of Annapurna Himalayan ranges during the trek.
You'll walk through a peaceful path through dense beautiful forests of rhododendron. Hence, during April, you'll see tremendous rhododendron blooming around the forests.
Besides, you'll also get to see the magnificent panoramic view of Mardi Himal, Mt. Annapurna, and Himchuli peaks during this wonderful Mardi trek.
Ghorepani Poonhill Trekking in April
It is one of the shortest and adventurous treks in the Annapurna region. The trek route is splendid with a beautiful landscape around the hill.
Ghorepani poon hill trek is popular for its Annapurna sunrise view from Poon Hill. Also, the trek is unique because of the traditional villages and ethnic communities.
This trek rewards the trekkers with sights of a 360-degree view of snow-capped peaks. The bulky Rhododendron forests along the trail are admirable.
Festivals You Can be a Part of in April
While trekking in Nepal in April, you can also enjoy different cultural festivals. There are some main festivals listed celebrated in different historical places near Kathmandu.
Bisket Jatra(Navabarsa)
The highlight of the Nepali new year starts with this festival. Newar communities in Bhaktapur celebrate Bisket Jatra in mid-April.
It is a huge golden chariot which carried around the town until it reaches the Khalna Tole. The chariot, carrying images of the god Bhairab, stops on its journey. During the festival, you'll see a tug-of-war taking place between the resident of the east and west sides of Bhaktapur.
Finally, at Khalna Tole, a 25 meter-high phallic symbol gets installed on a stone platform. The continuing day is the day of another tug-of-war.
The festival continues for up to four days of feasting (Bhoj). People make public and private celebrations with friends and families. The elder people of the family give blessings to younger by placing tilak marks on the foreheads.
Ghode Jatra
Ghode Jatra is an important festival in the Kathmandu Valley.
This festival is well-celebrated to ward off demonic Gurumapa. People believe that the soul of the demon still lives underground at Tundikhel.
The trained horses of Nepal Army perform horse race and circuses at Tundikhel on this day. People say this prevent the demon from rising again.
Buddha Jayanti
On the full moon day of 1st month of Nepali calendar, Baishakh, Buddhists in Nepal celebrate Buddha Jayanti.
Buddha Jayanti in Nepali means the birthday of Lord Buddha. This is one of the special days because Nepal is the birthplace of Siddhartha Gautama Buddha.
People celebrate this day by lighting an oil lamp in different Buddhist monasteries. Also, Buddhist Lamas perform puja and rituals at stupas and chaityas.
This day is a big day for the Buddhists. They also invite their relatives for a feast and family gathering.
Top Best Reason for Trekking in April
As it is spring-summer season the days are longer. The temperature is cool and peaceful at lower altitudes.
Above 4000 m the temperatures are moderate and pleasant.
Sunbaked trails due to moderate temperature it will be easier to pass for trekkers.
The best mountain views are visible.
Useful Tips for Trekking in Nepal in April
If you're trekking to new destinations through unknown route, then you should hire a licensed trekking guide for your own safety.
You need to do the advanced booking for the accommodation and flight as April is the most crowded time of the year.
You need to dress up in layers because the temperature at higher altitude is glacial.
An umbrella and a raincoat will be a better option for lower elevation.
Final Words
Thus, April would be perfect for you to travel to Nepal for trekking. The weather conditions are perfect. You can also be part of the different festivals celebrated in Nepal.
Actually, after October and November, April receives the highest number of trekkers. Trekking in Nepal in April is popular among the curious trekkers all over the world.
As mentioned earlier, the weather does no harm to the trekkers while trekking in Nepal in April. So, April makes a perfect setting for your trips here in Nepal and make your time worth.
If you have any queries and need some help, feel free to Contact Us.