Upper Dolpo to Upper Mustang Trek is one of the most adventurous trips you can do in Nepal. Upper Dolpo and Upper Mustang are some of the restricted regions of Nepal. So, exploring the hidden and remote regions make the trip exciting and adventurous.
Both the Upper Dolpo trek and Upper Mustang trek were closed to the outsiders before. The areas are unlike other trekking routes in Nepal. You can compare these regions with Tibet, most of the culture, tradition, and lifestyles of people are similar to those of Tibet.
Indeed, the Dolpo region sits between the Tibetan Plateau and Dhaulagiri mountain ranges. Upper Mustang lies between the rain shadow of Annapurna and Dhaulagiri ranges.
The route mostly follows the off beaten trails to Upper Dolpo and Upper Mustang. It is quite a challenging and physically demanding trek. You will spend most of the days above the height of 4000 meters and cross passes above 5000 meters.
So, physical fitness and strength play a great role when trekking to the Upper Dolpo and Upper Mustang.
Upper Dolpo to Upper Mustang Trek is for the ones who have enough time to explore some of the remote regions of Nepal. If you are seeking a thrilling and adventurous experience, this trek is the one for you.
Some of the major highlights of the trek are Phoksundo National Park, Phoskundo Lake, Shey Gompa, Forbidden Kingdom of Lo Manthang, Muktinath, Jomsom and many more.
The views of the high Himalayan mountains are gratifying and will surely take your breath away.
Index Adventure provides you with 32 days Upper Dolpo to Upper Mustang trek with proper acclimatization days. This 32 days journey is very rewarding and fulfills all of your trekking desires.
Join us today for an incredible trekking experience.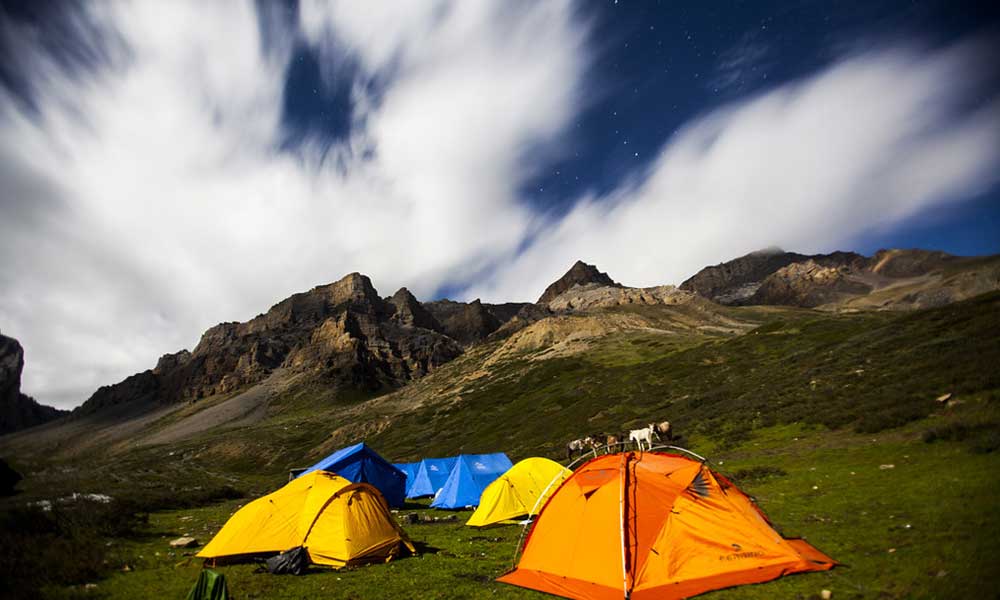 The route to Upper Dolpo to Upper Mustang Trek
Day 1: Arrival in Kathmandu and transfer to hotel.
Day 2: Trek preparation day.
Day 3: Fly Kathmandu to Nepalgunj. overnight at hotel.
Day 4: Fly Nepalgunj to Juphal (2530m) - trek to Sulighat (2280m) overnight at camp
Day 5: Trek Sulighat to Chepka (2675m) overnight at camp
Day 6: Trek Chepka to Palam (3000m) overnight at camp
Day 7: Trek Palam - Phoksundo Lake (3600m)
Day 8: Trek Phoksundo Lake to Chorten Sallagari (3800m)
Day 9: Trek Chorten de Sallagari - Kang la base camp(4600m)
Day 10: Cross Kang La to Shey Gompa (5350m - 4200m)
Day 11: Shey Gompa (4200m)- Rest day
Day 12: Shey Gompa - Saldang pass (5100m) - Namgunj Gompa (4500m)
Day 13: Namgunj Gompa - Saldang (4150m)
Day 14: Trek Saldang to Thora Sumna and then Janguir Gompa (3750m)
Day 15: Trek to Mushigaon (4150m)
Day 16: Trek Mushigaon to Simigaon (3900m)
Day 17: Trek Simigaon to Tinje (4180m)
Day 18: Trek Tinje to Yak Kharka (4400m)
Day 19: Trek charka La (5000m) to Charka (4300m)
Day 20: Rest day at Charka (4300m)
Day 21: Trek Charka (4300m) to Khyoklun Summa (4850m)
Day 22: Trek Khyoklun Summa to Arniko Chuli valley
Day 23: High pass Muletiersi (5685 m) to Tsopkho lake (5300m)
Day 24: Tsopkho lake to Kyekap La Phedi (5000m)
Day 25: Kyekap La (5590m) to Lo Mantang (3800m)
Day 26: Lo Mantang (3800m)
Day 27: Trek back Lo Manthang to Gami (3590m)
Day 28: Trek back Gami to Chele (3100m)
Day 29: Trek back Chele to Jomosom (2605m)
Day 30: Fly Jomsom to Pokhara
Day 31: Fly Pokhara to Kathmandu
Day 32: Final Departure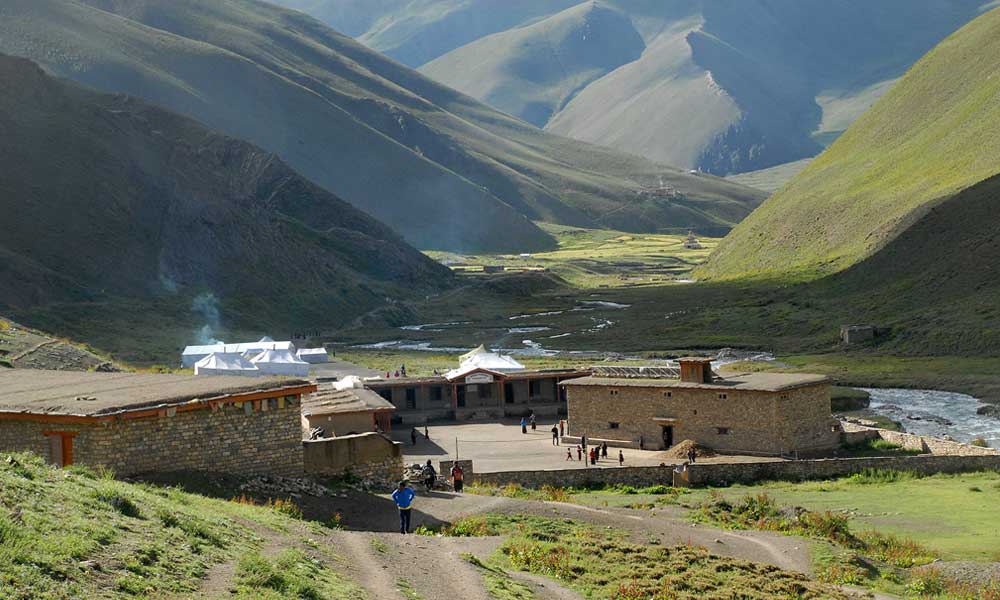 Is Upper Dolpo to Upper Mustang Trek Difficult?
The difficulty is quite certain when you trek to a long and high-altitude trek. Upper Dolpo to Upper Mustang is a challenging trek.
Most of the trekking trails involve crossing high passes which are over 4000 and 5000 meters. So, it requires a great deal of stamina and fitness in order to complete the trek successfully.
During the autumn and spring seasons, most of the trails are free of snow. There are not any technical challenges that you will have to face when trekking. Most of the trekking sections are safe and easy. But, there might be parts where you will have to take steep uphill and downhill climbs.
Remember, there is o such thing as easy days in Himalaya. So, make yourself mentally prepared for all the challenges you will have to face.
Trekking to the Upper Mustang is comparatively easier than trekking to the Upper Dolpo. Upper Mustang trek is easily doable if you are someone who can walk for about 6-7 hours daily.
However, Upper Dolpo Trek is different. It is a challenging one. Sometimes the paths become very strenuous. So, Upr Dolpo Trek may not be suitable for everyone. For this, you will need to have good trekking experience and trekking background.
Upper Dolpo Trek is a remote area trek. It involves 6-7 high passes which are above 5000 meters. Since it is a remote area trek, it is also a camp trek. You will have to sleep in a tent overnight. If this is something you are looking for, Upper Dolpo to Upper Mustang Trek would be best for you.
Altitude Sickness might be the common difficulty when trekking to the Upper Dolpo to Upper Mustang. It is very common to face Acute Mountain Sickness in high altitude trek.
In the higher elevations, the amount of oxygen is comparatively lower. This causes shortness in breathing along with diarrhea, vomiting, headache, fever, dizziness, etc. The situation is definitely avoidable by drinking plenty of water.
If you see any of the symptoms of altitude sickness, do not walk further. Descend to a lower height immediately.
Weather and temperature also act as a major problem during Upper Dolpo to Upper Mustang Trek. Due to rainfall and snowfall during monsoon and winter, the weather and temperature of Dolpo and Mustang become unfavorable.
The difficulty level of the trek also increases as most of the trails get covered with snow. Due to monsoon rain, the routes become muddy and slippery. So, it becomes very difficult to walk in wet and slippery trails.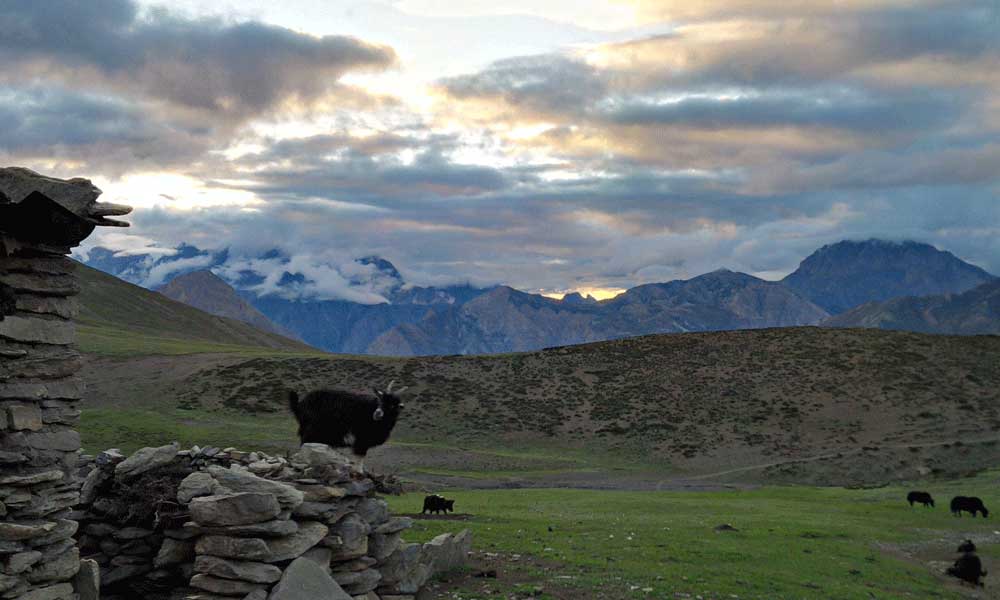 Appropriate Time for Upper Dolpo to Upper Mustang Trek
In terms of the times of the year, the best time for Upper Dolpo to Upper Mustang trek would be during autumn and spring season.
Autumn gives you the best weather and temperature in both Upper Dolpo and Mustang region. The season rewards trekking with the vivid views of crystal clear mountains and overall scenic beauty.
Some of the major festivals of Nepal, Dashain, and Tihar fall in the autumn season. So, you can also be a part of this celebration if you trek during the autumn season.
Autumn comes after the monsoon season. So, there is very little possibility of rainfall during autumn.
The average daytime temperature of Upper Dolpo and Upper Mustang region ranges between 10- 15 degrees in the autumn season. So, the weather is neither too hot nor too cold for trekking.
Spring is the second-best time of the year for Upper Dolpo to Upper Mustang Trek. It falls in the month of March, Apri, and May.
Spring is one of the best times for nature lover trekkers. It is the time when the new plants and flowers bloom. Most of the forest get covered rhododendrons during spring. So, you will be able to walk along the trails with the fragrance of beautiful flowers.
The weather is usually warm and humid in Spring. But this also depends upon the areas you will be trekking.
The weather and temperature in the lower regions range between 15-23 degrees. As you climb up, the temperature gradually decreases.
During Spring, the days are longer and nights are shorter. So, you will have a much longer time for trekking. You will also have extra time to explore the wilderness the region has to offer.
Major Attractions of Upper Dolpo to Upper Mustang Trek
Shey Phoksundo Lake
Shey Phoksundo Lake sits at the height of 3611 meters in Dolpa district. The lake sits along the boundary of Shey Phoksundo National Park.
The turquoise blue lake is also a holy lake where a number of devotees give a visit. There is a belief of washing away all the sins when you bathe in the Shey Phoksundo Lake.
Several High Passes
There are several High passes you will have to cross during Upper Dolpo to Upper Mustang Trek. Isn't that exciting? You will cross about 7 mountain passes which are higher than 5000 meters along the route to Jomson from Upper Dolpo.
You will cross around 8 passes which are below 5000 meters. So, crossing these passes will be equally thrilling and adventurous.
Muktinath and Jomsom
Muktinath to Jomsom is also one of the major attractions during the Upper Dolpo to Upper Mustang Trek. Muktinath is a sacred Hindu and Buddhist temple along the way to Jomsom. Several Hindus and Buddhist devotees visit this temple to bath from the taps of Muktinath. This helps them to release all the sins in life.
Jomsom is the major tourist attraction of Mustang. It lies on the bank of Gali Gandaki river. It is a beautiful settlement lying in the rainshadow of Annapurna and Dhaulagiri ranges.
Lo Manthang
Lo Manthang is the capital of Upper Mustang. It is the hidden Kingdom of Lho with its own rules and regulations. Geographically, Lo Manthang covers two-thirds of Mustang and one third to the southern part of Thak Khola.
Lo Manthang consists of a four-story palace where some of the Royal families still live. One of the most famous festivals of Upper Mustang, Tije festival, takes place in the King's palace. You can experience the true culture and lifestyles of Tibetan when visiting Lo Manthang.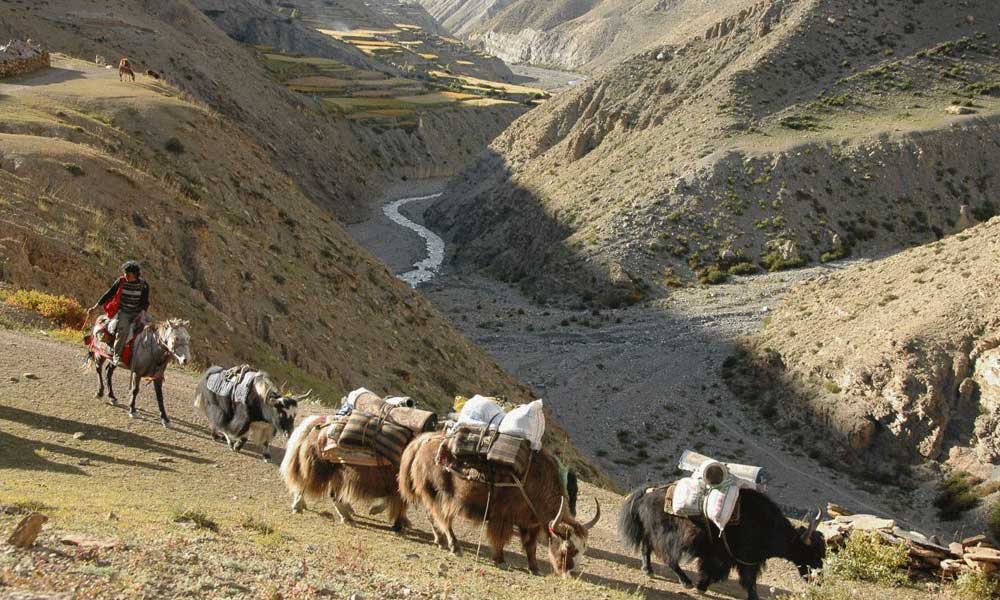 Is it compulsory to hire a guide during Upper Dolpo to Upper Mustang Trek?
Upper Dolpo and Upper Mustang are one of the restricted and remote regions in Nepal. So, trekking to any such regions may not be possible without the help of a guide. You will need to hire a professional guide who has sound knowledge regarding restricted area trekking.
Restricted area treks are not like other treks. You will require special trekking permits in order to trek. There are sections which are quite demanding and challenging. So, proper guidance and counseling are very important in order to trek successfully.
Index Adventure provides you with experienced guides and porters who will serve you the best when trekking to the Upper Dolpo and Upper Mustang.
A guide is someone who has sound knowledge of the place, language, and overall routes. So, you do not have to worry about getting lost or taking the wrong route to your journey.
Hiring a guide means that you will always have someone who will be there with you the whole time. You can share your problems or discomforts to your guide. They also act as a source of motivation and encourage you to move further when think of giving up.
A guide will help you to find the best teahouse for proper food and accommodation. In many remote areas, you will not find any teahouses. So, in this case, guide you will help you to set your camp tents as well.
It is always easier to interact with the local villagers with the help of a guide. He/ she will act as a translator between you and the villagers.
Porter will also be a great help during your Upper Dolpo to Upper Mustang trek. He/ she can carry up to 10-15 kgs of your heavy load. In this way, you will not have to carry your heavy baggage for 6-7 hours continuously.
A guide you will charge you around 20- 25 USD and a porter will charge you around
15-20 USD. So, hiring a guide will make your trek to Upper Dolpo to Upper Mustang trek easy and comfortable.
Conclusion
Upper Dolpo to Upper Mustang trek requires some sort of trekking experience. It is because the trek becomes challenging in some sections. So, it is better to avoid trekking to Upper Dolpo and Upper Mustang if you are a beginner.
However, with proper training and physical exercise, the trek is doable by everyone. So, make sure you engage in activities such as running, cycling, swimming, etc three weeks prior to the trek.
If you have any queries regarding your trip, you can contact us at Index Adventure. We will provide you with the best services.