Mera Peak Climb is a journey through remote valleys, Rhododendron forests, and spectacular mountain scenery followed by a gentle climb to the peak. Mera Peak is Nepal's highest trekking peak which offers the best views of the five 8000m peaks including Everest, Lhotse, Cho Oyu, Makalu and Kanchenjunga on Spring and Autumn months, the best time for this climbing.
We trek across Sherpa villages that give us a glimpse into the rich culture of the Himalayan Sherpa.
Mera Peak climbing is appropriate for all fit trekkers who dare to dream of reaching the Himalayan summit.
Mera Peak climb requires some technical knowledge and a climbing permit. Mera Peak can be a milestone attempt at climbing a Himalayan mountain.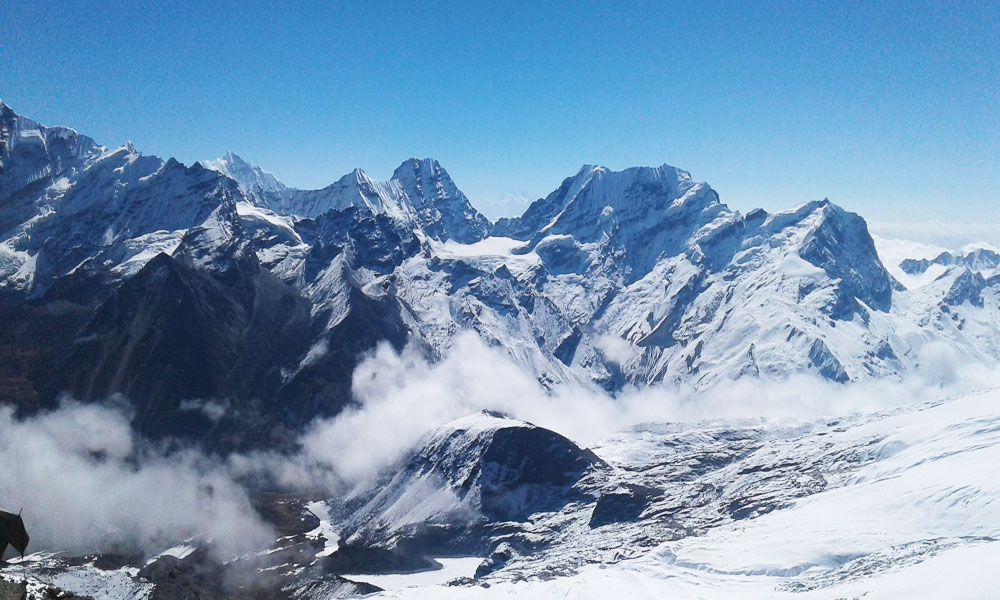 Best Time to Climb Mera Peak
Autumn and spring are the best time for the Mera Peak climbing. The Mera Peak climb between October and November or between March and May is perfect.
These times mean long periods of stable weather. No matter what time you choose for the climb, temperatures at the top are still incredibly cold, yet bearable.
The weather in higher altitudes is unstable. A bad weather and the freezing temperature adds thrill and adventure to the Mera Peak climb.
In order to climb Mera safely, you need a dry and stable weather. Strong winds and snowfalls might double the difficulty of the climb.
So, the best chance of avoiding these problems means choosing the right time for the climb.
Yet, this climb is possible throughout the year with proper preparations.
Are you planning your Mera Peak Climbing? Don't hesitate to contact us. Tell us your requirements, we can help you to make your trip memorable.
Seasons at Mera Peak
Due to diverse landscape and altitude, Nepal has different ranges of temperature and weather. Nepal has four different seasons: Spring, Summer (monsoon), autumn (fall) and winter.
The seasons are same throughout the country irrespective of geographical variations. Autumn and spring are the best seasons for treks and climbs.
Now, let us discuss the different seasons at the Mera Peak:
Autumn
Autumn season is the most popular trekking season in Nepal. It is a perfect time to climb the Mera Peak. September, October, and November are the Autumn months.
With September comes autumn. Early September may see a few spots of rain. The rain washed atmosphere is clean and the views are perfect.
The freshwater rivers, streams, and waterfalls are at their best. The green forests and the pastures are glorious. Even the air after monsoon is so fresh.
The average daytime temperature during the autumn is about 12 degree Celsius. Whereas the temperatures at nights may drop to an average of 6-8 degree Celsius.
October is the best month to trek to the higher regions of Nepal. There is very less chance of rainfall. The weather and temperatures are perfect for the climb.
By mid-November, the average temperature starts to drop. So, you must carry an extra pair of warm clothing. Insulated jackets, waterproof coats, and boots are helpful.
By the end of November, you can also enjoy light snowfall.
You can enjoy the most stable, dry, and clear weather conditions in autumn. So, you will get to explore the best of everything.
The clear skies, perfect sunrises, and sunsets make the Mera Peak climb even more interesting.
Autumn is the busiest time of the year. So, pre-book your tea houses, rooms, and flights for Mera Peak Climb.
Highlights of Mera Peak Climb in autumn
Dry and stable weather

Amazing visibility of mountains and surrounding landscapes

Perfect sunrise and sunset views in the Himalayas
Spring
Treks and climbs in Mera Peak during spring is a boon to those who love nature. You'll see colorful blossoms of wildflowers including Rhododendron in the lower regions.
In Nepal, March, April, and May are the spring months. Spring is a suitable time for climbs to Mera Peak. You may see beautiful flora and fauna in alpine vegetation.
The clean and dry weather in spring emphasizes amazing visibility.
The temperatures at the Mera Peak region begin to increase from March. So, the snow on the trail starts to melt.
The average daytime temperature in Spring is 10 degrees Celsius. The temperature at night can drop to -4 degrees Celsius.
The beautiful trails and the clear weather makes Spring a peak season. So, there will be more crowds.
For Spring, pack a pair of down jacket and trousers. March is still cold. The jacket will help during the cold nights and early morning.
Highlights of Mera Peak Climb in Spring
Increased visibility, dry and clear weather

Attractive blossoms of rhododendron and sub-alpine wildflowers
Summer (Monsoon)
Summer in Nepal is a wet-summer. June, July, and August are summer months.
During monsoon, you will encounter frequent rains or snowfall at the Mera Peak. The trails are muddy and slippery due to the rain in the lower regions.
If you don't mind the rain, it can be a great climb. You will have some surprise days with clear weather and scenery.
Monsoon is a difficult time for Mera Peak climb and trek. So, you'll see fewer crowds.
The average temperature during the day is around 15 degrees Celsius. Temperature decreases as you ascend to higher altitude regions. The temperature drops with rain or snowfalls.
A proper pack of rain jacket, trousers, and boots are essential. Carry a rain cover for your luggage and backpack too.
For monsoon, pack some extra pair of clothes. Your wet clothes may not dry due to humid weather.
Do not forget to add anti-leech lotions to your packaging list.
Highlights of Mera Peak Climb in Summer (monsoon)
Fewer crowd

More options for food and accommodation

Chances of clear weather and great visibility after rain.

Thrilling and adventurous experience
Winter
Winter at Mera Peak means piles of thick snow and frequent wind storms. December, January, and February are the local winter months there.
From December, Mera Peak gets very windy. The weather is very cold. Winter allows very few opportunities when you can climb Mera Peak.
The average temperature can drop to -30 degrees Celsius at altitudes above the base camp. The speed of chilling wind may reach around 80 km/h during the blows.
Climbing the peak during winter may be risky. You can attempt the Mera Peak climb only if you're a professional climber.
Winter is an off-season. The trails and tea houses will be more like empty. You may get discounts or offers on the cost of your rooms, flights, and on permits as well.
The snowy adventure on the Mera Peak climb is achievable with right preparation and equipment. Extra winter preparations and training are also needed.
Highlights of Mera Peak Climb in Winter
Snowy adventure and beautiful Christmas-New Year celebration in the Himalayas

Discounts and offers on food, accommodation, flights, and permits

Great view of snow-covered peaks all around.

Is Mera Peak Climb doable for anyone?
Yes, Mera Peak climbing is doable for anyone with good physical and health conditions. But, you must go through the physical and expedition training before you go on this expedition. To experienced climbers, the climb is a challenge and motivation to make the best memories.
But if you are a beginner, choosing the best season for Mera Peak climb is a wiser decision to make.
The basic technical need includes the use of ropes, ice axes, and crampons.
You must have good cardiovascular fitness. If you have pre-existing medical problems or conditions, consult your doctor before going.
How hard is the Mera Peak Climb?
Climbing on a mountain isn't easy. Mera Peak (6476m), is the highest trekking peak in Nepal. It is a complete packaged challenge of trekking at very high altitude.
Even to those who are physically strong and have already climbed Kilimanjaro or trekked to EBC, Mera Peak climb is a real challenge.
You will be at, or above 5000 m for 4 days on average. The possibility of extreme weather conditions may worsen your journey. If you do not acclimatize well, Altitude sickness can be a major challenge.
Once you are at the top, all your effort is worth it for the heavenly views that you will see.
Highlights of Mera Peak climb
Climb the highest "trekking peak" in Nepal (6,476 m)
Incredible views of Cho Oyu (26,906 ft), Everest (29,028 ft), Makalu (27,765 ft) from the summit
A remarkable trek through the wild and remote Valleys (Hinku and Hongu)
The colorful wildflowers and Rhododendrons in bloom (spring)
A sight of Everest from the summit
Mera Peak Climb Permits
Climbing Mera Peak requires a local permit, Sagarmatha National Park Entry Permit, and Makalu Barun National Park Entry Permit.
Share us about your climbing plans and preferences, we will take care of your permits and necessary preparations. Also, we are happy to design the best Mera Peak Climbing Itinerary that suits your preferences.
To check the cost of permits and the overall cost of the Mera Peak expedition, click here.
Accommodation & food
Mera Peak climb is a tent camp accommodation as we ascend higher from the Khara. On other days, you will stay in the tea houses which we will pre-book for your convenience.
You will be sleeping in the forests or the meadows. In the higher altitudes, you may have to sleep in snowy camps.
You will need nutritious foods that will supply you energy during the trek and climbs. In a camp kitchen, our cooks will prepare foods for you. While in tea houses you will have many options for food.
Note that there are several tea houses on the lower altitude trekking route.
Are you planning your Mera Peak Climbing? Don't hesitate to contact us. Tell us your requirements, we can help you to make your trip memorable.
Mera Peak Climbing Kit
Besides other trekking gears, you need extra equipment for this expedition. Since it is a high altitude expedition, it is much difficult than normal treks. So, you must be careful before packing.
Here's a general list of what you need for this climb:
Climbing Helmet: A good quality climbing helmets. Make sure your warm cap fits under your helmet.

Climbing Boots: High altitude, Insulated stiff-soled climbing boots.

Crampons: C2 crampons that fit your climbing boots.

Climbing Harness: Standard climbing harness. Petzl and Black Diamond make good quality climbing harnesses

Ascending device (Jumar)

Descending device ( belay device)

Ice ax: Choose a suitable one with a wrist strap

Carabiners:: 2 x lockable and 2 x non-locking carabiners

Prusik loop: Good quality prusik loop

Tape sling: 220cm tape sling (open) or 2 x 120 cm tape sling (closed)

Gloves: A combination of silk liner glove or warm insulated fingered gloves. (with safety straps or grip)
Tips for Mera Peak Climbing
Be familiar with camping. Mera Peak is a climb. You will not find any tea houses after Mera Base Camp. Hence, you must learn camping. The weather varies drastically. It could be warm or cold or windy and snowy. So, learn to set up your tents, and be able to maintain your personal hygiene in a camping environment.

Arrange proper clothing, gear, and equipment. Weather at Mera Peak may change at any time of the year. We cannot suppose the weather to be stable. So, you must be ready to beat the variable range of weather conditions. Choose the right clothes, mountaineering boots, and gear to beat a cold and hostile environment.

Choose a workable time to climb: We recommend climbing Mera Peak in Late April- May and late September- October. In general, the best months are May and October. If you choose to climb in mid-winter, be ready for more snow and colder conditions.

Specific physical conditioning: The task of climbing the Mera peak is too strenuous. There are lots of steps up and down and the trail is tedious. So, you must have a good physical condition to reach the peak.

Previous altitude experience is a boon: Choosing Mera Peak as your first altitude experience may not be a good decision. Before going to extreme altitudes, you must learn about whether your body adapts at 5,000m. Thus, we recommend you a few hiking, trekkings and high altitude experiences.

Manage your personal hygiene and health. You will be in a remote region and away from real medical care. So, you must carry your own personal medical kit. Bring antibiotics and necessary items for living in a cold region. We will be camping for days. Managing personal hygiene means keeping yourself clean and healthy.

Break in your trekking and mountaineering boots. Wearing a wrong footwear can ruin your trip. While climbing the Mera Peak, you will need both trekking and mountaineering boots. Train on with the mountaineering boots that you can walk in them with no issues.

Make sure you have a qualified climbing guide by your side. You may not be familiar with your assigned guide. But always listen to them. Follow their instructions. Ask for help when you have problems with setting the climbing equipment.
Conclusion
Mera Peak is very high (6,476 m). But the climbing is straightforward. The Mera Peak climb is a blissful and an amazing experience. Autumn and Spring are the best time for this climb.
But, with the right equipment and supplies, the climb is possible throughout the year. You can beat the difficulties of Mera Peak climbing easily.
Be ready for Mera Peak climb, have fun making a lifetime of gracious memories. For more information on this expedition, contact us.