Mustang is one of the ancient and rare places to visit in Nepal. These days, therefore, the number of people visiting Mustang has increased tremendously. Upper Mustang trekking has been as popular as Everest and Annapurna trekking recently. Many trekkers around the world visit Nepal to have an incredible trekking experience to Mustang. Mustang is quite popular among native trekkers too.
Mustang laps at an altitude of 3840 meters in the northwest part of Nepal. It lies in the rain shadow area of Annapurna and Dhawalagiri. Trek to Mustang will fulfill all of your dreams from viewing the magnificent mountain ranges to experience the local lifestyle and culture of local people.
Mustang is mostly popular for apple farming and historical monuments such as ancient caves, monasteries, and forts which are made with different architectural designs. It is two divided parts, Upper and Lower Mustang. Upper Mustang was a restricted region before and was opened in 1992 for foreign trekkers. Whereas, Lower Mustang is a remote village which is famous for orchards, rhododendron, and apples.
The best time to visit Upper Mustang is during Spring (March, April, May) and Autumn (September, October, November). You will also get a chance to celebrate Tiji festival of Upper Mustang if you visit Mustang in May. As Upper Mustang is rain shadow area, there is no rain during Monsoon/Summer (June, July, August). So Monsoon/Summer is also one of the best seasons for visiting Upper Mustang. But in winter, the upper Mustang is very cold and people migrate to a lower settlement during this season. Because of this, people usually avoid visiting Mustang during winter.
Trip Highlights of Mustang
Visit Muktinath temple, one of the most popular places for Hindus and Buddhists.
Comfortable lodges and teahouses at Lower Mustang.
Exploring the beautiful Tibetan Buddhist culture, monasteries, prayer flags, and chortens.
A popular destination for mountain climbing, mountain cycling, and cultural tours.
The Independent Tibetan Kingdom. The royal people still live in the Upper Mustang.
You can experience a different side of Nepali culture.
Visiting Marpha village which is popular for apple pies and orchards.
Kali Gandaki Gorge, the deepest Gorge.
Visiting the forbidden kingdom of Lo.
Mustang receives less rainfall as it is the rain shadow of Annapurna and Dhawalagiri.
Weather of Mustang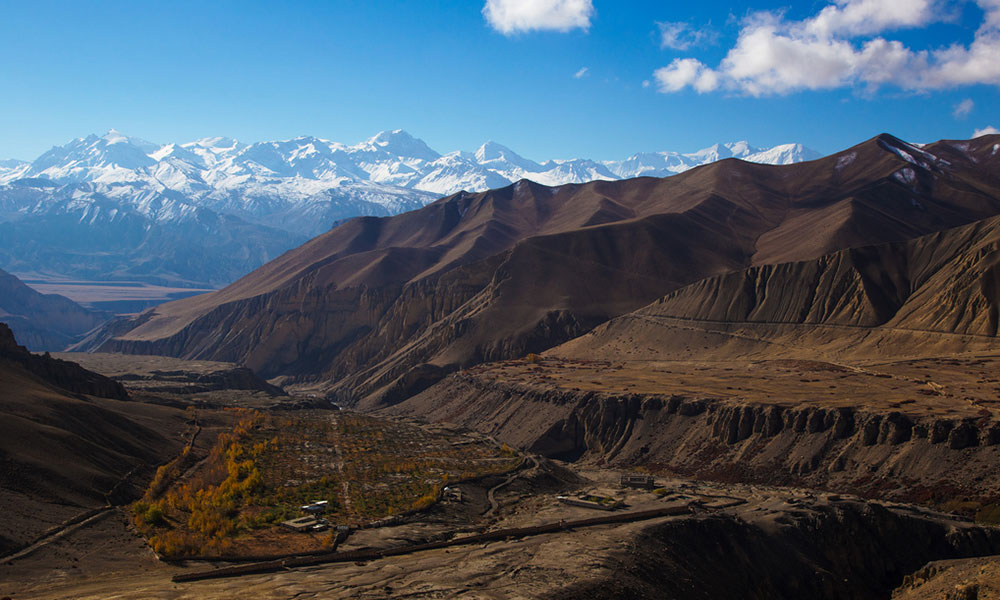 Mustang experiences different types of weather according to the type of season in Nepal. There are four seasons namely, summer, winter, spring, and autumn. The weather and temperature of Mustang change as per these seasons.
The weather and temperature of Mustang play an important role in making your trip wonderful and memorable. Therefore, it is necessary to check the weather of the place before you start your trip.
Let us discuss the Upper Mustang visit in each season in detail.
Upper Mustang Trek in Autumn (September, October, November)
Autumn is one of the most perfect time of the year to visit Mustang, Nepal. Autumn is the peak season for trekking in Mustang.
During Autumn, the weather on Mustang is usually dry and cool. The skies are clearer and you will be able to view different mountains such as Mount Annapurna, Mount Dhawalagiri, Mount Nilgiri and many other mountain ranges along the trails.
The temperature of the Lower and Upper Mustang ranges between 12- 20 degrees. This temperature is very suitable for trekking. You will have a less challenging Upper Mustang trek if you visit Nepal during Autumn.
It is also very important for pre-booking your flights and accommodations if you are planning trekking to Mustang during autumn since it is a peak time for trekking.
Upper Mustang Trek in Mustang in Spring ( March, April, May)
Spring falls in the month of March, April, and May in Nepal. It is the second-best choice of time in the year for trekking or mountain climbing in Nepal. Spring offers a favorable environment for trekking in Mustang. The overall beauty of Mustang is visible during this season which will make your tour unforgettable.
One of the popular festivals of Upper Mustang, Tiji festival, falls in the month of May which lasts for 3 days. During this festival, different rituals and traditional dances are performed at the Chode Monastery. You will get a chance to enjoy the Tiji Festival if you visit Mustang during the month of May.
Spring is the time of the year where new plants grow and flowers bloom. You will surround yourself with the immense beauty of nature as you trek to Mustang. The temperature of Mustang ranges from 16-20 degrees during this time which is neither too cold not too hot for trekking.
If you plan on trekking to the Upper Mustang during spring, it is good you check the weather forecast before you leave for trekking. You might expect some rainfall during late May in the Mustang region.
Upper Mustang Trek in Summer (June, July, August)
When we think about summer, we usually think about the summer rainfall and hot climate. Most of the places of Nepal experience heavy rainfall during this time due to which we see less number of trekkers during this season. But, Upper Mustang doesn't get rainfall during summer.
Summer is one of the most favorable time fo the year for Upper Mustang trek. The days are longer and sky clearer. The temperature of Mustang is mild during summer which ranges from 13- 20 degrees; perfect for trekking.
However, you may experience a wet rainfall in Lower Mustang during summer making your trails muddy and slippery. But, do not worry. The natural beauty of Mustang looks even more beautiful after the light rainfall. The flora and fauna are seen best during this time. Yet, do make sure that you check the weather forecast before you leave for trekking. You might also expect some flight delays because of the heavy rainfall.
Upper Mustang Trek in Winter (December, January, February)
Winter in Mustang is one of the coldest among all the seasons. Because of this, many trekkers prefer summer, spring, and Autumn over winter for Mustang trekking. The temperature of the Upper Mustang decreases towards minus during winter in Mustang.
The trekking trails are covered with snow during winter. Many people of Mustang descend to a lower altitude during this season because of extreme cold. You may not have to face difficulty while trekking to the Lower Mustang at this moment. However, you may face some difficulty in Upper Mustang trek.
If you are someone whole loves isolation, and love challenging treks, you should definitely trek to Mustang during the winter season. With appropriate trekking gears, this trek is doable in all seasons.
Some Places to Visit in Mustang
Lo Manthang
Lo Manthang is a village and a preserved destination among visitors. It is also the capital of upper Mustang. Lo Mathang was a restricted region before and was only opened in 1992 for visitors. Lo Manthang is a high altitude desert where you can hike in the barren landscape and explore the beautiful scenery of the region.
You can still find Royal family members that live in the palace of Lo Manthang who are respected by the locals.
The major attraction of Lo Manthang are:
Tiji festival is the major attraction of Lo Manthang.
You are most likely to walk through the direct trade routes of the 15th century.
Exploring the richest Buddhist culture found in the country.
Jomsom
Jomsom sits at an altitude of 2800 meters which is also the headquarter of Mustang district. This beautiful city will reward you with a beautiful view of the mountain ranges such as Mount Annapurna, Mount Dhawalagiri and Mount Nilgiri.
You can find many teahouses and restaurants along the way to Jomsom. Jomsom is also the gateway to Upper Mustang. Trekking to Jomsom will give you a unique experience. Jomsom trekking is also popular with the name "Apple Pie Trek" as apple pies are popular in Marpha village.
The major attractions of Jomsom are as follows:
Dhumba Lake
Mustang Eco Museum
Rupse Fall
Rock climbing and Mountain Biking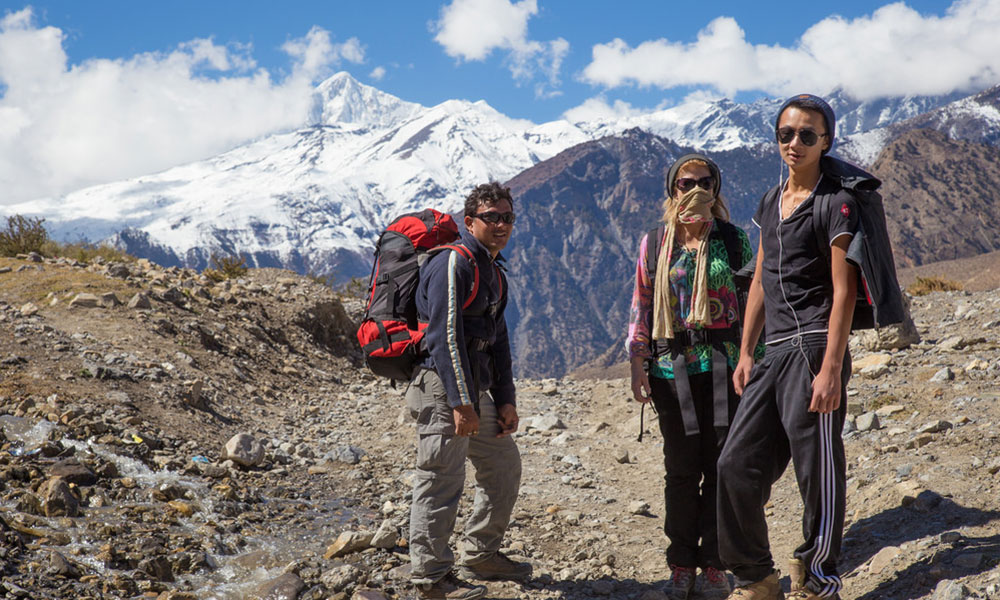 Some Tips for Mustang Trek
You can trek to Lower Mustang throughout the year.
It is always better to carry appropriate gears while trekking to Mustang especially during summer, monsoon and winter seasons.
Spring, autumn, and winter are the best time for trekking to the Lower Mustang whereas, for Upper Mustang, Spring, autumn, and summer are the most suitable.
It would be best if you avoid trekking to Mustang during monsoon season. But, if you are equipped with all the necessary gears, you can go for it.
If you love celebrating festivals, you should visit Nepal during the autumn where major festivals of Nepal like Dashain and Tihar Fall.
To avoid trekking to Mustang in a crowd, it is better you travel during off-seasons such as summer and winter.
Conclusion
Mustang is one of the beautiful places to visit in Nepal which will provide you with natural beauty and lifetime of memories. You can choose any time of the year to visit Mustang as its beauty remains the same in every season. But, in the case of trekking, you may have to think about the best time of the year for trekking to Mustang.
Autumn and spring are one of the preferred seasons for Mustang trekking. If you are an experienced trekker, you will not have problems trekking in any seasons. It would be better if you take some physical training before trekking to Upper Mustang especially if you are a beginner.
If you have any questions regarding the best time to visit Mustang, you can contact us at Index Adventures. Index adventures will provide you with various other information related to Mustang tour. We have Mustang trekking and tour packages which can also be customized according to your choice if you want to.
Do not hesitate to ask us.