The Gokyo Lake trek is one of the fascinating treks in the Khumbu region of Nepal. It takes you through the trail of some rugged landscapes and off beaten paths through Namche, Dole, Machhermo and eventually onto the Gokyo Valley.
Gokyo valley is home to the glistering Gokyo lakes. The trekking path also provides you fantastic views of Everest, Lhotse, Makalu, and their surrounding giants. Though it is a high altitude trek, Gokyo lake trek difficulty is moderate.
But with the rewarding view comes the strenuous difficulty. So, before you opt for this trek, it is necessary to understand the challenges and complexity of the trek so that you can learn how to overcome them for a safe journey.
The Gokyo lake trek is moderately difficult. You need to be in good shape and stamina for this trek as it requires walking about 5 to 6 hours, excluding the acclimation days. The rugged trails, steep terrains, and high passes prove to be more burdensome.
The altitude also creates a big problem here as you will be staying at elevations higher than 3500m for many days. You also trek to a height of around 5000m and more for about four times during the trek. Here the air is quite thin, and altitude sickness affects many individuals. Even for unaffected people, breathing can be quite tricky, and the long trekking days adds more trouble.
You can contact us at Index Adventure if you have any questions regarding the Treks.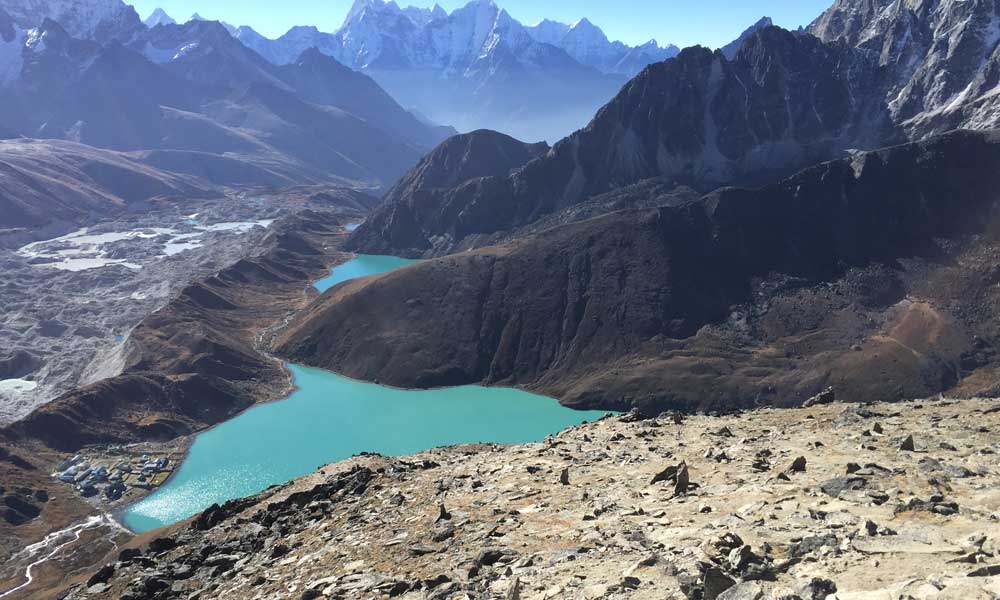 So, if you are signing up to take this trek, you must be aware of the challenges and difficulties that come with it. Just remember that remaining fit and having good stamina is a must. Walking along the difficult trails can be challenging and hectic at times. So, it's better if you start taking light hikes or physical exercises before this trek.
Summing up, the trek is an experience of a lifetime. The glistering lakes, the snowcapped mountains, and the diverse flora and fauna are sure to give you a memorable experience. If you're used to hiking, the trek is doable. There are a few factors to consider which can help in reducing the difficulty of the Gokyo lake trek so you can travel hassle-free.
Factors Which Contribute To Everest Gokyo Lake Difficulty
Duration
Duration is one of the significant factors which contribute to the trek's difficulty. Itineraries having more trek days is much easier than the ones who have fewer. You'll need to walk fewer hours every day, and you have more acclimatization days.
The most common package you get for this trek is the 15 days package, but if it's your first major trek or you're not confident for such duration, you can always get customized itineraries. You can increase or decrease the number of days according to your preference.
Shorter days mean more walking hours and fewer acclimatization days. These can be a little harsh. So, choosing more extended packages over the short ones help you to conquer over the Gokyo Lake trek difficulty with absolute ease.
Weather And Temperature
The weather in the mountains changes significantly without any warning. Every hour you can notice the change in the climatic conditions. The everchanging weather can add more difficulty to your trek.
Rain and snowfall can also pose a nuisance. Sometimes the snow-covered trails can cause navigating issues, especially if you are traveling without a guide.
Not only the weather but the temperatures can also add difficulties in the trek. Temperatures tend to fall rapidly in high elevated areas, and if you happen to travel, especially in winter, the weather becomes freezing.
Choosing the best season for the Gokyo Lake trek helps overcome these problems. The best time to take this trek is the spring and the autumn time. They fall around April or in October.
The average temperature in April during the day falls between 15 to 12 degrees centigrade, which is similar to October's temperature. In the night time, the temperatures drop to -5 to -10 degrees. But it should not pose much trouble if you carry proper hiking gears and warm clothes.
During these times, you can find clear skies and unobstructed mountain views, which provides some promising photographs and memories.
Related: Gokyo Renjo La Pass Trek, Gokyo Valley Trek with Chola La Pass
Altitude Sickness
Altitude sickness is a condition that affects people when they go to higher altitudes with less air pressure and oxygen level. Altitude sickness is a condition that can affect everybody irrespective of the gender or age groups. It is tough to justify that anyone is safe.
Since we will be traveling multiple times at a very high altitude in this trek that goes above 5000m, altitude sickness is bound to create some problems. It can cause shortness of breath and fatigue when traveling.
If you happen to find yourself with any symptoms of AMS (Acute Mountain Sickness), it's best to stop ascending and go to a lower altitude where you feel more comfortable. Continuing the trek disregarding the symptoms can create grave issues ranging such as respiratory failure, coma, or even death.
Some mild symptoms may be like headache, nausea, or dizziness. If these happen, descend to a lower altitude and stay dehydrated. Rest for a day or two. If the symptoms worsen then sadly, you have to forfeit the trek. Some people get severe symptoms such as confusion, difficulty breathing, or losing consciousness. They must be immediately transferred to a medical institution and taken to a lower height.
To travel with ease at these altitudes its better if you acclimatize to the climate taking a few resting days during the trek. It lowers the chance of being a victim to altitude sickness. Also carrying some Diamox or ibuprofen tablets can help you relive mountain sickness but only at lower altitudes. Lastly staying hydrated and drinking less alcohol can also help in lowering the chances of altitude sickness.
Anyhow it's better to consult your physician about altitude sickness, and it's prevention before opting for this trek.
You can contact us at Index Adventure if you have any questions regarding the Treks.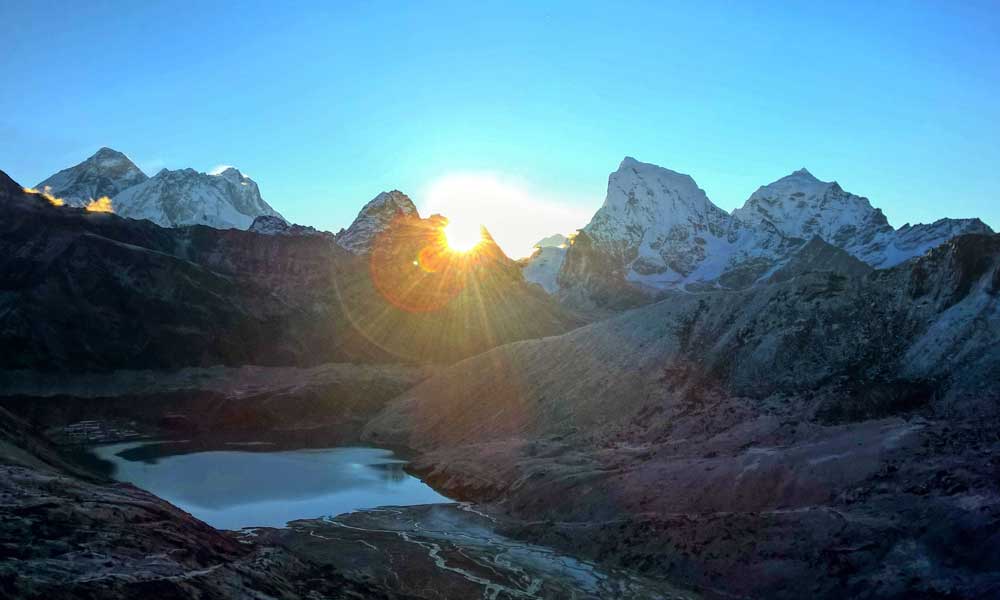 Physical Stamina
Since you have to walk through the rugged paths and steep terrains every day at least for 5 hours, stamina is a must! You will be traveling to elevations above 5000m with thin air and tough terrains. It can be quite tricky and challenging; thus, you need good physical endurance to complete the trek.
Thus training before the trek is beneficial. If you are physically prepared for the trek, the trek becomes much easier and faster than it would generally be.
Walking, Jogging, Bicycle rides, or even sprinting down the stairs can be fruitful. They increase your stamina and get you pumped up for the trek. You can also strengthen your legs by doing some home squats.
Another factor that can help increase your stamina and efficiency is flexibility. So practice some basic stretches at home or perform yoga. These help your muscles to relax and be more flexible, which provides you greater mobility and strength during the trek.
Distance
The Gokyo Lake Trek covers a total distance of 92kms in total. 15-18 days is the default time to complete the trek. But some people can perform it in fewer days, it all depends on your strength and stamina.
The trek commences from Lukla, from where we will be traveling along a less-traveled path. Thus the trail could be quite challenging and difficult. But, the terrain path is not the same throughout the journey. Somedays you might have to only walk on smooth paths.
However, at higher elevations, the steep trails and high landscapes can offer you a challenge even if you are an experienced hiker!
Weight and Luggage
Heavy luggage can create trouble on longer treks like this Gokyo lake trek. Since you will be traveling many hours every day for a long duration, heavy bags might be a hassle and drain you and stamina down. Of course, you will need to pack all the essentials! But make sure to choose the important ones, and it would be even better if they are all lightweight.
Some of the crucial things you should carry are thermal underwears, trekking clothes, sturdy trekking shoes, rainproof jackets and pants, insulating jackets, gloves, sunglasses, water bottles, caps, extra Batteries, flashlight, toiletries and some necessary medications such as sprain ointments, painkillers, and bandages.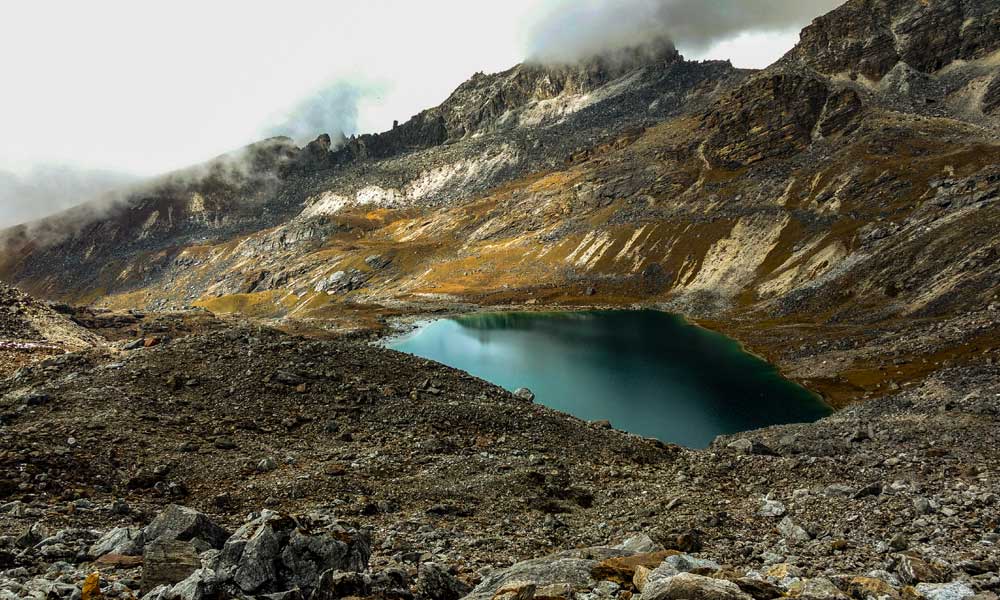 How To Overcome Gokyo Lake Trek Difficulty?
Despite some of the hardships, there are ways to reduce the difficulty of the Gokyo lake trek so that the trek becomes simpler and enjoyable for even a novice trekker.
If you are a beginner to trekking, then choose the favorable seasons. During these seasons, the skies are clearer, the climate is pleasant, and the temperature is stable so you will get to travel with fewer complications.
If you're new to this trek, consider taking a licensed guide and porter with you. This way, you will have no problems navigating through the unfamiliar trails and the burden of carrying your luggage while walking also vanishes.
Don't carry unnecessary items in your luggage. Heavyweight items of luggage diminish your stamina and create unwanted fatigue. So, next time you're packing, make sure you have included all your necessary things, but don't overpack!
Take enough acclimatization days during your trek. This way, you get acclimatized to the surroundings and reduce the chances of getting AMS (Acute Mountain Sickness).
Perform some physical exercises before the trek. It builds up strength and flexibility to your muscles, and you can perform the trek with greater efficiency.
Stay Hydrated! Drinking enough water and fluids keeps you cool and fresh. It also helps to reduce the chances of getting altitude sickness as you progress to higher elevations.
Conclusion
All in all, this Gokyo Lake Trek is a marvelous and captivating trek. The endless natural beauty will give you an experience that you will forever cherish.
This difficulty of this Gokyo lake trek is higher than the regular treks. The long walks and the high altitude makes the trek very challenging. However, if you're full of willpower and dedication, then, tackling the difficulties of this trek should be no problem!
You can contact us at Index Adventure if you have any questions regarding the Treks.