Choose random people in Nepal and ask them, "Are you planning a trip to Mustang?". Trust me, you will rarely find someone who will say "No".
Mustang is a wonderful trekking destination in Nepal that is becoming highly popular amongst trekkers and travelers in Nepal and in any corner of the world. Mustang region was opened as a travel destination for foreign tourists in 1992.
There are two regions in Mustang where you can visit: the lower Mustang and the upper Mustang. Both these destinations are splendidly beautiful. You can visit these places at any time of the year. The lower Mustang region is highly famous for Muktinath Temple. This temple is a pilgrimage site of Hindus and Buddhist devotees.
The upper Mustang region is a restricted trekking region. Traveling there does not require any permits for the Nepalese people. However, for a non-Nepali, they will need to get the restricted area permit (RAP). The permit will cost USD 500 for the first 10 days. For the additional number of days, you have to pay USD 50 per day.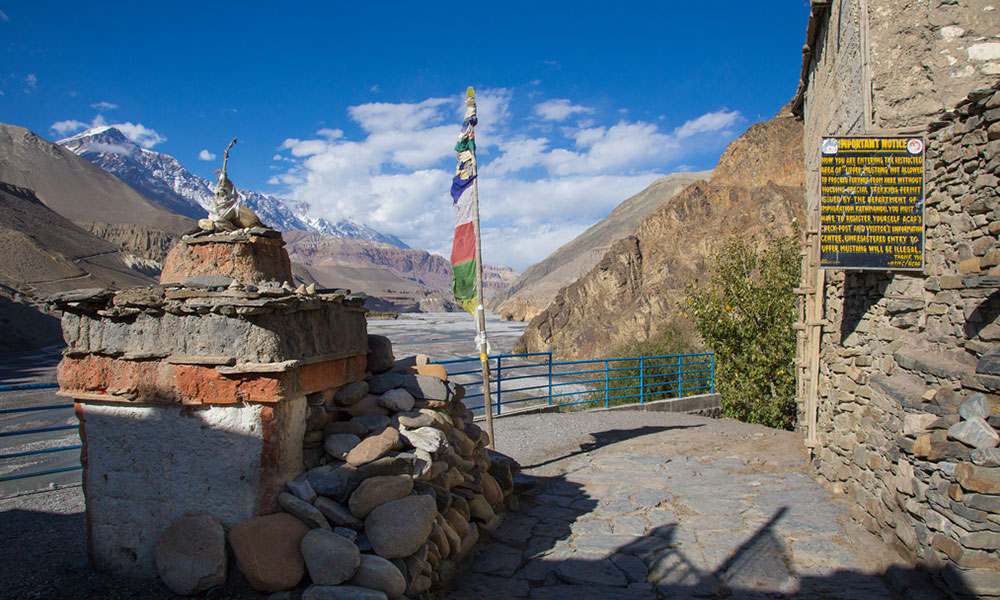 Getting to Lower Mustang Nepal
You know what? Lower Mustang is one of the really busy trekking destinations in Nepal. This region is popular among not only just international but also among internal tourists. Whenever a person is having a vacation, s/he definitely make a plan for Lower Mustang visit.
There are several ways of getting to Lower Mustang. There are some who go there by trekking. And there are others who visit there in several means of transportation like bus, jeep, and also on flights.
Lower Mustang By Trek
Trekking is one of the most popular adventure activities in Nepal. Trekking to Lower Mustang/Muktinath is a refreshing outdoor activity. Trekking through the amazing trekking trails is a unique experience. Those who love trekking can go to Lower Mustang by trekking. Here is how they can,
Day 1: Kathmandu to Pokhara
Highest Elevation: 820 meters
Travel Duration: 6 to 7 hours by bus or 25 minutes by flight
There are several ways of reaching Pokhara from Kathmandu. Take the roadway, you can drive on a local bus, a tourist bus, or on a private vehicle. Or you can fly to Pokhara airport from Kathmandu airport.
Day 2: Drive to Nayapul and Trek to Tikhedhunga
Highest Elevation: 1570 meters
Drive Duration: 1 hour
Trek Duration: 3 to 4 hours
From Pokhara, you will drive to Nayapul. From there, the trek actually begins. Follow the river banks of Modi Khola. After reaching the Birethanti village, walk along the bank of Burundi river. The trail up to Hille is a short uphill climb. After a short hike from Hille, you'll reach Tikhedunga. Stay overnight at Tikhedunga.
Day 3: Trek from Tikhedunga to Ghorepani
Highest Elevation: 2,860 meters
Trek Duration: 6 to 7 hours
The trail to Ghorepani begins crossing a suspension bridge. You will be climbing the stone staircase with 3300 steps. At the end of the stone steps is the Magar village called Ulleri. From Ulleri, you will continue walking uphill through amazing pastures and fields.
This part of the trail passes through two beautiful streams. You will also see amazing Himalayan panoramas of Dhaulagiri I (8167m), Nilgiri (6940m), Annapurna I (8091m), Hiunchuli (6441m) and several others. Then, we will make a climb to Nangethanti. From there, the trail climbs to a beautiful village at Ghorepani.
Day 4: Hike up to Poon Hill and Trek to Tatopani
Highest Elevation: 3210 meters at Poon Hill and 1200 meters at Tatopani
Trek Duration: 7 to 8 hours
From Ghorepani village, you will hike early in the morning for a mesmerizing sunrise view from Poon Hill. From Poon Hill, you can enjoy the incredible views of Mt. Annapurna South, Mt. Dhaulagiri, Macchapuchre Himal, and some others.
After a wonderful morning, you will return to the Ghorepani village. You'll have breakfast there and will start trekking to Tatopani. At Tatopani, the is a natural hot Spring. At the natural hot spring, you can take a warm dip. The relaxing dip will help your muscles relax.
Day 5: Trek from Tatopani to Ghasa
Highest Elevation: 1190 meters
Trek Duration: 5 to 7 hours
You will start trekking from Tatopani to Ghasa. On the way, you will walk along the riverbank of
Kali Gandaki. You will see amazing views of Mt. Dhaulagiri and Mt. Annapurna. There is a high suspension bridge that you will cross before reaching Dana.
From Dana, You will walk for nearly half an hour before you come across a beautiful waterfall called Rupse Chhahara. From the waterfall, you will be walking through a tough trail, narrow and steep.
You will cross the Kali Gandaki river over a long bridge. After crossing the bridge, you will reach Ghasa. Ghasa is a beautiful Thakali village. There, you can have amazing Thakali food. Overnight there.
Day 6: Trek from Ghasa to Tukuche
Highest Elevation: 2510 meters
Trek Duration: 5 hours
From Ghasa, you will be trekking through amazing trekking trails. On this day, you will be crossing several gorges and rivers over the thrilling suspension bridges. Walking through the amazing surrounding, you will walk to the beautiful Tukuche village. On the way, you will see amazing villages like Lete, Kalopani, and Kokkethati. Walking along the beautiful riverside of Kali Gandaki River is fun.
Day 7: Trek from Ghasa to Kagbeni
Highest Elevation: 2900 meters
Trek Duration: 5 hours
It's an easy day today. You will be trekking through amazing trekking trails. Walking through beautiful villages of Khobang and Marpha, you will make your way towards Kagbeni. Enjoy walking through amazing apple orchards.
From Marpha, you will be walking to Jomsom. Overnight there.
Day 8: Trek from Kagbeni to Muktinath
Highest Elevation: 3855 meters
Trek Duration: 4 hours
So, you are finally there. Today, you will visit the holy Muktinath temple. Starting from Jomsom, you will walk through amazing villages like Khingar, Jharkot, and Ranipauwa. You will be gaining 1000 meters climbing up to Muktinath. Muktinath is a beautiful place. Visit the temple, beautiful caves around, and the eternal flame.
Day 9: Trek from Muktinath to Jomsom
Highest Elevation: 2720 meters
Trek Duration: 4 hours
After the incredible trek to Lower Mustang and Muktinath, you will return to Jomsom. You will walk down the amazing valley. You will walk along the amazing riverbank of Kali Gandaki River. Finally, you will reach Jomsom.
Day 10: Early morning flight to Kathmandu/Pokhara or bus back to Pokhara/Kathmandu
On this day, you will take an early morning flight from Jomsom to Pokhara or to Kathmandu. If you take a flight to Pokhara, you can return from there to Kathmandu in a plane or on buses (private or public).
If you want to visit Mustang, you can contact us. Index Adventure is a renowned trekking agency in Nepal. We will help you organize the best trips ever.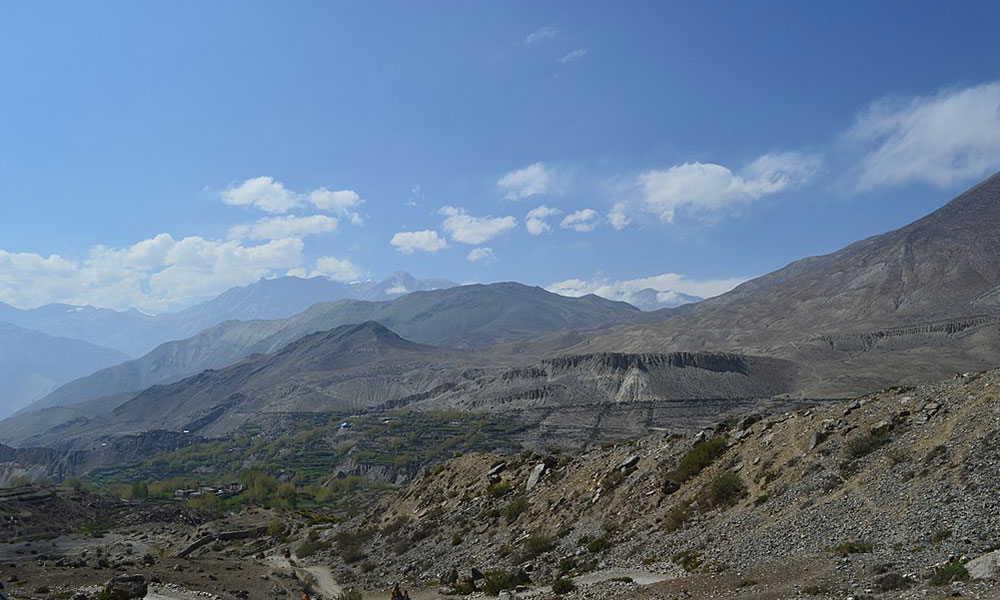 Lower Mustang by Flight or Bus
You can drive from Kathmandu to Pokhara on a bus. From Pokhara, you can drive to Jomsom.
It is also the starting point of the trek for all the trekkers. You can take a local bus from Pokhara to Beni (USD 3). From Beni, you can drive on a bus to Ghasa (USD 4). From Ghasa, another bus can drive you to Jomsom (USD 3).
You can fly from Kathmandu or Pokhara airport to the airport in Jomsom. The flight will take around half an hour. You can also go to the lower Mustang in a helicopter. Flying in a helicopter to lower Mustang is an amazing feeling. It is also the easiest way to go there.
Getting to Upper Mustang Nepal
There are several ways to reaching Upper Mustang. Some of them are:
Upper Mustang by Jeep
Upper Mustang by jeep is gaining much popularity after beautiful roadways are connecting lower and upper Mustang regions. Discover the kingdom of Lo Manthang and the incredible settlements in Upper Mustang traveling there in a jeep.
Traveling in a jeep is an easy way getting to Upper Mustang. Anyone of any level of physical fitness and age group can do this trip and explore the splendid upper Mustang region in Nepal.
Outline Itinerary: Upper Mustang By Jeep
Day 01:Arrival at Kathmandu (1350 m)
Day 02:Sightseeing tour in Kathmandu and Trip meeting
Day 03:Fly/Drive to Pokhara | 6 to 7 hrs.
Day 04:Fly to Jomsom (2720 m) | 20 min and Drive to Ghami Village (3510m) | 5 to 6 hrs.
Day 05:Drive to Lo-Manthang (3840 m) | 2 to 3 hrs.
Day 06:Lo-Manthang exploration day.
Day 07:Drive back to Chhuksang Village (2980 m) | 4 to 5 hrs.
Day 08:Drive back to Jomsom (2720 m) | 3 to 4 hrs.
Day 09:Fly to Pokhara (840 m) | 15 to 20 min
Day 10:Fly/Drive to Kathmandu (1340 m)
Day 11:Final Departure to International Airport.
Upper Mustang by Helicopter
Helicopter tour is the easiest and the quickest way to reach Mustang. The helicopter starts in Kathmandu and makes a tour through Pokhara - Jomsom, and finally to Lo Manthang in Upper Mustang.
If you want to visit Mustang, you can contact us. Index Adventure is a renowned trekking agency in Nepal. We will help you organize the best trips ever.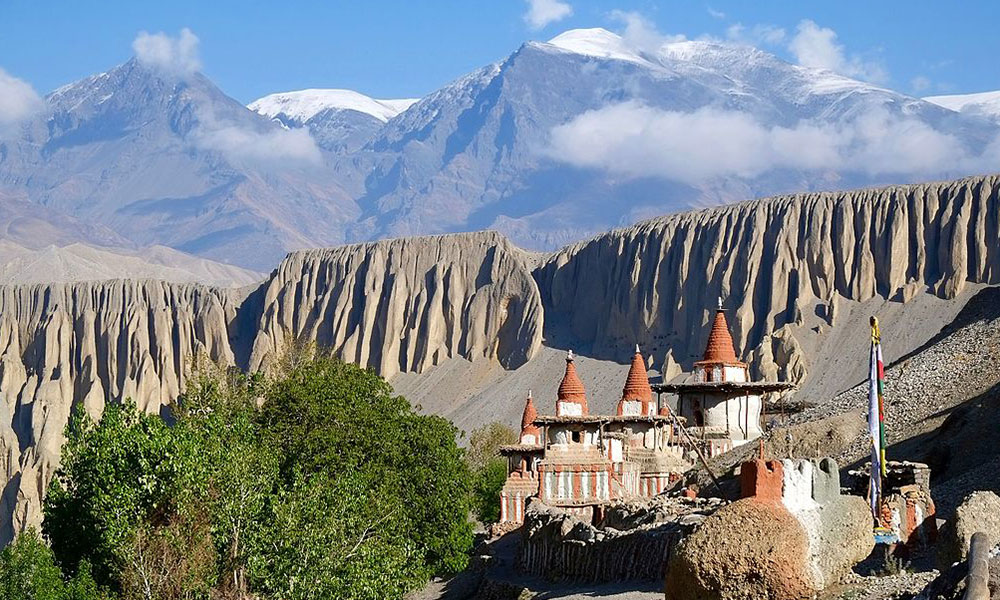 Upper Mustang by Trek
There are lots enthusiastic trekkers from around the world who want to do trekking in Upper Mustang. This trek is especially popular during the time of Tiji festival. Have a look at the Upper Mustang trek itinerary:
Day 1: Drive Kathmandu to Pokhara
Altitude: 827 meters
Duration: 5-6 hours
From Kathmandu, you will drive to Pokhara on a local bus, tourist bus, or in a private vehicle. Enjoy the scenic ride. Overnight in Pokhara.
Day 2: Fly to Jomsom and trek to Kagbeni
Altitude: 2700 at Jomsom, 2810 at Kagbeni
Duration: 25 minutes flight, 3-4 hrs trek
Early in the morning, you will fly to Jomsom. From there, you'll trek through amazing scenic trails through the riverbed of Kali Gandaki River to Kagbeni.
Day 3: Kagbeni to Chele
Altitude: 3050 meters
Duration: 5-6 hrs
From Kangbeni, you will be trekking to Chele village today. Overnight there.
Day 04: Chele to Syanbochen
Altitude: 3475 meters
Duration: 6-7 hours
Today is quite tough than previous days. You'll be trekking from Chele to Syanbochen crossing Taklam La pass, 3624m and Dajori La pass, 3735m.
Day 5: Syanbochen to Ghami
Altitude: 3520 meters
Duration: 5-6 hours
Crossing two passes: Yamda La (3850m) and Nyi Pass (4010m), we will trek from Syanbochen to Ghami.
Day 6: Ghami to Tsarang
Altitude: 3620 meters
Duration: 5-6 hours
On the way from Ghami to Tsarang, you will cross a suspension bridge and will cross Tsarang La Pass, 3870m.
Day 7: Tsarang to Lo-Manthang
Altitude: 3730m
Duration: 3-4 hours
There is this pass called Lo La pass, 3950m on the way between Tsarang and Lo Manthang. Enjoy the marvelous views of Lo Manthang village from the top of the pass.
Day 8: Explore Lo Manthang/ Acclimatization
Enjoy your exploration day in Manthang. Explore around the village.
Day 9: Lo-Mangthang to Drakmar
Altitude: 3810m
Duration: 6-7 hours
On the trail between Lo-Manthang and Drakmar, there is a century-old gompa at Gyakar village. "Make a wish at the Gompa, and it gets fulfilled", people say. Overnight in Drakmar.
Day 10: Drakmar to Ghiling
Altitude: 3806m
Duration: 5-6 hours
The trail is easy. You will descend through amazing trekking trails to Ghiling.
Day 11: Ghiling to Chhuksang
Altitude: 3050m
Duration: 5-6 hours
You will retrace the previous trekking trails and will trek down to Chhuksang. Relish the amazing moments and the astounding sceneries around.
Day 12: Chhuksang to Jomsom
Altitude: 2700m
Duration: 6-7 hours
From Chhuksang, you will trek to Jomsom. You'll meet the Annapurna Circuit trail. Enjoy your last day on the trek. Overnight in Jomsom.
Day 13: Fly back to Pokhara
Fly to Pokhara via an early morning short flight from Jomsom. Enjoy a day in Pokhara.
Day 14: Drive from Pokhara to Kathmandu
From Pokhara, you will drive back to Kathmandu.
At Last,
Both the lower and Upper Mustang are amazing destinations to visit. If you want to visit any of these incredibly beautiful destinations, you can contact us. Index Adventure is a renowned trekking agency in Nepal. We will help you organize the best trips ever.