Bhutan, the land of thunderbolts, is a wonderful mountainous landlocked nation. The country is beautiful throughout the year. But, during the Bhutan tour in May, you will see some of the stunning landscapes. The beautiful valleys rejoice the colorful aura of Spring in May.
Bhutan is a nation that has kept hold of its ancient customs, traditions, and lifestyle. Visiting Bhutan means you can witness the ancient history, rich culture, and traditions. Bhutan is also famous for its arts, crafts and historical monuments.
During the Bhutan Tours, you can see some marvelous pieces of antique arts and crafts. The ancient monasteries and their unique architectures are impressive. The religious practices and lifestyles of Bhutanese people are inspiring.
May is the last month of Spring. The temperature in May tends to increase towards summer temperature. But the leftovers of wildflower blossoms in high hills are alluring.
During the Tour In Bhutan, you can visit many tourist destinations. The most popular tourist destinations in Bhutan are Thimpu and Paro.
Highlights of Bhutan Tour In May
Hike to the Chimi Lhakhang Temple. Walking through colorful forests including camping alongside the Mo Chu River.
Visiting several monasteries including Tiger's Nest Monastery Tour. It is a famous Buddhist monastery located on a cliff face.
Visiting Thimphu: exploring Memorial Chorten, National Library, Drubthob Nunnery, and Folk Heritage Museum.
Viewing incredible panorama of Himalayan peaks. Some of them are Masagang, Tsendagang, Terigang, Jejegangphugang, and Gangkar Punsum.
Exploring ancestral home of the Queen Mothers of Bhutan in Talo.
Cultural Tour in Bhutan. Witness the unique culture, arts, crafts, and traditions of Bhutan.
Walk in pristine valleys in a favorable temperature and weather.
Bhutan Excursion. Experience rural life in Bhutan, trekking into remote and pristine valleys like Bhumtang.
The Jacaranda blossoms at Punakha Dzong in mid-May are enchanting.
The awesome treks to Jomolhari and Drukpath.
Is May a Good Time to Visit Bhutan?
Nepal Bhutan Tour in May is a fantastic time. The most beautiful thing about May is that the valleys come alive with flowers in bloom. The famous rhododendron bloom floods the valleys with enchanting colors.
Bhutan's landscapes are at their best during May. It is the time of year before the monsoon arrives. The atmosphere is cheerful with wildflowers like Rhododendrons carpeting the hills. May is an ideal time for photographers and nature lovers.
Heat and humidity increases in May. The temperature in Bhutan ranges between -1 to 10 degrees in average. Yet, you can see temperature variations occurring in different places. May brings humidity with precipitation averaging around 44mm.
Late May is when summer begins in Bhutan. So, you might see some clouds over the mountains. As compared to peak seasons, only a few tourists will go for the Bhutan Tour in May. Thus, the tour is more like between you, nature and the culture.
Also, the price for touring, permits, and others is lesser now. Thus, May is a perfectly feasible time to discover Bhutan Tours.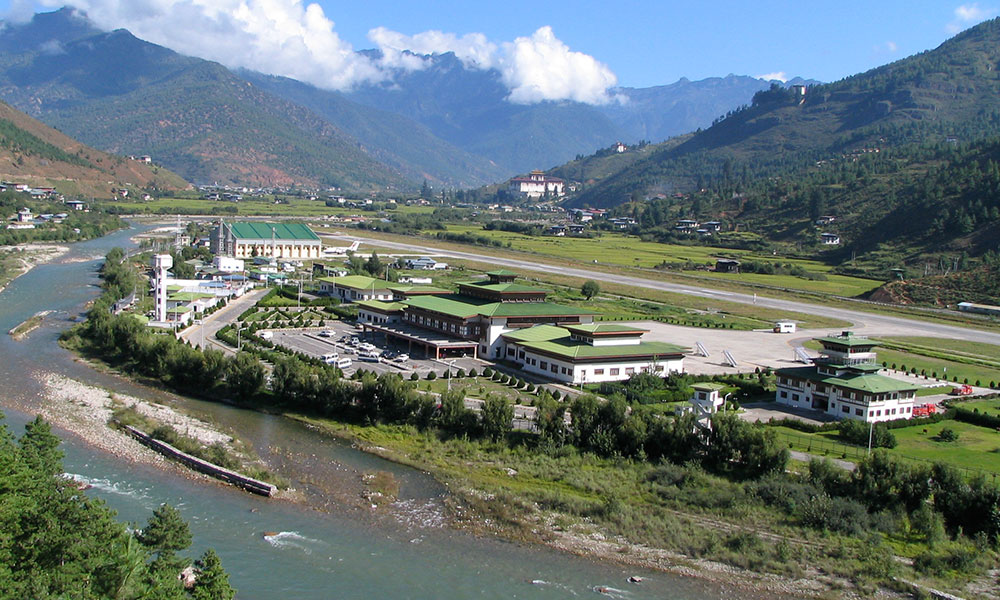 Why Bhutan Tour in May?
Bird Watching
Because of warm temperatures in May, animals and birds are more active. You can see some rare and endangered species of bright and colorful birds. There are lots of varieties of birds found in Bhutan.
Hot Springs
During the Bhutan tour in May, you can enjoy the visits to the hot healing springs of Himalayas. Get your body and soul healed!
Blooming Rhododendrons
During May, the colorful petals of Rhododendron blankets over the hills. Walking along the trail under blooming rhododendron trees feels awesome. It feels like walking into the land of fairy tales.
Biking
If you are a fan of motorbikes, you can even tour in bikes to some places. The favorable temperature allows touring to various places in cycles or bikes. Pedal hard! Unveil the hidden places with amazing views.
Hiking and Trekking
May is popular for hiking and trekking in Bhutan. The suitable weather and beautiful sceneries encourage trekking and hiking. Druk Path Trek, Phobjikha Valley Trek, and Jomolhari Trek are some of the popular treks in Bhutan.
Himalayan Blue Poppy
May is also the time for the national flower of Bhutan, Himalayan Blue Poppy, to bloom. The flower is tiny, gentle, and beautiful.
Places to Visit in Bhutan and Their Temperatures in May
Bumthang
Bumthang is a collection of four valleys: Chokhor, Tang, Chhume, and Ura. The four valleys are rich in natural scenarios. Jakar is the main town of Bhumthang. Jakar is famous for honey, cheese, apples, and apricots.
Ura is a traditional village with a kind of medieval atmosphere. The village leads us to several remote temples. You will see quaint farming villages. Here the houses are closely clustered. Also, there are sheep pastures and potato fields towards the east of Ura.
Bhumthang valley has a spiritual significance. Bhumthang is strongly associated with myths and legends. There are the oldest Buddhist temples and monasteries here. Buddhism started from here in Bhutan after the legendary saint Pema Lingpa was born.
The average temperature in Bhumthang in may is 19 °C.
Paro
Paro lies in the center of a broad valley on the banks of Paro Chhu. Paro is the only area in the country with an airport. In Paro, the land is fertile and productive. People here are relatively wealthy. The houses here are beautiful.
The Paro Dzong, the finest dzong in Bhutan lies here. Also, there is the National Museum too. You can see a fascinating collection of pottery, armor, and thangkas. You will also see a complete temple here.
The Tiger's Nest Monastery, Taktshang is a popular monastery in Bhutan. It nestles a top of a cliffy hill. From there, we can see fantastic views.
The temperature in May averages around 20 °C in Jakar. In Paro, the temperature is 19°C.
Phobjika Valley
Phobjika is a glacial valley closer to a highway. Gangtey Gompa, a 17th-century monastery, lies here. The monastery is at the head of the valley. Several monks live there during summer.
Phobjika valley trek is a popular trek in Bhutan. Phobjika valley is where Black-necked cranes migrate in winter. These are rare birds. They migrate from the high plains of the Tibetan plateau in winter.
The temperature is mild in the Phobjikha Valley, averaging around 17°C.
Punakha
Punakha is the former capital of Bhutan. In Punakha, there is the country's most idyllic dzong, Punakha Dzong. The Dzong sits at the confluence of two rivers. It is very beautiful, both outside and inside. The Chimi Lhakhang Temple is also a popular temple here.
The fertile valley floor of Punakha is the winter home of the country's largest monk body. Also, the village produces a wide variety of fruits and vegetables.
Punakha is comparatively a hotter place. In May, the temperature here averages near 24°C.
Thimpu
Thimpu is the capital town of Bhutan. It is the largest town with a relaxing and friendly atmosphere. At Thimpu, there is Tashichoe Dzong. The traditional buildings around the dzong's vast courtyards are attractive. The world's highest golf course lies here.
Wandering around the streets in Thimpu is a satisfactory feeling. There are small shops that are very attractive. The weekend market is also famous here. They sell everything, from dried chilies and yak butter to hand-woven textiles.
At Thimpu, the May time temperature averages around 19°C.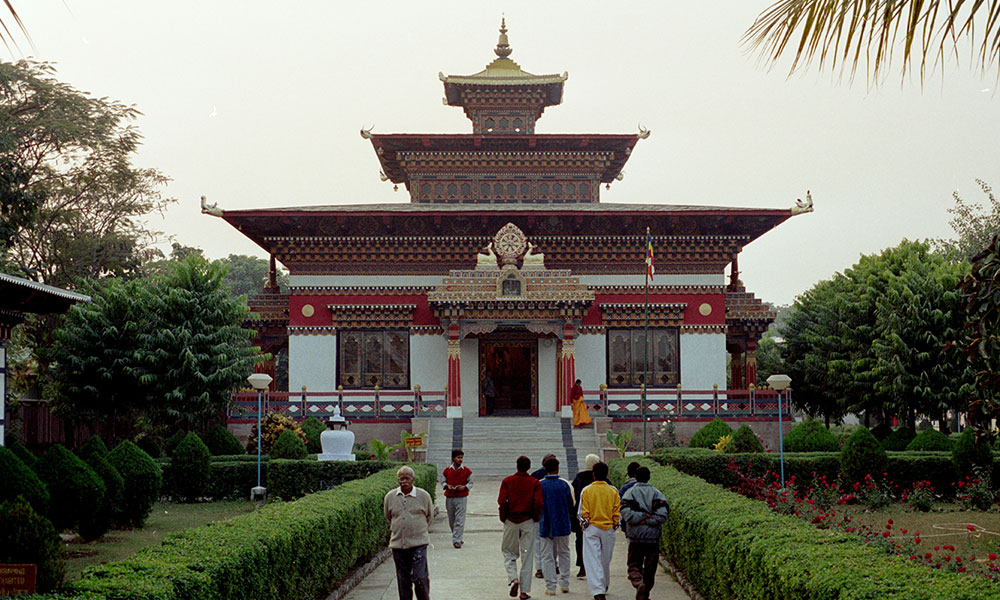 Some of the Popular Tours in Bhutan in May
Tiger Nest Monastery Tour
Tiger Nest Monastery tour will take you to the Tiger Nest Monastery. The monastery is also called Taktsang Monastery. Situated on a high rocky hill 900 m above the valley of Paro.
Highlights of Tiger Monastery Tour
Visiting the fantastic small Tiger Nest Monastery.
The spectacular view of the valley from the Monastery.
Hike through the steep path along beautiful coniferous forests of blue pine and rhododendrons.
The excellent viewpoints before reaching Tiger nest monastery.
Taking great pictures on the backdrop of Tiger nest monastery.
Bhutan Festivals and Culture Tour
This Bhutan Festivals and Culture tour is a tour where you can experience colorful festivals and events. This tour also includes visiting the villages, valleys, historic sites, and Dzongs.
Highlights of Bhutan festivals and Culture Tour
An introduction to the rich tradition and culture of Bhutan.
Viewing the lifestyles of Bhutanese people and some astounding architectural monuments in Bhutan.
A visit to the sacred places and festivals of Bhutan.
Witnessing the living culture and cultural performances during festivals. The colorful festivals, dances, and elaborated costumes are beautiful.
Visiting around Bumthang. Witnessing the Bumthang Festival at Tamshing Monastery.
4 Night 5 Days Bhutan Tour
Bhutan Tour: 5 days and 4 nights offers a visit to the beautiful valleys of Bhutan.
Highlights of 4 nights 5 Days Bhutan Tour
Visiting enticing valleys like Paro, Thimphu, Punakha, Dochu La Pass, Wangchu.
Viewing the terraced fields and beautiful rivers on the way.
Seeing the national animal of Bhutan tied up between the pine trees in Takin.
The Jungsi Paper Factory, Nunnery Monastery, and Arts & Crafts School.
Drive to Punakha. Viewing beautiful sceneries. Visiting Punakha Dzong, Wangdi Dzong, and Simtokha Dzong.
Visiting the National Museum.
A Short Trip to Bhutan
In the Short Trip to Bhutan, one can explore the maximum possible sights of Bhutan in a short span of time. Explore the culture, social life, and history of Bhutan.
Highlights of A Short Trip to Bhutan
Visiting as many places as possible.
Exploring the Beautiful valleys in Bhutan.
Visiting Taktsang Monastery.
Exploring National museum and several Dzongs of Paro, Thimpu, and Punakha.
Rejoicing the picturesque landscapes and Himalayan views.
3 Nights And 4 Days Bhutan Tour
This 3 Nights 4 Days Bhutan tour is a short outing to Bhutan's religion, society, culture, and nature. This tour includes visiting several cultural heritages. Touring around the capital city of Bhutan is an awesome experience.
Highlights of 3 Nights and 4 days Bhutan Tour
Visiting the beautiful Paro valley. Paro valley is with the only International airport in
An exciting visit to Thimphu, the capital city of Bhutan.
Visiting many Dzongs, monasteries, and schools of Thanka paintings.
Bhutan Excursion
The Bhutan excursion covers all the significant tours and treks in Bhutan.
Highlights of Bhutan Excursion
It covers the tour to the National Museum, Dungtse Lhakhang, and Taktsang Monastery. Also, we will visit the Memorial Chorten, Kyichu Lhakhang, and other Dzongs.
It covers Bumthang valley, the flaming Lake, and the lovely valley of Ura.
Safe and guided tour of several cultural sites with our experiences staffs.
Drive to Thimphu. Visit Chortens and explore Thangka painting.
Travel from Bumthang to Wangdi watching for Black-necked Crane.
Visiting Bosachu, a waterfall and Simtokha Dzong in Thimphu.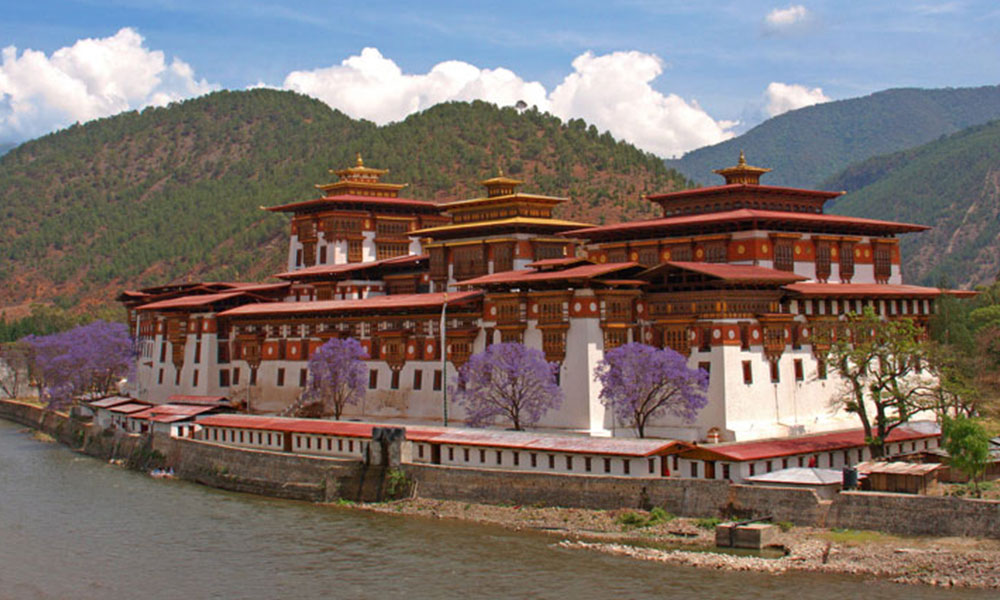 What do I Wear for Bhutan Tour In May?
Weather is pleasant in May. Thus, we tell you to carry light clothes for the daytime. Carry some lightweight woolen clothes for nights. (Nights can be a bit colder)
For the Bhutan tours in May, we suggest you to wear:
Long Pants
Sweat Shirts
Convertible shorts
Shorts
Sleeve roll-up shirts
T-shirts
Underwears
Socks
A jacket (fleece liner)
A comfortable pair of Shoes
First aid and personal hygiene kits
Things to Know Before Bhutan Tour
What is Not Allowed in Bhutan?
Smoking Tobacco in public places is strictly prohibited in Bhutan.
Can I Travel to Bhutan on My Own?
Yes, you can. You must get a visa before you arrive in Bhutan. Plan your tour earlier. Plan it with the help of local authorized tour operators. This might make access to Bhutan easier.
If you are a citizen of India, Bangladesh, and the Maldives, you can travel to Bhutan without a pre-arranged tour.
Is Bhutan Safe to Visit?
Bhutan is undoubtedly a safe nation to visit. Bhutan is at high altitude. So, as a traveler, you must take care of your safety and health during the tours. Consult with an experienced travel agent before you plan for this trek.
Conclusion
The Bhutan tour in May is a rewarding tour. You will discover the charm of ancient monasteries. The high hill valleys glow impressively in May's sun. Also, you can see the adorable Himalayan landscapes.
May is a beautiful time for touring in Bhutan. The temperature isn't so hot as in Summer. But, there are chances of a few occasional downpours.
Bhutan has variable landscapes. It ranges from lowland subtropical regions to steep hills. Also, there are some deep valleys. The snow-capped mountains and the shadowy gorges nestled in dense forests are enchanting.
Choose to tour to Bhutan in May. Walk through the alluring Rhododendron jungles.
To book the tour now, contact us.