Our Everest Base Camp Helicopter tour cost per person is 990 USD if you are touring in the group. A group consists of 6 people, max. We also organize private helicopter tour to Everest base camp. It costs 3650 USD.
Our Everest Base Camp Helicopter tour package gives you the best views of Mt. Everest, the entire Himalayan range and captivating sceneries. Get ready to experience the dream of flying over Everest while landing over Everest Base Camp or at Kala Patthar.
Everest Base Camp helicopter landing tour is the best aerial tour to Everest. The tour begins before sunrise in Kathmandu. We fly eastward towards Everest region in a helicopter. The helicopter stops at Lukla, the gateway to Everest, for fueling.
Then the flight flies over the beautiful Sherpa settlements in Tengboche, Dingboche, and Gorakshep. After viewing an aerial view of the Khumbu glacier and the mighty Everest, the helicopter lands at the Everest Base Camp or at Kala Patthar.
The landing is a short time landing of around 25 to 20 minutes. You can take photographs of Everest, and enjoy the magnificent Himalayan vistas.
The flight again stops at the Everest View Hotel, Syangboche on the way back. There you will have 45 minutes for a quick tea, coffee or breakfast.
Enjoy your hot breakfast while rejoicing the most beautiful Himalayan panorama. You will see excellent views of towering peaks including Everest. The helicopter stops at Lukla again for refueling and flies back to Kathmandu.
Before landing in Kathmandu, you can enjoy the birds eye view of the UNESCO World Heritage Sites in Kathmandu.
The heli tour to Everest Base Camp is an alternative for the Everest Base Camp trek. The tour is for those who are short in time or physically unfit to take around 14 days trek to Everest Base Camp. So, the tour is exciting and equally rewarding.
If you cannot afford our EBC helicopter tour, we have a low-cost flight tour for you. The tour is a no landing flight tour to Mount Everest. For more information, check our article on Everest Mountain Flight.
Cost Inclusion in Our EBC Helicopter Tour Package
Our Everest Base Camp Helicopter Tour Cost Includes
Airport pickup and ground transportation fares involving a comfortable private vehicle ride to and from the hotel as per the itinerary.
Charges of Helicopter Tour with an experienced pilot.
Use of Oxygen and other medical kits during emergencies while inside the helicopter during the flight.
A trip map.
An English speaking guide on the trip for trip demonstration and some help.
Landing charges in airports and in the Everest region.
VAT (Value added tax) and service charges.
What's not Included in our Everest Base Camp Helicopter Tour Cost
Nepal Visa fee
International flights: Airfare to get to Nepal and return back to your country.
Personal Travel and Medical Insurances.
Fooding in Kathmandu. This cost does not include your Breakfast, Lunch, and Dinner in Kathmandu
Personal expenses including laundry, drinks, beverages, snacks, private calls, tipping, etc.
Extra night accommodations, if you arrive early or if the departure is late than scheduled.
National Park Fee: Permits and entrance fees at the Sagarmatha National Park.
Other Expenses that are not listed in the 'Cost Includes'.
Outline Itinerary: Everest Base Camp Helicopter Tour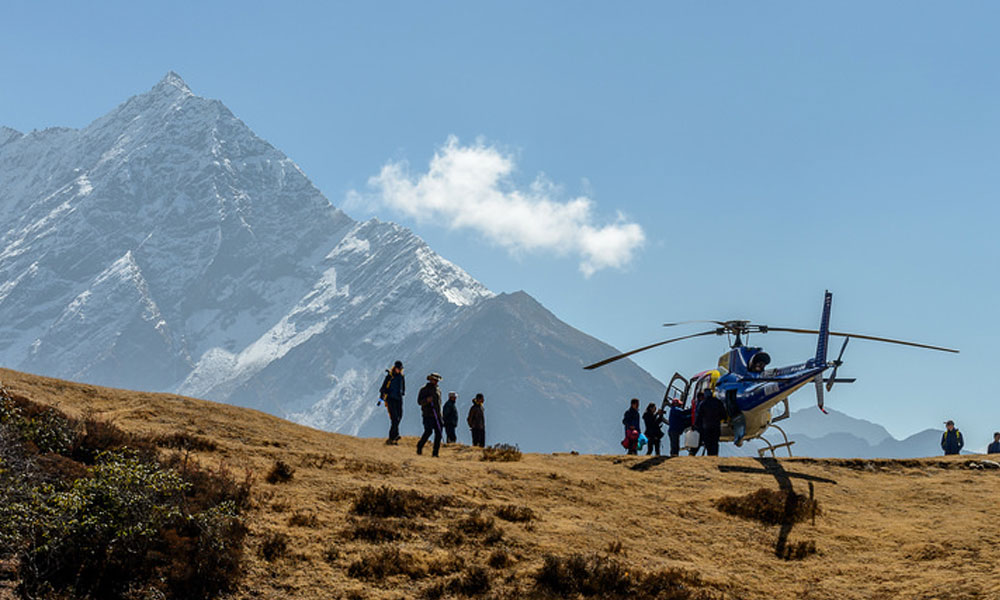 Kathmandu to Lukla
In the morning, we will pick you up from your hotel at Kathmandu and take you to Tribhuvan International Airport to board the helicopter. The flight takes off from Kathmandu airport and takes you to Lukla airport in 45-55 minutes. Then you will land at Lukla for about 10-15 minutes for fueling. On this landing you will have a short encounter with the locals of the Lukla region.
Lukla to Everest Base Camp/Kala Pathar
The flight from Lukla then proceeds towards EBC or Kala Patthar for sightseeing. This is a 25 minutes scenic flight that shows you the real glimpse of the overall Khumbu region. Based on your preference you will land either at Kala Patthar or Everest Base Camp trek. On the 15 minutes landing, you can enjoy the amazing scenery of the region and click as many pictures as you can. After short relaxation during the helicopter landing, you will board the flight back home and bid farewell to Mt. Everest from its base.
Kala Pathar to Syangboche Everest View Hotel
After quenching your soul, its time to quench your hunger. You will fly to Everest View Hotel an enjoy the satisfying breakfast with the amazing views of Mt. Everest and the neighboring peaks. You will have 45 minutes time to satisfy your hunger and get the most enticing views from your breakfast table. After the pleasant break, you will again board the flight back to Kathmandu.
Syangboche to Lukla and then to Kathmandu
The flight lands at Lukla airport for refueling and directly fly back to Kathmandu. After flying back for 1 hour 20 minutes, you will land at Kathmandu airport. And, we will take you to your respective hotel. Finally, the tour ends.
Everest Base Camp Helicopter Tour: What to Expect?
An amazing aerial view of the tallest mountain in the world, Mt.Everest.
A remarkable visit to the Everest Region. Astounding aerial views of Sherpa villages and monasteries.
Bird's eye view of several mountain peaks including Lhotse 8516m, Nuptse 7861m, Makalu 8,481m, Cho Oyu 8201m, and many others.
An adventurous landing at one of the dangerous airports in the world, Tenzing-Hillary Airport. The Lukla airport is a narrow strip of land that sits over a mountain ridge.
Magnificent aerial views of glaciers, icefalls, lakes, amazing landscapes, and Sagarmatha National Park (a UNESCO World Heritage Site).
A safe and sound visit to the supreme trekking destinations in the world.
Best Time for Everest Base Camp Heli Tour
Weather in Everest region is difficult to predict. Besides, weather at Everest Base Camp depends basically on the four different seasons.
Our helicopter tour is available throughout the year. However, the tours in (March, April, May, June) and (September, October, November, December) are the best.
During these months, the sky usually remains clear and bright. There will be less rainfall and frequent weather changes during these months. Stable weather and clear skies enable perfect views of the surrounding.
Keep in mind, bad weather can hit the Everest region all time of the year. The weather mostly fluctuates during monsoon (June, July, August).
During the rainy season, the Everest region sees frequent rainfalls, mainly during nights, and early mornings. But generally, mornings are clear, even in Monsoon. The views in monsoon when the weather opens after a heavy rainfall are the best one.
In cases of frequent weather changes, there can be delays and cancellation of helicopter flights.
For a round trip, the weather must remain clear and stable for a long period of time.
Things to Take During EBC Helicopter Tour
A Camera
Sunscreen lotions and lip balms
Warm clothes to wear while landing at EBC/Kalapathar and at Everest View Hotel
Day backpack with bottled water ( 2 Bottles max )
Light snacks including some chocolates and dry fruits
Cancellation Policy
If you cannot make the trip for some reasons, let us know earlier. We have some refund policies if you inform us within our time frame.
There can be some cases when we cannot take off for the tour in scheduled time. Bad weathers at Everest is the main reason for flight delays and cancellations. In such cases, we will try our best to reschedule your helicopter tour as soon as possible.
Book our Mount Everest Helicopter Flight tour with a landing. Do not hesitate to contact us for more details.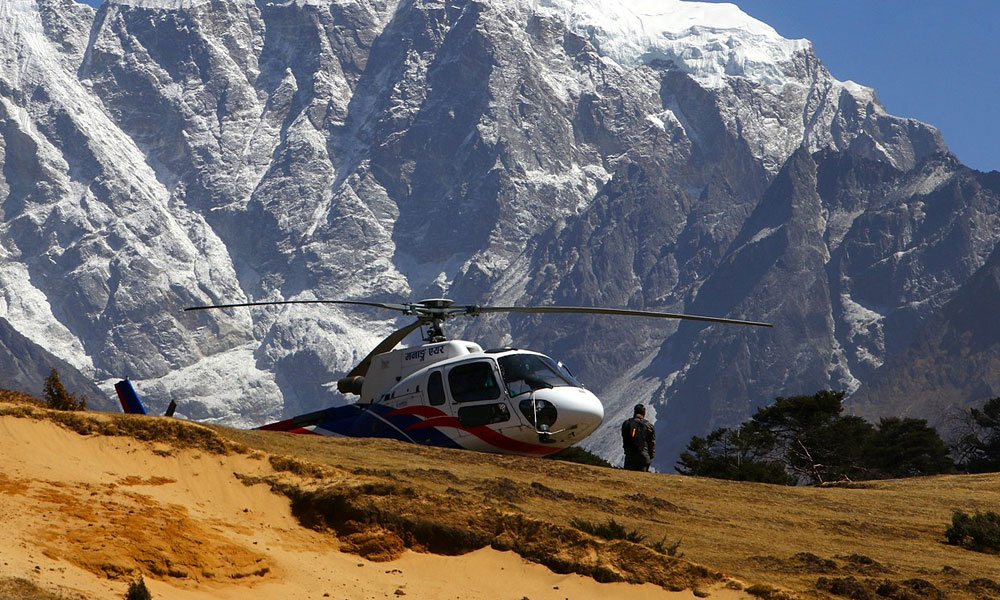 Everest Base Camp Helicopter Tour Safety Notes
Wear seat-belt during your flights.
Do not leave your assigned seats during board. Never change or stand from your seat.
Do not smoke till the Captain indicates that it is safe to smoke.
Avoid throwing any objects off from the helicopter during your flight.
FAQs
How do I Book Everest Base Camp Helicopter Tour with Your Company?
Booking for Everest Base Camp helicopter tour with us is easy. Book with us online. For booking, we need your exact date for the trip. The trip is customizable.
Send us a copy of your passport. We need 30% of advance for the booking. You can pay by card, bank transfer or online.
Are There Additional Costs?
There are no additional costs, provided that we follow the itinerary as planned.
Why is Everest Base Camp Helicopter Tour Costlier than the Mountain Flight to Everest?
The Everest mountain flight does not involve landing in Everest. However, the EBC helicopter tour is a Mountain flight tour with landing involved.
We land at various places including EBC/Kalapathar and at Everest View Hotel in Syangboche. Also, the tour includes having breakfast at one of the highest placed hotels in the world. It increases the cost of the Everest Base Camp Helicopter tour.
Does the Flight Land in Everest Base Camp?
Yes, it does land at Everest base camp. For landing, we must acquire special permission. Also, the weather conditions also affect the landing.
Landing can be hard during strong winds, rainfalls, and avalanches. These might obstruct the landing spot at EBC.
Is Private Helicopter Tour to Everest Base Camp Available?
Yes, we provide an authorized helicopter trip to Everest Base Camp. We charge very fair and a reasonable price for the trip. We provide the best service with our experienced pilots and guides.
Share the helicopter costs if you want to enjoy the cheaper trip. But it's totally fine if you want a private trip to the base of Mount Everest. Contact us for the discounted price and other queries.
Why Book With Us?
100% safety records. Your safety is our responsibility.
Easy and affordable private and group flight bookings.
Customizable departure dates.
Safe payment and refundable policies.
Excellent services.
Guaranteed departure on every booking. (Time depends on current weather conditions at Everest)
Proper care during the flight. We provide immediate medical assistance during flights if needed.
Relatively quick services.
Easy online booking.