Everest Base camp trek in April is an ambition to the enthusiastic trekkers around the world. This high altitude Everest Base Camp trek in the world is immensely diversified, and beautiful during April.
If you are a nature lover, there will be no perfect season for you than Spring. April is mid of spring in the Everest region. The entire Everest region glooms in bright colors and beautiful nature.
April is a dry period. It arrives right after the winter's effect disappears. The entire region unveils the blankets of ice and snow. You will see the sprouts of tiny grasses growing on the meadows.
Exploring the majestic Mount Everest during April is a great thing to do. With April, the mountains smile in shining sun rays. The hills are covered inside the mysteries of intense colors.
The weather is dry and clear. The region gets warmer day by day, thus encouraging warm hikes. Because of the clear weather, a lot of spectacular mountains are clearly visible. You will see the much popular summits like Mount Everest 8,848 m, Lhotse 8,516 m, Mount Pumori 7,161 m, Mount Nuptse 7,855 m and many others.
One cannot remain unattracted by the unique traditions and culture of the Himalayan sherpas. Their warm hospitality is something that makes the trek more like home. The ancient Sherpa monasteries and their small settlements are remarkable.
Take some time to know about the Everest region better before going there. This will be very helpful for trekking in every season. The weather at EBC is normally unpredictable. Get information about the weather conditions at EBC before deciding to trek.
April is amongst the best time for Everest Base Camp trek. The April trek certainly allows you to embrace the mystical mountains. Trust us! you will have the most comfortable trek.
During April, there can be quite a large number of trekkers in the region. Pre-scheduling and pre-booking for accommodation and food can make your trek a lot easier and hassle-free.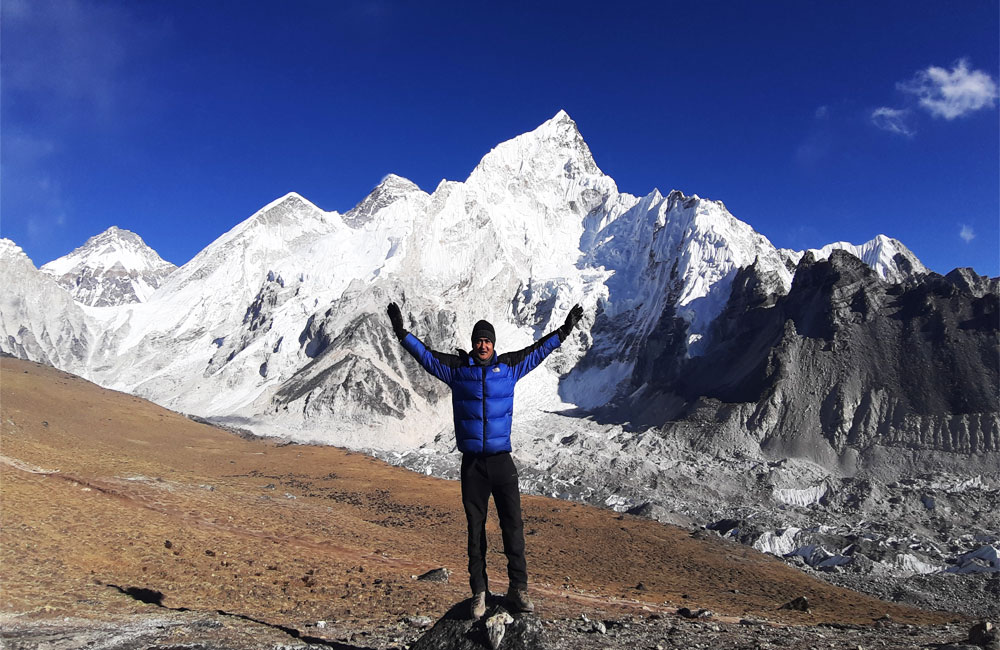 Highlights of April Trek to Everest Base Camp
April is one of the best time for EBC trek has an uncountable number of highlights. You will have a lot to witness, capture and treasure during the trek.
Here are some of the highlights of Everest Base Camp Trek in April:
A scenic and adventurous mountain flight to and from Lukla.
Perfectly clear blue skies.
Magnificent views of the unique landscapes along the trek route.
Enchanting vista of Mount Everest 8,848 m, from the base camp.
The Everest Base Camp 5,380 m itself.
The beautiful sherpa settlements including their trade hub Namche Bazaar 3,450 m.
The ancient Tengboche Monastery 3,867m
Lifestyle, culture, and religion of local ethnic tribes.
The majestic panorama of the sugar-coated mountain ranges including Everest, Mt. Nuptse, Mt. Lhotse, and Mt. Ama Dablam.
The ascent to Kala Patthar and the close-up view of Everest and the Khumbu glacier and ice fall from there.
Are you planning your Everest Base Camp Trek? Don't hesitate to contact us. Tell us your requirements, we can help you to make your trip memorable.
Weather Conditions During Everest Base Camp Trek in April
The Everest region experiences spring during April. Spring is the time when the daytime temperature at the Everest region gets warmer. The weather will be clear and more stable. There are fewer chances for bad weather to hit the region.
The daytime temperatures at the lower elevation places marks around 17 to 25-degree centigrade maximum. However, the temperatures during early mornings and nights can fall down to 10 to 15-degree centigrade.
Days are sunny and longer than in winter. You will see more than 7 hours of daylight. The sunrise and sunset views are more than perfect. The lower regions are drier and a bit dusty while windy. Don't worry, it isn't that bad. The wind speed is around 14 km/hr which is normal speed.
The weather at the Everest Base Camp area is also comfortable. Daytime can be hot with a maximum temperature of 15°C. Temperatures at nights can fall down to a minimum of -10°C. This is a much bearable night temperature at Everest Base Camp.
The calm climate and the green forests make a perfect and enjoyable trekking atmosphere. With warmer weather, there is the possibility of seeing exotic wild animals and birds too.
Higher altitudes are mysterious. The weather conditions can change drastically at any time of the year. However, weather conditions in April tend towards more clear and stable weather. In this sense, April is a safer time for EBC trek.
A temperature at Lukla in April
At Lukla 2,829 m, you will experience a maximum of 16°C during daytime in April. During nights, the temperature drops to around 5°C.
Temperature at Namche
The maximum daytime temperature at Namche 3,463 m is 13°C. The nights are colder than days. Temperature can drop to 0.6°C.
Temperature at Dingboche
Dingboche sits at an altitude of 4,483 m from sea level. The maximum and minimum temperature there in April is 12°C and -7°C respectively.
Note: Higher the elevation, lower is the temperature. Don't worry, April will offer you the most comfortable weather for EBC trek.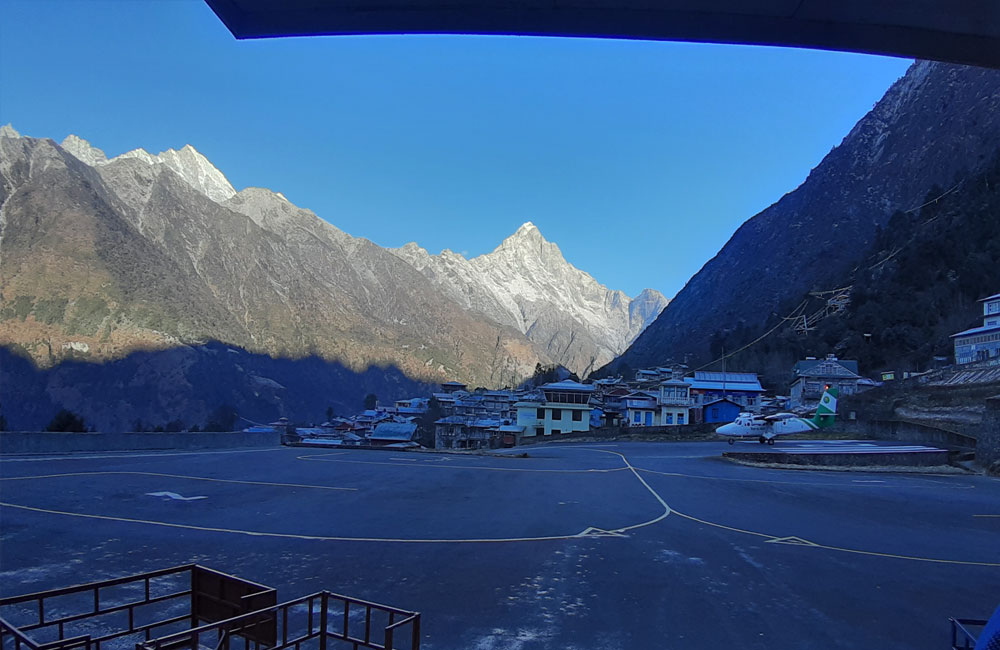 Why Everest Base Camp Trek in April?
Flowers and Colors
April means Spring is at its best. You will see the hills that are painted in colors and aroma of wildflowers. Also, April is when Rhododendron blooms everywhere on the trail.
If you choose an April trek to EBC, you are choosing to trek with vibrant colors and charismatic flowers. Plus, the diverse birds, animals, and vegetation are sure to keep you engaged throughout the trek.
Perfect Temperature and Weather
April is the time between winter and monsoon. The temperature and weather in April are more suitable for a pleasant trek. You mustn't worry about the extreme colds or the wet and slippery trails of monsoon.
Undoubtedly, April is an ideal time for nature lovers to trek to the Everest Base Camp.
More Sunny Hours in a Day
April brings longer days and shorter nights at Everest region. You will have more time for hikes. Also, you can enjoy the sightseeing till the sun goes down. You will not need to hurry to reach the destination.
Less Busy than Autumn
Autumn is the most popular time for Everest Base Camp trek. The trek route bustles with a large number of trekkers during autumn. April time sees lesser traffic than in Autumn. So, EBC trek in Autumn is best to avoid the heavy traffic in the region.
Nepali New Year
Nepalese people celebrate their new year during Baisakh-1, which is in April. Thus, April is the time when the whole county rejoices a new year. While trekking to EBC in April, you can also celebrate the New Year at the Himalayas.
Dumji festival of Sherpas
Sherpa people living at Everest celebrate a festival called Dumji festival in April. Thus, April can be the best time to experience and be a part of their lifestyle, culture and unique rituals. You can see their cultural dances too.
Not to forget, you'll get to taste a lot of locally made drinks and cuisines.
Are you planning your Everest Base Camp Trek? Don't hesitate to contact us. Tell us your requirements, we can help you to make your trip memorable.
Tips for Everest Base Camp Trek in April
Dress in Layers
The days in April are warmer. You will sweat a lot while trekking. So, you can wear in layers so that you can take them off when needed.
Carry rain jackets and backpack cover for emergencies. They are lighter but always keep you on the safe side.
Wear Thin Gloves
Though April isn't too cold, it can get windy sometimes. So, wearing thin gloves can protect your hands from cold wind.
Pack Your Backpack Wisely
A wise backpack is a key to an easier and successful trek. Make a list of things that you may need. Prioritize the most recommended items. Pack them by yourself.
Hire a Porter
Trekking while carrying all your loads by yourself can be strenuous. To avoid this, you can hire a porter. You can easily get porters while trekking to EBC in April.
Trek with a Guide
A guide is a helper and a friend. Trek with a qualified and experienced guide. This will make your trip a lot easier. A guide helps you out of any sudden or emergencies that you may encounter while on the trek.
Keep Your Body Hydrated
Dehydration can cause altitude sickness during the EBC trek. So, it is very important to drink plenty of water at certain intervals during the trek. Make sure to prevent your body from being dehydrated.
Pre-Booking is Helpful
After Autumn months, April is a busy time at Everest. You might have to encounter a large number of crowds. So, it's better you book for your accommodations and foods earlier.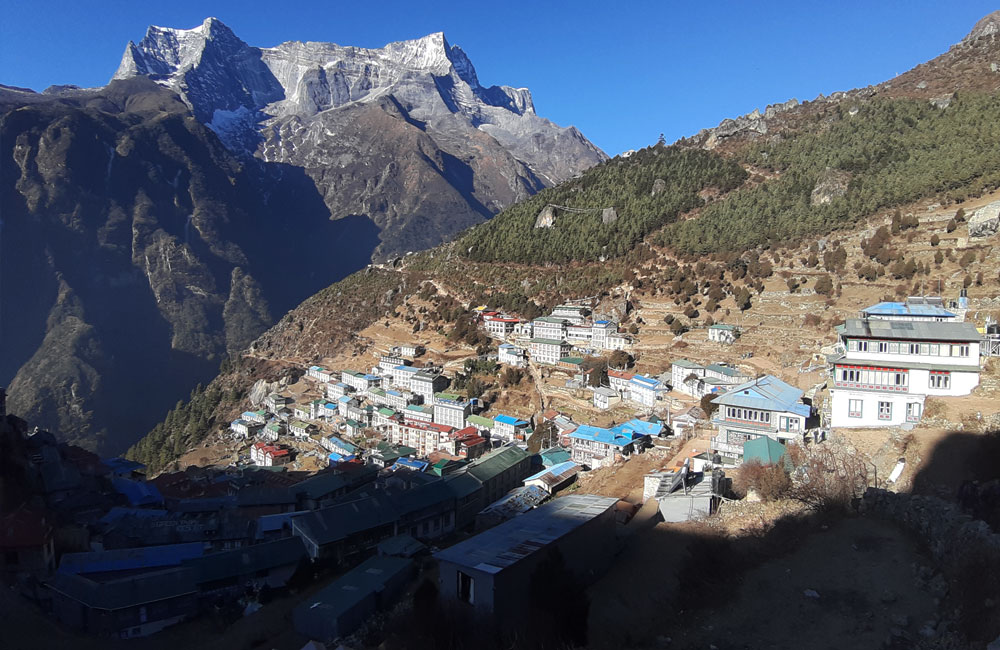 Clothing for Everest Base Camp Trek in April
Weather at Everest region is quite unpredictable and challenging. Even the daytime and night temperatures are different. Thus, wearing clothes in layers can be tricky for April EBC treks.
Here is the general list of appropriate clothing in April:
Thermal innerwear
Hiking shirts
Comfortable and convertible hiking pants (windproof pants)
Hiking shorts
Insulated Jacket
A Down jacket
Windstopper jacket (lightweight)
Sun hat and warm insulated hat
Polarized UV sunglasses
Windproof gloves
A pair of comfortable hiking shoes and socks
Hiking sandals
Other Necessary Items for EBC trek in April
Toiletries
Hand-wash and sanitizer
Toilet paper
Dry and wet wipes
Moisturizer and Sunscreen
Shampoo
Toothbrush and toothpaste
Quick drying towel
Accessories
Trekking Poles
Refillable Water bottle
Water purification tablet or liquid
First aid kit with essential medicines
Maps or guidebooks
Camera and extra batteries
Your personal documents and extra cash
Conclusion
April is the best time for trekking to Everest Base Camp. The Everest Base Camp trek in April has a lot more to offer you including blue skies and the pleasing weather. The Himalayas are smiling with the warm striking sun rays.
Are you excited to see the magical Everest region? If yes, start preparing for the Everest Base Camp trek in April.
Do not hesitate to ask us, if you have any queries or doubts.
We wish you a Happy Trekking!