If you are an enthusiastic trekker, Everest Base Camp trek in March is probably on the top of your bucket lists. Everest Base Camp is a world famous high altitude trekking destinations.
Standing at the foot of Mt. Everest, the highest mountain in the world! The feeling is inexplicable. But trekking to the Everest Base Camp requires a lot of hard work.
Everest region is full of mysteries. If you are thinking of trekking to EBC in March, you picked a great time. March is when you can experience Spring in the Everest region. Early March keeps leftovers of winter temperatures during nights at the base camp.
However, the region gets warmer as time shifts towards late March. With warmer temperatures, nature awakens from winter hibernation. You will see the green grasses sprouting and the trees budding.
Also, you will see some exotic wildlife and birds in the region in March. The days in March are a bit longer and much warmer than in winter. Time rolls on bringing an ideal temperature and weather.
March can be quite busy but it is the least busy time of Spring. The March treks to EBC are absolutely doable. The weather tends towards a much stable and favorable one.
The fine weather makes a pleasant gateway towards the Everest Base Camp. We assure you, your EBC trek in March will be very unique and memorable.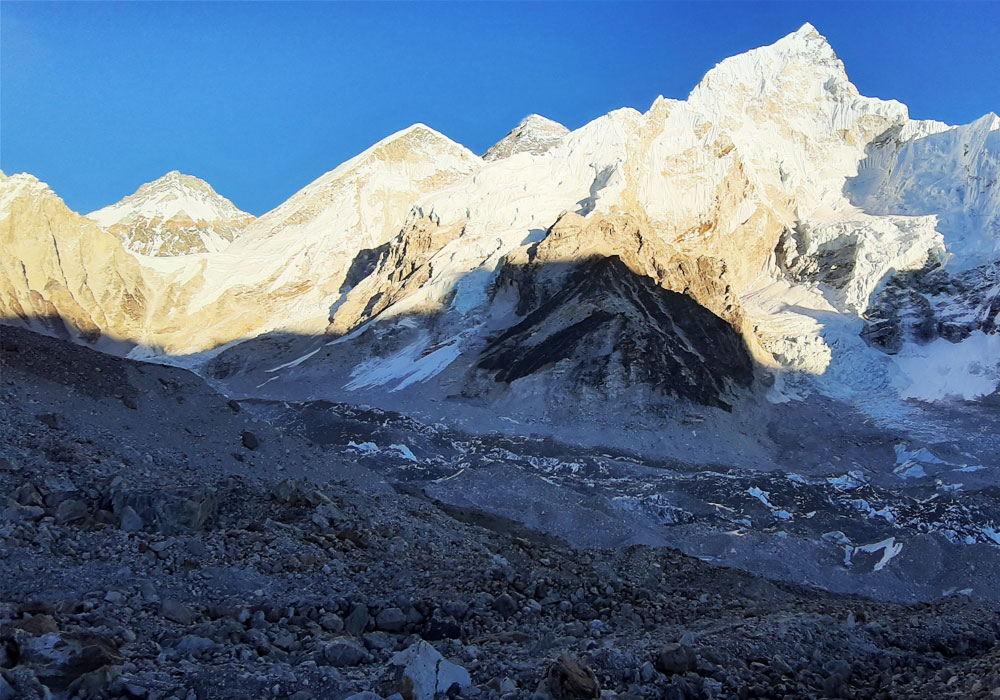 Highlights of Everest Base Camp Trek in March
The pleasant weather condition. Least chances of cloud covering blue skies. March is a month of dreams of nature lovers and photographers.
The gorgeous lakes in the Everest region including Gokyo lakes are at their best in March.
The scenic mountain flights to and from Lukla. Flights are much secured because of clearer weather. You won't have to wait in queues to get a booking.
Best month for Everest Base Camp Heli tour If you are time-bound to spend longer days in your trek, you have an option.
The snowy Himalayas, green hills, passes, and the valleys are at their best.
Holi, the festival of colors of Nepal, generally falls in the month of March. It is a good way of socializing with Nepalese as this festival brings about interaction with people across various communities.
The crisp and clear blue skies enhance the beauty of the trek. The vistas of Everest, Khumbu icefall and glacier, when viewed from Kala Patthar, is awe striking.
The Tengboche Monastery 3,867 meters, Namche Bazaar, Tenzing Norgay Sherpa Monument, and the Khumjung village
A walk through Sagarmatha National Park. You can get an insight of alpine wildlife: Musk Deer, Himalayan Thar, and Ghoral.
The breathtaking views of Mt. Everest, Lhotse, Nuptse, Pumori, and Cho Oyu.
Weather and Temperature at Everest Base Camp during March
They say Spring is a romantic season. March is the time when spring starts in the Everest region. EBC treks in March are so pleasing. You will feel the lush jungles, and the mountains blushing with the colors of Spring.
There are various climatic and geological factors that determine the weather at the Everest Base Camp.
Weather
During March, the air is drier than in winter. Lesser the moisture in the air, more clear the surrounding vistas are. The chances of rainfall are also minimum. In early March treks, you might see occasional snow showers at high altitude. This doesn't mean you will have a hard trek.
All in all, March offers clear and stable weather. The clear skies provide the crystal clear views of the Himalayas. The entire Everest region experiences warmer weather.
Even though the region gets warmer, the mountains are still covered in snow. The snow on the trails starts melting. The lakes and icefalls start showing the depth of their real color.
Temperature
The fact that there is a great temperature difference in the daytime and nighttime temperature holds true for all seasons.
The Everest region experiences an average daytime temperature of around 12 degrees to 15 degrees. However, the temperature can drop to any temperature between 5 degrees to -10 degrees.
Higher the altitude, lower is the temperature. This means the lower elevation regions are warmer and drier than the higher ones. The hotness or coldness in the atmosphere depends also on the wind flow rate.
Weather Highlights of Everest Base Camp trek in March
Sunny days, and clear blue skies. Alluring views of mountains.
Rain is very rare. Very less amount of precipitation.
Bearable and pleasant temperatures at days and nights.
Longer days. More hours of sunshine, avg 7 hours per day.
Perfect sky and stable weather. Lower flight cancellation rates. No dealing with the haggle of flight delays or cancellations.
Are you planning your Everest Base Camp Trek? Don't hesitate to contact us. Tell us your requirements, we can help you to make your trip memorable.
General Advice for Everest Base Camp Trekking in March
March is the starting of the peak trekking seasons in Nepal. Also, Everest Base Camp trek is one of the most popular trekking trails in the world.
So, if you're planning to do Everest Base Camp trek in March then you'll require a few tips. I'm sure that these tips will help you not only while trekking in Everest Base Camp trek in March but also trekking in Nepal during the peak seasons.
Prepare Hard for the Trek
You must always prepare hard for the EBC trek. Irrespective of the month that you are trekking in, prepare yourself for the trek prior to the actual trek.
You must be physically fit and mentally prepared for the trek. Your stamina and strength will determine how your trek is going to be.
High altitude trek requires lots of courage and quicker wise decision making. Train yourself on how high you can go. Proper training and preparation mean a few hikes in altitudes (above sea level).
Strengthen your muscles for long duration and steady treks over rugged EBC trail. Start your preparations before few months for best outcomes. Increase your endurance and strength. Now EBC is ready to have you as a guest.
Eat Well During the Trek
Your body functions based on the diet you consume. The EBC trail can be a lot more physically challenging to those who aren't used to high altitude hikes or long walks.
So, the better you eat, the easier your trek will be. Consume energy supplying, and filling diet. Keep in mind the amount of water you must consume every day on the trek. You will sweat a lot during your trek to EBC in March. So, do not forget to drink as much water as you can on the trek.
Besides three basic meals a day, consume snacks that you take with you. Energy bars and chocolates are best for snacks. They are rich in protein and carbs.
Hire a Porter
You can be a strong person here. But during the trek, you may not be able to maintain your strength. You will have a completely new schedule while in the trek.
Also, you can be a victim of altitude sickness during the EBC trek. So, besides choosing to carry your all loads by yourself, get a porter.
A porter will carry all your loads. This reduces strain in your body. Also, during medical emergencies, the rescue will be a lot easier.
Guides are Important
If you are new to the Everest region, we recommend you to hire a professional guide for your EBC trek. Find someone who you will be comfortable with.
An experienced guide will be safe to trek with. You shouldn't fear about getting lost in the trails. Also, they will help you avoid dangers and risks.
Be Alert! Take Measures to Prevent Altitude Sickness
EBC trek is a high altitude trek. You are in an equal risk at all points on the trek, starting at Lukla.
So, do not try to cover too much distance or altitude too quickly. Make a proper acclimatization schedule and follow it properly.
Also, ascend slowly maintaining a steady pace, drink plenty of water, and take adequate rest. These can help to avoid altitude sickness.
Avoid smoking and drinking alcohol while trekking. Drink as much water as possible.
Altitude sickness can be fatal. Take it seriously!
Are you planning your Everest Base Camp Trek? Don't hesitate to contact us. Tell us your requirements, we can help you to make your trip memorable.
Advance Booking is Helpful
Dry weather and warmer temperature make March one of the peak months to trek. So, the Everest Base Camp trail can be busy in March.
So, pre-booking for accommodation and food ensures an easier trek. Early booking is always better for Everest Base Camp trek in March.
Watch the Weather
Even though weather is generally stable during March, bad weather can hit Everest region at any time of the year.
Sudden storms or rainfalls can follow a beautiful sunny day. So, you must watch for current weather conditions there. Also, pack your gears so that you can cover up for any sorts of extreme conditions.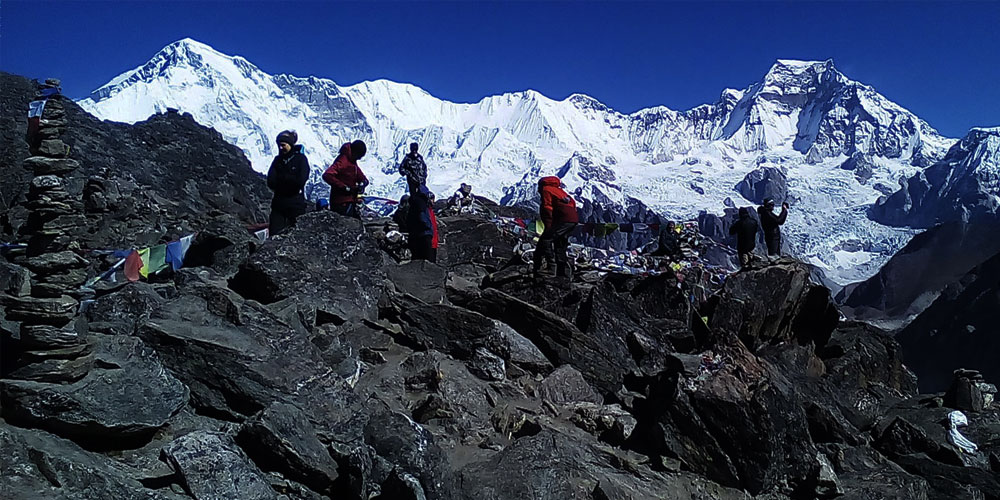 Packing Lists for Everest Base Camp trek in March
Pack wise, pack well!
Here are some of the necessary clothing and other items that you might need for your EBC trek in March.
A Down jacket, warm and fleece
Thermals
Breathable underwears
Trekking T-shirt
A good quality water resistant hiking shoes
Trekking pants and/or trousers
Trekking Poles
Moisturizers, Sunscreen lotions, and Lip Balms
Sunglasses
A comfortable backpack and a rain cover for it
A scarf
Trekking Gloves
Wet wipes, tissue papers
Toilet paper and other Toiletries
Basic first aid kit with essential medicines
Lastly,
Winter fades away as the warm rays of the sun warm up the Everest region in March. The aura of spring is romantic.
March brings Spring, the joys of cheerful nature. The weather and temperature in the Everest region are so perfect for a pleasant trek.
Do you have a desire to witness Nature's celebration of colors? If yes, March is the perfect time for you to visit the Everest Base Camp.
Cheer up with the reformative mood of Mother Nature while trekking to the lap of majestic Everest and the chain of its neighboring Himalayas.
Are you excited to be on a joyful trip with us? If yes, feel free to contact us.