The Everest Base Camp trek is the most popular trek in Nepal. Thousands of trekkers from around the world visit Nepal every year. And it is their common motive to visit the Everest Base Camp.
Trekking to Everest Base camp is possible throughout the year. But, Everest Base Camp trek in may is a great experience as it is a spring month in the Everest region.
Spring is the second most popular time for EBC trek after Autumn. The blankets of Spring colors cover the hillsides and forests in May. The whole trail becomes enjoyable because of suitable weather and climatic conditions.
May is the transition time between Spring and Summer. Thus, you might experience a blend of Spring and Summer at Everest while trekking in May.
Trekking towards the end of May means you will experience quite a hotter temperature. The weather is fairly stable and crisp. Skies are clear with clear morning and evening vistas of gigantic mountains.
May is the best time to trek to Everest Base Camp. Choose to trek with us and we will arrange the most beautiful EBC trek for you.
Are you planning your Everest Base Camp Trek? Don't hesitate to contact us. Tell us your requirements, we can help you to make your trip memorable.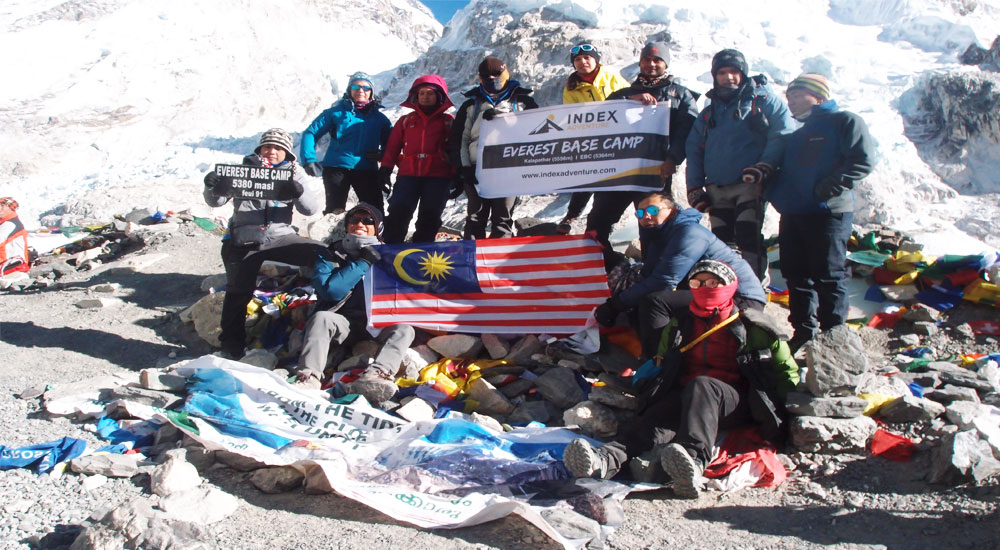 Trip Highlights of Everest Base Camp Trek in May
Scenic mountain flight to and from Kathmandu to Lukla
Mesmerizing sunrise and sunset vistas over the Himalayas.
Khumbu Icefall and Khumbu Glacier (the largest glacier in Nepal)
The unique culture, tradition, lifestyle, settlement, and hospitality of Himalayan Sherpas.
Namche Bazaar, the Sherpa Capital in Khumbu region and the world's highest trade market.
The base of the world's highest mountain, Mt. Everest.
Kala Patthar, the best vantage point of Mt. Everest and Khumbu glacier.
Stunning views of towering peaks. Some of which are Everest, Lhotse, Nuptse, Makalu, Ama Dablam, and Cho Oyu.
The Sagarmatha National Park, a UNESCO World Heritage site.
Diverse terrain, a wide range of flora and fauna.
Tengboche Monastery, the largest monastery in the Everest region.
Original Sherpa villages like Tengboche, Dingboche, Lobuche, Pheriche, and Gorak Shep.
Weather Conditions at the Everest Base Camp in May
Everest Base camp weather is a mystifying fact. Groups of clouds can assemble in the evening sky, right after a bright sunny day. There are possibilities of snowstorms on a stable day. The weather is quite difficult to predict.
However, the Everest Base Camp Trek in May sees much stable and suitable weather. During May, there are least chances of heavy downpours or snowfalls. Also, the sky tends to be clearer. Days are bright and sunny. Mornings are clear, but afternoons can turn cloudy.
There is a lesser probability that it snows. The Everest region is drier in early May. However, there are chances of little showers while trekking at the end of May. The end of May marks the beginning of Monsoon. So, there are chances of variable weather conditions.
The clear atmosphere in May enhances the perfection of surrounding vistas. The distant mountains are clearly visible. The sugar-coated mountain peaks are at their best in May.
March is the end of Spring. You can still see bright Rhododendron blossoms in the dense forests. The trekking trails are cheerful with lots of trekkers around. The best weather conditions encourage Everest Base Camp treks in May.
How Cold is Everest Base Camp in May?
Mountains are colder. Temperatures at the Himalayas are definitely colder than at lower altitudes. But the Everest Base Camp, as compared to the coldest winter temperatures isn't so cold in May.
May is the time between Spring and Monsoon. The base camp gets hotter day to day as days inches towards late May. Even the nights aren't so cold. Don't worry about the cold. The Everest Base Camp temperature in May is a bearable temperature.
The Temperature at Everest Base Camp in Early May
The daytime temperature in Early May can reach up to a maximum of around 12 degrees. This temperature is pleasing for a comfortable day hike.
The temperature at nights can drop down to -3 degrees. Wear down jackets and get warm sleeping bags for the nights.
The Temperature at Everest Base Camp in Late May
Days after the 15th of May denotes late May. The temperature at the Everest region begins to warm up during Late May. The temperature during days can reach up to a maximum of 19 degrees.
However, nights are still colder than days. In normal weather conditions, the night temperature in late May can drop to 0 degrees. Wrap up inside a warm sleeping bag during nights.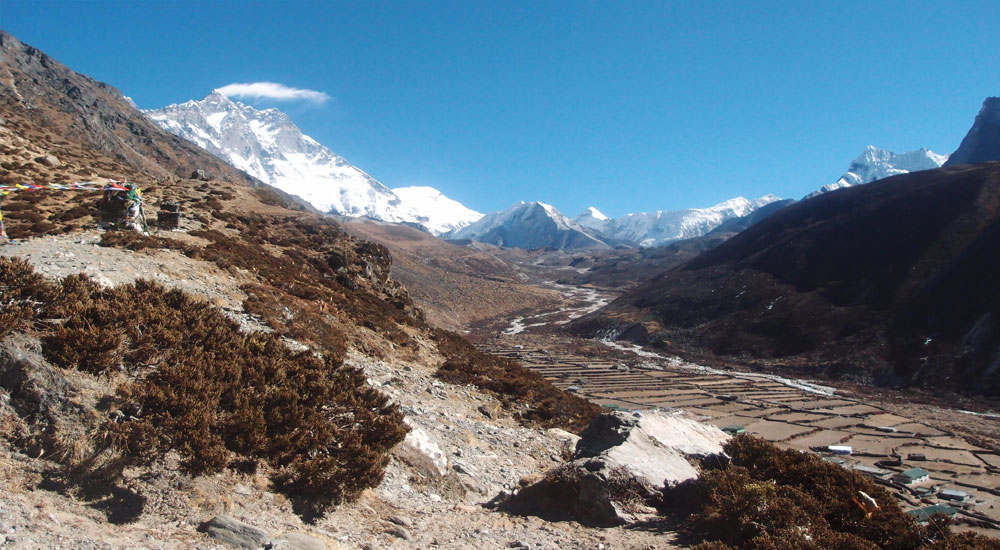 Why Everest Base Camp Trek in May?
Good Weather and Climatic Conditions
The sky is clear and bright. The stable and clear weather in May allows us to see some spectacular views of Mt. Everest and its neighboring peaks.
Colorful Trails of Spring and Amazing Terrains
The Rhododendron forests are beautiful in May. The fragrance of wildflowers is alluring. The amazing terrains and variable landscapes are amazingly beautiful.
Meeting the Summit Climbers
May is one of the best times for Mt. Everest summit Expedition. You will meet lots of climbers preparing for their climb at the Everest Base Camp.
Comfortable Walks in Light Clothing
The favorable and mild temperatures are perfect for trekking. You won't need to wear heavy clothes for EBC trek in May. Wear lightweight clothes. Wear in layers.
Lower Chances of Flight Cancellations
The weather during May remains stable throughout the month. Thus, there are very few chances of flight cancellations.
Are you planning your Everest Base Camp Trek? Don't hesitate to contact us. Tell us your requirements, we can help you to make your trip memorable.
Trek Difficulties during Everest Base Camp Trek in May
Altitude Sickness
Everest Base Camp trek is a high altitude trek. So, altitude sickness is the major challenge during the Everest Base Camp trek. Trekkers of any age group or fitness level can get altitude sickness during the EBC trek.
As May is hot month your body will dehydrate soon leading to risks of altitude sickness. So, you must be extra careful during this trek.
Altitude sickness can kill, if not taken seriously. Get enough information, and precautions against the sickness.
Food and Accommodation
Lots of trekkers trek to the Everest Base Camp in May. This is one of the peak times for the EBC trek. The EBC trekking trail has a limited number of lodges and guest houses. So, you might have difficulties in finding places for food and accommodations.
A possibility of Rainfalls in Late May
If you are trekking at the end of May, there are chances of a few downpours. These unexpected rainfalls might spoil your trek if you aren't well prepared with proper rain gears.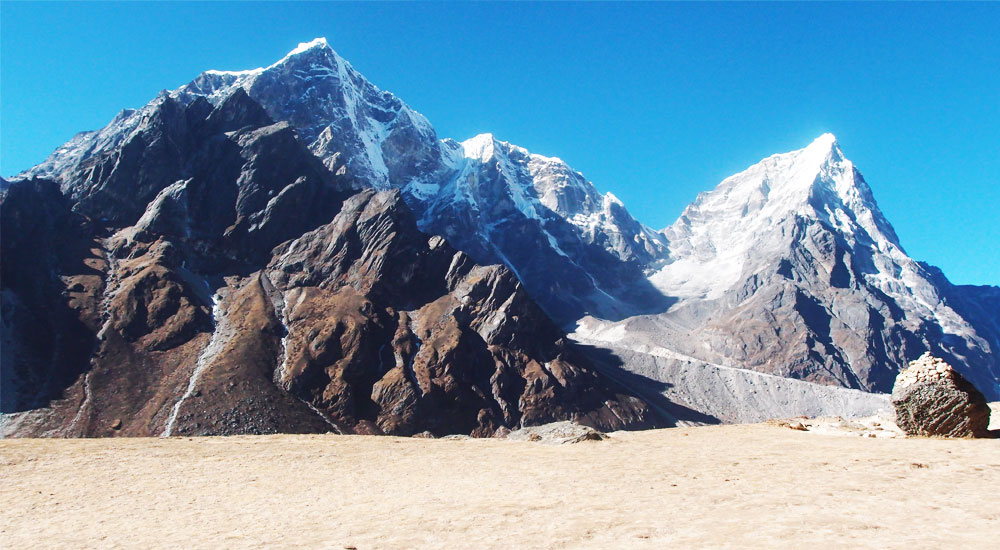 Tips for Everest Base Camp Trek in May
Everest Base Camp trek in May is full of excitement and fun. The trek is much easier if you plan and prepare for the trek carefully.
Here are some of the tips that can come handy during Everest Base Camp treks in May:
Hire a Guide and a Porter
Trekking to Everest Base Camp on your own is a risk. Also, trekking by carrying all your luggage by yourself is difficult. So, get an experienced guide to assist you during your trek. Hire a porter who will carry all your luggage.
Listen to your guide. Know your guide better if you are a solo trekker. An EBC trek with a guide and porter is relatively easier than without them.
Book for Flights and Accommodations Earlier
May is still Spring at Everest. There are more trekkers visiting the base camp in this time of the year. So, we recommend you to book for your flights and accommodations earlier. You might have problems for accommodations if you do not book the tea houses earlier.
Pack Lightweight Rain Gears
There are possibilities of rainfalls in late May. So, it is always better to carry lightweight rain gears. You can't let the rain spoil your trek.
Take Care of your Body
Everest Base camp trek demands physical fitness. There are various difficult and tricky sections on the trek. Be careful when you trek. Do not try to take any shortcuts. You might also get some sprains and knee problems.
Eat Properly, Eat Healthily
Trekking to Everest Base Camp with a weak body is nearly impossible. It is necessary that you keep on fueling your body. Eat filling and balanced diet. Eating Nepali Dal-Bhat is healthier. It has lentils, vegetables, and rice that makes a good diet.
Lots of trekkers face problems of having an upset stomach. Remember not to consume bad food (mostly spicy) or contaminated water on the trek.
Eating meat during the EBC trek can be unhygienic sometimes. Most of the Sherpas in Everest are Buddhist. This doesn't allow killing animals for food in the region. The meats and meat products go up all the way carried by Mules, Yaks, and Porters. Think twice before you decide to eat meat or meat products.
Avoid Smoking and Drinking Alcohols
Smoking or drinking alcohol is not recommended during high altitude treks. Drinking alcohol and smoking can increase the risk of altitude sickness. So, we always recommend you to avoid smoking and drinking alcohol while in Everest Base Camp trek.
Hydrate Yourself, Drink Plenty of Water
Your body dehydrates faster while trekking in the altitudes. So, you must drink plenty of water from time to time. Dehydration can also cause altitude sickness and other problems. So, rehydrate your body.
Make sure the water you drink is pure. You can buy bottled water on the trails. Or you can carry a refillable water bottle and some water purifiers.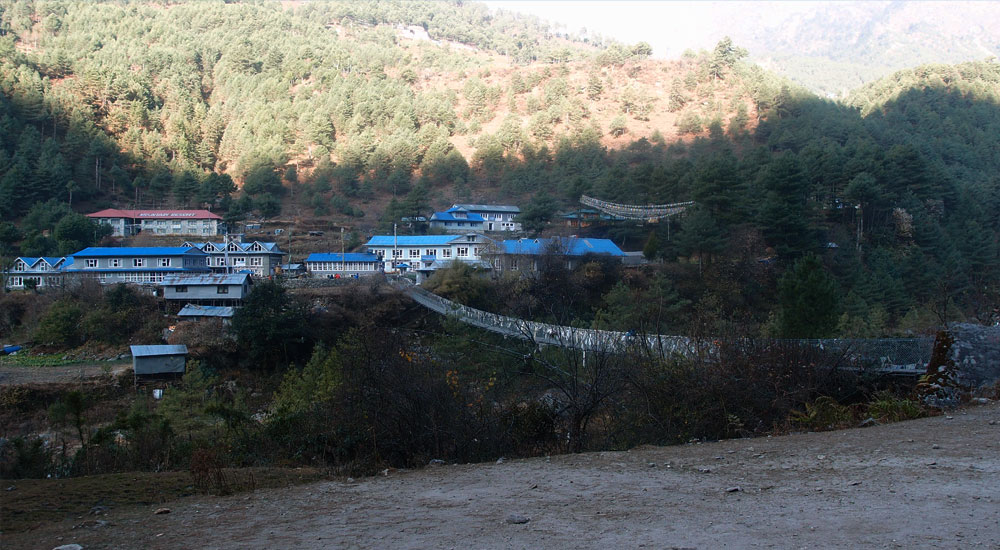 Packing for Everest Base Camp Trek in May
The best packing ensures a comfortable trek. Carrying thick woolen clothes for May isn't a good idea. Spring is on its go and Summer is about to arrive. Pack lightweight warm clothes. Do not forget to include rain gears for the EBC trek in late May.
Here is the list of things needed during Everest Base Camp trek in May.
Are you planning your Everest Base Camp Trek? Don't hesitate to contact us. Tell us your requirements, we can help you to make your trip memorable.
Head
Sun hat
Polarized UV sunglasses
Scarf
Clothing
Thermal innerwear
Convertible hiking pants
Windstopper jacket
Hiking undergarments
Lightweight and comfortable T-shirts and tops
Long sleeve shirt
Down jacket (optional)
Hands and Footwear
Waterproof and windproof gloves
Hiking boots and socks
Hiking sandals
Toiletries and Personal Hygiene
Moisturizer for face and body
Sanitizer
Wet wipes
High SPF Sunscreen cream for face and body
Tissue or toilet paper
Toothbrush and paste
Quick drying lightweight towel
Hygiene products for female
Other Accessories
Trekking Poles
Good quality Sleeping bag
Insulated water bottle
Waist bag for small items
First aid kit with essential medicines
Additional Recommended Items
Route Maps
Personal documents including Visa, PAssport, and Permits
Extra Hand Cash
Final Thought
Trekking to the Everest Base Camp is always a wonderful experience. May is a trekking season in Everest Base Camp. Trekking in May means you will have an easier trek than in Summer and Winter.
The weather conditions are fairly stable. The temperature is also pleasant for trekking.
The spectacular mountain vistas are enchanting. The terraced fields in the lower elevations are beautiful.
Pack your bags well! Trust me, you'll have a splendid Everest Base Camp trek in May.
Please feel free to Contact us for more information on our Everest Base Camp trek in May.