Everest base camp is one of the most fascinating trekking known and experienced!
The Everest base camp trail is naturally blessed. You will walk into the obsessing wilderness during your trek and stroll over the lap of the enchanting Himalayas.
It is the most adventurous journey for adventure seekers. It is a famous trek suitable for solo trekking and trekking in groups as well. You will explore and feel blissful beyond the ordinaries. Added, the altitude, temperature, and weather facts about Everest are quite surprising.
It is a thrilling experience to have if you are on a determined plan towards it.
Along with strong determination, besides excitement, one will gear up very well with a sensible backpack. It is indeed a significant part of trekking!
So, what are the important trekking gears for EBC trek if you are a female trekker?
Right clothing and gears are necessary to avoid the unpredictable complications on the trek. Pack your backpack based on what time of the year you are trekking. Learn about the variation pattern of weather and temperature on the trek.
Pack what is necessary. Get proper bags to carry your loads. Follow our article for ideas on what to pack. Here is the list of packing materials you will need as a female trekker.
What Meds to Bring for Your Everest Base Camp Trek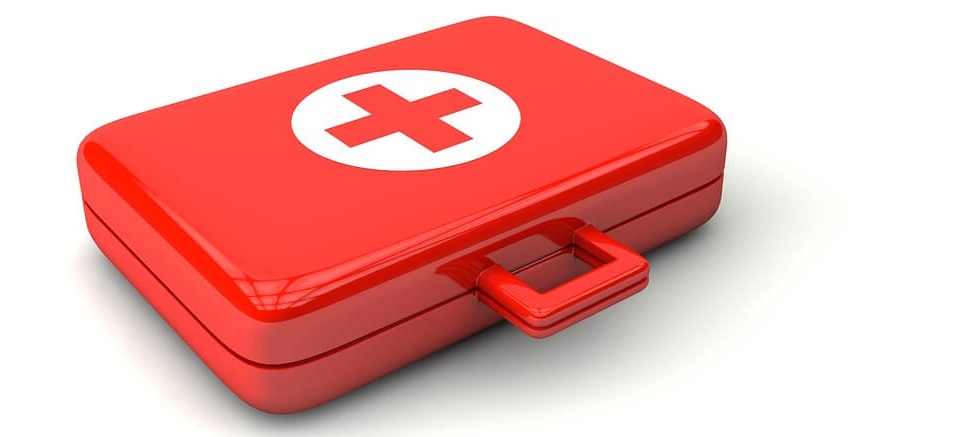 During the high altitude treks like Everest base camp trek, you are always under the risk of injuries and medical problems. The trekking trail is remote. There are no chances of finding places for your medical treatment. You have to cure minor injuries and the common health issues on your own.
Carry a small sized first aid kit. Also, carry some essential medicines with you. Some of the essential items for medication that you must pack for your trek are:
Diamox Tablets
Diamox tablets are anti-altitude sickness drugs. Diamox tablets will be useful at times when you get altitude sickness symptoms.
Medicines for Colds and Coughs
The temperatures at the mountains are always colder than at the lower elevations for sure. It is very likely for you to get affected by cough and cold and sometimes, allergies. So, it is always better that you take medicines for such.
Blister Plasters
Albeit your best-chosen trekking shoes, there are chances of getting painful blisters on your feet. It makes difficult for you to walk. Blister plasters are very useful in that case. It also helps you cure other small wounds.
Water Purifier Tablets or Liquids
You cannot drink the direct water from taps, rivers or streams even if they look clean. Prevention from having an upset stomach or some waterborne infections is your responsibility.
So, you must process or purify the water from natural sources before you drink it. You can carry your own refillable water filters/ water bottles with filters, and some water purifying tablets or liquids. Make sure you are drinking safe water while you are trekking.
Anti-Diarrheal Tablets
There are lots of EBC trekkers who claimed of getting an upset stomach or diarrheal illnesses while trekking. This happens due to the consumption of unhealthy foods and impure water. So, we advise you to carry some anti-diarrheal pills while trekking to the Everest base camp.
Painkillers or Pain Relieving Ointments
There are chances of getting headaches, pains in muscles while you are trekking. So, you can carry some pain killers during your trek. They will help reduce the pain. Also, for the muscular pains, you can use pain relieving ointments. You can use them over the areas with pain. These will be helpful for strains also.
Dettol-antiseptic
If you get any kind of small wounds while trekking, Dettol will come handy. It will prevent small wounds from getting infected. Carry Dettol and some cotton pads.
Regular Medicines, If Any
Consult your doctor once if you've been taking some medicines for a long time. If there are some medicines that you have been using regularly you must take them. Include all your regular medicines with you while you are trekking.
Essential Gears for Everest Base Trek for Female Trekkers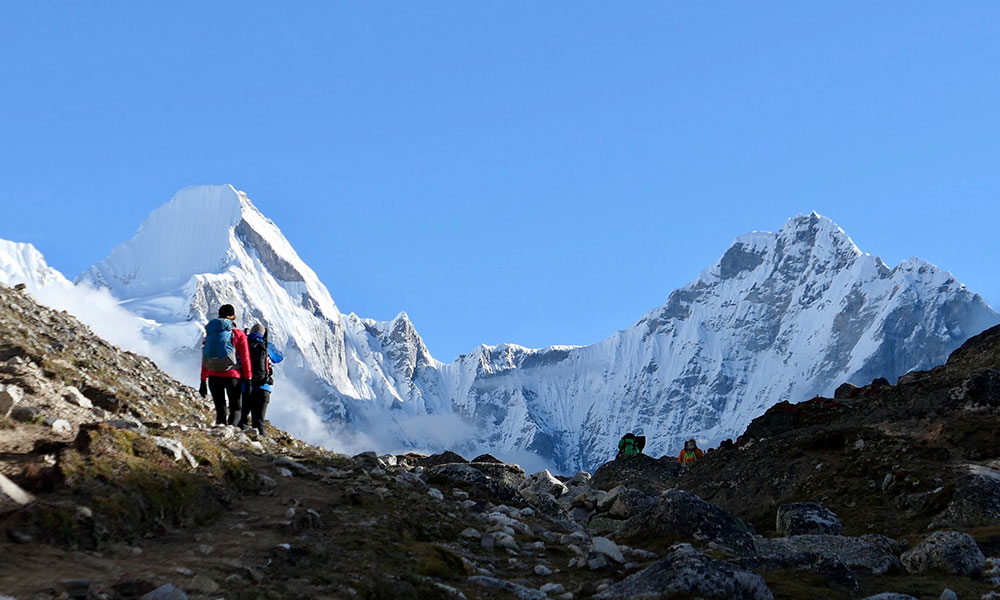 The trekking gears that a female trekker must take are similar to that of male trekkers. Some of the essential trekking gears while trekking to Everest base camp are as follows:
Trekking Poles
Trekking poles are the must carry equipment for Everest treks. They are great for ascents and descends. They will help you maintain your stability while you are walking. Also, they will help in reducing the pressures on your knees while walking uphills and downhills.
A Comfortable Hiking Backpack And A Daypack
The Everest base camp trek is comfortable only after you carry a comfortable hiking backpack. If you aren't hiring a porter, you must carry all your trekking gears by yourself. For this, you must carry a backpack with good back support. If you are trekking in Monsoon, buy a waterproof hiking backpack.
If you are hiking a porter while trekking, get a comfortable daypack for you. In your daypack, you can keep your necessary documents, your mobiles, and other items. You can also carry snacks and other necessary things in the daypack.
Headlamps
In some days like early morning hikes to Kalapatthar, you will start before the daylight. Thus, you will need the headlamps for days like that. Sometimes, it might already be dark before you reach your destination. Headlamps will be useful at such times too. Bring a headlamp or torches with extra batteries if you are going on the EBC trek.
Raincoats
It isn't necessary to carry raincoats or rain gears while trekking in a few seasons of the year. These are necessary only if you are trekking Everest base camp in Summer/Monsoon. While buying the raincoats, also get the rain protection covers for your backpack.
Sleeping Bags and Pillow Cases
Nights at the Everest base camp are colder. It is always better to carry a warm sleeping bag while trekking. The tea-houses will provide you rooms for stays. But the facilities are basic. So, you can buy or rent a good quality sleeping bag for your EBC trek.
Some trekkers who have already been to the Everest base camp suggest taking a pillowcase as some trekkers might wish to sleep on their own pillowcases. They are light and won't occupy large space on your luggage. You can bring one with you.
Toiletries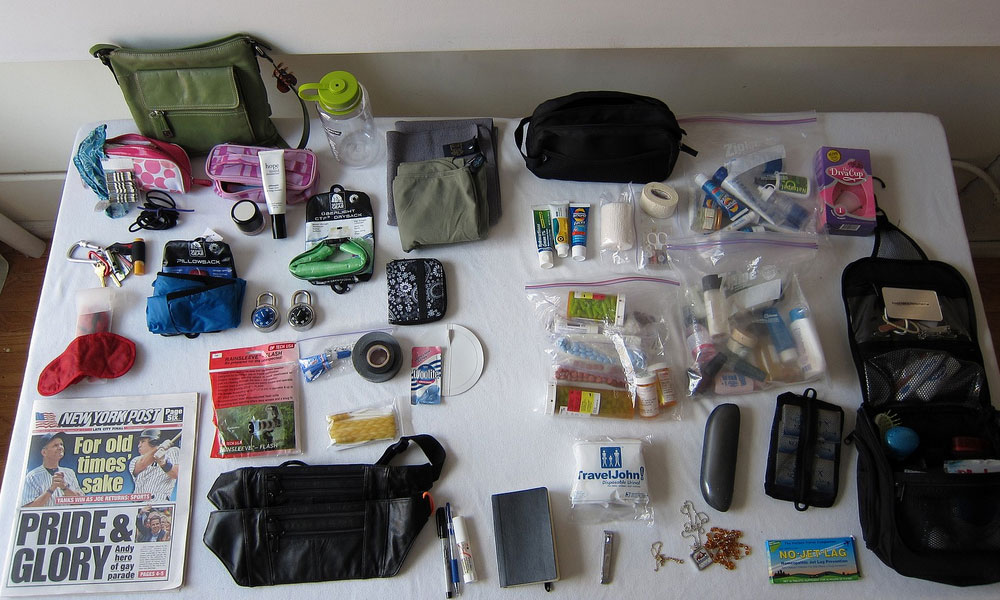 Everest Base Camp trek is a teahouse trekking in Nepal. However, due to the remoteness of the place, the tea houses are with basic services. Most of the teahouses en route does not provide proper toiletries. Female hygienic products are to be brought by the trekkers without fail. These products are specifically not serviced up there.
So, it is better that you pack all the necessary toiletries before going on the trek. Here are some items for toiletries that Index Adventure recommends you:
Toilet Paper Roll
You will not have attached bathroom. You must use a common toilet that is generally outside the teahouses. You will get clean water to wash instead of the toilet papers. So, you must take the toilet paper rolls with you while trekking if you are uncomfortable without one.
Tampons or Sanitary Pads
You must pack these items with you. Tampons and sanitary pads aren't easily available en route. So, carry adequate tampons or sanitary pads with you during your EBC trek.
Soaps And Shampoos
During your Everest base camp trek, you will be taking bath once or twice. You have to pay for hot showers at the tea houses. Thus, you will need soaps and shampoos. It is better to take the biodegradable soaps and shampoos while trekking to Everest. Keeping nature clean is the responsibility of every trekker.
Sanitizer Gel And Anti-Bacterial Handwash
You will need sanitizers and hand wash gels during your trek. You might not get water at all the places to wash your hands after they get dirty. To keep away from infections, use sanitizer gels.
Some other items for Toiletries
Toothbrush and Toothpaste (preferably biodegradable)
Wet and dry wipes
Lightweight cotton towels
Deodorants
Lip balm
Essential Documents to Carry During The Everest Base Camp Trekking
There are various checkpoints at the trek route where you might have to show some of your documents. Do not forget to carry them. Here is a list of some documents that you must carry with you when you are trekking.
Passport
Hand Cash
Permits
Travel Insurance
Clothing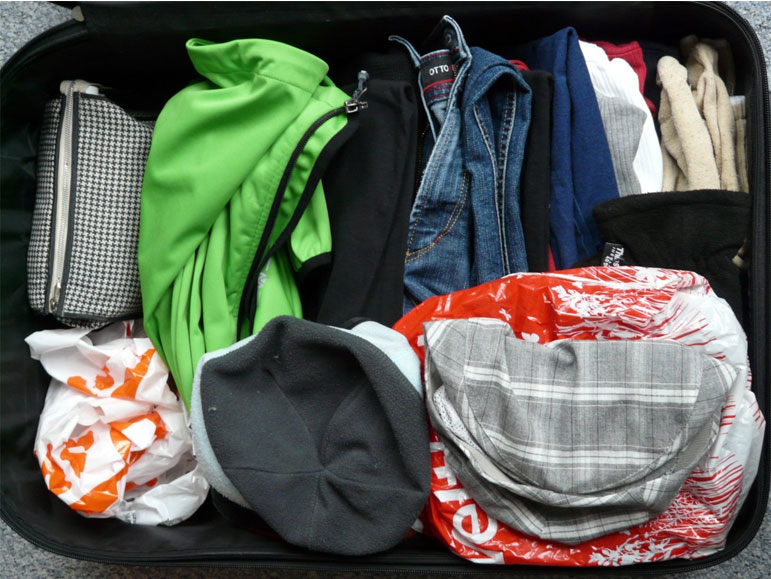 For EBC trekking, you must pack a set of clothes. What clothes you should pack depends upon the time of trek. For different seasons, you must pack different clothing.
List of Clothing for Autumn and Spring
Autumn and Spring are the times with the most favorable trekking conditions. Autumn is a pre-winter season however Spring is the post-winter. The temperatures during these times are moderate and suitable for trekking.
Here is a list of clothing for Everest base camp in best time of the year (Autumn and Spring):
Trekking Trousers and Shorts
Hiking trousers (convertible)
Short sleeve trekking shirts
Longer sleeve shirts.
Shell Jacket and Trouser
Inner Garment (5 pairs of Underwear and 2 sports bra)
Hat
Beanie
Gloves
Hiking Boots
Trekking Shoes / Sandals
Hiking Socks
Gaiters
List of Clothing for Summer (Monsoon)
Summer and monsoon prevail at the same time at Everest. Summer is hot and wet. You will need rainproof clothes and jackets for hiking. Nights are colder. So, you must carry some warm gears for nights.
Here is a list of clothing for Monsoon treks to Everest base camp:
Rain jacket
Rain trousers
Waterproof Shoes and Gaiters
Waterproof hiking glasses
Down and Fleece Jackets
Lightweight tops, moisture licking fabric
Gloves
Warm Cap (for nights)
Socks (get leech socks)
Sun Hat
List of Clothing for Winter
Winter is the coldest time of the year in the Everest region. Both the days and nights are colder than the other times. The sunrays are warm yet not as bright as in other times. However, the nights are extremely cold. The temperature at nights falls far below the freezing temperature.
Here is a list of clothing for Everest base camp trek in Winter:
Trekking boots (Insulated and Warm)
Trekking trousers (thick and insulated)
Thermal innerwear (warm)
Jackets(Down and fleece)
Woolen Shirts, full sleeve
Trekking socks
Warm Thermal Socks
Gloves (thick inner and insulating outer gloves)
Beanie and hats (warm)
A buff, neck gaiter
Trekking Shoes / Sandals
Do Not Forget These Items
Camera with extra Batteries
Chargers, Adapter Plugs, and Power Banks
Sunglasses
Oximeters
Maps
Headphone
Water Bottles
Some Tips on Everest Base Camp Trek Packing for A Female Trekker
Pack light. Include what is necessary. Avoid trekking unnecessary items including the luxury items.
While trekking in winters, dress in layers. Chilly winds blow very often while trekking.
Pack gears that can cover for a night out, variable weather and difficult trails.
While trekking in Summer, carry some table salt and deets containing bug sprays.
Carry all your hygiene products.
At Last,
This packing list is also valid for the male trekkers except for some female products. We hope you have an easier and safer journey to the base camp of Everest.
Was this article helpful? Drop your queries and suggestions if any. Contact Us. We organize the best treks and tours in Nepal.