Langtang is an easy trekking destination near Kathmandu. Enriched in biodiversity and culture, Langtang region is a famous trekking destination. The trek combines the enchanting natural scenarios with unique Tamang Heritage in Langtang. While trekking in Langtang, you will see the distinctive Himalayas, amazing hills, lush jungles clean and green, a captivating valley of Langtang, and the Langtang national park.
One can see a wide range of plant and animal species in the lush forests of Langtang. The bamboo forests in Langtang are the habitats of Red Pandas, an endangered species in Nepal. We will start trekking from the lower to the higher regions in Langtang. trekking higher, you'll pass through sub-tropical to temperate to the alpine climatic zone.
Traversing through the settlements of Tamang, Bhotia, and Yolmo people is an incredible experience. Langtang region is close to Tibet. So, at some places here, you will see the influences of Tibetan lifestyle.
Langtang Trek in Autumn (September, October & November)
Trekking in Langtang region is possible all year round. Trekking in different season offers different trekking experiences. Autumn is the king of all the seasons. It is the best time for trekking in Langtang.
Autumn is characterized by stunning blue skies, clean air, and best visibility in the air. The sharpest views of the striking mountains and green valleys are the highlights of Langtang trek in Autumn. Trekking in warm and bright days with pleasing temperatures feels awesome. The stable weather is what makes Autumn a peak season for Langtang valley trekking.
Why Should I go Langtang Trekking in Autumn?
Best option to escape busy trails of Everest and Annapurna. In Autumn, the trekking trails of the popular trekking trails in Nepal visit lots of trekkers. So, if you want to go on quiet trekking trails, not on the busy ones, Langtang is a good choice.
Many options fortrekking. Autumn has stable weather that makes trekking and climbing possible in Langtang. You can go to popular treks like Langtang valley trek, Langtang Gosaikunda trek, Langtang Circuit Trek, and others. On these treks, you will see Langtang Lirung and other snowcapped peaks from the first day. You will also see amazing glaciers so distinct.
Climbing experiences if you are a climber. For an experienced mountaineer, Langtang region is a beautiful place. There are several peaks that you can attempt to climb in Autumn. Some of them are Yala Peak, Naya Kanga, Kyanjin Ri, and others.
Unique Culture and Traditions. October-November is a festive season. The biggest festivals in Nepal, Dashain and Tihar are celebrated in Autumn. Trekking through the traditional villages of Tamang, Bhotiya, and Yolmos, you will see the way of celebrations, the rituals, cultures, and traditions. Trust me, you'll have a delightful time while trekking in Langtang during Autumn.
If you want to go on a trek to Langtang with us, contact us.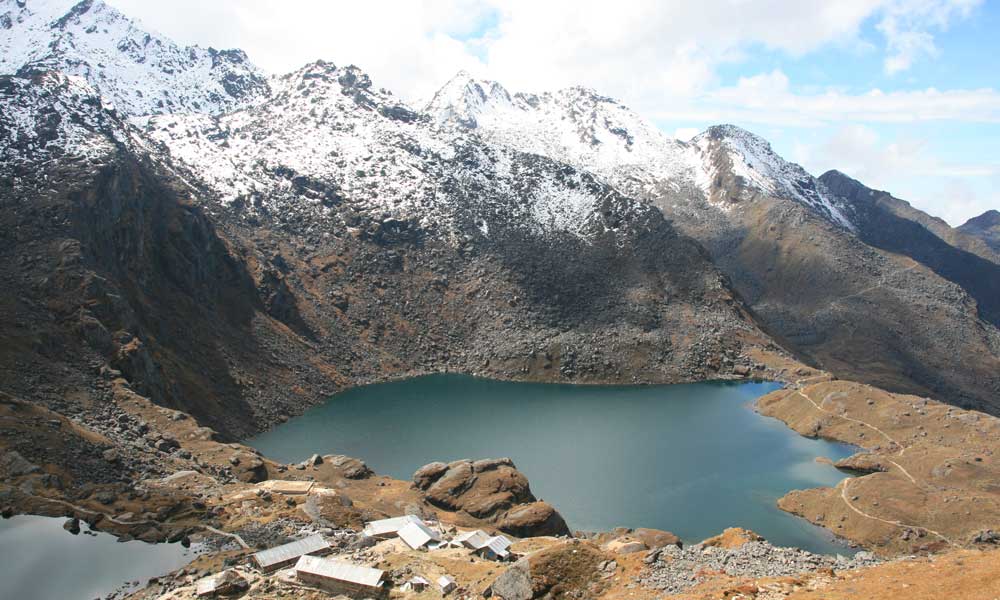 Langtang in September
September is the first Autumn month. It is the time when monsoon season transits to autumn. Early September is less popular to trek as compared to late September. During early September, it might rain sometimes in evenings, nights, and early mornings. The visibility will be poor while it rains.
From the mid of September, the weather becomes more stable with least chances of rainfall. During this time, the number of trekkers on the trekking trails rise. The trails become beautiful with lush jungles and green valleys around.
Weather and Temperature of Langtang in September
The weather of Langtang during early September is more like that of the rainy season. However, the rain isn't as frequent as in monsoon. From half September and onwards, the weather becomes more stable. Skies become blue and clear with spotless clouds. The surrounding vistas become more sharp and clear. At both the lower and higher elevations in Langtang, the weather will be perfectly fair. You will have a wonderful time trekking with majestic sceneries around.
Days are warm and bright with temperature averaging around 10°C to 15°C. Nights are colder than days. However, the cold is bearable. The temperature during nights average around -10 to -1 degree Celsius.
With adequate gears and proper plans and preparations, you will have a remarkable time trekking in Langtang.
Some Difficulties and Safety Tips for Trekking in Langtang in September
There are few records of monsoon expanding and continuing throughout September. So, if you are trekking in September, you should remember to bring rainproof gears. Wearing sturdy boots will make it easy to walk. Be ready to encounter wet trekking trails in Langtang.
In late September, the number of tourists in the Langtang region increases. Thus, due to the limited number of teahouses in the trekking route, you might have difficulty in finding good accommodation. So, book your teahouses earlier.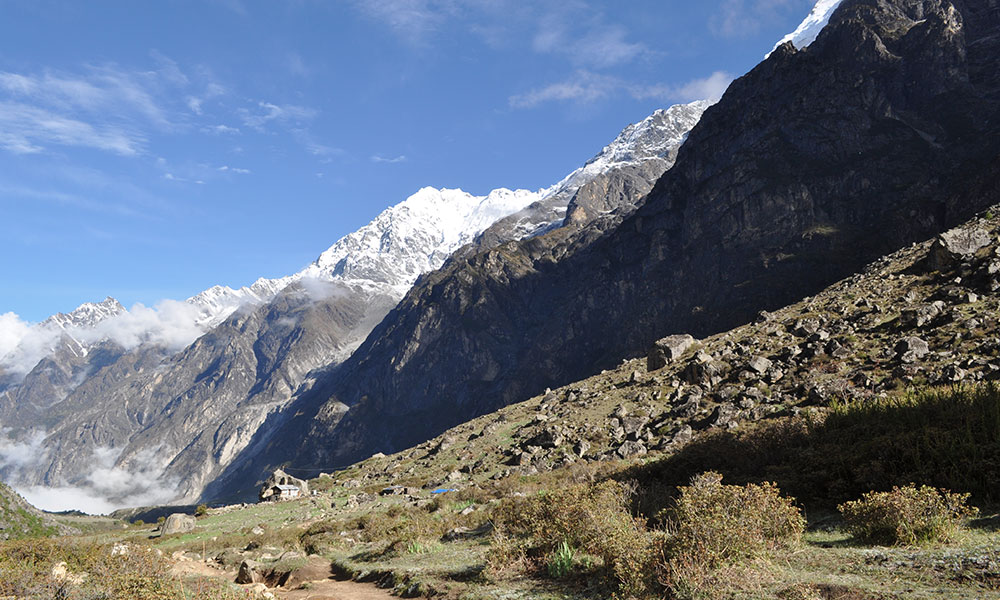 Langtang in October,
October is the best time of the year for trekking in Langtang. It is mid of Autumn season. The month is famous for the weather perfection, stunning Himalayan views, and amazing trekking environment.
The trekking trails are dry with lush jungles around. The evergreen forests are dense and beautiful. The Langtang Himal range looks amazing! Trekking in Langtang valley, Langtang Gosaikunda, and Helambu are some of the popular treks in October. The trekking trails of all these routes become easy and incredibly beautiful.
You will see incredible surrounding views while trekking in Langtang in October. The clearest skies and the sparkling Himalayas touching them, how wonderful will it look!
Moreover, October is the time of festivals in Nepal. So, you can enjoy the amazing celebrations of Dashain/Tihar while trekking in Langtang in October.
Weather and Temperature of Langtang in October
The weather in October is the most stable weather in Langtang. This time is the perfect time to trek. Weather is perfect with very least chances of bad weather striking the region.
In October, there are the least chances of rainfall in the lower regions. Also, precipitation at higher altitude also margins to the least. The blue sky and best visibility polish the views of the snowy peaks, beautiful hills, tranquil valleys, and lush jungles.
Days are calm with moderate temperature. Evenings and nights are a bit colder than the days. Winds are light and the daytime temperature averages somewhere around 13 to 25 degree Celcius. At higher altitudes, the temperature can drop to freezing temperature at nights. With warm clothing and gears, the cold is adjustable.
If you want to go on a trek to Langtang with us, contact us.
Some Difficulties and Safety Tips for Trekking in Langtang in October
The trekking trails are rugged and remote, irrespective of what time you trek at. Walking for certain hours every day may not be easy for those having a weak physique. Train your body and mindset to experience any kind of struggles and difficulties.
There are a limited number of teahouses in Langtang trekking trail. So, there are cases that you might have to sleep in the dining halls due to lack of rooms. To overcome this difficulty, book your accommodation at the teahouses earlier.
If you are on budget trekking, carry some lightweight snacks with you. They will cost expensive on the trail. Also, carry a refillable water bottle with filter. Along with it, bring some water purifying tablets or liquids.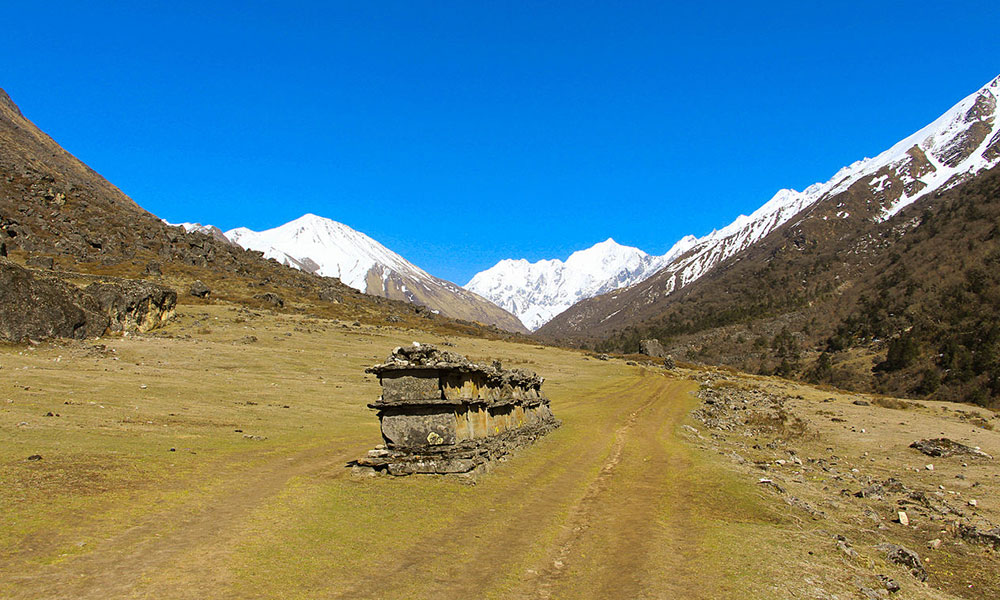 Langtang in November,
November is the tail of Autumn season in Langtang region. It is one of the best months to trek in Langtang. If you are willing to trek in Langtang region right before winter ring its bell, come in November.
Exploring the pristine landscapes, majestic Himalayas, and tranquil valleys of Langtang in November is a blessing. The trail is beautiful and easy. Skies are blue and the Himalayas are glowy. The weather is clear. Hence, the surrounding vistas are incredible.
Trekking in Lantang in November is a wonderful thing to do in Nepal. Trekking in November, you can relish the amazing Himalayan panoramas. The mesmerizing trek to Langtang in November is something that imprints on your heart and mind forever.
Weather and Temperature of Langtang in November
November is a transition month between Autumn and WInter. So, from the late half of November, Lantang region starts experiencing pre-winter weather. However, the temperature isn't as cold as in winter. Nights are chilly at higher altitudes. However, warm trekking gears and clothing will help.
In late November, it might even snow at the higher altitudes. If it snows, it snows during nights and early mornings.
Some Difficulties and Safety Tips for Trekking in Langtang in November
Nights are very cold at the higher altitudes. Bring warm clothes to protect your head and body. Also, bring a sleeping bag for minus degrees.
If you are trekking at the end of November, wear rainproof shoes. Also, bring gaiters. They are helpful if you happen to walk over snow.
Should I Take A Guide While Trekking in Langtang in Autumn?
Autumn, the most popular time to trek welcomes lots of visitors in Nepal. This is true for the trekking trails of Langtang. Known for its stable weather conditions and mild temperatures, trekking in Autumn is easy.
So now, is it okay to wander alone on the Langtang trekking trails? Well, everything is worth a try. However, we have a concern about your safety and ease. So, we always advise you to go with a guide or a porter. However, there are some trekkers who aim to go alone. Some do so because they have lots of trekking and climbing experiences before. There are some who want to do it out of interest.
Trekking in Langtang is definitely easier than trekking in Everest region, Manaslu, Kanchenjunga, Annapurna Circuit, and several others. So, if you are someone who has past trekking experiences at high altitudes, you can trek alone in Langtang. But make sure you go with adequate information and sufficient trekking gears.
Langtang is a beautiful route where even a beginner can trek with ease. However, for a beginner, it is good to go with a guide or a porter. Feel safe to go with them. They will take care of your health, safety, food, accommodation, and several other things. You can completely rely on them.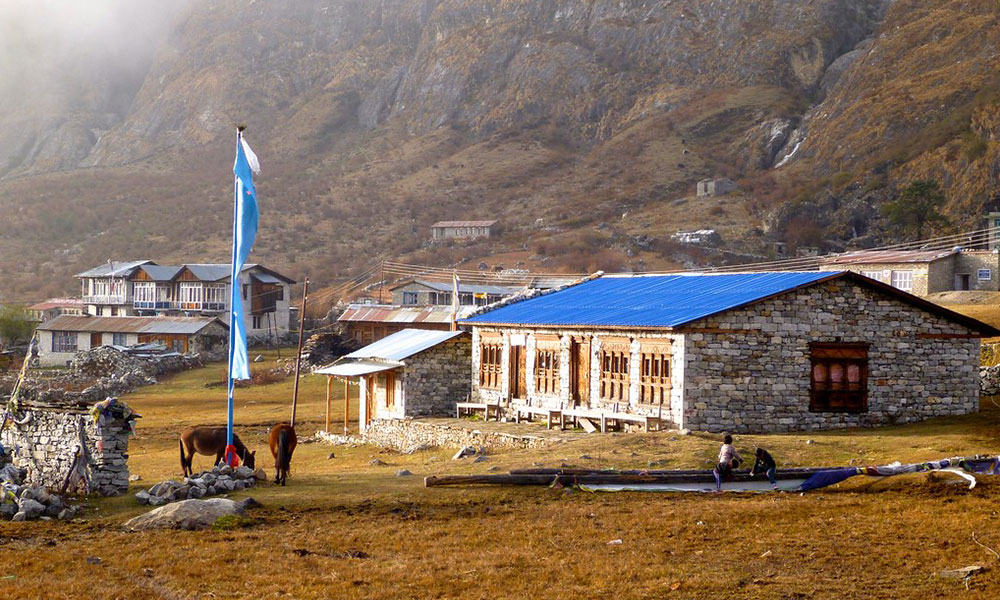 Accommodation During Langtang Trek in Autumn
You must've known till now that tourists flood into the trekking trails of Langtang in Autumn season. And the number of lodges and teahouses en route is limited. So, it is clear that you might have difficulty in finding accommodation of your choice. But there's a way, book the lodges and teahouses earlier.
The teahouses and lodges are basic. They provide rooms on twin sharing basis. There are some rooms having three beds. If you book earlier, there are chances that you can get a room that matches your preference. Some lodges have attached bathrooms while some have common bathrooms.
The teahouses have a big dining hall where all the guests gather to have their meal. Dining halls are made warm. They have a gas heater at some places and firewood heater with a chimney at others. The trekkers and visitors relax in the warm dining hall talking to each other or using wifi.
In Autumn, the teahouses charge you for the extra services that they provide. Some of the services are using wifi, charging phones and electric gadgets, laundry, hot water thermos, extra blankets, and several others.
Food During Langtang Trek in Autumn
You will get a three-time meal every day on the trek: breakfast, lunch, and dinner. The teahouses have their own menu with a variety of international as well as their local dishes. Apart from this, you can have snacks like chocolates, protein or energy bars, etc during the trek.
The number of food items in the food menu lessens as we trek to the higher altitudes. Also, the cost of food rises as we trek to higher altitudes. This is valid for the accommodation cost also.
At Last,
Autumn (September, October, and November) is a perfect time to trek in Langtang. The best weather and climatic conditions in Autumn allow pleasant trekking experiences. With good plans and preparations, trekkers of any age group can do Langtang trek in Autumn.
If you want to go trekking in Langtang with us, contact us. For any help, queries, or suggestions, feel free to contact us. We wish to see you soon.
If you want to go on a trek to Langtang with us, contact us.