The 11 days trek to the Langtang valley is one of the amazing activities to do in Nepal. Lots of trekkers from different corners of the world come to Nepal for trekking and other recreational outdoor activities.
Langtang valley is a wonderful trekking destination at a short distance from Kathmandu. Langtang trek 11 days is an easy level trekking. Trekkers of a moderate level of physical fitness can do this trek with adequate preparations and training.
This is a short and easy trek. During this trek, you will be trekking at an altitude less than 4000 meters, except for the day when you will hike to Tsergo Ri for early sunrise views. This trek is a must do trek. Come, experience trekking, sightseeing of the gorgeous himalayas, and amazing wildlife and vegetation in Langtang National park.
There are some popular treks in Nepal like Everest Base Camp trek, Annapurna Base Camp trek where you have to trek to higher altitudes over 4 or 5000 meters to experience Himalayan trekking. But in Langtang valley trek, without having to trek in the higher altitudes you can experience trekking in the Himalayas.
This trek is not only popular for its natural beauty, but for cultural values as well. Tamangs are the major inhabitant in Langtang region. The lifestyle, houses, culture, and traditions of Tamang people are uniquely beautiful. So, there are lots of tourists who visit this trail as the Tamang Heritage trail.
Blending with the nature and culture in Langtang while trekking through amazing villages for 6 days during this trek is the best part of the trek. ALong with it, the sightseeing day in Kathmandu is also undeniably an amazing day.
Allow us to take care of all your scecules for 11 days, come join us on our 11 days Langtang valley trek. Do not hesitate to ask anything related with trekking in Nepal. If you are really interested about going in treks and tours with us, make an enquiry. Contact us.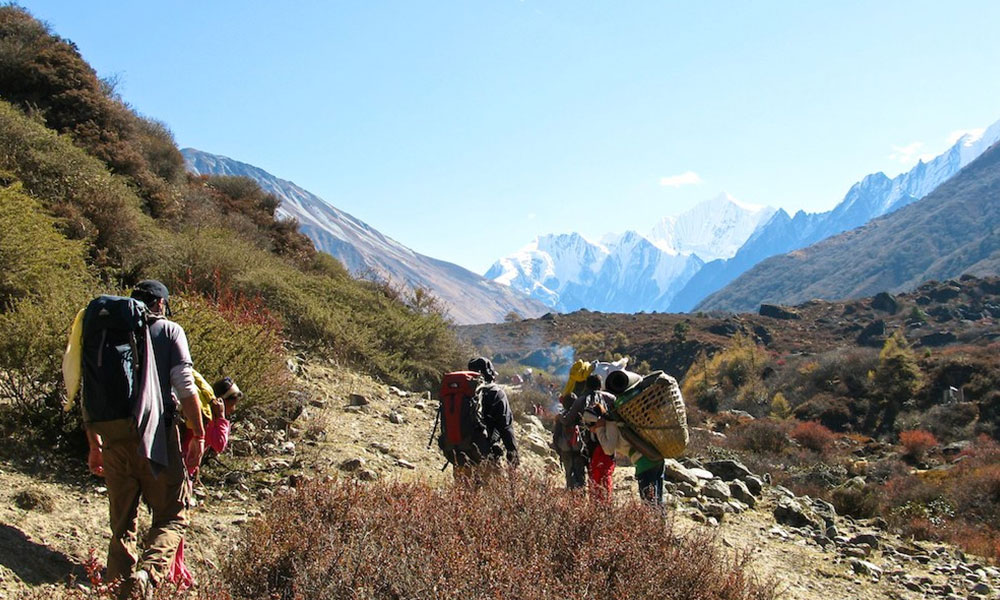 Highlights of Langtang Valley 11 Days Trek
Sightseeing in Kathmandu valley
Drive from Kathmandu to Syabrubesi and back
The Kyanjin Gompa
The Langtang Valley
The Kyanjin Ri
Tamang villages in Langtang
Unique villages and hospitable locals in the Langtang region
The amazing Himalayas and Himalayan panoramas
Weather and Temperature of Langtang Valley
Langtang valley is a beautiful valley in the Langtang region of Nepal. The weather and temperature in Langtang vary according to the seasons. There are four seasons in the Langtang region: Summer, Winter, Spring, and Autumn.
Summer is the hottest time of the year in Langtang. It is also the monsoon time. The Langtang region becomes wet and hot in Summer. The trekking trails become slippery, and the dense jungles become damper. The temperature at Langtang in Summer averages around 12.1 degrees Celcius.
Winter is the coldest time of the year. The higher regions in Langtang will be covered in dense snow during winter. The lower regions are also cold. The temperature during daytime averages around 8 degrees Celcius. Whereas at nights, the temperature drops to freezing temperature and even below at the higher regions. Trekking in Langtang in winter is less popular among the trekkers. However, with adequate preparation, you can go.
Autumn and Spring are the transition months between Summer and Winter. These months are neither too hot, nor too cold. Autumn is the most popular time of the year for Langtang trekking. Likewise, Spring is also the peak season to trek in Langtang. The weather and temperature during these seasons are stable and are suitable for outdoor activities like trekking.
If you want to go on a trek to Langtang with us, contact us.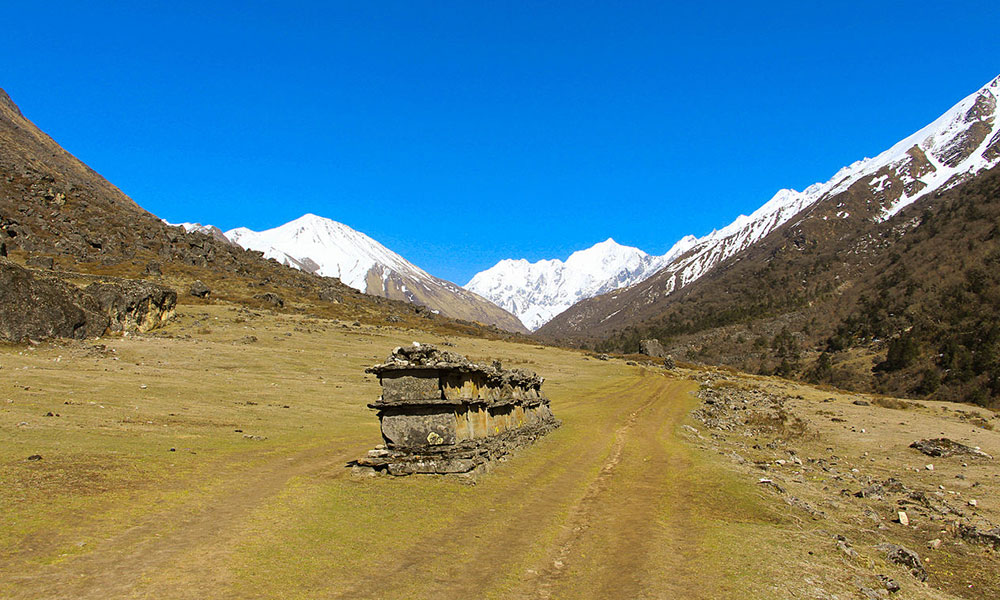 Difficulties During Langtang Valley Trek 11 Days
Though trekking in Langtang valley is an easy graded trekking in Nepal, there are still some difficulties that a trekker might face while trekking. After all, trekking in the newer and remote trails of Nepal will be new to you.
Here are some of the difficulties that you will have to face during Langtang valley trek 11 days.
Remote Trekking Trails
The trekking trails in Langtang valley are remote and rugged. Though Langtang region isn't that far from Kathmandu valley, the region is still remote. The small and beautiful villages in Langtang are also remote. If you are someone who seeks luxurious way of travelling and trekking, the remoteness in Langtang might be a difficulty to you.
Altitude: Hiking to Tsergo Ri
On the 7th day of your 11 days Langtang Valley trek, you will be hiking to Tsergo Ri, 4985 meters. While hiking early in the morning for the sunrise views from Tsergo Ri, you should be careful of the altitude. You will be gaining 1000 meters altitude in a short interval of time. You might get symptoms of altitude sickness, be careful to watch for them.
Difficulties in off seasons
Langtang valley trek is doable in any time of the year. However, summer and winter seasons are less popular trekking seasons. This is because of the difficulties due to unstable weather and climate in the region during these seasons. So, if you are thinking of going in off seasons, there are lots of things you should know and prepare for while going in that time.
Some Tips for Trekking in Langtang Valley
Practice short hikes and exercises starting sometime before you go on the actual trek. This will make it easier to walk for long hours a day on the trek.
Wear comfortable trekking boots. Those with ankle support are highly preferable. Try short hikes wearing those before you go on the trek.
Bring adequate trekking gears. Check the packing list for Langtang trek that we have included below.
Take care of your health and body while trekking. Eat balanced diet, drink plenty of water to keep your body hydrated. Bring some medicines for common illnesses on trek like cold, fever, nausea, altitude sickness, diarrhoea, and allergies.
Trek with a guide or a porter. They will take care of your safety. A porter will carry all your loads making it easy for you.
If you want to go on a trek to Langtang with us, contact us.
Itinerary of Langtang Valley Trek 11 Days
Day 01: Arrive at Kathmandu airport (1380m) and transfer to Hotel.
You will arrive at the airport in Kathmandu. Our hotel representative will receive you there and will escort you to your hotel in Thamel. You can take rest in your hotel. In the afternoon, you can stroll around the radiant streets in Thamel.
Overnight at the hotel in Kathmandu.
Day 02: Kathmandu sightseeing tour.
Today is a complete sightseeing day in Kathmandu. After having breakfast, get ready for the tour. We will arrange a private vehicle for your sightseeing tour. You will be touring around the popular touristic destinations in Kathmandu. Some of them are Pashupatinath, Bouddhanath, Swoyambhunath, Kathmandu Durbar Square, Patan Durban Square, and several others.
Overnight there.
Day 03: Drive to Syabru Bensi (1450m).
Today, we will take a bus or a jeep ride to Syabru Bensi from Kathmandu. The drive will take us nearly 7 to 8 hours. We will drive along the beautiful terraces and riverbanks of Trishuli. We will check into a hotel in Syabrubesi and will stay overnight there.
Day 04: Trek from Syabru Bensi to Lama Hotel (2480m).
From Syabru Bensi, we will trek to Lama hotel. The trail is beautiful. We will walk through the ascending trail for around two hours. After walking for nearly one hour again, we will reach Bamboo village. At the village, we will have lunch.
Before reaching the Lama Hotel, we will climb a steep trail. Overnight at Lama Hotel.
Day 05: Trek from Lama Hotel to Langtang valley (3540m).
From Lama Hotel, we will be trekking to the incredible Langtang valley. We will walk through Ghoda Tabela and will have lunch there. From there, we will walk through incredible landscapes, lush jungles, and astonishing sceneries. After walking for hours, we will reach the amazing valley of Langtang. Overnight there.
Day 06: Langtang to Kyanjin Gompa (3900m).
We will walk for 2 to 3 hours and will visit the famous Kyangjin Gompa, 3817 meters. The Gompa is beautiful. The place has amazing spiritual vibes. From there, you will see amazing views of Mt. Ganchhenpo and Mt. Langtang Lirung. We'll visit the cheese factory and the traditional houses.
Day 07: Day hike up to Tsergo Ri(4985m) and back to Kyanjin Gompa.
We will trek to Tsergo Ri, 5150 meters. We will also walk to the Langtang glacier. There is a plane and beautiful pasture, Langshisha Kharka, where we will see the Yaks grazing. We will have a splendid time trekking and observing the surrounding views. We will return to Kyanjin Gompa and will stay overnight there.
Day 08: Trek back to Rimche.
From Kyanjin Gompa, we will return to Rimche. Walking down the scenic trail, we will trek to Ramche. Overnight in Ramche.
Day 09: Trek to Syabrubensi.
Today is your last day of walking on the amazing trekking trails of Langtang. We will walk down through beautiful forests of Bamboo and Rhododendron to Syabrubensi. Overnight in Syabrubensi.
Day 10: Drive back to Kathmandu.
We will take a bus or a jeep from Syabrubesi to Kathmandu. Enjoying the scenic views and bumpy ride, we will reach Kathmandu. We will drop you at your hotel in Kathmandu. In the evening, you can go on a short and refreshing walk around the vibrant city. Overnight in Kathmandu.
Day 11: Drive to Kathmandu airport and Departure.
We will drive you to the airport in a private vehicle depending on the time of your flight. At the airport, you will check into the airport. From there, you will take an international flight to your homeland.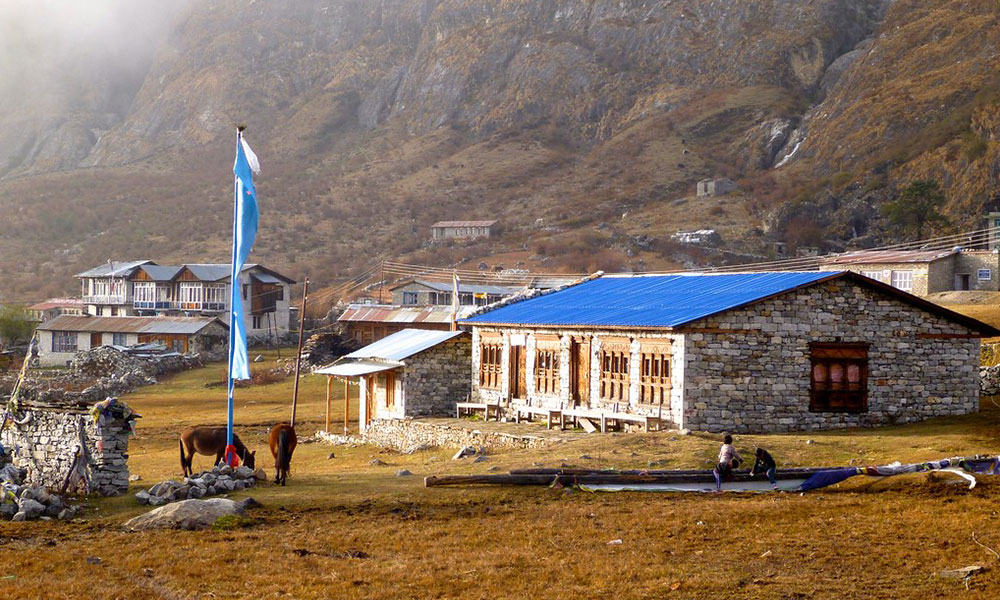 Packing List for Langtang Valley Trek
What a trek will be like depends on many factors. One of the major factors is the packing list. What you bring on the trek plays a big role in determining the quality of your trek. Keep this in mind, you are going to a remote place where finding the gears if you miss them is close to impossible.
So, make sure you pack all the essentials. Pack light, include things that you'll need. Try to exclude things that can be replaced or excluded.
Listed below are some of the essential trekking gears for trekking in Langtang valley. This can be helpful for you, have a look.
Important Documents
Copy of your citizenship and passport
Passport size photos (sometimes needed for permits)
Trekking permits
A copy of valid visa document
Some Essentials
Trekking poles
A good quality sleeping bag
A sturdy backpack
A daypack
Headlamps or torchlights
Clothing
A warm cap or hat
Hat and headscarf
A pair of lightweight gloves
Trekking t-shirt
A pair of a down jacket for cold nights
Windproof jacket (preferably waterproof)
Breathable underwear (top and bottom)
A scarf
Hiking trousers
Thermals (top and bottom)
Trekking Pants (windproof and waterproof)
Trekking socks (woollen and lightweight cotton)
A pair of a comfortable hiking boot
A pair of sandal
Toiletries
Sunscreen lotion with high SPF
Toilet roll
Sanitizer gel or antibacterial handwash
Soaps and shampoos
Toothpaste and toothbrush
A polarized sunglass
Some other Essentials
Camera and Camera Batteries
Tripods (if you are a professional photographer
Snacks and Chocolates
Conclusion,
Trust me, the 11 days on the Langtang valley trek will be one of the incredible days to remember. Walking through the green forests, cascading waterfalls, changing landscapes, flashing rivers, is an incredible feeling.
This trek is suitable for doing in anytime of the year. However, monsoon is least popular time. This is because the trek passes through most of the forested areas. The trekking trails will be damp, slippery, and wet. Also, trekkers claim that lots of them got leech bites while doing Langtang valley trek in Summer.
If you want to go on this amazing 11 days adventure to Langtang valley with us, contact us. We will organize a wonderful Langtang trek for you, your friends, and family.
If you want to go on a trek to Langtang with us, contact us.