Mardi Himal Trek is a newly exposed trekking destination in the eastern part of Annapurna region that sits under the stirring Machhapuchhre Himal (fishtail). Lying east of most popular trek, Annapurna trek, Mardi Himal Trek is also considered the Hidden gem of the Annapurna region. The trek opened officially only after 2011. So, it still remains unspoiled and least visited trekking route in the Annapurna region.
Trekking to Mardi Himal without a guide will give you a chance to experience the local life of people along with amazing mountain scenery. Choosing this trek means a rewarding yourself to escape the crowded trekking routes of the Everest and Annapurna Base Camp Trek. So, if you are someone who has a shortage of time and searching for a trek that will require you less time to complete, Mardi Himal Trek would be the best option.
Lying at the height of 3900 meters, Mardi Himal offers trekkers with spectacular views of the mountains such as Mardi Himal, Machhapuchhre, Annapurna South and Hiunchuli. Along with this, the trek offers overall scenic beauty, wild flora and fauna, rugged landscape and unique vegetation of the Annapurna region.
Mardi Himal Trek alone is absolutely doable and requires minimum effort and cost as well. Trekking independently to the Mardi Himal is equally fun and adventurous as trekking in a group. Therefore, if you wish to trek to the Mardi Himal alone, Index Adventure can help you hire an experienced guide for an easy and comfortable trekking experience.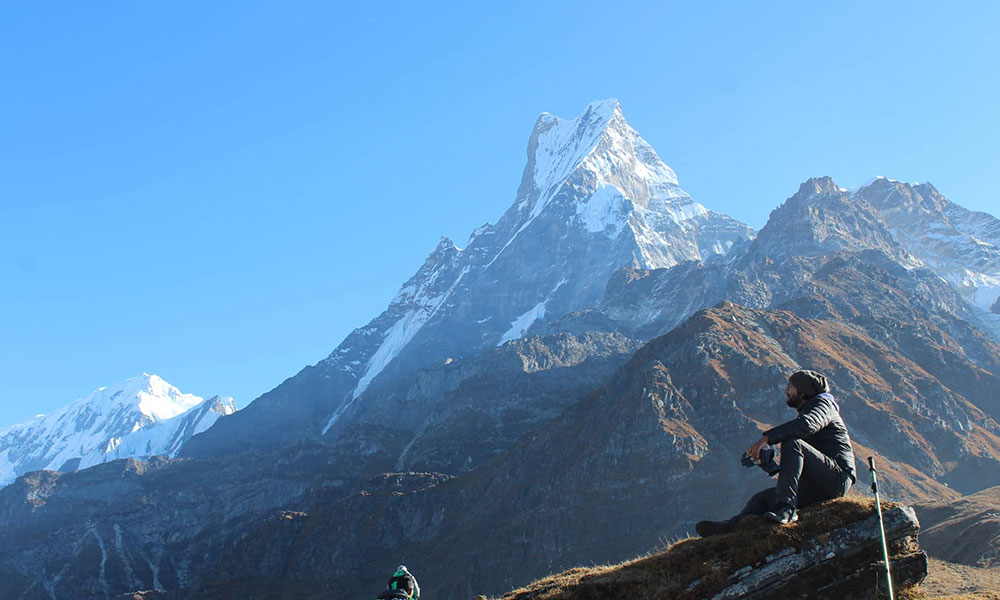 Highlights of Mardi Himal Trek
Magnificent views of some of the great mountains such as Mount Machhapuchhre, Mardi Himal, Annapurna South, and Hiunchuli.
Exploring the local settlements, culture, and lifestyle of the people in the Annapurna region.
A chance to witness the rich flora and fauna of the region.
Trekking up to the Mardi Base Camp and High Camp.
You might also like:
Is Mardi Himal Trek Without Guide Possible?
Mardi Himal Trek is an easy to moderate level trekking destination in Nepal with well-marked trekking routes. Independently trekking to the Mardi Himal without a guide is absolutely possible which will give you an incredible trekking experience.
Trekking alone to the Mardi Himal will bring you closer to nature. Walking alone through the lush jungles of the rhododendrons and surrounding yourself with snow covered mountains will give you a unique trekking experience.
Before you start the trek independently, make sure you have all the travel permits and essentials you need as a solo trekker. Booking for the teahouse and accommodation early would be best as you will not have to waste your precious time in finding a decent lodge to stay in. guided treks are always better than solo treks. During independent treks, you will have to manage each and everything all by yourself. So, sometimes this can be very frustrating.
So, trekking alone to the Mardi Himal means you will have to look after your own safety and security. Although Mardi Himal Trek is possible alone, I would recommend you to go in a group or at least hire a guide for an easy and comfortable trekking experience.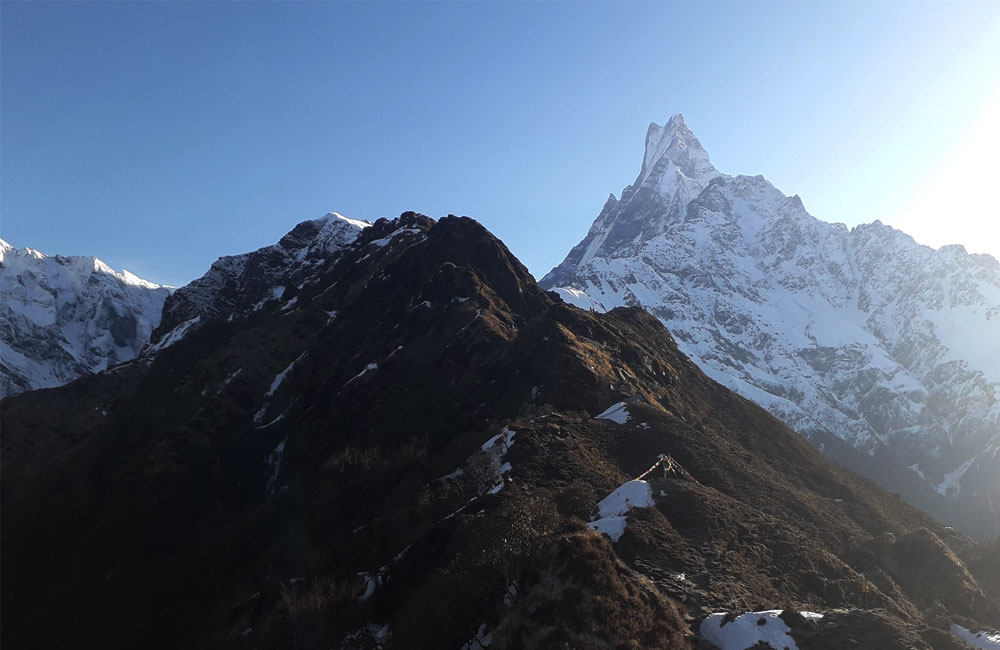 The route to Mardi Himal Solo Trek
The route to Mardi Himal Trek is very popular among foreign trekkers as well as among local people who wish to explore the hidden gem of the Annapurna region. The journey starts from a drive from Kathmandu to Pokhara and trekking to Pothana. The first section of the trail consists of walking through stope steps, taking uphills towards the village settlements, along the forest of rhododendron.
The average trekking duration through your trek ranges between 5-6 hours. Most of the trekking routes are stable and moderate and are not physically demanding. Sometimes, you may have to walk through some narrow and steep ridges. But most of the trekking trails are pretty simple and easy.
The trail to forest camp follows a quiet route along the dense forest of oak, maple, hemlock, and rhododendron. From forest camp, you will walk towards low camp, High Camp and then towards Mardi Base Camp. the Base Camp sits at the height of 4500 meters. Exploring the Mardi Base Camp, you will descend back to the Mardi High Camp and ten towards the Siding Village. Diving back to Pokhara and then to Kathmandu, your Mardi Himal Solo Trek officially ends.
Overall, the routes to Mardi Himal Trek is comparatively simple and easy. The trek can be a great start for beginner trekkers as well as most of the trails are straight forward. The trek is doable by everyone.
How Difficulty is Mardi Himal Trek Without Guide?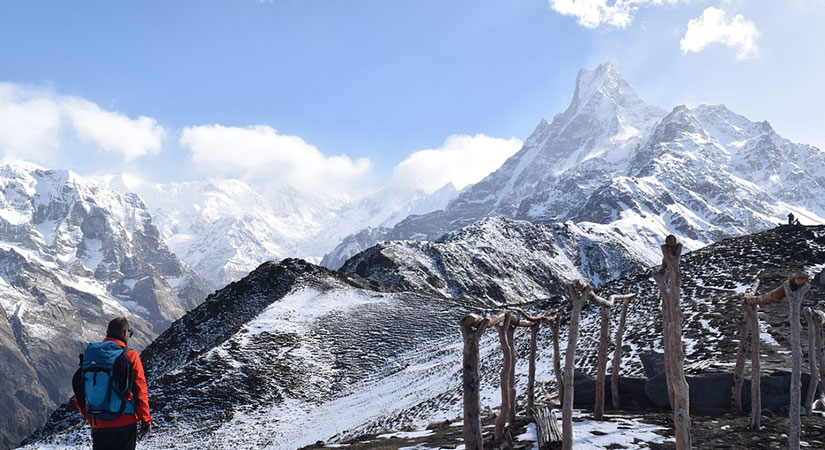 There are a lot of factors that you need to consider when trekking alone to the Mardi Himal Trek. Factors such as the duration of the trek, weather, and temperature, food, and accommodation, etc make the trek difficult. Especially when trekking alone to the Mardi Himal, you should consider these factors seriously.
There are certain sections that can involve risk of personal injury while trekking. As you will be trekking alone, there is a chance of taking a wrong route or the villagers might also mislead you. Mardi Himal Trek might also be quite difficult during the peaks seasons. You will find limited teahouse and lodges along the way to Mardi Himal. Most of the teahouses get crowded during peak seasons. So, finding a decent teahouse all by yourself might be a challenge for you.
Similarly, sometimes the weather and temperature of the Annapurna region might be unpredictable. The weather of the region becomes harsh during winter and monsoon. Heavy rainfall and snowfall around the region become a barrier while trekking to the Mardi Himal. Walking on a snowy and muddy trial becomes challenging when trekking alone as you will not have anyone to assist you or someone who can assure your safety and security.
Altitude Sickness is a common problem that everyone faces when trekking above the height of 4000 meters. The highest point of Mardi Himal Trek is at Mardi Himal Base Camp that sits at an altitude of 4500 meters. As you trek to the higher elevations, the amount of oxygen gets thinner that results in shortness in breathing. There are various other difficulties that come along with breathing difficulty such as, headache, fever, dizziness, diarrhea, vomiting, etc. If you find any such symptoms in you when trekking up to the Base Camp, immediately descend to lower elevation areas.
Best Time for Mardi Himal Trek Alone
Choosing the right time is very important especially when you are trekking along. The weather and temperature of a particular season play a great role in making your trek less challenging and more comfortable.
So, like the other treks, the best time for Mardi Himal Trek Alone would be during autumn (September, October, November) and spring (March, April, May) season as well. Both of the seasons offer stable and clear weather and a perfect temperature for trekking. As autumn is the post-monsoon period and spring is the pre-monsoon period, there is little or no chance of rainfall during these seasons in the Annapurna region. However, Light rainfall may shower around the area during early September and late May.
If you are a nature lover, Spring would be the best time for Mardi Himal Trek Without Guide. During spring, the natural beauty of the Annapurna region reaches its maximum height. It is during spring that you will be able to walk through the forest covered with rhododendron. The fragrance of different flowers will make you feel fresh and alive. The average daytime temperature of the Annapurna region ranges between 15-23 degrees in the spring season.
Autumn is the most preferred time of the year for trekking in the Annapurna region. The daytime temperature of the Annapurna region during autumn ranges between 15-20 degree Celsius which is neither too hot nor too cold for trekking. The weather might be quite chilly in the night and morning time. As you trek to the Mardi Himal, you will experience the change in temperature as well. The temperature and weather become quite chilly as you move from lower elevation to higher elevation. Overall, autumn offers trekkers with stable Mardi Himal weather and temperature.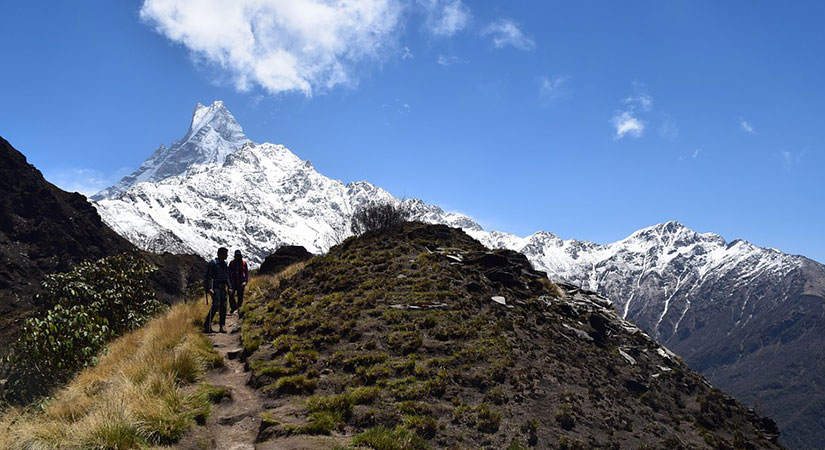 Food and Accommodation During Mardi Himal Trek Alone
You will find limited teahouses along the route to the Mardi Himal. The local people run such teahouses to provide you with basic food and accommodation facility. You can find varieties of meals in the teahouses and restaurants of the Annapurna Region. Many trekkers from all around the world prefer traditional Nepali food, Dal Bhat Tarkari which is equally healthy and cheap as well. Other than this, you can find varieties of international food as well such as pizza, burger, sandwich, noodles, bread, egg, porridge and many more.
Along with this, you will also have some options in beverages as well. You can find tea, coffee, hot lemon, cold drinks, mineral water along with some alcoholic beverages as well. But, is better not to consume any alcoholic beverages when you trek to a high altitude as it dehydrates your body.
Likewise, the accommodation facilities during your Mardi Himal trek will be very basic. The teahouses provide room on a twin share basis. This means that you will have to share your bed with your fellow trekker. A room consists of a bed, a mattress, pillows, and some of the lodges may also have attached bathroom. But, most of the teahouses may not provide you with proper toilet facilities. So, it would be best if you bring your own toiletries when you trek t the Mardi Himal.
The cost of accommodation differs according to the type of lodge you choose. Normally, the price of staying in a simple teahouse or a lodge ranges between $6- $15 per night. You will have to pay extra for hot showers, charging and wifi facilities.
Conclusion
Now, you must have known about the pros and cons of Mardi Himal Trek Without Guide. Independently trekking to the Mardi Himal would be best for the ones who have previous trekking experience and can take any risk that comes to them during the trek. Physical fitness plays a great role in making your trekking journey successful. You can engage yourself in some physical exercise such as running, swimming, cycling, etc, three weeks prior to your trek.
If you want to trek to the Mardi Himal, Index Adventure can arrange you with an experienced guide if you want to. Trekking with the assistance of a guide would be a lot easier and convenient. So, let us know if you want to hire one. You can also contact us if you have any confusions or questions regarding your trip to Mardi Himal.