There is no such month when Everest base camp trek isn't exciting. Trek under the monsoon rainfall to one of the thrilling trekking destinations in the world. Some people have misconceptions that Everest base camp trekking in August is terrible. The trek is demanding and strenuous but it isn't that horrible.
The lower regions on the trek look more alive. The jungles, meadows, and pastures rejuvenate with the monsoon rain. The jungles grow denser and greener. Also, the views in the morning when the atmosphere opens after heavy rainfall is eye-catching. You'll see the brilliant views of the Himalayan ranges, high hill, and mountains.
The Everest base camp trek takes you into the heart of the khumbu region. While trekking you'll walk through several Sherpa villages where you'll see unique lifestyle, tradition, and culture. You will also get the chance to visit some beautiful monasteries like Tengboche and Dingboche monastery.
In August, there will be very few trekkers in the Everest Base Camp trekking trail. This is an advantage. You will have more options for accommodation. Also, the trekking trails will be more peaceful. This time is the best time for keen botanists as the vegetations grow at their best.
August indeed is a tough time for Everest base camp trekking. But with proper plans, training, and positive attitude, the trek is rewarding and much lovable.
Index Adventure promises you the best life experiences during the Everest Base Camp trek in August. Contact us for queries or if you need a customized itinerary.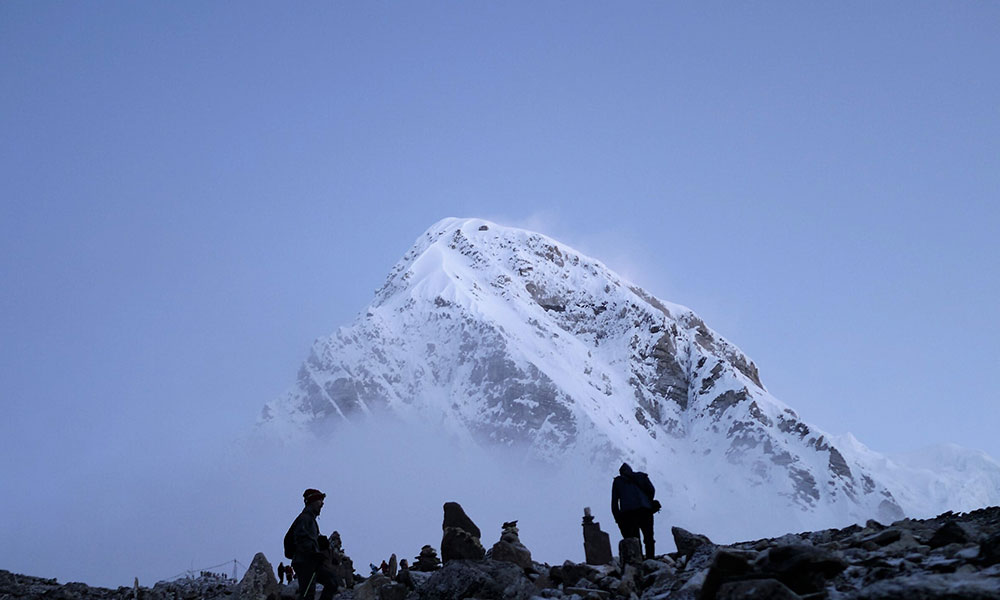 Major Attractions of Trekking to Everest Base Camp in August
Short and scenic flight to and from Lukla
Everest Base Camp
Kalapatthar, the best viewpoint of Everest
Sherpa villages, their unique traditions, culture, lifestyle, and hospitality
Tengboche monastery, the biggest monastery in the Everest region
Green vegetation, pastures, and dense jungles
Stunning views of the glistening peaks including Mt. Everest, Lhotse, Pumori, Ama Dablam, and others.
Weather and Temperature at Everest Base Camp in August
August is monsoon time in the Everest region. Weather and temperature at Everest BaseCamp are one of the extremes.
In August, the atmosphere is full of high water vapor contents. The region will be hot and wet at the same time in August. Days are generally followed by cloudy evenings and heavy rainfalls. The frequent rainfall results in slippery trails and blurred visions.
The average hours of sunshine per day in August is nearly 6 to 7 hours. Sometimes, rain might continue for days with clouded sky obstructing the sunshine. If you are lucky, you might get to trek under stable weather with very fewer rainfalls.
The temperature at various places on the Everest Base Camp is different. The temperature at the lower region is always greater than that in the higher elevation.
Here is a table showing the variation of temperature with altitude at the Everest base camp in August.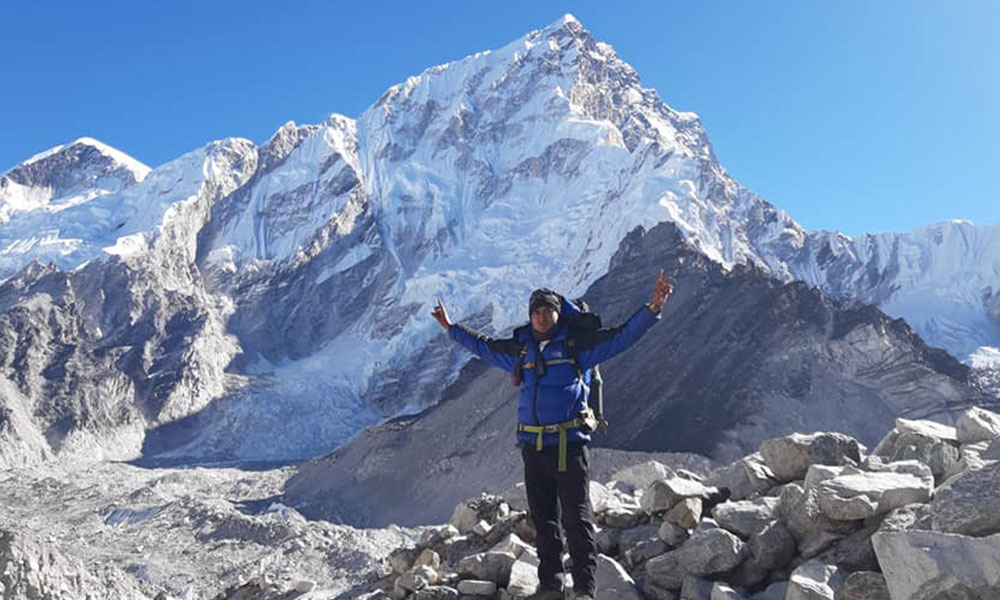 Place

Elevation

(meters)

Avg. Temp

(°C)

Min Temp

(°C)

Max Temp

(°C)

Lukla
2829
14.7
10.7
18.7
Namche Bazar
3463
11.7
7.7
15.7
Dingboche
4483
7.4
2.3
12.6
Lobuche
4910
5.6
0.6
10.7
Gorakshep
5180
4.8
-0.1
9.8
To cope with the challenging temperature and weather, you must bring appropriate trekking gears. Also, you must prepare a very strong mindset. Your Everest base camp trek in August might introduce you with any sort of weather challenges at any time. Make sure you're ready to face them before you choose to go.
Is accommodation on the trails open during Everest Base Camp Trek in August?
Yes, the teahouses and lodges on the Everest base camp trekking trail remain open in August. Even though August is an offseason for trekking in the Everest region, the teahouses are ready to provide their best services. The accommodation and food during Everest base camp trek are better at any time of the year.
Since there will be very less number of trekkers in the region, you shouldn't worry about not finding places for stays. Early booking for food and accommodation is not necessary while trekking in Everest base camp in August.
Why Should I Trek To Everest Base Camp In August
Peaceful Trail
August is an offseason to trek in the Everest Base Camp. There will be very few numbers of trekkers in the EBC trail this month. So, if you are seeking for a peaceful trekking environment, August will be a good choice. The peaceful trail and the captivating mountains make a perfect combo.
Festivals and Celebrations
August is the time of celebration of festivals like Nag Panchami, Janai Purnima, Gaijatra and Krishna Janmashtami. The time of festivals is joyous. While trekking to Everest base camp in August, you can be a part of the celebrations and culture.
Wonderful assembly of green vegetations
Monsoon is the time when the greenery and vegetation grow denser and greener. While trekking in August, you can enjoy the clean, green, and dense forests. The hills and mountains at a far distance also look green.
Less Occupancy at Teahouses and Lodges
Very few trekkers trek to Everest base camp in August. So, the lodges and teahouses en route are less occupied. You will have lots of rooms to choose for overnight stays. Also, you can get extra blankets for free at some teahouses. Some of the teahouses even provide special discounts on food and accommodation.
Is Everest Base Camp Trek in August Difficult?
August is a less popular time for Everest trekking. Trekking to EBC in August is difficult than trekking in the peak seasons (autumn and spring). Here are some of the reasons why Everest base camp trek is difficult in August.
Wet and Slippery Trail
August is the time of monsoon. Everest region gets heavy rainfalls during this time making the trekking trails wet and slippery. Trekking over slippery and rugged trails is hard. You should wear hiking boots with sturdy soles for easy climbing.
Flight Cancellations or Delays
In August, the weather changes in the Everest region are frequent. Due to the recurring bad weather, there might be delays in Kathmandu-Lukla flight. There are some cases when the flight gets delayed for 2 to 3 days. At very harsh conditions, there might even be cancellations of the flights.
Altitude Sickness
The risk of altitude sickness during the Everest base camp trek is tenacious. Trekkers of any age group, gender, size, and fitness level can get altitude sickness. You must watch out for the symptoms of altitude sickness while trekking. Take remedies and preventive measures when needed.
Bugs and Insects
During Summer, the forested areas grow thick and dense. Mosquitoes and leeches are active at this time of the season. Get some insect repellent creams. You can bring some table salts to avoid getting leech bites. It is an alternative to the insect repellent for leeches.
Tips for Trekking to Everest Base Camp in August
Take Proper Rain Gears
Trekking in August requires the best rain gears. You can also carry an umbrella. Get rainproof cover for your backpack and your loads.
Trek with a Guide and/or A Porter
There will be very few trekkers in EBC trail in August. So, hiring a guide and porter means you'll have people to help you in cases when you get injuries or several other difficulties.
Bring Appropriate Clothing
Appropriate clothing for August means rainproof clothes to cover your body. Your EBC trek will be more difficult if you get wet or if you do not wear proper clothing. (we will discuss below on clothing for EBC trek in August)
Keep Track of weather. Weather frequently changes at Everest base camp in August. The high altitude and the harsh weather condition are unpredictable factors on the trek. You must keep updated on the weather and temperature in the Everest region while trekking.
Spare Some Extra Trekking Days
Due to bad weather and other uninvited challenges, you might have to halt your trek in the middle. So, it is better to spare some extra number of trekking days to cover the flight delays, cancellations, and others.
Start Early
In August, it generally starts raining in the afternoon. So, it is always better to start early and finish early. Reach your destination before the sun goes down.
Wear lightweight and insulating Shoes
It will be hard to trek if you wear heavy shoes or shoes that soak in rain. We suggest that you wear insulating and rainproof hiking boots. Make sure your shoes have sturdy and gripped soles. They will make it easier to walk over the wet trails.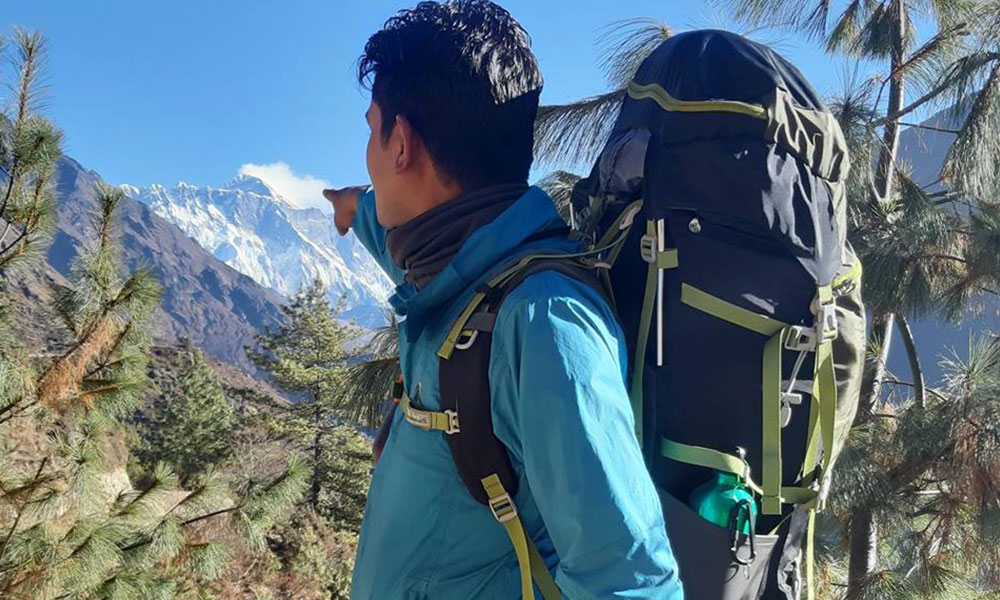 What do I Pack for My Everest Base Camp Trek in August?
Choosing things to pack for your Everest base camp trek is a crucial thing to do before you go on the trek. A proper backpack with all the essentials eases half of the trek difficulties. What you want to take with you is absolutely your choice. However, there are some gears that you must not miss.
Here is a packing list for your Everest base camp trek in August.
Waterproof jackets
Waterproof trousers
Fleece jackets
Undergarments (lightweight and breathable fabric)
Cotton trousers or jeans
Shirts and T-shirts (with sleeve and sleeveless)
Hiking boots with grippy soles
Insulated Jackets
Hard shell jackets
Rain cover for your backpack and luggage
Camp shoes and slippers
Thick and light socks.
Trekking Poles
Hydration Bladder
Refillable thermal flask and water purifiers
Thermal Wares
Hat
Gloves
A good quality sleeping bag
Sunblock and moisturizer creams/lotions with high SPF
Sunglasses with UV protection
Day Pack
Head torch with flashlights and extra batteries
Insect repellent creams
Toiletries including dry and wet wipes, personal towels, sanitizer gel, antibacterial handwash soap, toothbrush, toothpaste, etc.
Medical kit box including bandages and medicines for cold, cough, diarrhea, allergy, and altitude sickness.
Raincoat and/ or umbrella
Final Say,
Trekking to Everest base camp in August is a fun-filled thrill. Trekking through the solitary trails and the dense forests is a fearful, yet satisfying experience. Be ready to trek with us. Grow a positive attitude and a strong determination and pack adequate trekking gears.
Index Adventure organizes the most remarkable and a safe trek to Everest base camp throughout the year. If you want to make refreshing memories with us, trek with us. Contact Us.