Island Peak (6,189m), also known as Imja Tse, is a popular and busy climbing peak in the Everest region. Island Peak Climbing costs USD 2029 as a combined trip with the Everest Base Camp Trek. The Island Peak resting in the Khumbu Himalayan range is one of the toughest climbing peaks in the Everest Region for the beginners.
The trek to Island Peak follows the Everest Base Camp Trek route initially. The route separates at Dingboche. You will walk across many Sherpa villages before you start to climb the Island Peak. Chukhung is a small beautiful village just below the Island peak. It is a gateway to the Island Peak.
Island peak trekking takes you to higher altitudes. Higher altitude treks are difficult to adapt with, if not done cautiously. So, for Island peak climbing, you must properly design your acclimatization schedule at suitable intervals. Otherwise, you have the risks of altitude sickenss.
The journey to and from Island peak starts and ends at Lukla Airport, a famous airstrip in the world. In short, Island Peak trekking and climbing is a wonderful adventure. And Spring and Autumn are the best time for this trip. In other season, Island Peak is difficult to climb.
Cost of Island Peak Climbing
This strenuous climb to the Island Peak demands your physical stamina as well as your budget strength. The cost of a climbing peak is a bit higher than a simple trek. And the Island Peak Climbing cost too depends on a number of factors. Some of those factors that bring change in variation of your climbing costs are:
The way you wish to walk through to reach the Island Peak Base Camp
The number of days you plan to spend on this overall trip
The mandatory local area and climbing permits to enter the region
The type of accommodation you choose along the route
The choices of food and drinks you make on the route
The way you reach to the Everest region
Costs you will spend on camping and tents
cost of the guide, porters, expedition guides, and camping staff
The cost of trekking gears you choose for the trip
Other expenditures
Are you planning your Mera Peak Climbing? Don't hesitate to contact us. Tell us your requirements, we can help you to make your trip memorable.
The Cost of Permit for Island Peak Climb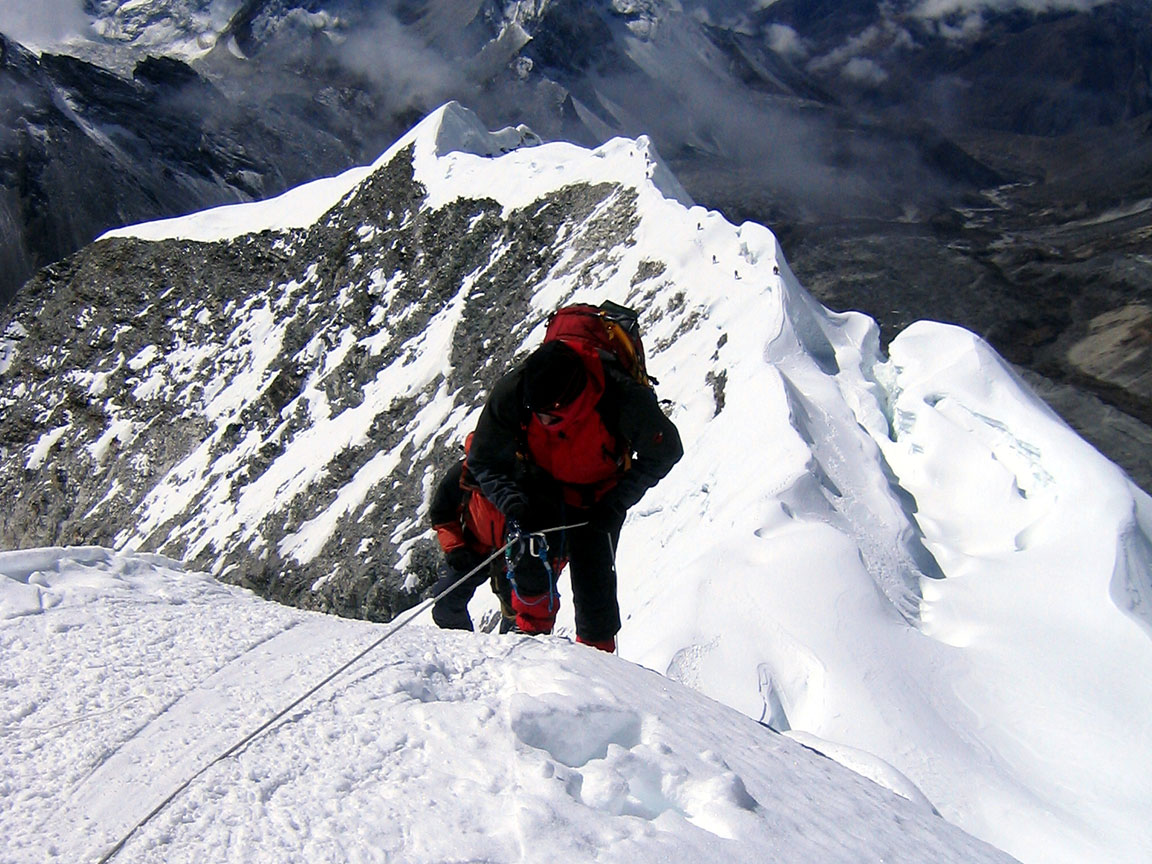 Island peak climb is a challenging task. And the Island Peak climbing trip demands you different permits. First, to enter the Everest region you need a special local permit. And, to climb to the Island Peak you need to obtain climbing permits. You can obtain these permits at Tourism Board, Kathmandu or at the trailhead.
For these permits, you have to submit a copy of your passport and two passport size photo. Contact us early, we will arrange all the necessary permits and documents for your climbing trip.
The cost of the permits goes as below:
Local Area Permit: USD 20. This is the same in whichever season you opt for this adventurous trip.
However, the cost of the climbing permit varies according to the season. During peak season, you have to pay extra charges for the permit. While it is quite cheap in off-seasons.
During Spring season (March-May), you have to pay around USD 250 for the permit.
During the Autumn season ( September - November), you have to pay around USD 125 for the climbing permit.
While in the monsoon (June - August) and winter (December - February) ie. off season you can get the permits in cheaper cost ie. at USD 70 per person.
Island Peak Climbing cost on the Basis of Route
The longer route you choose the higher your climbing cost will go. For example, if you opt for the Island Peak Climbing only then your climbing cost will be lesser. Otherwise, the combined trip with EBC trek costs you more than USD 2000 per person.
Island Peak Climbing Cost on the Basis of Trip Duration
The longer you spend on the route before the ascend, the more your expenses on food and accommodations will be. But for the purpose of acclimatization, you have to spend a few rest days on the whole trip. Besides, these acclimatization days sometimes the cost may increase during the flight delays and cancellations.
Island Peak Climbing Cost Based on Modes of Accommodation
The Island Peak Climbing trip begins from Kathmandu. There are many hotels and lodges in the valley for your comfortable accommodations. The costs of accommodations may range from USD 15- USD 250 per night at Kathmandu. It depends on where you wish to accommodate.
Once you are in the Everest region you find enough tea houses for your comfortable stay. You may find the rooms in USD 2- USD 6 per night.
Whereas if you choose luxury trekking to Everest Base Camp the cost of accommodation will be higher. As you will be staying in luxurious hotels.
From Island Peak Base Camp, you have to spend the night in the tents under the dazzling stars. We will arrange for the tents during your camping and the cost is inclusive in our trip package.
Island Peak Climbing Costs Based on the Choices of Food and Drinks
In Kathmandu, the choices of food and drinks are uncountable. You can choose one as per your preference. For a general meal, you have to pay from USD 2- USD 30.
But as you go to the Everest region the choices of foods and drinks get limited. You may have to pay around USD 2- USD 6 for the food items. There you can enjoy Nepali staple food Dal Bhat and seasonal vegetables. Plus Momo, Chowmein, Chapati, noodles, Tibetan bread, lentils, fried rice and the like.
If you wish you can enjoy the 5-star services in Namche Bazar too but the cost will go higher if you choose so.
You can get different types of tea, coffee, and hot water in the tea houses of which you have to pay fro USD.5 to USD 3. The cost varies as per the season.
As you leave for the Island Peak Base Camp you have to stay in camps and eat the meals prepared by our team of cooks. And the cost is pre-included in the tour package.
Island Peak Climbing Cost depending on the mode of Transportation
If you opt for the Lukla flight to reach Lukla, a gateway of the Everest region you have to pay around USD 147- USD 117. It depends on the season you are planning to fly to Lukla. Or, to reduce this cost you can take a bus ride from Kathmandu to Jiri worth USD 5 - USD 7, and trek from there to Lukla.
Or, you can also opt for EBC Heli tour, or EBC helicopter trek to reach to the Everest Base Camp and then trek from there. This way your costs will double as the cost of the Helicopter is higher.
Are you planning your Mera Peak Climbing? Don't hesitate to contact us. Tell us your requirements, we can help you to make your trip memorable.
Island Peak Climbing Cost for Porters and Guides
This is a strenuous climb which prohibits solo climbing. For this trip, you must go with a licensed trekking company. Along with the allocated field staffs. For this climb, you need to hire a porter, guide, Mountaineering guide and the assistant guide. And each has their distinct cost as per the trip.
Porter: Porters are very essential for every trip to the hills and high altitude regions. They help share loads of your trekking gears so that you can walk easily and enjoy the trip. A porter carries around 25 kg of the load for which they charge around USD 15 per day.
Guide: If you travel with a professional trekking guide then your trip will be more comfortable. S/he will help you in finding trails, booking for food and accommodations and ensure your safety during the trip.
Plus, s'/he will detail you about the geography, flora, and faunas of the region. So, trekking with a guide is a bonus for which you have to pay around USD 25 per day.
Island Peak Climbing guide: On this climbing trip we will provide you with an experienced climbing guide. S/He will teach you everything related to climbing. Plus, looks after your safety during the trip.
They will instruct carefully in your every walks, and teach you how to cross the crevasses. For such a helpful person, you have to pay USD 325 for each peak climbing.
Assistant guide: An assistant guide will help you set camps. And direct you whenever the guide is absent. Their cost ranges from USD 18- USD 22 per day.
These field staffs are essential parts of your successful climbing trip. They help in many ways to ease your journey.
Cost of necessary gears for Island Peak Climbing
Packing is the most important essential before you leave for any treks or trips. If you have necessary gears inside your bag then you will have a much easy and relaxed trip. You do not have to worry either of the cold, nor of the rains, nor the snow.
So, while you pack, pack lightly! Pack wisely! Do not forget the trekking essentials depending on the season of your trip.
Besides the normal trekking gears, you need special mountaineering gears for Island Peak Climbing. Some are
Climbing Harness: USD 50-60
Accessory Cord: USD 5-10 per meter
Abseil Belay device: USD 8- 36
Ascender and Leash: USD 25- 70
Locking Carabiners: USD 8-12
Ice Axe: USD 80- 150
Crampons: USD 8- 15
Trekking Poles: USD 20- 60
Climbing Helmet: USD 40 - 200
Ski Goggles: USD 80- 150
Glacier Sunglasses with shields: USD 50- 65
Oximeter: USD 14 -22
You can buy or rent these items in different stores in Kathmandu. To rent these gears, you have to pay around USD 1- 10 per item per day.
Additional Expenses
Expenses like bottled or canned drinks on the trek (alcoholic, hot and cold drinks) require extra money. You may have expenses for laundry or gift shopping too.
While you have traveled so long with the company staff they expect a little tip from you. You can give them $100 for Island Peak Climbing.
After completion of the trek/ climb, you may like to give "summit-attempt bonus". To the group of Sherpa who helped you from high camp up to the summit and back down.
For the Island Peak Climbing, you need to have basic mountaineering experience. The training lasts for around 40 days and for this you have to pay around USD 3000. However, it is USD 2250 for SAARC nationals.
Tips for Island Peak Climbing Cost
Carry extra cash to pay for your extra supplements and expenses.
Do not depend on ATMs once you are in the Everest region. They may not work. So, it is good to carry enough cash as you start the trip.
Before you book the trip, confirm about the cost includes and excludes of the package.
If you want to manage your whole cost you can choose to avoid Lukla flight and drive to Jiri and trek to Lukla.
You can choose to stay in basic tea houses instead of spending high on food and accommodations.
You can rent trekking gears and return them after use in Kathmandu.
Get a reliable travel insurance before you plan to join this trip. It is for your safety. It costs around USD125- USD 280 depending on the policy you choose.
Plan the trip in a group. This way you can divide the cost with your fellow trekkers.
Last,
Island Peak Climbing is an adventure of the lifetime. The fun, exotic feelings, and the adrenaline rush you experience in the climbs are worth the total Island Peak Climbing cost. In this 17 days trip, you will collect the memories of a lifetime.
Do you have any queries? Or, Do you want to customize the trip? If yes, contact us. We will be happy to plan the Island Peak Climbing trip with you.