Many people are curious about Peak Climbing but are afraid foreseeing Mera Peak Climbing difficulty. But you do not have to feel fear at all. With proper preparation and the positive attitude with a fit body, this climb is doable.
With the height of 6476 meters, Mera Peak is the highest climbing peak in Nepal. And a bit easier than Island peak climbing, this peak climbing is a practicing ground for the real mountain expeditions. Many trekkers first conquer these climbing peaks before attempting the mountains above 8,000 meters.
Mera peak climbing is a strenuous trek in the foothills of giant mountains like Everest, Ama Dablam, Lobuche and so on. This is among the easier climbing peak than others. Yet, many things during your trek and climbing cause difficulties and hurdles.
There are many factors that determine the difficulty level of this expeditions. Some of these are:
Mera Peak Climbing Duration
The Mera Peak Climbing Route
The total distance you cover to reach Mera Peak Summit
Weather and Temperature of the Mera Peak route
Highest points of Mera Peak Climbing
Physical stamina during the Mera Peak Climbing
Mera peak Climbing trip begins from Lukla after a thrilling 45 minutes mountain flight from Kathmandu. So, for this trip, you begin from the altitude as low as 1700 meters, Kathmandu and you ascend as high as 6476 meters, Mera Peak Summit.
Since you ascend to the higher altitudes in the Everest region for this climb, there are many chances of obstacles during the trek. You may fall sick, or get injuries in trails. Or, sometimes you may have to wait for extra days before you reach the summit because of the extreme weather conditions.
For these unpredictable circumstances, you must stand emotionally strong and develop endurance power.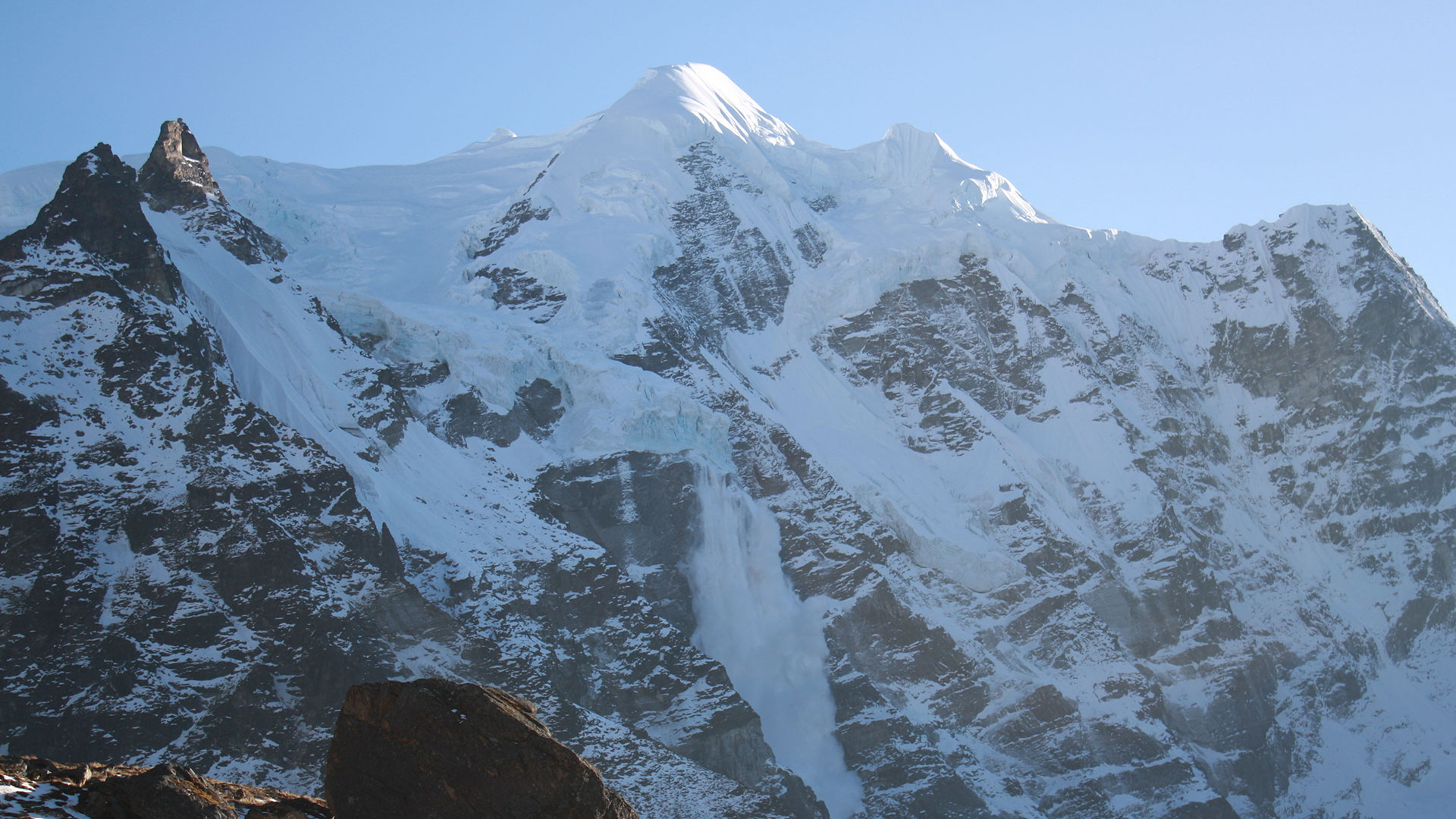 Mera Peak Climbing Difficulty
This strenuous grade trek is quite easy to climb in comparison to other climbing peaks.
But, the towering altitudes and the snowy surrounding may make it difficult as well.
Let's discuss in brief about the factors responsible for Mera Peak difficulty.
Mera Peak Climbing Duration
There's a saying, "Slow and steady wins the race". This rule is applicable in Mera Peak climbing as well. If you walk slow, maintain your pace, and take enough rest then there are least chances of physically difficulties during the trip.
When you walk slow and take proper rest, your body gets enough time to acclimatize and so becomes familiar with the changing altitudes. This way the risk of altitude sickness also reduces.
But if you try to complete this trip in a short time and in rush there are high chances you will face health problems.
Are you planning your Mera Peak Climbing? Don't hesitate to contact us. Tell us your requirements, we can help you to make your trip memorable.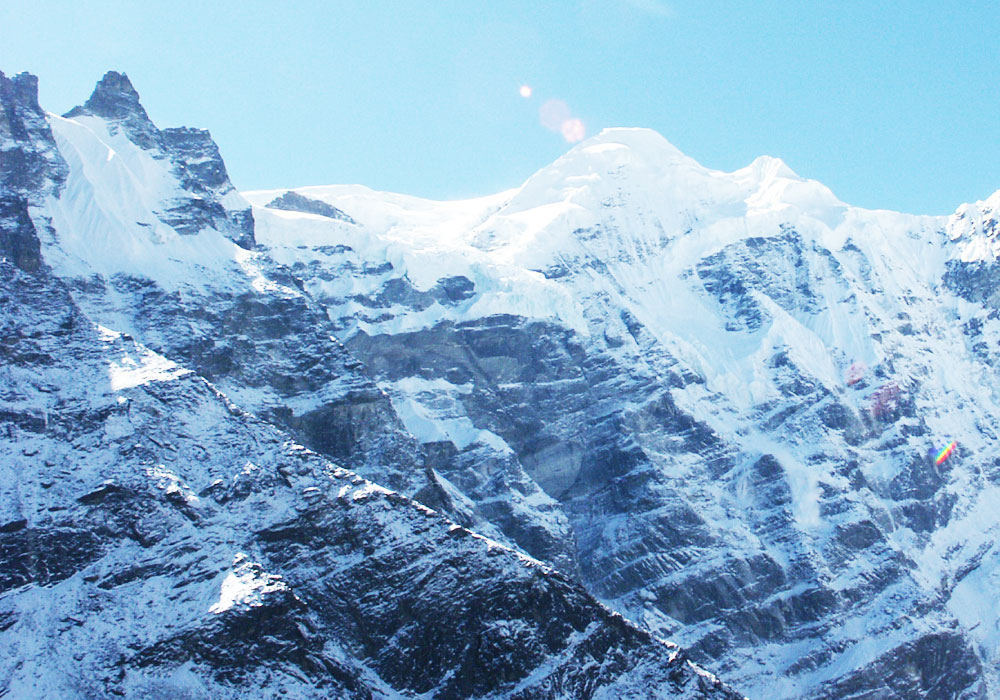 Mera Peak Climbing Route
The Mera Peak itinerary involves three different routes to the summit. Each route is different on their own with the variation in the pathways. And, this variation in the route also contributes to making this climb easy or a difficult one.
Mera Peak Climbing Route 1:
This is the shortest and the direct route to the Mera Peak Summit. With the shortness of the trek, you will get lesser time for acclimatization which may pose potential health problems during your trip. This route is even challenging for the experienced climbers as well. So, if you are a beginner we recommend you to avoid this route.
This direct route begins from Lukla to proceed to Zatra La Pass (4610 meters). Following the pass, you reach Tagnag to join the Mera Peak Base Camp. And from the base camp, you gradually ascend to the High Camp and then to the summit.
Mera Peak Climbing Route 2:
This is a most common route for Mera Peak climbing. This route is quite easy and on this route, you get enough time to acclimatize en route. So, there are lesser risks in your health if you walk through this trek route. Also, you get enough time to cope up with the possible difficulties en route.
This popular route starts from Lukla and continues to Paiya, a village in Solukhumbu to reach to the Hinku valley. On proceeding further, you walk past several villages like Pangaun, Nagindingma, Kothe. From Kothe, you trek to Tagnag and proceed to Khara which will guide you to the Base Camp. From the Base Camp, you set camps and take enough rest and then climb to High Camp to the summit.
On this route, you walk slow and gradually ascend to the increasing altitudes.
Mera Peak Climbing Route 3:
This is a common route and follows the trek route to Everest Base Camp up to Namche Bazaar. Spend some time acclimatizing there and then proceed through different villages in the Everest region to reach to the Mera Base Camp. From Base Camp, you hike to the High Camp and then ascend further to the Mera Peak.
If you follow this trail, you get to spend long days on the route which means you will have a two-way bonus. One is you get to spend enough time acclimatizing in the route and thus, reduce the health complications.
While on the other hand, you get much time to explore the typical Sherpa villages, spend time with the locals and know about the culture and traditions of the locals residing in the Himalayan region.
The second and third route is the longest and quite common route has fewer threats to your health conditions during the expedition. If you follow these routes, you get enough time to adapt to the changing altitude and the weather conditions.
Even, inexperienced climbers can opt for this trek, yet proper gears and preparation is a must for this trip.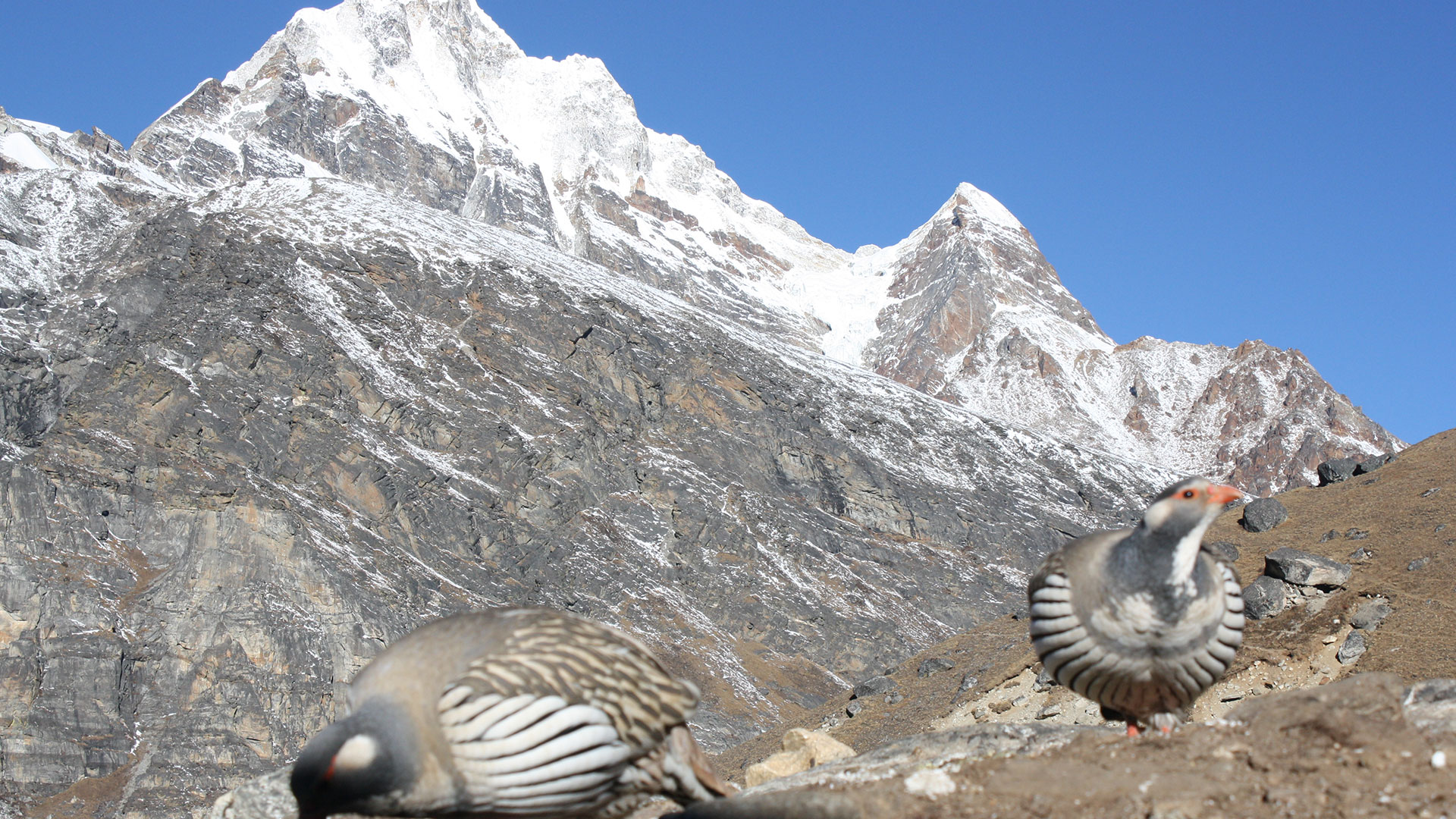 Total distance you cover to reach the Mera Peak Summit
In general, during the Mera Peak climbing trip, you cover around 78 miles in the rugged and remote terrains of the Everest region. Walking in such surrounding for so long is much challenging. Especially if it's your first climb or if you have never been so close to the mountains.
On this climbing trip, you walk past several glaciers, boulders, crevasses, walk beneath the icicles, and mount the snowy summit. The climb duration and the topographical condition is quite challenging for this trek.
So, we recommend you to practice walking in the difficult terrains before you go on rea peak climbings.
Weather and Temperature of the Mera Peak Route
Nepal is a country with geographical variations and this variation causes weather changes from place to place. Such is the weather condition of the Mera Peak Climbing route. Since it is a high altitude mountain trip, the weather is quite unpredictable here.
You never know when the warm sunny morning brings the darker clouds with the thunderstorms and blizzards. And, when the weather changes the experience you will be having on the route also varies.
If you are in lower altitude and resting in the tea houses then you get enough facilities to keep yourself alive. However, if you are in camps and in high altitudes and there's a change in the weather condition. Then you will face much harder times.
So, to prevent such mishaps you must be properly packed with the appropriate trekking gears.
While if you climb during the peak climbing seasons- Spring and Autumn, then you will face fewer difficulties as the weather remains much stable with the clear skies and the perfect scenic views.
Altitude Sickness during Mera Peak Climbing
On this climbing trip, you cover different altitudes starting from Kathmandu and reaching the highest point of 6476 meters. It means you have high chances of suffering from the altitude. So, to prevent it, you must take proper rest and spend enough time for acclimatization.
You may feel symptoms like nausea, vomiting, shortness of Breath, sleeplessness, loss of appetite and many such health issues. In such conditions, you must be very attentive towards your health and take immediate precautions.
Physical Stamina during Mera Peak Climbing
To go on treks and walk longer days on the rugged terrains, you must be absolutely for both physically as well as mentally. If you are in proper health and have some climbing skills, then the difficult route would not bother you.
However, if you are not well prepared and have health problems, then you will have a much difficult time during the trip. So, to remain fit you must carry out some general fitness exercises, jogging, and exercises to build your stamina.
Peak climbing is not as easy as short, easy hikes. It is quite demanding where you must be in good health and an enthusiastic mind.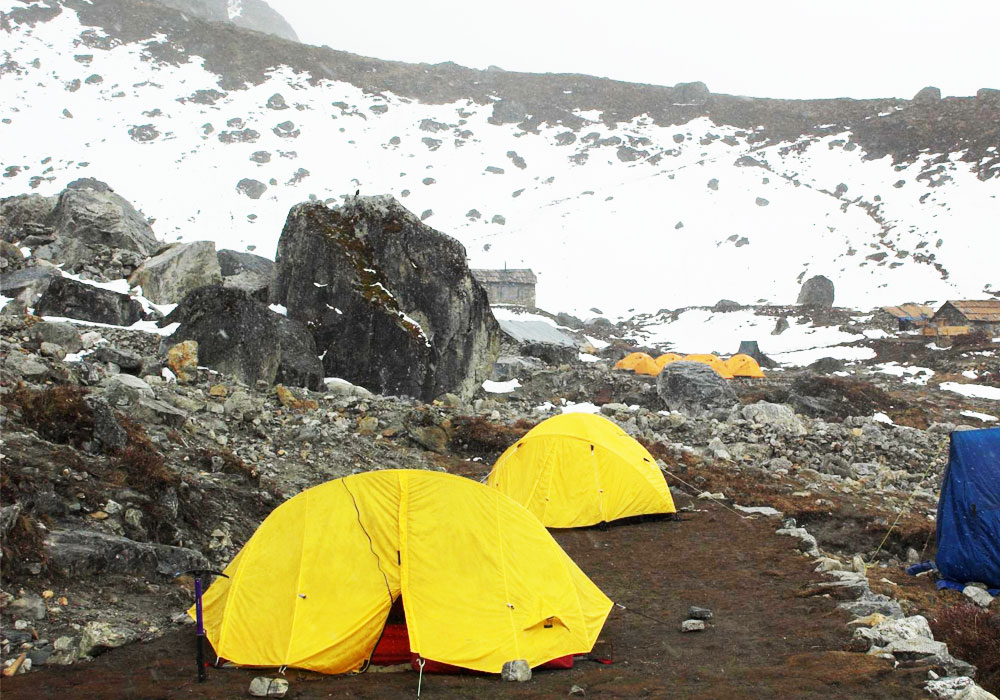 Things to consider during Mera Peak Climbing
You must pack lightly and wisely. As you ascend higher you do not find shops nor the sophisticated services in case of difficulties. So, you must be very careful while packing your necessaries.
As the mountain weather is quite unpredictable, make sure you collect proper information on the weather and temperature during the time of your trip. So, that you can escape for the possible hindrances.
Always go with the expert, professional, and experienced climbing guides. Because they are the ones who will help you remain safe during the whole trip.
Make sure you are wearing appropriate clothing and the comfortable trekking/ mountaineering shoes. Because it is the shoes and clothes in your body that shapes your whole trip experience.
Stay hydrated. Since you will be walking at the altitude higher than 2000 meters, you have many chances of getting altitude sickness. To prevent it, you must drink plenty of water.
Get some technical knowledge and training on how to use an ice ax, crampons and how to fix ropes. You must be able to use these things while summiting the Mera Peak. This is for your safety.
Are you planning your Mera Peak Climbing? Don't hesitate to contact us. Tell us your requirements, we can help you to make your trip memorable.
Lastly,
Walking in the rugged terrains away from home is definitely is not everyone's cup of tea. While setting out to explore the mountains, you have to go through several hurdles. Sometimes you go through several difficulties, sometimes the climatic condition obstructs your journey. Sometimes you may face problems due to the route you undertake for this climb.
So, the difficulty during Mera Expedition depends on a number of factors. This strenuous trek poses multiple threat especially to the inexperienced climbers. But with proper preparation, physically and mentally fit body, appropriate gears, and proper technical training this climbing is doable. You will be able to mount the Mera Peak Summit.
Also, before you set off for this expedition, you must prepare yourself emotionally to face any hindrances and difficulties that may come along.
For further information on this trip or any other trips, feel free to contact us.