16-days Manaslu Circuit Trek is a remote trek around Manaslu region. It opened for trekkers in 1991 AD. The trek takes you to the eighth highest peak in the world, Mount Manaslu which sits at the height of 8156 meters. Manaslu Circuit trek gives you an opportunity to explore some of the majestic views of the mountains such as Mount Manaslu, Shringi Himal, Himlung, Cheo Peak, Gyagi Kung, Kang Koru, Annapurna II, and many other neighboring peaks.
Manaslu Circuit Trek can be the perfect alternative to Annapurna Circuit trek as the trek follows the same route, similar views along with common experiences. The trail to Manaslu Circuit follows the forest rich in rhododendrons, alpine and juniper trees. The lush jungles, unique vegetation, cultural diversity, biodiversity and overall scenic diversity of the region makes it one of the most attractive places of Nepal.
Lying within the perimeters of Manaslu Conservation Area, the Manaslu Circuit Trek offers trekkers to encounter some of the endangered animals such as red panda and snow leopard. The trail to Manaslu Circuit passes through Budhi Gandaki river, walking through Mani Stonewall decorated with beautiful colorful prayer flags to reach the Tibetan Buddhist settlements and monasteries. The high altitude beautiful glacier lakes and fascinating flora and fauna are some of the major highlights of this trek.
Listed as one of the restricted trekking routes in Nepal, Manaslu Circuit Trek has gained a lot of popularity with newly developed teahouse and lodges throughout the trail. Manaslu Circuit Trek 16 days is moderate to difficult trekking destination in Nepal that will give you an opportunity to explore the life of people in the mountains.
Independently trekking to the Manaslu Circuit may not be possible and requires a government licensed trekking agency with an experienced guide.
So, what are you waiting for? Get ready to explore the exquisiteness of the Manaslu region with Index Adventure. Falling east of the Annapurna region, the trek is a true adventure. Join Us for an incredible journey to the isolated region of Nepal.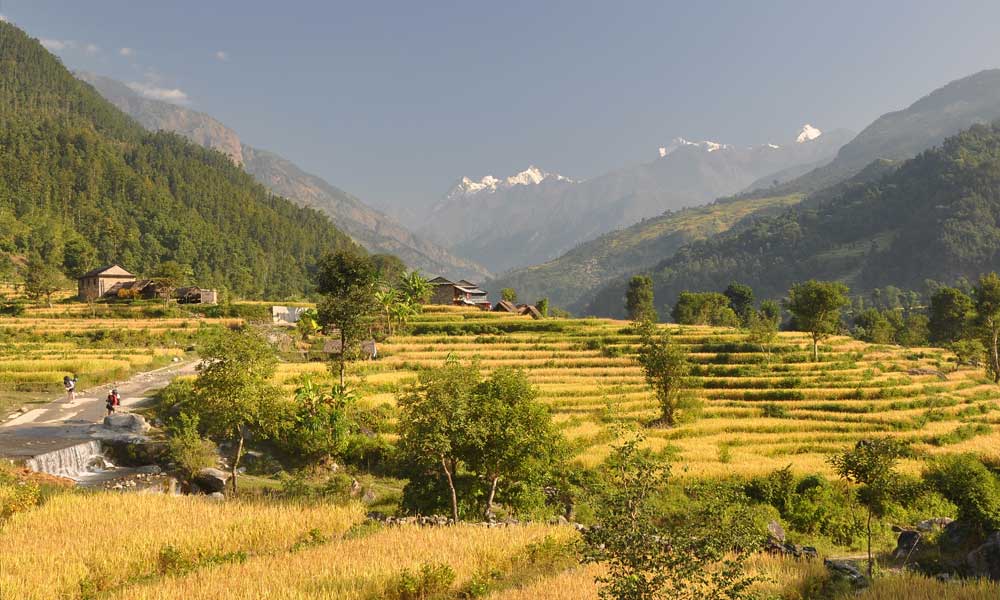 Trip Highlights of Manaslu Circuit Trek 16 Days
Walking along the riverbed of Budhi Gandaki.
Experiencing the Tibetian culture and lifestyles.
A remarkable scenic range of biodiversity and culture.
Exploring the Manaslu Conservation area.
Surrounding yourself with some of the magnificent peaks of the region such as Mount Manaslu, Shringi Himal, Himlung, Cheo Peak, Gyagi Kung, Kang Koru, and Annapurna II.
Trekking up to the highest point at Larkya La Pass at 5125 meters.
Outline Itinerary of Manaslu Circuit Trek 16 days
Day 1: Arrival in Kathmandu, transfer to Hotel (1310M/4,297FT)
Day 2: Free day for trekking permit preparations
Day 3: Drive to Soti Khola by public transport (710M)
Day 4: Trek from Soti Khola to Machha Khola (930M)
Day 5: Trek to Jagat (1,370M)
Day 6: Trek from Jagat to Deng (1,860M)
Day 7: Trek to Namrung (2,540M)
Day 8: Trek to the beautiful village of Samagaun (3390M)
Day 9: Trek to Samdo (3,890M)
Day 10: Rest and acclimatization day at Samdo (3,890M)
Day 11: Trek to Dharmasala / Larke Phedi (4,460M)
Day 12: Cross Larkya La (5,125M) and trek to Bimthang (3,590M)
Day 13: Trek from Bimthang to Tilije (2,300M)
Day 14: Trek from Tilije to Chamje (1410M)
Day 15: Drive to Besisahar and then to Kathmandu (1,310M)
Day 16: Departure from Kathmandu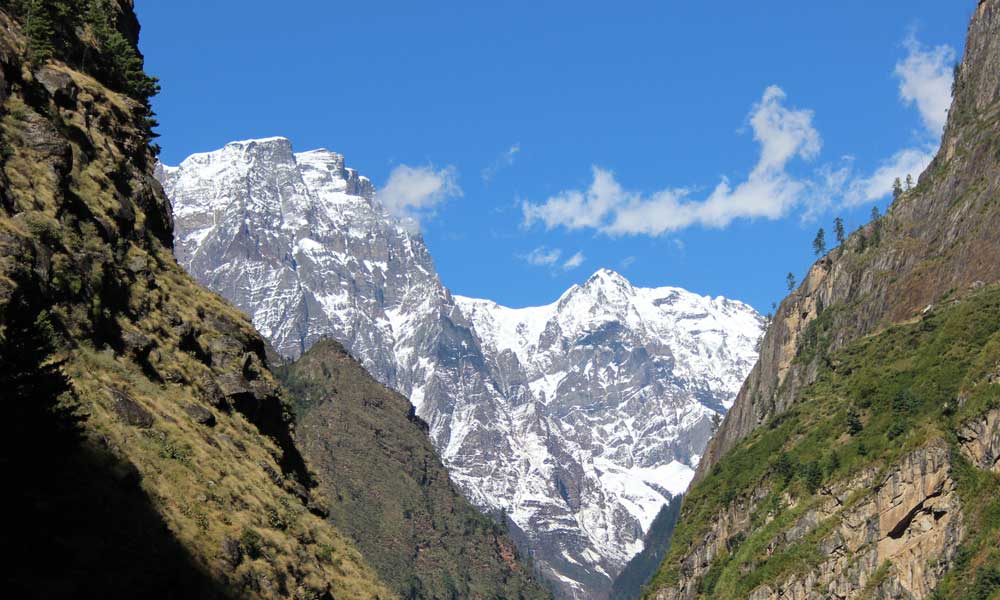 Best time for Manaslu Circuit Trek 16 days
September to December and March to May are the perfect times for trekking to the Manaslu Circuit. As you walk along the Manaslu Circuit, you will find most of the Teahouses and lodges available during these months. But, because of the remoteness of the region, the facilities they provide may not be as expected.
All the months mentioned above fall under the peak seasons for trekking in Nepal which are Autumn and Spring seasons. September, October and November fall in the Autumn season whereas March, April, and May fall in the Spring season in Nepal. Both of these seasons offer trekkers with very suitable weather and temperature for trekking. The seasons expect minimum rainfall which is one of the pros of trekking to the Manaslu Circuit during autumn and Spring. However, you can expect some light rain in the month of Early September and late May.
Manaslu region becomes extremely beautiful during the Spring season as it is the time when nature regenerates its lost beauty. You will also get an opportunity to walk along the forest filled with rhododendron when trekking. During spring and autumn, you do not have to worry about the harsh weather conditions such as snowfall and wind that becomes a barrier when trekking.
The skies are usually clear and you will have great visibility of the mountains in the Manaslu region. So, if you want to experience trekking in moderate and fine weather, autumn and spring would a wise choice for you. However, if you are someone who is seeking for a thrilling and challenging trek testing your limits, you have some alternatives such as winter and monsoon seasons.
Manaslu Circuit Trek 16 days Difficulty
Manaslu Circuit trek is a moderate to difficult level trekking destination in the Manaslu region of Nepal. As it is one of the restricted treks to do in Nepal, independently trekking to the Manaslu Circuit or Manaslu Circuit Trek without a guide may not be possible. The trek demands some sort of physical fitness and previous trekking experiences.
The highest point in this trek is the 'Larkya La Pass' which sits at the height 5126 meters and is widely believed to be one of the most dramatic passes crossing the Himalayas. It is the most difficult point of the trek but with the favorable weather condition, crossing the pass is achievable. Most of the route to the Manaslu Circuit involves walking on mountain trails, crossing steep and narrow ridges, taking uphill and downhill turns. The trek also involves walking continuously for about 6-7 hours.
It is important to note that trekking at altitudes above 3000m/10,000ft is more demanding on the body than walking at low elevations. Due to the change in temperature and amount of oxygen in the higher elevations, Altitude Sickness a major difficulty when trekking. The other difficulties that come along with altitude sickness are headache, nausea, vomiting, diarrhea, dizziness, etc. All these problems become an obstruction when trekking to the Manaslu Circuit. If you see any such problems, descend to a lower height immediately.
Manaslu Circuit Trek covers a total distance of 177 kilometers. For someone who is not used to trekking, this trek might be quite challenging and difficult for you. However, if you are some who have successfully conquered some of the demanding treks such as Everest and Langtang region treks, this trek may not be difficult for you. Physical and mental strength play a great role in making your trek successful.
Weather and temperature also play a great role in determining the difficulty level of the trek. Trekking in autumn and spring seasons becomes a lot easier than trekking during winter and monsoon seasons. The weather and temperature are usually harsh and unfavorable during winter and monsoon making your trekking experience difficult. Rainfall and snowfall become a barrier for your successful trek to the Manaslu Circuit.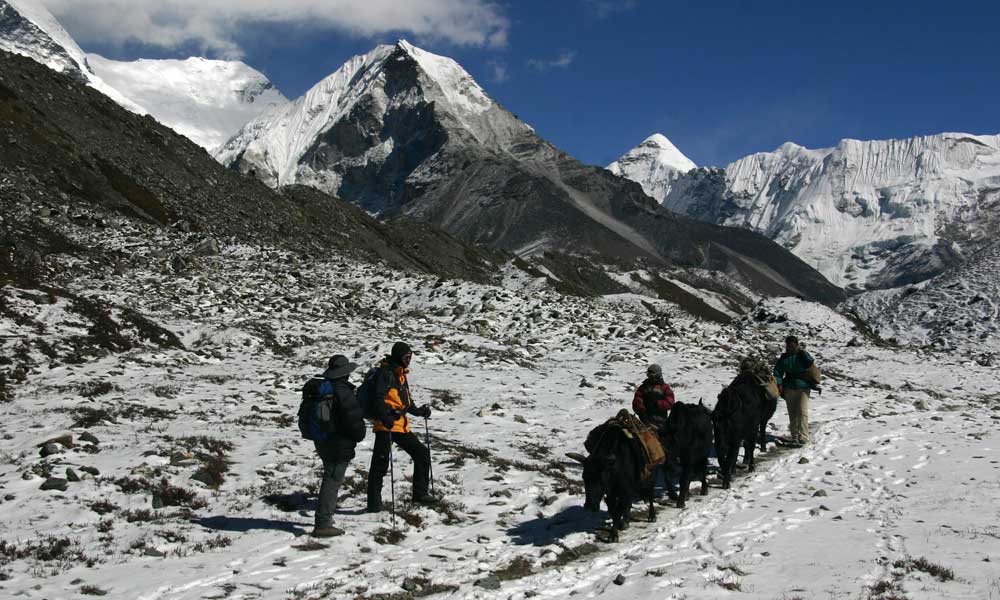 Food and Accommodation during Manaslu Circuit Trek 16 days
In recent years, you will be able to find several teahouses along the route to the Manaslu Circuit Trek. Since Manaslu is an isolated region, you may not find lavish hotels but some decent teahouses and lodges that will make your stay comfortable. Most of the teahouses get packed during peaks seasons. So, make sure you pre-book for your food and accommodation when trekking during the spring and autumn seasons.
The most common meals served for lunch and dinner is the traditional Nepali food, Dal Bhat and seasonal vegetables. Along with this, you can find items such as noodles, pizza, sandwich, burger, pasta, etc. For breakfast, you can have egg, bread, porridge, tea, coffee and many more. You will find several options in drinks as well such as mineral water, hot lemon, cold drinks, beer along with other alcoholic beverages.
For accommodation, you will have a twin sharing bed, a mattress, a pillow, and an attached bathroom. Some of the teahouses may not have the facilities of the attached bathroom and proper toilet facilities. So, it is wise to bring your own toiletries when trekking. The cost of accommodation per night ranges from 6 to 10 dollars. For hot showers and charging purpose, you will have to pay extra cost.
Overall, you do not have to worry about food and accommodation during your 16 days Manaslu Circuit Trek as there are plenty which will serve you well.
Manaslu Circuit Trek Permit
Since Manaslu is a restricted trekking destination, the Government of Nepal handles all the activities in the region. So, trekkers require special trekking permits in order to trek to the Manaslu Circuit trek. Some of the trekking permits that you will require for 16 days Manaslu Circuit Trek are as follows:
Manaslu Restricted Permit
The cost of Manaslu Restricted Permit varies according to the time of the year you will be trekking. During September to November, the cost of the permit is USD 70 per person for the first seven days and dollar 10 for each additional day. The cost of the restricted area permit is a bit cheaper from December to August. The permit costs USD 50 per person for the first seven days and USD 7 for each additional day.
Manaslu Conservation Area Permit
The cost of Manaslu Conservation Area Permit ranges between SAARCnations and other nations. Entry fee for SAARC nationals trekking to the Manaslu Circuit is Rs. 300 person and for other nationals is Rs. 3000 per person.
Annapurna Conservation Area Permit
For SAARC nationals the cost of Annapurna Conservation Area Permit is Rs 300 per person. The cost for other nationals is Rs 3000 per person.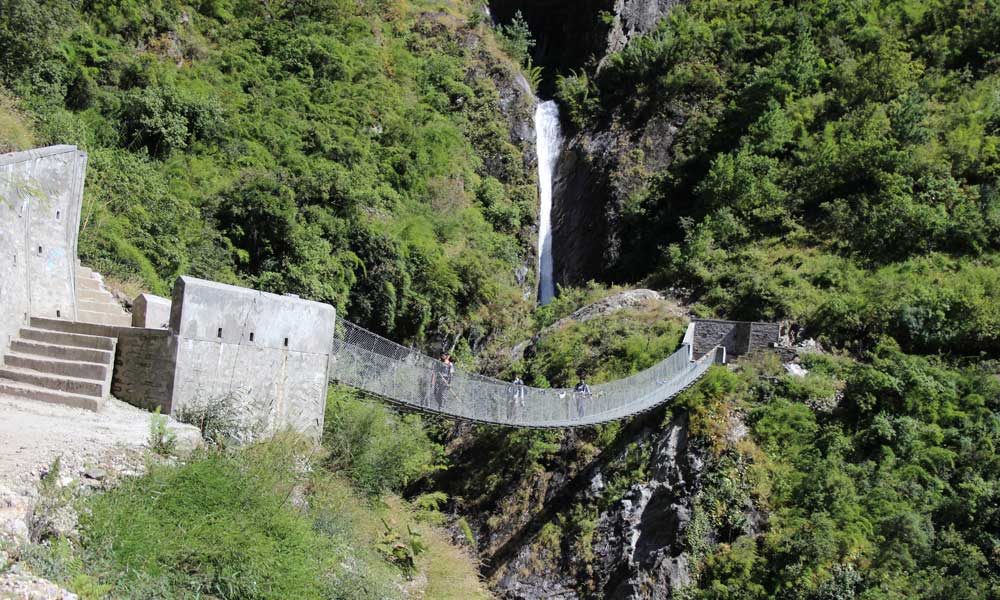 Manaslu Circuit Trek 16 Days Route
The Manaslu Circuit trek starts from Arughat of Gorkha district. The final destination of the trek is at Besisahar which is the starting point of the popular Annapurna Circuit trek. Overall, Manaslu Circuit Trek 16 days covers a distance of 177 kilometers.
From Arughat, the trail passes through some of the major places of the region such as Soti Khola, Machha Khola, Jagat, Deng, Namrung, Samagoun, Besisahar and many more. Walking through all these places involves visiting some of the greatest monasteries, witnessing majestic mountains and high glaciers, rivers, along with experiencing the local Nepali- Tibet culture.
Larkya La Pass is the highest point of the trek that tends to be one of the challenging parts of the trek. The trail to the Manaslu Circuit Trek might be difficult for the first few days as most of the trails are narrow and uneasy to walk.
During the 16 days Manaslu Circuit Trek, you may not have to walk continuously for long hours. The average distance that you will have to cover ranges between 15-20 kilometers per day. Walking Uphill and downhill terrain might slow your walking pace.
Conclusion
Manaslu Circuit Trek is one of the finest Adventures to do in Nepal giving you a chance to encounter breathtaking peaks of the Manaslu region. This 16 days trek is highly recommended for the ones who seek to have a peaceful trekking experience.
Index Adventure promises to make your 16 days trekking journey full of fun and thrilling adventure. The trek is easily doable by someone who has an average physical fitness. For the ones who are planning on trekking to the Manaslu Circuit Trek, proper physical exercises such as swimming, cycling, running, etc three weeks before the trek are important. Contact us at Index Adventures if you have any queries regarding your trip. We will be there to help you out.