The Manaslu Circuit trek is a tea house trek in the Manaslu region of Nepal. The trek circles around Mt. Manaslu, the 8th highest peak in the world. The Manaslu circuit trail is getting popularity every day. There are lots of trekkers who come to Nepal to do Manaslu circuit trekking.
Manaslu circuit trail is highly enriched with amazing natural sceneries, inspiring lifestyles, and noticeable culture and traditions. The trek passes through chains of enchanting beauties of varying topology, vegetation, bridges, splashing rivers, and the gigantic Himalayas.
For an authentic experience in Nepalese Himalayas, you should walk over the remote Manaslu trails. This trek takes you from an altitude of 700 meters to the pinnacle of 5153 meters at Larkya La pass.
The trek route passes along the gorgeous Budi Gandaki river. You will see the enchanting views of snow giants like Ganesh Himal (7422 meters), Mt. Himalchuli (7893 meters), and Mt. Manaslu (8156 meters).
Since this is the "short" Manaslu trek, it can be hard for the beginners. However, for those who have already done high altitudes before, this trek is exactly what they need. If you are a beginner, you can do other treks in Nepal like Everest treks, Annapurna treks, Langtang trekking, and several others.
For any queries or suggestions, feel free to contact us. If you want to do Manaslu Tsum valley trekking, we can arrange the trek for you.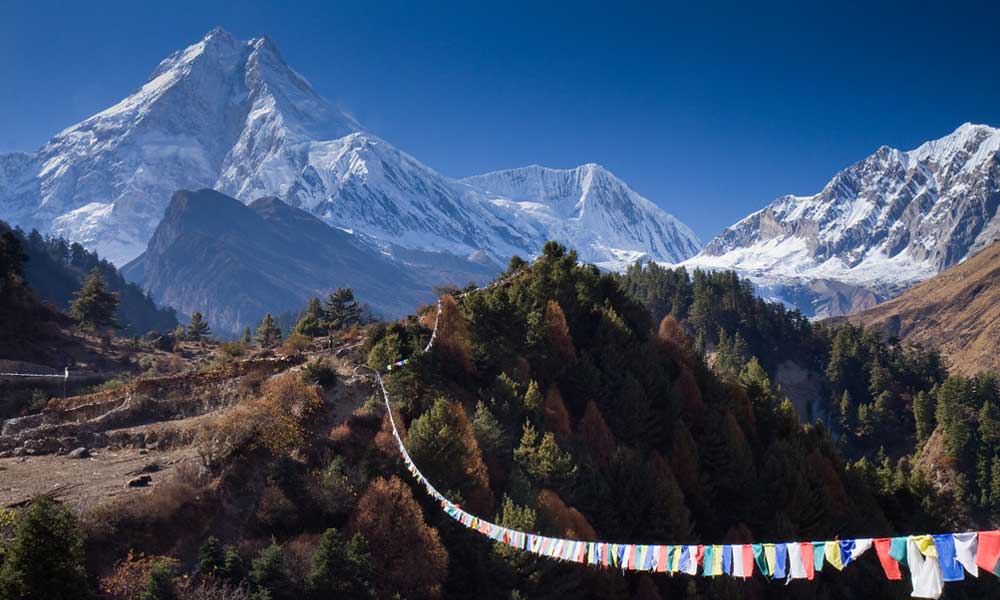 Highlights of Manaslu Circuit Trek
Less trodden trekking trails, quiet and beautiful.
Varying landscapes, rivers, rocky hills, cascading waterfalls, streams, etc.
Amazing villages, basic lifestyles of the local people, their unique culture, and traditions.
Striking views of snowy peaks like Mt. Manaslu 8156m, Mt. Annapurna II 7937m, Himlung Himal 7126m, Cheo Himal 6820m, Nemjung 7140m, Kang Guru 6981m, Gyaji Kang 7074m, etc.
Crossing Larkya La pass.
Outline Itinerary of 10 Days Manaslu Circuit Trek
Day 01: Drive from Kathmandu to Arughat in a Jeep or a Bus. Tek to Soti Khola
Day 02: Trek from Soti Khola to Machha Khola
Day 03: Trek from Machha Khola to Jagat
Day 04: Trek from Jagat to Deng
Day 05: Trek from Deng to Namrung
Day 06: Trek from Namrung to Samagaun
Day 07: Trek from Samagaun to Dharmashala
Day 08: Trek from Dharmashala to Bimtang
Day 09: Trek from Bimtang to Dharapan
Day 10: Drive back to Kathmandu from Dharapani by Jeep or Bus
for detailed itinerary follow 10 Days Manaslu Circuit Trek
Best Time to Trek Manaslu Circuit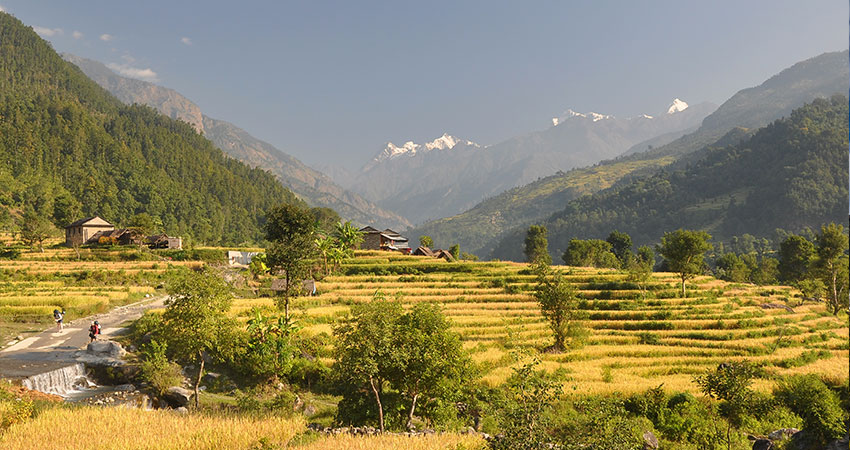 Autumn (September, October, and November) and Spring (March, April, and May) are the best time for trekking in the Manaslu circuit.
Autumn is the most popular season for trekking in Nepal. This season is popular because of the stable weather conditions. Also, the temperature during the autumn months is suitable for trekking. If you want to see the towering peaks reaching the clearest skies, autumn is a wonderful time.
Spring is the second best time for trekking in the Manaslu region. It is the best season for those who love nature and its wonders. The forests in the trekking trails become beautiful and colorful. Also, wildlife and birds become more active on the trails. The clear weather encourages majestic Himalayan vistas in Spring.
For trekking in Nepal, winter is an offseason. However, the helicopter tours are operated even in winter months. The unstable weather or drastic weather changes do have an impact on helicopter tours. Helicopters do not fly during high winds, snow storms, or several winter hazards. Morning times are usually good with fine weather. So, winter helicopter tours are generally operated in the morning time.
Summer cum Monsoon is also a less popular time for helicopter tours. And the reason is again the same: least stable weather and several weather hazards. Again, most of the mornings tend to be clear and fine for helicopter tours.
Permits for Manaslu Circuit Trekking
Manaslu region is a protected area. Since this area shares open borders with Tibet, it is a restricted region. Also, the trek passes inside the boundaries of Manaslu and Annapurna Conservation Areas. Thus, to trek in Manaslu, you need to obtain several permits.
Manaslu Restricted Permit
You can get this permit from the tourism board office in Kathmandu. Obtaining this permit is not easy. There are various conditions that you should meet before you can apply for the permit. You cannot go on the Manaslu trek without a guide. Before you apply for this permit, you must fulfill some conditions like:
You must have a trekking group of at least two trekkers.
You must hire an experienced and registered trekking guide or a porter to go with you.
After you meet these conditions, you should submit your necessary documents. The Manaslu restricted trek permit costs USD 70 for the first week. For additional days, you have to pay USD 10 per day. This is the cost for the peak season (Autumn and Spring).
If you are trekking in off-seasons, this permit costs USD 50 for the first week and an additional USD 7 per day for extra days.
We can help you obtain your permits for Manaslu trekking. We have experienced guides and porters also. Contact Us.
Manaslu Conservation Area Permit (MCAP)
We will be walking inside the Manaslu Conservation area. Thus, we should get the Manaslu conservation area permit also. The Manaslu Conservation Area permit costs UDS 2 for SAARC nationals. Whereas, it costs USD 20 for others.
Annapurna Conservation Area Permit (ACAP)
To walk inside the protected areas of Annapurna Conservation Area, you should obtain the Annapurna Conservation Area permit. The ACAP costs USD 2 for the SAARC Nationals. For other Nationals, it costs USD 20 per person.
Accommodation and Meals on Manaslu Circuit Trek
Short Manaslu Circuit trek is a teahouse trek route in Nepal. On the trekking trails of Manaslu, you will find basic teahouses or lodges for stay. You can have hygienic and filling meals, three times a day while trekking.
Accommodation on Short Manaslu Trek
As mentioned earlier, Accommodations in Manaslu trek are basic. You can find rooms at the lodges or teahouses along the trail for overnight stays. Depending on your group size, you can choose to take rooms on twin sharing or even on triple sharing basis.
They provide comfortable beds with comfortable pillows and blankets. You can also get extra blankets on request. (sometimes you might also have to pay for it). Bringing your own sleeping bag will be really helpful.
The cost of a room can vary from UDS 6 to USD10 per night. Extra costs will add in accommodation if you are taking hot showers, attached bathrooms, and laundry services. Also, you will have to pay a certain amount for charging your electronic gadgets.
Food on Short Manaslu Trek
You will be having three meals a day during your trek: breakfast, lunch, and dinner. While you are staying at the teahouses, they expect you to have dinner and breakfast there. We will have lunch at any teahouses en route.
In the Manaslu circuit trail, the choice of food is not as variable as in the other popular treks like Everest and Annapurna. At most of the teahouses, the menus have Tibetan bread, Dal Bhat staple, noodles, porridge, muesli, porridge, omelette, boiled eggs, garlic soup, tea, and coffee.
There are some teahouses where they offer local Sherpa foods, Indian, and continental foods.
The everyday cost of three-times meal every day averages around USD 15 to 20. This cost varies depending on the number of items you order to eat.
Trek Difficulties During Manaslu Short Trek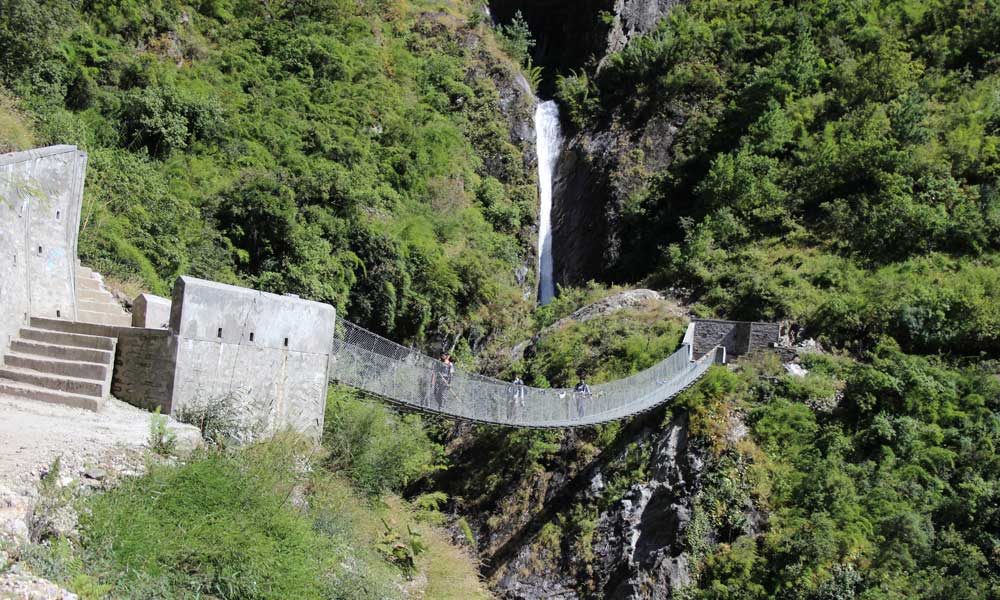 Some of the difficulties that the trekkers can face during their Short trek to Manaslu Circuit are as follows:
Crossing Larkya La
Larkya La, 5200 meters, is the highest elevation on Manaslu CIrcuit trek. Crossing this high mountain pass is tough. There are some tricky sections that are difficult to do. Since this is a high altitude, there are chances that you might be a victim of altitude sickness. You must be really careful. Drink plenty of water. Walk slowly and steadily.
Covering a Total Ground Distance of 177 km
Manaslu trek distance is a difficulty while you are doing a Short Manaslu trek. Covering a distance of 177 kilometres in 10 days, it's quite hectic. Moreover, the trekking trails are among the remotest trails in Nepal. Walking into the wilderness, through quiet forests, huge rocks, lone grasslands, sometimes trekkers feel exhausted. Adding to this, there are no rest days during our 10 days Manaslu Circuit trek.
Challenging Trails: Mental and Physical Strength
No wonder that the remote Manaslu trekking trails are challenging. You should have a strong physique and mentality. Train your body and mind to overcome any sorts of difficulty that can come along while you trek on the remote trekking trails.
Injuries and Health Issues
You will be walking several ups and downs through the plain to sharply steep trails. You should be really careful not to get injured. However, sometimes despite being careful, you might get several injuries like sprains, and wounds (in common).
No Acclimatization and Altitude Sickness
The Short Manaslu trekking is a customized Manaslu circuit trek. There are no acclimatization or rest days during this trek. If this is your first time, Manaslu circuit short trek is going to be tough than you imagine. For a first-timer, we suggest you go on our 17 days Manaslu Circuit trek.
Drastic Weather Changes
At the higher elevations, weather changes are uncertain. Even when you are trekking in the peak seasons, weather can get worse sometimes. Weather changes are drastic during the offseasons (winter and summer). In case of bad weather, trekking in Manaslu circuit is very tough.
Some Tips on Short Manaslu Circuit Trek
Plan your trek properly. Pack lightweight trekking gears.
Drink plenty of water while trekking. Keeping your body hydrated will help against altitude sickness.
Keep updated on the weather conditions in the Manaslu region.
We suggest you doTravel Insurance before you come. This will place you on a safe zone if in case anything happens on the trek.
Wear comfortable trekking boots. Trekking boots with high ankle support and sturdy soles are really helpful.
Carry enough Nepali cash. There are no banks, ATM's, or money exchanges where you can get money in Manaslu.
Try to avoid drinking alcohols while trekking.
A first aid kit should always be with you. It will help you in case of emergencies.
Packing Lists for Short Manaslu Circuit Trek
Do you want a heavy or a light bag? What things would you like to take with you while trekking? Well, what you pack for your trek is your choice. However, we can recommend you some items that are mandatory during your trek. Have a look at the list of things you need to pack for your Short trek to Manaslu CIrcuit.
Clothing
Trekking pants (full or half)
A pair of comfortable trekking boots
Trekking shirts (dry fit, full or half sleeve)
Fleece sweaters
jacket and trousers
Rainproof jacket and trousers
Socks (liner and woollen, 4 to 5 pairs)
Thermal tops and bottoms
Down jacket (for nights)
Gloves and Caps
A pair of Slipper
Toiletries
Toilet roll
Hand and body lotion
Sunscreen cream with high SPF
Chapstick
Sanitizer gel or anti-bacterial handwash
First Aid Kit
Medicines for diarrhea, cold, and some common illnesses.
Medicines for altitude sickness
Blister bandaids
Bandages and pain killer ointments
Extra Items
Headlamp
Polarized sunglasses with UV protection
Camera and extra batteries
A good quality Sleeping bag
Conclusion
Have you done any high altitude treks before? If yes, our Short Manaslu Circuit trek is a really exciting adventure that you should do next. Combining remoteness and uniqueness in lifestyles, traditions, and culture, this trek is gaining height these days.
If you want to go on our Short Manaslu trek, contact us. We will organize a remarkable trek. Visit Nepal with your friends and family, we have a wide range of trekking and touring packages.