Manaslu region is among the geographically remote yet, culturally and naturally enriching place in western Nepal. A novel route Manaslu Circuit Trek takes you to the pristine land on passing through the gorges of Budhi Gandaki river. Once you are in the trail, the lush surroundings, boulders, and the local bypassers en route befriend you. However, if you are planning to go on a solo trek without guides in the Manaslu Circuit trek, it is not possible. This is a restricted region, so you need to travel either with a licensed guide or with a group.
Despite, you previous trekking experiences, or physical fitness, or extreme enthusiasm, or enough preparation, if you do not hire a licensed guide, or porter, or porter-guide then you are banned to explore the thrilling trails of Manaslu Circuit.
Manaslu Circuit Trek Overview
Manaslu Circuit Trek is growing as the best alternative to classic Annapurna Circuit Trek as it holds the pristine culture and the tradition of the Manaslu region.
This is a completely exotic route where you will witness the culture and everyday activities of people of mixed ethnicities. Also, the eye-catching views of the eighth highest peak- Mt Manaslu (8,512 meters) and other peaks are no less alluring in this trek.
Least affected by the whims of modernization, this place still exhibits the antique Buddhist culture and religious practices as you ascend higher towards the north. You can observe century-old monasteries, art, architectures, and customs of rural Nepal.
This pristine trek starts from the historic town of Gorkha. You reach up to the height of 5,160 meters in this trek and conclude the trek at Besi Sahar. With the change in altitude, the weather and climatic conditions also vary. So, you need to be prepared for climate change with appropriate packing lists as well.
Planning your trip to Manaslu Circuit Trek? Don't hesitate to contact us. Tell us your requirements, we can help you to make your trip memorable.
Is solo trekking possible in Manaslu Circuit Trek?
No, solo trekking is banned by the Government of Nepal in this region. The Manaslu region is declared as a restricted area for the purpose of preserving and maintaining the serenity and rusticity of the place. So, an individual trekker is not allowed in manaslu region.
To explore the unexplored territory of Manaslu region you need to hire a licensed, professional guide or porter guide. Also, you need to travel with a minimum of two fellow trekkers excluding the guide. Because of the safety reasons, you are not allowed to trek solo in this region.
But, since this is a novel route, you will get a chance to enjoy the trek to the fullest. You do not have to worry about the fellow trekkers disturbing you.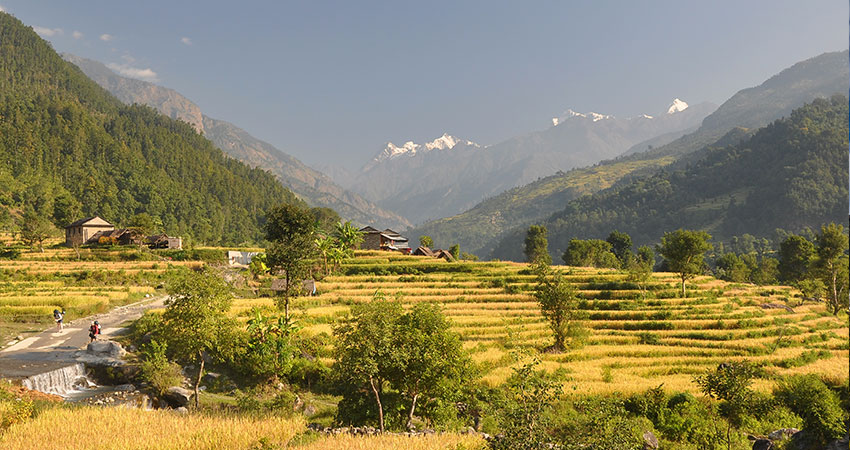 Why hire a guide?
Guides help you navigate the wild and remote trails ensuring your complete safety.
They are the most reliable person you can depend upon in case of any emergencies or medical issues.
They monitor you in case your body starts showing the signs of altitude sickness.
They help arrange the permits and entry permissions to different national parks and conservation areas en route. You do not have to join the queue to collect those.
S/he keeps you updated about the weather, climatic conditions of the place along with the possible weather changes while on the route.
They exhibit you to the pristine culture and everyday lifestyle of the locals in their unspoiled form.
They give you information on the place, landscape, flora, and fauna you encounter en route.
They recommend the best place for accommodations and help you in pre-booking the room as well.
Cost of guides and porters for Manaslu Circuit Trek
Guides are the ones who direct you in the ways and help navigate the trails. And, suggest you the best place to stay for food and sleep.
Unlike guides, porters carry your luggage and walk with you on the trails. With their assistance, you will have easy walking as you do not have to carry the burden of your luggage.
Nowadays, guide-porters are also available for the trek. They do the work of both the porter as well as a guide.
To hire a licensed guide, you need to pay around USD 20- USD 25 per day, including their food, lodging, and insurance.
While you pay around USD 15- USD 20 per day for the porters including their food, lodging, and insurance.
Hiring a porter guide saves you from extra expenses than paying individually to guides and porters. They usually charge USD 18- USD 22 per day, including their food, lodging, and insurance.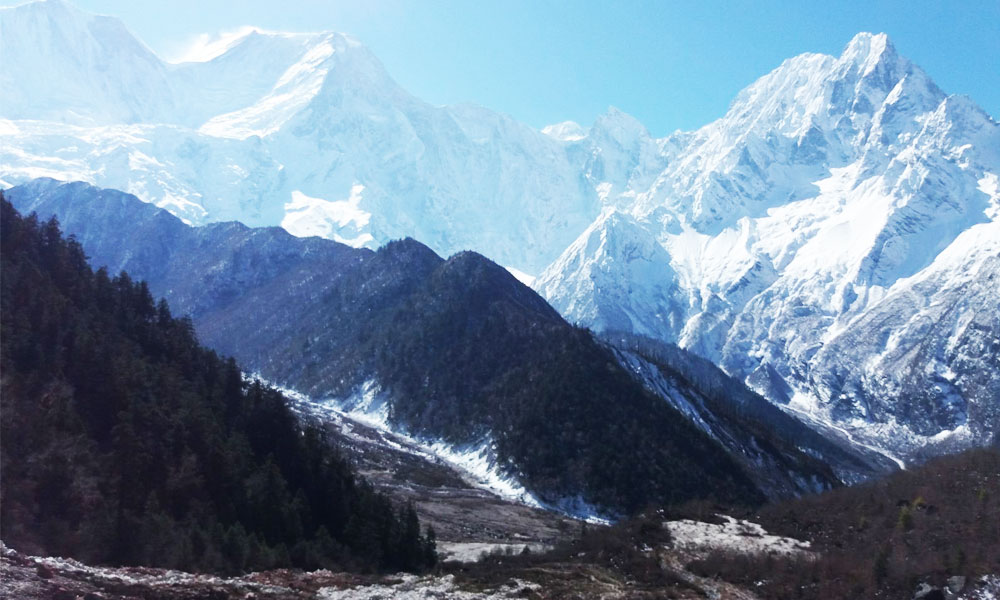 Highlights of Manaslu Circuit Trek
Larkya La Pass- 5,153 meters/ 1690 ft
Breathtaking suspension bridges
Spectacular mountain views: Mt. Manaslu, Annapurna I, Annapurna South, Gangapurna, Annapurna III, Ngadi Chuli, Himalchuli, and Buddha peak.
Manaslu Conservation Area
Different glacial and fresh-water lakes
Century-old Buddhist monasteries and hanging chortens
Tsum Valley
Exotic off-the-beaten trails
Traffic-free trekking route
Scenic drive from Gorkha to Arughat
Best time for Manaslu Circuit Trek
Spring and the Autumn are the noted seasons for trekking in Nepal. So, is the same for Manaslu Circuit Trek. The month of March-May, and September- November is the peak season for Manaslu trekking.
During the spring, you get to enjoy the lush forests decorated in rhododendron and magnolias. And, the clear views of the snow-covered peaks is what the trekkers die for. Also, during this season, you experience a temperate, and calm weather. So, you will have easy and fun-filled trekking in Spring.
Autumn is another peak season with the favourable weather conditions. You neither suffer extreme cold not the unbearable heat. You get to walk blissfully enjoying the crystal clear views of the peaks and the scattered settlements.
But, in high altitudes, and mountainous surroundings the weather is unpredictable. So, it is better for you to set off for this trek with the strength to overcome any weather changes and hurdles.
How difficult is the Manaslu Circuit Trek?
Manaslu Circuit Trek is a moderate trek. But, as this is a novel and remote trek you may go through the difficult trails as well.
Sometimes you cross the thrilling suspension bridges, while sometimes you cross the temporary wooden bridges over the giant rivers. At times, the trial may turn steep, sloppy with rocky alleyways so, you may feel kind of difficulties.
But, with enough preparation and psychical, mental strength this trek is no difficulty at all.
Also, since you will be travelling with guides, they will help you in case you fall into some difficult situations in the rugged terrains.
The highest point is the Larkya La Pass(5160 meters), so you may have risks of altitude sickness as well. But keeping yourself hydrated, taking proper rest, and ascending slowly and gradually, you can conquer this trek with lots of enjoyment.
And, you generally walk for 7-8 hours per day, so this trek demands a good fitness level.
Planning your trip to Manaslu Circuit Trek? Don't hesitate to contact us. Tell us your requirements, we can help you to make your trip memorable.
Permits for Manaslu Circuit Trek
To trek any parts of Nepal you need to obtain a special permit either issued by the Nepal Tourism Board, or the local offices at trailheads.
For Manaslu trekking, you need a special permit. The necessary permits along with the respective prices are as follows:
Restricted Area Permit:
USD 70 for first 10 days. But it increases with USD 10 per additional days during peak seasons like September- November.
While USD 50 for first 7 days with extra USD7 per additional days in December- August.
Manaslu Conservation Area Permit:
SAARC Nationals: USD 2 per person
Other nationals: USD 20 per person
Annapurna Conservation Area Project:
SAARC Nationals: USD 2 per person
Other nationals: USD 20 per person
Tsum Valley Restricted Permit:
UDS 35 per person per
(only if you go on a side trip to Tsum Valley)
If you travel with a guide and travel companies, they will take care of your permits and other legal formalities. You can just prepare for your trek freely.
(Note: You do not need TIMS card for this trek. The Restricted Area Permit works on its behalf.)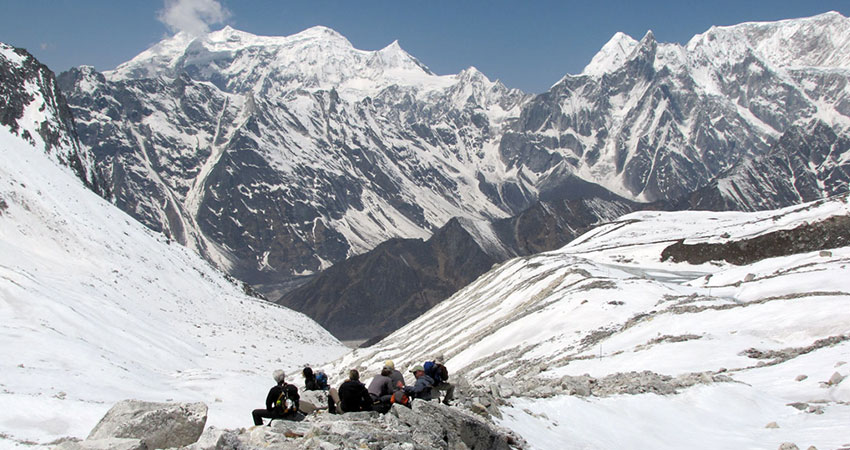 Manaslu Circuit Trek after Earthquake
Manaslu Circuit trek is among the most affected trek route during the April 2015, Gorkha earthquake. Most of the route eroded with a landslide and was blocked by the mud and boulders. Also, many of the tea houses en route got destroyed.
But, by now the place, Trek routes map, and tea houses are restored to its pristine form. New tea houses with earthquake resistant technologies are built. You do not have to worry about not finding the safe place to sleep. There are ample with best services.
Also, the roads are reconstructed. The boulders blocking the trails have been cleared off. So, there is least chance that you may have to cancel your trek because of worst road condition.
And, since trekking with the licensed guide is mandatory, they will take you through safer trails. To your bonus, they will also exhibit the worst affected regions during the earthquake if you desire to explore the condition of that place and the people there.
Packing lists for Manaslu Circuit Trek
On this trek, you explore the variation in the geography and the landscapes. You start the trek from about 710 meters to the height of 5160 meters. And, with the variation with the altitude, the climatic condition, and weather of the place also varies.
Plus, the risk of altitude sickness also increases. So, you need to be very careful while you pack for Manaslu Circuit Trek. You need to prepare well for the changing weather, climate, and altitudes.
Afterall, it is what you carry inside your backpack that determines your trekking experiences.
Here's a general packing list for Manaslu Circuit Trek:
Clothing:
Insulated Jacket
Waterproof jacket
Down jacket
Thermal Tops
Trekking shirts
Waterproof trousers and pants
Hiking shorts
Breathable underwears
Rain gears
Head and Hand:
Headscarf or Bandana
Woollen hat
Sun hat
Buff, Neckband
gloves(inner thermal gloves and outer waterproof)
Headlamp with extra batteries
Sunglasses
Foot:
Hiking socks
Woollen socks
Waterproof hiking boots
Gaiters
Hiking sandals
Other necessary materials for personal hygiene and toiletries:
Towel, water sanitizers, sunscreen, shampoo, soap, lip balm, face and body moisturizer
Important Accessories:
Trekking poles, Sleeping bag, Backpack, Small daypack to carry valuables, Personal first-aid kit, water bottles, and so on.
These are the general packaging for the trek. But, you must pack your bag wisely taking into consideration the season of your travel, the weather condition of the place, and the time of the year you are planning for this trek.
With appropriate packing and a reliable guidance of a professional guide, you will recollect amazing experiences in Manaslu Circuit Trek.
Conclusion
Manaslu Circuit Trek is among the remotest yet, the most beautiful trek in western Nepal. This thrilling trek takes you to the amazing world only if you trek with a licensed guide, porter, or porter-guide. Otherwise, you cannot do trekking in this region.
Because this is a restricted region, and for your personal safety, you are not allowed to trek independently in this trek. So, Manaslu Circuit Trek without a guide is impossible.
If you need further information on this trek or any other treks in Nepal, feel free to contact us. We will be happy to attend your queries.
Planning your trip to Manaslu Circuit Trek? Don't hesitate to contact us. Tell us your requirements, we can help you to make your trip memorable.